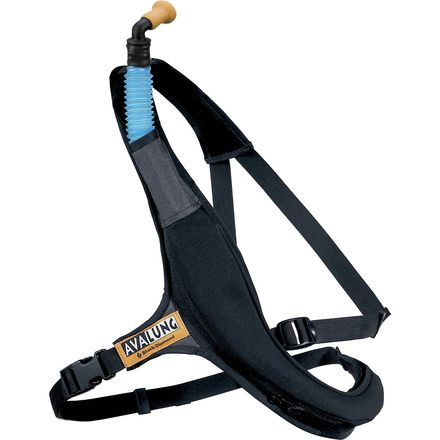 Colors

Community Images
Description
Breathe easy in the backcountry.
The Black Diamond AvaLung II is one of the most important developments in avalanche safety since the avalanche beacon. It should be a part of every backcountry traveler's tools. Use it in conjunction with a shovel, probe, transceiver, and experienced and capable companions to increase your chances of survival should you be caught in an avalanche. The Black Diamond AvaLung is designed for backcountry powder skiing & snowboarding, alpinism, and snowmobiling. The AvaLung is a simple filtration device which draws air directly from the snow pack. Even dense avalanche debris consists of approximately 50% air. The AvaLung membrane increases the surface area from which you breathe, making it possible to pull this air from the snow. You breathe in and out through the tube. The patented system within the AvaLung separates the O2 from the exhaled CO2, which is directed away from the air intake and out the back of the vest to diffuse through the snow pack. At the on snow demo last season, we watched them bury a guy in the snow for over an hour. When they dug him up, he was a little cold but otherwise fine (they even tested the CO2 levels in his blood). While we think that the AvaLung is a great innovation, we recognize that it does have its shortcomings. While tumbling in a slide, you might well lose your bite on the mouthpiece--or you may not even have had a chance to bite it. However, we feel that this device can increase your chances of survival. It's another great tool in your quiver. Get the Avalung II size that corresponds with your T-shirt size. They are highly adjustable.
One Item you don't want to ever use!
Familiarity:

I've used it several times
This thing is pretty cool. It is one of the items that you buy for backcountry skiing that you never want to have to use. If you don't have money for an airbag this is an inexpensive solution to help you during an avalanche.
The one issue that I have with the Avalung is that it is kind of in the way. If you are wearing your beacon on your chest and you have your backpack on then you get this big cluster of gear on your chest. And if you need to get to your beacon in a hurry then you might be fumbling around a bit especially with gloves on. If you have the extra cash I would suggest getting one of the BD backpacks with the Aqualung combined. This will keep your beacon clear and free.
Have you ever been downing in powder!? Well, if you'd like to, or even some times when you wouldn't, this will help you breathe.



It fits under your backpack, and will keep you alive longer if you are buried by an avalanche or stuck in a tree well (if you get it in your mouth), whats not to like?



Bonus, when you are choking on all of those face shots, this is your snorkel.
Perfect
Familiarity:

I've put it through the wringer
I was in between sizes at 5'9 150 lbs. I went with the S/M and its fine with layers under it. In hindsight a M/L might have been more appropriate, but no complaints. Face planting into the soww to test it out I really can breath through it. Very cool. An even better feature than buying you some more time to be dug up is its ability to make RACE CAR sounds. You will feel so cool skining past people on the trail making the sound of a Ferrari as you hum into the mouth piece. And what better way to connect powder turns then pretending you are a formula-1 car zipping through the esses as you hum away into your avalung! :)
Not a bad option, but not the best
Familiarity:

I've put it through the wringer
I've spent some time grappling with the pros and cons of the Avalung after skiing with one for quite a while. I've skied with both the Bandit pack and the Avalung sling. I'm giving it 3 stars because when you consider the other available options out there today for avalanche safety I believe that this option is subpar. Here are my reasons.



1. Any kind of airbag is a better option. Today these are reasonably priced (at least from BCA) and give you a significantly better shot of survival. Staying on top of the slide is obviously a better option than being tossed around inside of it no matter how long you can breathe in there.

2. Unless you feel like skiing every lap with the mouthpiece in (which I'm not going to do, but maybe that's just me) you're going to be lucky to get this thing into your mouth. I've been caught and carried in two slides, ridiculously lucky to not have been fully buried in either, but I can tell you that mid line when everything fractures around you even if you're lucky enough to stay on your feet it will be tough to get this in your mouth when that level of shock hits you.

3. If you're going to go the Avalung route because it's all you have cash for I recommend going for a pack. This is because the separate Avalung will only be one more barrier between you and your beacon to get through if you need to dig someone out. Again when the shock hits and your hands are shaking like crazy it's one more thing you don't want to deal with. However, when caught in a slide they are more than powerful enough to rip your backpack off. Not great either way.



At the end of the day I see the pros of the system and there certainly are cases where it has saved lives, but I stopped wearing mine. When it comes to your life and the lives of your friends in the backcountry you should go with the best available option. Today that would be an airbag pack and not an Avalung in my opinion, but I guess its better than nothing if you really can't get an airbag.
What works better: the Avalung II or an...
What works better: the Avalung II or an Avalung backpack? Like would you have a longer lasting air pocket when buried using one over the other?
I've not used the Avalung II but have had a few of the avalung packs. And I look at it as such, will you be wearing a pack? why wear 2 different things strapped onto you. If you're just charging inbounds with light deep snow perhaps a Ava II will be fine but if you're going into the BC carry less.
Don't leave home without it!
Familiarity:

I've put it through the wringer
Beacon, shovel, and probe are the essential tools, but this is also a MUST for me. Fact is, BSP will help in your recovery, but you don't have anything to help you in the moment. If you're lucky enough to keep the mouthpiece in, this is a great tool to help increase your chances of survival. If you have the money, I would still recommend going with an airbag. Airbags are a proven technology with a lot of data to back it up. Avalungs are great, but the chances of you keeping the mouthpiece in is small relative to the probability of the bag deploying .



This is a very cheap piece of equipment that everyone should have. It weighs practically nothing, and is comfortable to wear all day long.


can you rig this so it fits inside an ABS...
can you rig this so it fits inside an ABS pack? (instead of wearing it under)
I do not believe you can rig this with an ABS pack because of the diameter of the sleeve within the shoulder straps.

This is designed to be worn over your jacket. Even non Avalung Black diamond packs can't be (simply anyway) modified to carry an avalung.

If you really need the avalung with the ABS pack go with this harness and wear it under your jacket\pack. But adding the system to a pack that doesn't have the proper access will be difficult and could render both of the systems (airbag and lung) inoperable.
A must have for any backcountry skier.
Familiarity:

I've put it through the wringer
The Black Diamond AvaLung II is a must for anyone in the backcountry. The design of this product is genius. Pulling oxygen from your environment and discharging your CO2 will save your life in an avalanche. When you're buried under the snow and waiting for your buddy to get his beacon, shovel, and probe out, time is crucial. Without the Avalung you may only have a few minutes to live. SO I hope your friend is quite a good digger. But with the Avalung and an extra 30-45 minutes of oxygen flow you have a much higher chance of surviving after being buried. Check out my attached picture to really understand the risks.



I use the Avalung with my North Face ABS Vest. Fits perfectly. The mesh part of the vest lines up with the vent for the Avalung to discharge CO2. I've yet had to use it, thankfully. However, I breathe much easier knowing I have the Avalung on me.



If you live in an area with wet snow, you should really really buy this. The wet snow makes it harder to breathe regularly under the weight of snow. And this will really help.



Remember, asphyxiation is not fun. Buy an Avalung.
Can you Wear it with a Back pack?
Can you Wear it with a Back pack?
Yes, you can wear it with a bacpack- I wear mine with my pack. Just be sure to check and double check that your pack is not covering up or pinching the vent where your CO2 is expelled.
Breathe easy, but bulky.
Familiarity:

I've used it once or twice and have initial impressions
Thankfully there have been no avalanches for me but skiing the deep blower pow, this can keep you from having to stop to come up for air!

In hindsight would have spent the extra money and gone with the avalung backpack. This avalung fits good enough around your chest, but it is still annoying to ski with something strapped to your chest. The avalung backpacks look more comfortable while still having easy acess to the actual avalung.
It's a great tool
Familiarity:

I've put it through the wringer
I love having this thing. It can feel like you are super strapped up when you have your beacon then this then a pack, but you get used to it. One thing is you have to drill yourself to get that mouthpiece in your mouth. I try to think about it at the top and make sure the tube is in a good position. Then if I crash, as soon as I can I try to get the tube in my mouth just for good practice. Another thing to be careful of is feeling invincible. I had a buddy who had one before me who would always say "I'll go first because I have my avaluang." Which is a bad way to think. Airbag, or avalung. It should never effect your decision making.
Outdated technology,...
Familiarity:

I've put it through the wringer
I had an Avalung pack for 3-4 winters, but I know have an ABS pack & feel it is best for me. I was caught in a slide a couple years ago & could not get the tube in to my mouth was when I was cartwheeling multiple times. I feel safer with this ABS pack I have, plus I do know a couple guys who have had to pull their ABS cord over the last couple winters.
How far around your back should the exhaust...
How far around your back should the exhaust port be? I'm 5'10" 75kgs and got a S/M and it comes to my side. Is it supposed to go right round to the small of your back? I'm thinking a M/L would be better.
Best Answer
In reading the AvaLung instruction manual on BD's website, this was the only warning I could find in relation to the location of the exhaust port:



"A backpack may be worn over the AvaLung II harness. note: Make sure the exhalation tube is not pinched by your specific pack ; otherwise you should use a different one."
A must have...
Familiarity:

I've used it several times
Excellent product. I only wish I could get this integrated with some of the ABS solutions out there. But until then I'll continue to rock both. Thank you!
, ☃bcs_badge_alumni_label☃
Breathe Easier
Gender:

Male

Familiarity:

I've used it once or twice and have initial impressions
Just purchased the Black Diamond Avalung II and am stoked. Fits great over a 2XL North Face coat, and my XL Volcom jacket. Its so light, I hardly realize it is there.
Cool piece of gear/room for improvement
Gender:

Male

Familiarity:

I've used it several times
Brilliant idea and not too expensive. On the other hand, it's not easy to ski with it in your mouth due to 1) airflow resistance 2) tension from the tubing.



Also, mouthpiece feels like it's about 20-30 degrees rotated off axis from my mouth.



I will continue to ski with it (why wouldn't you?), but certainly has room for improvement.