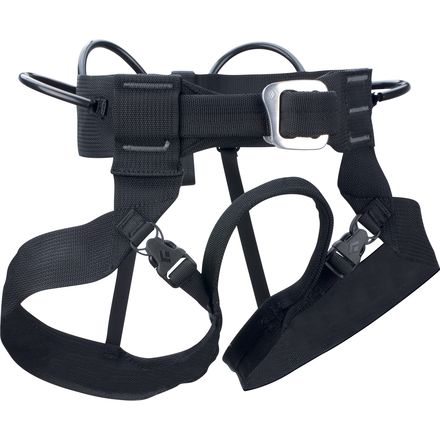 Colors

Community Images
Description
The classic.
The Black Diamond Alpine Bod Harness had been around for about 100 years for a reason. It's simple, lightweight, and extremely versatile. Two gear loops hold just enough gear for an alpine climb, and the diaper-style design can be put on and taken off even when you're wearing skis.
Super light and still comfortable
Can be added or removed while wearing skis or crampons
Does the Job
Familiarity:

I've put it through the wringer
This Harness works great, I know it is not designed for all of these I have used it for Mountaineering, Climbing, Caving and Canyoning. It's simple it's light, and relatively comfortable and it's super easy to put on.

Only downfall is that you have to clip/tie in though two loops and this can be a bit of a pain especially harness is on tight.

A classic
Familiarity:

I've put it through the wringer
Simple, easy and perfect for ski mountaineering. Simple and easy to put on and take off. Has all you need and packs up so small it takes up very little space.
No muss. No fuss
Familiarity:

I've used it once or twice and have initial impressions
Great for ski mountaineering trips and really anything where you have a layer or two of clothes that can act as padding. Good amount of loops and attachment point for carrying gear.
Minimal and light.
Familiarity:

I've put it through the wringer
This harness is great for skiing and ski mountaineering. Super light and minimal, no unnecessary stuff. No padding yes but no need when your using it for glacier travel or an alpine assault. Easy to take on and off even with boots and crampons on.
Light, Fast, Great Mountaineering Choice
Familiarity:

I've put it through the wringer
When you have a love for mountaineering you'll most likely find this harness in your bag. Yea, there is no padding but you'll not be setting much on the side of a mountain in this. It's fast to slip into with no need to take off your skis, boots or crampons.



I've been using this harness for a few years and there's many more left. Picking up another just to have for friends who are without gear.
would you recommend the bod for rappelli...
would you recommend the bod for rappelling?
yes, this harness would work well for rappelling. However it is intended as a lightweight harness for mountaineering so it's pretty bare bones. There is no padding.
This is my harness that I use for glacier travel and splitboard mountaineering. It is fairly light, inexpensive, and is super easy to get in and out of with your gear on. The sizing is pretty consistent with the size chart but that size chart is more based off of a boyish figure in my opinion. I would say if you have a feminine figure and are on the cusp between two sizes to go with the larger one.
The classic alpine harness
I have used this harness so many times in so many different situations and it has never let me down. However, since I now use it exclusively for ski mountaineering, I replaced it for the Black Diamond Couloir Harness.
Is tri axial loading the carabiner an issue...
Is tri axial loading the carabiner an issue with this harness? I feel like the lack of a belay loop encourages this and I am concerned about the safety aspect.
Best Answer
Yes, and for that reason, many gyms won't let you use it. This harness is designed for tying into directly, and not intended for multiple falls and prolonged loading. It's more suited to ski mountaineering and other light uses where you're not likely to take a full factor fall.

If you're looking for an inexpensive harness with a belay loop, look at the BD Momentum AL. I've had mine a little over a year and I love it. Very comfortable and safe.
I got this harness for alpine climbing and just light weight endevours. It works perfectly for that. No frills, no padding, just simple webbing with some gear loops...its all ya need!! I recommend this to everyone.
Bought this puppy for do it all duty and it has not disappointed. I use it primarily for ski mountaineering and alpine climbing. Plenty of gear loops to hold your rack and solid feeling buckles and straps to add security. I've even used it for sport climbing. I think it's pretty comfortable, but maybe I don't know what I'm missing with a nice padded harness.
Bought a couple of these for my son and I to do the via ferrata down in Telluride and used them on the glaciers of Mt. Rainier. Packs light and small.
Good for what it is, NOT A SPORT HARNESS
I bought mine several years ago for use in adventure races (carry it in a pack all day, put it on for one rappel, put it back in the pack). This would be an ideal use, along with mountaineering where you need to rope up but don't expect to fall or weight the rope often. For these types of activities it's perfect as it's light weight, packable, and goes on and off quickly.

For the beginner out there, please keep in mind that this is NOT comfortable to sport climb or toprope, and lots of gyms won't be comfortable with you using it there (they may even have a policy against any harness lacking a belay loop). For a more general purpose inexpensive harness, see Black Diamond Momentum AL.
Very easy to put on. Not to heavy and packs well. Not the harness you want to me hanging in for a long time though. So if you plan to be hanging a lot - find another one. Great for glacier travelling or ski mountaineering because of how easy it is to put on.
What are the waist sizes that go w?ith the...
What are the waist sizes that go w?ith the XS, S, M. L. XL, etc provided in the options for orders
Best Answer
XS = 23-27"
S = 26-30"
M = 29-33"
L = 32-36"
XL = 35-39"
I have a 34" waist but the Medium was definitely the best fit, the sizing chart is close but may be best to try one before you order if you are at the cusp.
Thsi is an old design that has been around awhile. There are lighter harnesses that are easier to use for the same customer now. Still few harnesses at this price point.
I'd never wear this harness myself, but I'm always glad I have it in my kit. I use this to get new climbers comfortable with putting on their own gear (it's pretty idiot-proof, easy to put on, and all the attachment points are easy to see) and for top-roping.

Happy trails!
Black Diamond Alpine Bod Harness
If you are spending more time going vertical, you might want a different harness. For non-vertical glacial travel this rocks. Light and simple, the way BD markets it. Fits well over layers.