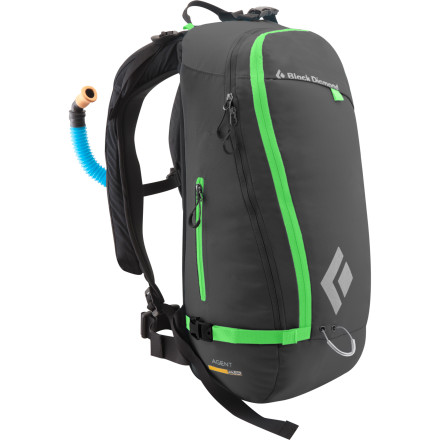 Community Images
Some packs just carry your avalanche tools into the backcountry and then sit idly by when disaster strikes. Unlike these packs, the Black Diamond Agent Avalung Winter Pack takes an active role in your survival, helping you breathe once buried in avalanche debris, and that's hard to ignore. Stash your fast-and-light day touring kit inside this pack, pull the comfortable and lightweight straps over your shoulders, and pillage neck-deep powder stashes until your legs give out.
Built-in Avalung system significantly extends your fresh air supply in case you're caught in an avalanche and buried beneath the snow
Fresh air is pulled from the valve box by your shoulder, through the Avalung mouthpiece, and when you exhale, CO2 is expelled from the exhaust port by your waist
Avalung mouthpiece and tubing stow away in the shoulder strap when not in use, but are easy to reach so you can extend the mouthpiece just before you drop in
Diagonal ski carry cable extends when you need it and stays retracted when not in use
Minimalist suspension design uses lightweight straps and webbing waistbelt that carry light loads comfortably and allow for ample adjustability
Hydration sleeve allows you to use a hydration bladder to stay hydrated and the insulated design keeps your water from freezing solid
Enclosed shovel and probe organizer pocket makes it easy to find your entire avie-tool kit quickly, and the enclosed design protects your essentials
Not bad, but Airbag/ABS packs are better
The Avalung is still solid, but do the right thing, paying a little more & get an Airbag pack. I've been caught in a slide (was not buried, but still scares the hell out of me still thinking about it) & it was tough getting the Avalung tube in my mouth when in the slide even it just a 4-6 inches a away.



If you want a BD product, DB is coming out with an Airbag pack this fall/winter. I have buddies you have ABS/Airbag packs who have had to use their ABS packs in the JH slackcountry, I would rather stay on top of the snow vs. be buried with a breathing tube.



The Avalung was awesome when it came out, but NOW IT IS OUT OF DATE. Spend a little more & get a Airbag pack. How much is your life worth???? Take it from somebody who has been caught in a slide when i was trying to do a ski cut testing the snow.



If you can't afford a ABS pack (they are pricey) I can understand that, find an Avalung for a deal, but keep in mind you want to eventually get an Airbag pack. Your life could depend on it.
Picked up this pack from my local shop and so far I'm diggin' it! Covers anything from big resort days to short days of touring, and that's just in the winter! I got the M/L size and I find it plenty big enough for all my gear and then some. Avy tool pocket fits all the essentials plus other snow study tools and skins. Main compartment is roomy and has separate pockets for a hydration reservoir (tube goes into the right shoulder strap for easy, non-frozen access), goggles, and whatever other smaller stuff you can cram into the mesh pocket. There's also a little outside pocket on the wearer's left side; good place for storing snacks or any other small, high use items. The diagonal cable ski carry is simple and tucks away (although the top strap is long and difficult to tuck away with gloved hands), and flick-lock compression straps near the bottom keep everything tight so you can still wear it on a chairlift. Not a huge fan of the helmet carry though; hard to adjust and seems kind of small for my helmet. I rarely use it though, so no biggie. Back panel and suspension are comfy and solid. I do wish it had an actual hipbelt rather than a webbing one, but that's just me. The Avalung system is obviously also a big plus. The price difference between this pack and the non-Avalung version isn't that much, so if you're slightly considering the Avalung, get it. It can be a lifesaver. I really like the fact that you can now remove it; makes the pack more versatile for year-round use. A few minor things here and there that I'd change, but overall a super bomber pack that can take you pretty much anywhere.
Are the avalung components removable for...
Are the avalung components removable for summer use?
Nope. you cannot remove the avalang from this pack.
Yes you can! It shows you how in the little instruction manual attached to the tag when you buy it. There's a zipper along tube compartment inside the pack so you can CAREFULLY remove it for cleaning or post-winter use.
Yes. Pretty straight forward when it's in front of you.