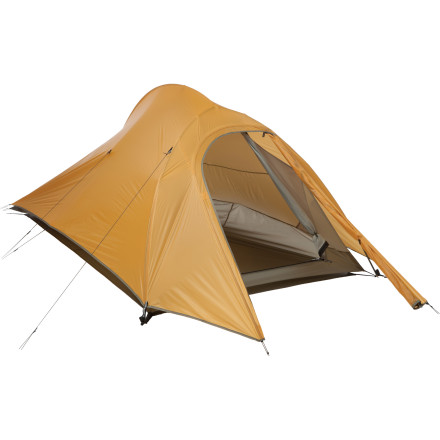 Description
Ultralight tent for weight-conscious backpackers and thru-hikers.
Reduce weight and save energy while you backpack deep into the backcountry with the Big Agnes Slater UL 2 Plus 2-Person 3-Season Tent. This tent weighs in at less than three pounds, offers superb protection from the elements, and is easy to set up when you arrive at your campsite after a long trek.

Silicone-treated nylon ripstop fly and floor fabric and 1200mm waterproof polyurethane coating on the fly and floor resist rain
All seams taped with waterproof, solvent-free polyurethane tape (No PVC or VOC's)
Tent body features nylon ripstop fabric and polyester mesh for ventilation
DAC Featherlite NSL pole system has press-fit connectors and lightweight hubs that eliminate the main causes of tent pole failure while Reverse Combi architecture allows for wider head room without adding extra poles
DAC tent poles are made from a proprietary aluminum alloy that allows for thin-walled tent poles with a high strength-to-weight-ratio
Single door and vestibule cut down on weight
Door has two closing options: zip up mesh door for ventilation or zip up both the mesh and the polyester layer for full protection
Two-person tent weighs 2lb 9oz for a stellar ultralight backpacking tent
Fly Vents improve ventilation to reduce condensation
Storm flaps on vestibule zipper add weather protection
Reflective guyline, webbing on tent corners, and oversized stake-out loops for easy set-up
Gear loft loops for convenience (Triangle gear loft sold separately)
Three internal mesh pockets organize your gear
Includes 11 super-light aluminum J stakes
Footprint sold separately
This tent is described as a 2-person tent, but it is not. I ordered this tent two weeks ago and took it to Banff for 4 days of backpacking through the Skoki Region. I don't mind being in small spaces with my wife but the problem is that I was touching the wall with my feet and the side. This led to cold and wet nights. If you are 6 feet or taller your feet will be touching the tent. It rain almost every night and when it rained outside it also rained inside the rain fly and as soon as any part of my body made contact with the wall, which was always, I got wet as well. Another flaw is that when you open the rain fly the rain and water accumulated on the fly fall straight into the tent.
I must also emphasize that this is not a free standing tent! It takes 12 stakes to get it semi-livable. There is no easy set up with this tent. If the guy cables are not used the tent sags into an unlivable space. I would not recommend this tent to anybody. I am contemplating returning this item.
2person tent
Familiarity:

I've put it through the wringer
i took this to montana its a nice tent , i was expecting a little more for the price ,it sets up fast ,packs well its hard to get it tight enough to keep the rain off the tent its self ,when you open the rain fly it dumps water in the tent and on your sleeping bag. the rain fly gets saggy when its wet ,when you do get it taught i found it pulls the sides of the tent up off the ground
Great UL Tent
Familiarity:

I've used it several times
Like this tent a lot. I actually use it as a one person tent (the difference in weight between this and the one person is not that much) because I like the extra room to keep my backpack inside, and more importantly, the 60lbs pooch. Also, at 6'5" I fit! which is very rare in most tents. With the footprint and fly, it keeps everything inside dry....even when it rains all night, which it did on one occasion. The fly could be a little more taught I think. Also, there was some condensation at the top of the tent, but this was during the night it rained, it was cold, and I had all the zip's closed. A small mesh up there would have been great to let some of that go out between the tent and the fly. Super easy to set up and take down.
What is the difference between Packaged Weight, Trail Weight and Fast Pitch Weight (Fast Fly Weight as Big Agnes calls it).



Also what does the footprint weigh?
Best Answer
Here is how Big Agnes defines the different weights for their tents:



Packed weight:

This is the heaviest you can expect your tent to weigh, straight out of the box or from the store. This weight refers to all packaging, hang tags, as well as the stuff sacks, fly, body, stakes, poles, and guy lines.



Trail weight:

This is the lightest you can expect your tent to weigh, stripped of everything but the essentials. This number reflects the weight of just the fly (no guy lines), body, and poles.



Fast-fly weight:

This is the weight of your fly, footprint and poleset only.



Slater UL2+ info:



Packed Weight - 2lbs 15 oz (47 oz) or 1330grams

Trail Weight - 2lb 9 oz (41 oz) or 1160grams

Fast Fly Weight - 1lb 14 oz (30oz) or 850grams

Footprint Weight - 6 oz or 170grams



Anytime you have a Big Agnes question, shoot me an email and I'll make sure to work with you 1-on-1!



Jared D.

Expert Gearhead

801.736.4336

jdowns@backcountry.com
Loving this tent!
Familiarity:

I've used it once or twice and have initial impressions
I just picked this tent up for 25% off from backcountry...zero buyer's remorse! I spent 3 nights in it this past weekend, ranging in the teens to 20's for overnight lows. I stayed very comfortable inside, the setup and tear down were super easy, and it had a great amount of room for me and all of my cold weather hunting gear. I think the only thing that could improve this awesome tent would be a 1' square mesh panel near the pole hub, that was the only spot that had some significant build up of condensation/ice after a few nights.
Good Small Tent
Familiarity:

I've used it once or twice and have initial impressions
Took it on a three night hike through Section J of the PCT in Washington State. It was easy to setup in the dark, which I did each of the three nights I used it. It packs small, so it was easy to fit in the backpack. The three internal pockets by the entrance are very convenient when unpacking for the night. The pocket by the ceiling is good to put the headlamp in, providing light for the whole tent. The ceiling is high enough to sit up on the highest side. I am 6' 2" tall. The stakes are also easy to push into the ground, and to pull them afterwards. The vestibule is great for the backpack, shoes, dirty socks and whatever other stinky stuff you want out of the tent.



The tent's "packed weight" is advertised as 2lb 15oz. When it arrived, the scale at work weighed it at 3.1 lb. I guess that is close enough. I did get some condensation in the tent walls in the morning, but it was nothing terribly inconvenient. Probably I would not have noticed it, had I not been getting up so early. I learned to make sure the guy lines were tense enough, or they would come undone in the wind. This certainly is not a freestanding tent.



I have not yet tested it in the rain or in high winds. Overall it did its job. I am happy that I got it.
Good tent, nothing to complain about
Familiarity:

I've used it once or twice and have initial impressions
The tent is very light, fine material. The poles make set up very quick, but then they conpensate the few poles with many pegs, which take longer than poles to set up, therefore the time is about the same as with many other tents. There isn't much ventilation, therefore the tent gets very warm in the daytime, but over all the tent is what it claims to be: lightweight, compact, nice shape, very finely built.
Great Tent!
Gender:

Male

Familiarity:

I've used it once or twice and have initial impressions
This was my first go round with a UL tent and it did not disappoint! I was a litttle skeptical when it arrived as to how in the world something so small and light could possibly be a substantial shelter for two! So before I took it into the backcountry I decided to try it out on an overnight car camping trip.

Upon setting it up and before getting the fly on, I thought there's no way there's enough room for two! However, once the fly was up and tensioned properly it proved otherwise. This was a more than adequate space for two. Being the UL2+ gave it the little extra length needed for some extra gear even. Very nice!

Next concern i had was the durabillity. Being such a lightweight material I thought there is no way this thing is going to hold up, keep in mind this is my first UL tent. Approximately no more than 5 minutes after getting it fully set up, one of my kids came screaming by at approximately mach 2 and completely got tripped up at the knees by one of the guy lines! I thought for sure the material was going to be torn wide open as the stake did not come out. After close inspection there was no damage what so ever! Very impressed again!

Then I thought about condensation. Surely it had to have some issues with that as it has a no mesh(excpet for a small triangle portion at the foot end)inner tent. Well, turns out I did get a bit more condensation on the tent fly but inside the tent was no problem at all. I even took the fly off and poured large amounts of water on the inner tent to see if it would get through. Dry as a bone! The water shed right off. Nice! The no mesh inner tent did also offer a bit more warmth for sure.

Only thing is I wish it came with a couple more stakes to stake out the fly a little better in the back to create a little better airflow.

Overall, this is a great tent for two looking to shave ounces off while not sacrificing to much space. I would even carry this solo as it is very small and light! Another great tent from Big Agnes!!
Has anyone had issues with the tent not...
Has anyone had issues with the tent not being taut if you don't use the fly? I think this tent would be perfect b/c of my height (6'2"), but have seen pictures of the tent not being taut without the fly.
If you can't stake it down really really well and guy-line out the sides it definitely wont be taught - we struggled with this on a platform.
how long is the setup time
how long is the setup time
Best Answer
I can Set Up This Tent In About A Minute (Give Or Take A Few SecondS)
Prove it! Seriously though, that's impressive. My setup is usually 3-4 minutes unless it's raining, then call it 2 minutes.
Great Lightweight Tent!
Familiarity:

I've put it through the wringer
If you want a super light weight tent from a tent manufacturer who are obsessed with making the best tents in the market then go for this one! Especially if you like the desert, this is the only tent (that I know of) in the world that has no mesh, except in the door where you can unzip the fabric to have mesh on those warmer summer nights. By not having mesh you will prevent fine sand from being blown into your tent on windy days. The poles are strong and the design is made for backpackers/mountaineers, meaning it's not extra roomy, but definitely not too small, great for tall people. I've slept in this tent down to the teens and have had no problems, it's everything you want it to be and nothing you don't!
UL2 Slater fixes the length problems of the Fly Creek for 5'10" and up people. All ultra light tents in this class are 86" which means tall people's bags ram into the tent walls front and back, this tent is the only UL that I know that fixes that issue. It also is the only one that I know that is really an Ultra Light 2 person tent! It is wider than the fly creek as well. It also could be thought as a 3.5-4 Season with the new semi-mesh free inside. I have not experienced any condensation issues but have not tried it in real wet, but if the user uses the vents front and back I cant see how it could be that large of an issue. The front zips totally open to 100% mesh bug screen, which is a great option.
Ultralight with a little extra
Gender:

Male

Familiarity:

I've used it once or twice and have initial impressions
For my needs (backpacking in varied conditions usually with my wife and on a rare occasion solo) this tent is the perfect ultralight compromise. I had the good fortune of buying a sample from the company at a discounted price and have been able to test it on two occasions recently. I would be hard pressed to find a lighter tent that offers the same space without significantly sacrificing durability.



Pros:

-Ultralight, it packs relatively small (a little larger than the Fly Creek... naturally) and is lightweight. If split between two people it is even lighter!

-Durable for an ultralight, seemingly so anyways and feels much more solid than some of the new Cuben Fiber tents

-Fully enclosed tent. I really like the fact that I can zip the whole thing up and keep bugs out. Bugs love to bite me, so open air tarps, no matter how light, are out of the question for me.

-EXTRA Space! I am 6'3" and fit comfortably and can store my pack below my feet with no problem. Its more roomy than the Fly Creek, and we can even kinda sit up in the tent!



Cons:

-Not totally free standing. While you can pitch the tent with the poles only, you'd really want to add a couple stake or tie the guy wires to a rock or tree to make it fully taught. If you don't it would likely poorly repel rain/snow, flutter in the wind or sag. **(if you were clever there might be a way to tension it using trekking poles, but this isn't a feature, just an idea I want to try)

-Condensation. The semi-opaque material in place of traditional netting is a great for added warmth, privacy, and keeping wind blown sand out, but I think it also contributes to greater internal morning condensation. If this is problem you might want to try opening the single net vent. It helps but overall condensation might be a challenge more often with this tent.



OVERALL I recommend this tent, especially if your needs are similar to mine.