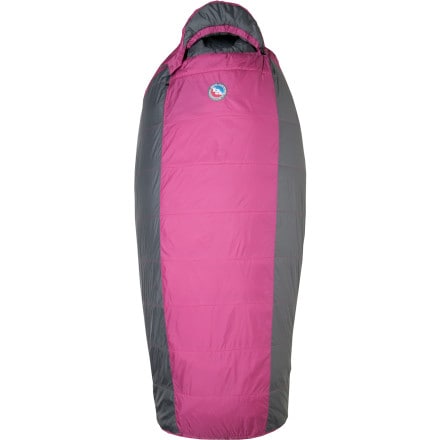 Description
Don't sleep like a popsicle, sleep like a hot dog.
The other day, we heard a story about a desert backpacking trip taken in early October. The storyteller had packed her 35-degree bag and, as soon as the sun set, knew she wouldn't be getting much sleep that night. If only she'd had the Big Agnes Lulu 15-Degree Synthetic Sleeping Bag. Rather than shivering all night, she'd have slept soundly and woken up ready to tackle the next ten miles, thanks in part to Insotect Tubic construction, which uses vertical baffles to spread heat evenly and conform to her body for maximum warmth and comfort.

The Lulu's high-loft, 97% recycled Integrity insulation with extra warmth and room in the foot and core would have provided consistent warmth despite the dipping midnight temps. She could have slid an insulated Big Agnes sleeping pad into the bag's integrated pad sleeve to insulate her against the cold ground (to shave weight, the Lulu doesn't have ground insulation, instead relying on a sleeping pad for warmth), stuffed her fleece jacket into the pillow pocket, and enjoyed the warmth of the no-draft zipper, collar, and pad wedge. Plus, if her tentmate had had a compatible Big Agnes sleeping bag, she could have zipped hers to it for an extra-cozy night spent in nylon-taffeta-lined comfort. Guess she learned the hard way.
15-degree synthetic Integrity insulation
No ground insulation; 20in-wide pad required
Insotect Tubic vertical baffle construction
Integrated pad sleeve
Extra room in the hips and feet
No-draft collar, zipper, and pad wedge
Pillow pocket
Left- and right-zip bags mate together