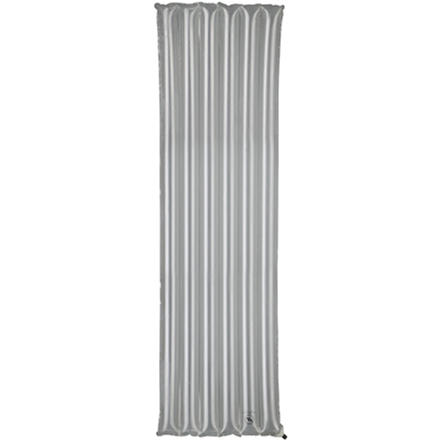 Videos
Save space and weight in your backpack by carrying the Big Agnes Clearview Air Pad during summer and ultralight journeys. The rectangular Clearview gives you 2.5 inches of cushiness yet rolls down smaller than a 12-inch sub sandwich. (Your sandwich likely weighs more than the Clearview, too.) Inflate this air pad and slip it into the back sleeve of your Big Agnes sleeping bag for a comfy night's sleep.
Good pad for a good price
Familiarity:

I've used it several times
I used this pad while camping in Hawaii for a week. It inflated quickly, deflated quickly and packed up small. It also stayed inflated all night. I'm a back, stomach and side sleeper and never once touched the ground.
Big Agnes Clearview Air Pad
i own a prolite plus. It isn't the weight that made me want to get a new pad, but the bulk. i figured, for over half the year i dont need the r value and bulkiness that comes with an insulated pad. so i found the clearview and thought it was a steal at that price and weight and size. Well it is insanely light which is nice. two problems tho: 1) it is as flimsy as a sleeping pad can get. honestly, i know i would have popped this thing at some point. it feels that flimsy. i cannot stress this enough. 2) even though it is extremely light, rolling up the pad and compressing it is a real hassle and i could never get this thing back to the size it came in. these two issues were deal breakers for me (especially the fragility of this pad). save the money and invest in a better pad. this one feels disposable.
This bad packs down small, and it is decently comfortable. I personally prefer the Air Core over these, due to the feel of them. These tend to be squeaky as some have mentioned.
I have two questions. 1. What is the...
I have two questions. 1. What is the easiest and most effective way of deflating the pad? I struggled with it last night in a test run in my living room for about 45 minuites and still didnt get all of the air out so it barely fit in the stuff sack. Secondly, I have the Big Agnes Brooklyn sleeping bag. How is the pad supposed to fit in the sleeve, I had large gapeing areas (Picture attached) and it seemed like the pad was trying to roll up in the sleeve. Thanks much in advance.
1/ you need to rall it very small so the air will go out. oen it and rall it a gain...it will work
2. it is not a mummy pad and there for you can get it inside of your sleeping bag...if you need more help send me e.mail and I'll be happy to help with sam shots
So it squeaks a bit as you move around on it, big deal. I'm so tired after a day of backpacking I barely notice. The weight savings are incredible. I used mine on a 5 day Grand Canyon rafting trip and couldn't be happier. Definitely recommended.
I love it. We just went on a camping trip and the best thing that I noticed is that it takes up almost no room in my pack. It packs up so small that I had room for so many other things... Which can be bad, because your pack gets heavier, but such is life. Sleeping was great, although the material takes a little getting used to. I was so tired I don't think I moved so I was fine, but if you are a restless sleeper it could be annoying. However, it blows up to be like any other pad and I for one love it.
Squeaking Like a Party Clown
I have the large rectangular BA Clearview pad. It definitely saved space and weight on 15 consecutive nights backpacking. Mine, unfortunately, holds enough air to keep me off the ground only about 3 hours, so I have to get OFF it to re-inflate (5 big breaths) at least twice every night. I suspect the valve leaks, but not sure. When inflated, it is very comfortable "under my bag". On warm nights, however, it is simply horrible to touch the sticky plastic pad, making it difficult to use my bag blanket-style. The pad is squeaky as all get-out, meaning every time I roll around or get up in the night, I sound like a clown twisting balloons at a birthday party. The plastic looks fragile, but I think it is pretty durable. I found deflation and rolling up to be quick and simple. Because of the squeakiness, stickiness, and leakiness, by the end of my trip I was looking enviously at other people who had larger, heavier pads that have a cloth-like covering. If you are hell-bent on saving weight, then this pad is good for you. I plan to look for other sleeping solutions in the future.
side-sleeper summerweight
I used Therma-Rests for years, then I got this because it was lighter and two cost as much as a new NeoAir. Surprise, it's far more comfortable than even ProLite+Ridge Rest! It's a little sticky, and a little cold. Last weekend in my 30F bag I had to wear a hoodie over my PJs. But I had no trouble falling back asleep.
Really comfortable
Familiarity:

I've put it through the wringer
The plastic on this pad is a little bit stretchy, so it feels softer to me than other non-foam pads. It packs up smaller than my 3/4 length therm-a-rest and is MUCH more comfortable. I like the stickyness of it because it is less like to slide around. It can be a little loud if you are shuffling around, but that won't last long since it's so comfortable.



UPDATE: I got a hole in one of my old-model clearview pads on the triangular block near the nozzle. This is after probably 30 nights of use. Patched it with some glue and a patch from a different BA pad (air core). In the more recent clearview pads that you can buy now they've reinforced the nozzle area with a black triangle of nylon or something to prevent this issue.
The clearview air pad ruined a 4 day trip. 4 days sleeping on the cold wet ground because it would not hold air. Waking up shivering and have to make some tea several times a night. This was the second time I had it out and it failed completely.
This pad works well with the Big Agnes bag, but IMO is not as comfortable as a Thermarest- it is certainly far more difficult to deflate and pack up, though onced packed it is FAR smaller and more compact than a Thermarest. If I could do it over I would have bought a similarly sized Thermarest instead
If this pad works for you then you get an air pad at a steal with a low weight but for me the material that its made from keeps me from sleeping at night. Tried this pad out for 2 nights and found that it is extremely sticky which makes it difficult to move around at night. I also usually sleep with my arms outside of my bag or the bag half zipped and the material next to the skin is very unpleasant. Minus the cons it is quite comfortable and easy to blow up. Returning it today.
Warm weather it's great. But I just spent one night in the upper 30's on this thing. It is NOT for the 35 degree weather that it is rated for. Even with a layer of Capilene 3, pants, tee, heavy fleece, and a BA Summit Park 15 degree bag I froze. Would not use it again below 50 degrees or so at least with any Big Agnes bag without a closed cell pad. And then you might as well of had an insulated pad instead. Comfort, small roll up size, weight and durability get a 4.5 out of 5 though.

I purchased an Exped SynMat 9 Deluxe for the BA Summit Park and it rocks in colder weather. A little heavy, but a bigger comfy bag and pad are the two luxuries I refuse to compromise on.
Couldn't repair a hole in the pad, now need to buy a new one
I loved how small this pad packed down. Unfortunately, it takes around 6 minutes to inflate by mouth and it got a hole in the seam which could not be repaired by patch kit, glue or duct tape. The problem is that the plastic is flimsy. Has anyone tried their other pads? I want to buy a replacement Big Agnes page now that also packs down small, but I don't want one this flimsy. Recommendations?
I got this sleeping pad for my husband and a similar one for myself - they were great to sleep on, nice and thick so you will not feel the lumps of the ground, but they do tend to get noisy when the sleeping bag slides around on it.
This pad saved my vacation.........
I bought this because I have a bad back and can only sleep on air due to arthritis of the spine. I was concerned how I was going to be able to sleep on a recent trip to Las Vegas. I called and the very helpful sales person sent this right out to me, and assured me if it didn't work I could return it. Well, it saved my trip. I put about 1/3 air in it and plopped it on top of the mattress and was able to sleep very well. I weigh a lot and it held up fine. It is so small and compact that it fit in an outside pocket of my carry-on luggage and took up very little space. Heck, it would have even fit in my purse, which is amazing. I probably won't use it again for some time, so I don't know how long it will last, but it certainly saved my trip! Thank you Backcountry!!!!!!
I didn't quite expect this pad to be built with such light guage vinyl. I am concerned about how long it will last. My best guess, and I'm careful with my gear, is that it should get me through ONE season of use before it springs a leak (the weak point is the vinyl around the valve). If that lenght of longevity is enough, Then be assured you'll be carrying the lightest and most comfortable air pad down the trail. It's 15oz on the dot within it's stuff sack! (20x72 version)
It's the first sleeping pad that I've ever owned, but it's gotten the job done for several trips. I used it mostly in the summer time, but it was comfortable, easy to blow up, and didn't deflate halfway through the night.
not as good as the insulated air core
I own two insulated air core mats and love them. I tried this one out as the weight savings was intriguing. The mat was comfortable, but feels more like a durable pool floaty than other mats. My main complaint about the bag is how sticky it is; I have a nice down bag, and the bag sticks to well to the mat.

Bottom line: If you are counting ounces, this would be a nice addition to your gear, if you can deal with the sticky surface.