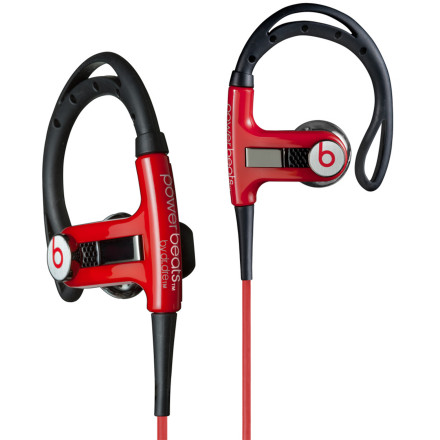 Detail Images

Community Images
BeatsbyDre teamed up with LeBron James to create the PowerBeats Sport Headphones. These phones dish out high-volume clarity while still allowing you to hear what's happening around you. Enjoy crisp, powerful sound without getting hit by a car because you can't hear oncoming traffic while you jog.
Dual micro-drivers with built-in sub-woofers deliver pounding bass, rich mids, and thrilling highs
Flexible ear clips keep you and your music working together even if you're sprinting at the speed of sound
Additional cord length lets you thread your music from your gym shorts to your ears or keep it close by running it from an arm band
ControlTalk tech lets you listen to music, take calls on most smart phones, and run your mp3 player
Sweat-resistant, UV-protected construction keeps your buds going with big time durability
Athlete-specific design lets you enjoy brilliant sound and still take in ambient noise so you are aware of what's happening around you, safety first
Great!
Familiarity:

I've used it several times
These are absolutely perfect for me! Out of all the headphones I've had, these are my favorite simply because of how they sit on your ear. The headphones that go inside your ear never work for me...I can't get them to stay in no matter what size tip is used. These stay put perfectly while I'm at the gym or traveling. The sound quality is great and I can take calls easily. Highly recommended!
Differnt package and same stuff
I was a little worried when I got this pair on sale for 67 bucks, consider how many counterfeit beats are around. The package is nothing like any I've seen before. But it was wrapped in thin plastic and box itself was very well made. I'm convinced that the headphone is authentic. For the money I paid, it's defently a good buy. This brand is so overpriced, I would suggest only get them when they are on sale.
the control button breakes apart
Familiarity:

I've used it several times
after using them for three months my phone one day fell from the treadmill and the cable stretch and broke just where the control was located. Impossible to repair. I have been using the Bose sports and they are the best.
Got these for my wife. She loves to run with them and on plane flights. Expected delivery was 5-10 days....beats showed up on day 4!! Couldn't be happier.
I love these earphones! I work in a very noisy place, and these do cancel out loud noises. The sound quality is great whether your on the phone or listening to music.they are also comfortable. I can wear them all day. I think I'm going to order another pair for working out.
How is the sound quality? Should I expect...
How is the sound quality? Should I expect the same kind of sound as I can get with their ear buds?
Pros:

The good Dr. did something spectacular when he came up with these. I have no problems with my beats when it comes to sound quality, clarity, bass, etc. the sound is tasteful; exactly what I look for. Anything louder than these, and I'd go deaf.


Cons:

I have no cons with the beats by dre.
Great Sounding But Troubles Staying In My Ears
These headphones sound great. No doubt about that. Alas my one gripe is that the headphones slip out of my ears when I am running. I personally sweat quite a bit and I have only used in the summer where I am prone to sweat even more. The clip that is attached to the headphones does help quite a bit but I am still having to periodically adjust them.