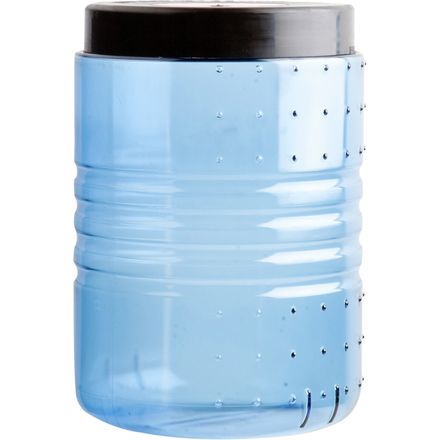 Colors

Community Images
Description
A fed bear is a dead bear. The BV500 protects you and our furry friends.
Head out for a trip into Yosemite or Denali National Park with your food safe and secure in the Bear Vault BV500 Bear Resistant Food Canister. This large-capacity container's 700 cubic inch interior stashes enough supplies for weeklong trips into bear country. An innovative tool-free top gives you quick access to your goodies, and the see-through polycarbonate housing and extra-wide lid make it easy to find what you're looking for. Slip this lightweight Bear Vault canister into your expedition pack or use the guides to strap it down.
The Bear Necessities
Familiarity:

I've put it through the wringer
All bear cans suck to some degree, but the Bear Vault sucks less than the alternatives. Do your part to keep bears alive.

Pros:
-Can easily hold 7 days of food
-Clear
-No tools required for opening
-$200 dollars cheaper than a Bearikade (and no wait times for a rental)
-Lighter than a Garcia
-Great place to put all those extra bumper stickers

Cons:
-Not quite as light as a Bearikade
Safety First
Familiarity:

I've put it through the wringer
When entering an area you know there is bear activity, this is one of the MUST haves on the list. Yes it is big, yes it is hard, but it will save your life.
This canister is perfect, great seal, and impact resistance.
Bear tried and true
Familiarity:

I've used it once or twice and have initial impressions
Product worked as promised. We had a bear who raided our camp and ate all the food that wasn't in the canister. Really wrecked the trip. You are asking why wasn't all the food in the canister. We had 3 people and 3 days worth of food in our group trying to fit into one bear canister. The math didn't work. In retrospect the large one I think would be challenging to get 7 days of food for one person. The food in the canister was safe compared to the mountain houses that the bear ate (can you imagine eating a dry mountain house?) I give it 4 stars as a design flaw. It is very hard to attach to the top of your pack. I intend on attaching some nylon webbing so it can easily outside.
This product performs as expected. The clear container is a major plus. It is sturdy. Opens and closes easily enough. Holds a considerable amount as well. Solid product. Well designed.
Love this BearVault
Familiarity:

I've used it several times
Love that you can see the contents, lighter than other bear canisters, perfect for 3 nights and 2 people...a "tool" (like a stick spoon) to push the tabs in, is easier on the fingers.
bears
Familiarity:

I've put it through the wringer
this is a big container , i took it on a 27 mile backpack trip it held enough food for me and my dog 7 days ,its kind of hard to get in to which is the point i guess , i plan on useing it for years to come ,im going to glue a piece of dense foam to the lid ,it makes a great seat
No Complaints
Gender:

Female

Familiarity:

I've used it several times
The vault was great on the JMT. Durable, fit 7 plus days of food. Easy to open and close, and fit nicely inside my pack. I like using the vault even when not required by parks so I don't have to hang my food.
The Big One
Familiarity:

I've used it several times
When going into bear country, you need to have one of these with you. If you have more than one person and are going to be staying multiple nights the BV500 Bear Resistant Food Canister is what you will need. If you are traveling solo or just bringing enough food for one night then the smaller BV450 Solo Bear Resistant Food Canister should suffice. This canister looks huge, but once you start loading it up with food you will realize that this larger size is necessary for longer trips with multiple people. This is a great product, and has a sterling reputation in the bear food protection industry. Don't go into bear country without one!
Keeps all my food from getting crushed and really its pretty light for what it is. The bear vault has been around and has survived very well with no signs of slowing!
Good
Gender:

Female

Familiarity:

I've used it several times
Hubby carries it. He likes how it keeps everything from getting crushed and stays organized despite the extra weight. To our knowledge no bears have tried to get in it cause it's always in the same spot in the morning. Also works well as a seat.

Update: So we've had it out on a few trips and found that we've had no issues at all. We hide it a safe distance from our tent and there's been no claw marks on it or movement. In fact, this past weekend whenever you opened the canister it smelled of meat thanks to bringing Italian style chicken sausage, and after a few nights out, no issues!
Great chair and hot potato
Familiarity:

I've used it once or twice and have initial impressions
Need a fancy camp chair, food storage, huge water bottle, or classy new head cover to keep out bugs? Well look no further! But in all seriousness, good and solid, not a complete finger breaker to open. Little knobs on the outside to give you bonus grip while trying to pop her open, as well as groove so you can have ropes to tie it in place easily on your pack.
Worth the weight
Gender:

Female

Familiarity:

I've put it through the wringer
I have to admit, I wasn't thrilled with the prospect of additional 2 lb 9 oz of hard bulk in my backpack but ever since I carried the BV 500 along the 211 miles of the John Muir Trail I learned to really like it. It is built to provide a safe, hassle free food storage and that's exactly what it does. You put your food in, turn the lid to lock it, and you can rest assured that animals won't feast on your precious calories while you sleep or explore around camp. And it made a great camp chair where sitting logs/rocks were not available or were drenched after rain.



We found it easy to operate the lid even when raining or when our hands got cold but if you find it difficult to open the lid with your hands, which some people do, piece of sturdier plastic placed between the wall of the canister and the locking teeth does the trick. Credit card or driver's license work well for that purpose. You can also use a key or a stick to push the teeth in and slide the lid open.



At fullest we fit 7 days worth of food in. It was pushing it, toiletries spent the first night hanging off a tree.



I liked the fact I could fit the BV 500 to my backpack (Osprey Ariel 65) both vertically or horizontally without difficulties. Personally I preferred horizontal placement, my pack felt more balanced which helped greatly on uneven terrain or during rock hopping over creeks.



Nowadays I carry my BV on all backpacking trips and I no longer wake up in the middle of the night wondering whether the squirrel/deer I hear snooping outside the tent is out to munch on pine cone seeds/leaves like they sre supposed to or my breakfast burrito. To me that's worth the weight.


does the job!
Familiarity:

I've put it through the wringer
There are still very few choices when it comes to bear canisters--and I think it's mostly because there's just not much to improve on with the existing models....?



The solid black ones that are opened with a quarter are good (though heavier), and as I understand are required in certain parts of the US, since bears have figured out how to open these clear ones here and there. Last I read, I believe it was in a few communities in the Northeast US.



That all being said, this is my favorite bear canister, and I've used them all. Why?:

-It's lighter

-It's clear--huuuuuge plus

-Still can use it as a chair

-Don't need a coin to open it

-85cubic inches larger volulme than the all-black "Garcia" model, and a much bigger opening than other models



I would say an experienced backpacker who knows how to pack well (no space-wasting items), and who is putting all scented non-food items and trash in it (as you should), will be able to pack 5-7 days worth of food in this for one person if needed. On my most-recent trip, I was able to put all necessary food (we ate well) for TWO people in this for 4 days/3nights. We had to use a secondary canister for toiletries and trash.


Better than the Garcia
Familiarity:

I've used it once or twice and have initial impressions
The Bear Vault BV500 is an upgrade from the Garcia -- that big black bear canister that seems to be the default canister. The BV500 is slightly lighter (only slightly, but every ounce helps) while having a larger volume. The larger size means that it doesn't really fit inside of my pack, but it does have little grippy bumps on the outside to aid in strapping the canister on the outside of the pack. In fact, it fits perfectly under the "cap" of my Osprey backpack. I also like the fact that it's transparent so you can immediately see what's inside and you can open it without a tool.



Still, it's heaver than I'd like.


Critter Keeper-Outer
Familiarity:

I've put it through the wringer
This vault is totally bearable. Not too heavy, not too light - it's just right. My boyfriend and I took one to the Olympic Coast over the summer and though we had zero bear encounters, we were still glad to have it to keep our food safe from the ravenous raccoon population! Me for scale in the attached photo.
Might have been able to get away with the smaller one but the price was too good. This one fits in my pack ok. Guess I'll just bring more food. Weight not really a factor. Makes a great stool. Opens easy with a credit card. Hope the bears in my area don't have good enough credit for one.
Not well named!
Familiarity:

I've put it through the wringer
So I bought this canister a couple weeks back and was way excited to use it on my next camping trip (I am a sucker for new outdoor gadgets). I have to admit it was a complete failure, and I blame the BV500 entirely.



First I tried just leaving the canister out on its side with the lid off and a Snickers bar inside, but I made the mistake of not watching very closely. In the morning the Snickers was gone and in its place a very kind note thanking me but expressing a preference for Toblerone.



Next I tried coating the inside with Skippy creamy peanut butter. In the middle of the night a bear did come and began licking the peanut butter out of the BV500, but with his nose crammed inside it really hit me that Bear Vault had totally screwed up in sizing these things. There was no way I was going to trap a bear in a canister that small. A cub maybe, but then you've got mamma bear coming after you!



When Yogi got done cleaning out my Skippy I retrieved the BV500 and decided I couldn't return this thing (PB+Bear Saliva = No Bueno!). I washed it out and ended up storing my food in there for the rest of the trip. Worked excellent as a "food vault" which makes me thing that BV is missing a big marketing opportunity here. After my first attempts with the BV500 I was ready to give a scathing review, but upon discovering this alternative use, I am awarding 5 stars.