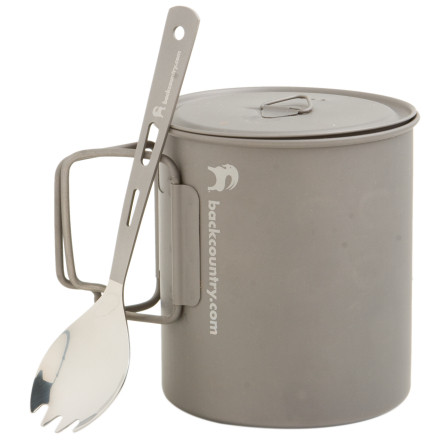 Detail Images

Community Images
Titanium cookware is to ultralight backpacking what quilted three-ply toilet paper is to a good number two – you could go without it, but why would you? Don't sacrifice when it comes to your pack weight, and pick up the Backcountry.com Titanium Cookset. This feather-light set comes with a 700ml titanium kettle that can be used either as a pot or mug, a titanium spork, and a handy padded mesh stuff sack to keep it all together. The whole package weighs a little over four ounces, probably less than your roll of TP.
Great set for a great price.
The lid more less sits on the pot. Kind of a pain as it falls of rather easy.
My titanium cookware was among my most useful pieces of gear when traveling the arctic tundra. The 1-liter Nalgene water bottle fits perfectly inside to conserve space. I loved this product so much that I purchased another immediately upon returning to civilization.
Can this be used to cook Lipton sides...
Can this be used to cook Lipton sides inside it?
Best Answer
Absolutely. Just cook with some caution. Because Ti pots are so thin, they can have hot spots. As long as you keep stirring, you wont burn them.
Does back country sell the spork separat...
Does back country sell the spork separately?
No...but I lost the pot, and now I just have my sweet spork. ;)
I bought mine separate but don't see it anymore!!
I bought mine separate but don't see it anymore!!
Is there measurement marks on this pot?
Is there measurement marks on this pot?
No...just have to eyeball it.
Can you put this in the dishwasher?
Can you put this in the dishwasher?
no, but it is really easy to wash in the sink
how do the dimensions of this pot compare...
how do the dimensions of this pot compare to the snowpeak 700?
The snowpeak 700 cup is more for cooking (it is perfectly suitible for a two serving meal to be cooked in) but this is more of a personal size for soloists and single mess kits.
Mug & stuffsack fit around my Nalgene perfectly!
Love this Ti set! I just bought a second -- now one stores my Snow Peak Giga stove, fuel, & pot holder/cleaner & accessories and the second serves as a mug/spare pot/loaner. I've found that my Nalgene bottle fits nicely inside the mug, and the stuff sack fits the bottle perfectly as a cover. I drop the lid in the bottom of the stuff sack first in case I need it, and the excellent spork still fits inside with the Nalgene bottle in place as well! This pot & lid are perfect for heating water, which is my primary use for it. Best value in Ti gear and still one of my favorite pieces of kit! If you can get it on sale you can't lose!!!
At first I was skeptical because of it's light weight and thinness, but Ti is wicked strong, and it proved to be a very durable and reliable little 'pot.'

I agree with many of the reviews; it is more of a mug than a pot, but it is absolutely perfect with the MSR Pocket Rocket on hikes or climbs...warm up soup (on low, of course...Ti has tendency to burn things on high heat), boil water for tea, coffee...etc. It is very light-weight and the Pocket Rocket fits right in there, with some hot cocoa packets.

For summer backpacking trips with freeze-dried food, or for making breakfast in the morning, this 'pot' is perfect.
Awesome light weight pot with spoon.
Pros - Light, sturdy, can fit all of my alcohol stove setup inside pot and windscreen rolls up nicely around pot and all fits in included bag.

Cons - Cinch string broke quickly but easily replaced, matte finish does scuff from included spork.

Definitely have to recommend this one to any and all!
I have had my Ti 700ml Pot for over a year now... I've taken it to the bottom of an Oasis in the Grand Canyon, on the "Under the Rim Trail" in Bryce Canyon, UT and into the mountains of Northern Utah. This little pot has performed well for me. A Jetboil Jetpower fuel canister (3.53 fl oz / 100g) fits inside this pot along with my Brunton Raptor stove and salt/pepper/spices. The Orange little bag that this pot and spoon come with also makes a great oven mitt for picking up the hot pot. The spoon is cool, but I don't use it, I prefer the long handled titanium spoon, Backcountry also sells that one… and using the spoon inside the orange bag that it comes in doesn't make any sense to me, because the spoon is longer than the pot is tall, therefore it makes the spoon/pot/orange bag combo an awkward shape… So, even if you do use the spoon that comes with this pot, I wouldn't pack it inside the bag with the pot.
Love it! I tuck my alcohol stove and windscreen right inside - makes a great light weight cooking system. I used this for the 2nd half of my AT thru hike. Other hikers were surprised when I told them the price! I could even cook 2 packs of ramen in it (it's a bit full but you can do it!). I would like to see this with a longer handle - if Backcountry redesigns it I would buy it again and again!
The pot is lightweight and solid-seeming. The lid is terrible, hardly nestles into the pot at all, using the strainer hole can be a possibly dinner-losing experience. Been there, it sucked, and I'm not clumsy or inattentive by nature, it's just poorly designed in that respect. Also, there's a finish to the pot that can scratch off, leading me to think it was a coating of some sort, Backcountry said it was just a processing of the titanium, not an additive and no health hazard exists. The spork is slick, but the stupid holes cut in it easily accumulate gooey foods like peanut butter. Not really hard to clean, but just a sign that aesthetics were more important than function in the design. I like the look of that Light My Fire spork with full spoon and fork on opposite ends of a smooth handle. Glad to hear that silicone lid works with this pot, I haven't used it since I lost that dinner, bad design pisses me off. At least the pot itself is pretty sweet, and shopping here is always easy and quick. Have a Marmot Driclime wind shirt on the way, my second, super stoked.
Good product/Lame Stuff Sack
Pretty legit so far. I plan on using this as a pot/bowl/mug combo. I expect it to perform well. It is light in weight and very clean construction. My only complaint so far is the stuff sack. There is padding underneath the external mesh shell. Although it doesn't weight very much, it is pretty much useless. I cannot remove it because it is bonded to the shell mesh fabric and this is extra weight. Super lame.
Lid replacement? Does anyone know if...
Lid replacement? Does anyone know if backcountry.com sells just the lids? I lost mine somehow and really want the lid back. If not- anyone have recommendations (my biggest concern regarding the lid is cold weather water boiling). Thanks!
Best Answer
If they do not then see if you can get a lid from a jetboil PCS from jetboil. Fits perfect, it's silicone so you can leave it on there while cooking. But popping it on and off whilst cooking to check on the boil will not be easy as it snaps on pretty deep and tight.
So can you get a 110g fuel can in the...
So can you get a 110g fuel can in the bottom, then a pocket rocket inside of a snow peak 450ml cup on top of the fuel...AND put the lid on? That would be exactly what I'm looking for!! :)
What you described shouldnt be out of the question!! Try it out it should fit
thanks, but I haven't bought it yet :) can anyone confirm or suggest another small pot that I could do this with? :)
I just got this pot off department of goods but I assume its the same thing. It's lightweight, well constructed and I was able to boil 2 cups of water using my homemade supercat stove. I'm definitely gonna need to insulate the handles though. Flames kissing metal for 5-10 minutes equals ouch.
not really a review so dont pay attention to the star rating (although if its anything like my other backcountry.com Ti cookware it would get 4 stars). just wanted to note that a customer service rep just told me this thing is 5 inches tall by 4 inches in diameter. i find dimensions with a volume gives you a more accurate picture of an item when you cant hold the thing in your hand. hope this info helps.