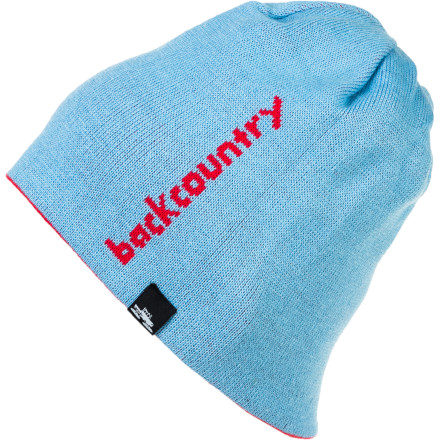 Detail Images

Community Images
Backcountry.com and Spacecraft collaborated in order to bring you the buttery-smooth Backcountry.com Reversible Goat Beanie. Finally, you can switch up your style on a whim so both of your personalities can enjoy the cold. Goat graphic on one side and Backcountry logo hit on the other, this acrylic beanie fends off winter's chilly bite while allowing your head to breathe a little.
Crafted by the fine, master craftsmen and craftswomen at Spacecraft (say craft again ... you know you want to)
Its Long
Familiarity:

I've put it through the wringer

Fit:

True to size
I don't care what else it does. Its long and covers the ears. Also, its thick so it doesn't get that raggety feel. Getting more soon.
Nice.
Familiarity:

I've used it several times

Fit:

True to size
This hat seems to have the perfect thickness for me. It's thick enough to stop a stiff wind on my ears, but also breathes enough so that I don't overheat. It's also on the slightly taller size, so I have a lot of room to play with in terms of wearing it higher or lower on my head. Plus I love the fact that it's really two hats in one with it being reversible.



Nice one, backcountry.
I'm Fly'n With The Goat
Familiarity:

I've put it through the wringer

Fit:

True to size
Yep, Spacecraft makes it happen and the Goat keeps ya style'n. Just an awesome way to show how tough you are through the Goat logo. Flip it over and let them know where to shop for the best gear, deals and gearheads. Others will know that you're the real deal when it comes to Backcountry!
Kids love em
Familiarity:

I've used it several times

Fit:

True to size
Grabbed a few of these for the little monkeys and the love the colors and the fit and the price made me happy. Go Backcountry!
Great colors
Familiarity:

I gave it as a gift but have feedback to share

Fit:

True to size
Love the look and the fact that it is reversible. Two in one items have always been something I've enjoyed. Gave this as a christmas present and my roommate is definitely going to love it. Super soft and seems to be pretty warm. Little bit smaller than I thought it was going to be in terms of length, but it isn't a bad thing.
Excellent!
Familiarity:

I've put it through the wringer

Fit:

Runs large
Love this cap! Doesn't make your forehead itch, it's nice and soft. I find this cap keeps me plenty warm. I have a hard time fitting it under a helmet, as its a little thicker due to the reversible nature. Nothing cooler than a big goat on your head! I think most people will think the hat is a little large. My head is size 7 1/2 with a high forehead and I find that there is still room for hair on top (ie, a little baggy).
Sweet rocking of the goat
Familiarity:

I've used it several times

Fit:

True to size
The hat is warm and not too heavy. Awesome for backcountry work to keep you warm in the cold.

I look at this great work of craftmanship as the perfect solution for the sophisticated dirtbag... I can rock it all day, sweating, swearing, crashing and busting through the bush, hucking my meat and slaying steep ice and snow all day. Then, with a simple reverse, I am a classy urbanite who looks clean and tidy... for the ladies...



Could be even more versatile than a pair of Dynafits. Though I don't think the Din on this hat is quite high enough for my steeze.
The goat is a winner. (Surprise).
I probably already owned about 20 beanies before buying this. None of them had the goat though, so I had to get it.



Turns out it looks pretty good. It's also light weight and easy to pack, but still plenty warm. I probably grab it 9/10 when reaching for a beanie.
Great Hat Nicccce!
Familiarity:

I've used it once or twice and have initial impressions

Fit:

True to size
Hope to wear this beanie on all my summit attempts. Not a fan of awkward tops but this beanie is the exception.
Say Whattt. Say Goat.
Familiarity:

I've used it once or twice and have initial impressions

Fit:

True to size
It's the middle of summer so I haven't worn it outside yet. First impressions, I don't like the way the top looks, I like a smooth beanie instead of wrinkles on top but I fell in love, I don't even care. Love it and am psyched for winter.


Goat or no Goat. Nice option. Runs big so I needed to shrink it in the dryer. Fits great under mountaineering helmets and is warm and durable. Definitely withstands all the elements (cold, wind, snow), maintains its shape, and protects the head well.
My favorite beanie this year
It was the only cap I took to Alaska this year
let people know that you support backcountry.com with a small or big logo depending on how your feeling. There are a lot of colours so you can match your style.
Warm, great looking, and it has the goat on it. What else can you ask for! I got the light blue and electric green. I wear them both all the time!
I grab it first out of the stack of 20
Familiarity:

I've used it several times
I got this hat at a Powderwhore show and I love it. Reason number one, (I'm a chick) the fit looks good and it's reversible, so I like having the color versatility. Reason number two, it's soft and comfortable. Reason number 3 that rarely seems to happen at the same time as reason 2: it keeps its shape. I wear it backcountry skiing and it doesn't get all stretched out and baggy when I'm sweating in it or when it's snowing. The fit is long enough to pull down for warmth, and when you wear it back a little more for "fashion", it doesn't get that huge pooch that makes you look like you're trying to be a 20 year old "free rider". Also, it has the goat on it- which doesn't do a ton for me but people seem obsessed with this logo. I get a lot of looks at the trailhead in this hat. I'd like to think it's me but I'm pretty sure it's the goat.

I've got plenty of great pics in this hat, but backountry.com, your "choose a photo file" button isn't working...

Lastly, coffee wipes off of it really nicely. That's important when you have an OCD boyfriend who hates coffee stains on his girlfriends hats.
Covers your ears. Keeps you warm and comfortable
Comfy beanie for the mountain or just to tool around town. Looks good and reps the goat.
Most laudable beanie encountered
Thus far, I've used this beanie outdoors whilst climbing and hiking, and while I also have an Eider brand beanie that I'm thoroughly impressed with, this is certainly a beanie worth investing in, and for the price, it cannot be beat. It wraps the head well, covers the ears without having that bothersome problem I've had the unfortunate privilege of enduring so many times before where a hat only covers half or part of the ears, and leaves the other half exposed, and is rather thick to boot. If you are in the market for a two-way beanie that you want to keep you warm without have superfluous attachments or appendages that can get in the way, this is definitely one to purchase. Backcountry nailed it on this piece of gear, indubitably.