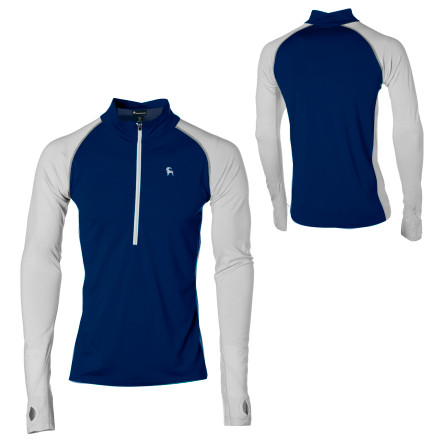 Detail Images

Community Images
What is the weight of this tee?
What is the weight of this tee?
Stink-free, I love merino.
Wrong color was sent as confirmed by customer service. Unfortunately the color I wanted was not available in my size, so now stuck with "tahoe" rather than "abyss". Agree that the monkey thumb holes are not positioned correctly but this is a minor point. Otherwise this base layer is great, stink-free, warm, fast drying, comfortable, non-itching (after the first 5 minutes). It is pretty form fitting - size Med, 5'10", 160# and I would likely size up if purchased another one.
I bought the abyss smoke and found that the color is not as white as the picture. It is more of a cream color not a big deal for me. I felt the sleeves were little short but they still cover my arms just fine. The shirt is stretchy and did not feel tight but I was expecting since I sized up that the fit would be a little more loose, it wasn't. This is a warm nice base layer.
I have the non-zippered version of this shirt and love it. I wear it quite a bit. Its pretty warm, very comfortable, and good as a base layer on cool days under a t-shirt or under a lot of layers on really cold days. Love the thumb holes too.
Great base layer but hurts thumbs
This thing is awesome to wear under a jacket for skiing but I have run into some problems with the thumb holes. I am 5'8 145lbs and have a small. The arms look super long but when I have the thumb holes on and I am skiing throughout the day, the arms ride up and the holes end up digging into my thumbs. Other than that, a great base layer. I am thinking about just cutting out the thumb holes and then the extra length in the arms will be just fine. Got it on SAC so i'm happy with it.
Functional but not super comfy
I wore this jacket for eight days straight while backpacking in the highlands of Guatemala, and I've worn it every single day on the mountain this ski season. It keeps you warm, even when it's wet. It's not, however, the softest wool--a wee bit scratchy. LOVE the thumb holes and fit, however. Really a useful, versatile piece.
How does this shirt compare to the Stoic...
How does this shirt compare to the Stoic base layer shirt in terms of size? According to the reviews the arms on the Stoic are supposed to be longer (at least there are more people saying the arms are super long) but the sizing chart says they are same.
Its true to the sizing chart. My arms are long (33.5 inches), relative to my height (5' 3") and its a fabulous base layer that provides additional warmth and layering for the radial and ulnar arteries. I think this is relevant to prevent digital vasoconstriction when you have to take off your gloves in cold weather for tasks that require dexterity. I've run, climbed, biked, and hiked with it.
I ended up buying both this one and the Stoic Merino Crew Shirt - Long-Sleeve, both in an XL (I am a 6'2", 195lb long arm monkey).
In terms of size I would say the Stoic fits a tiny bit more snug but has a little longer arms (but I don't have any problem using the thumb holes of the BC).
The BC is a little heavier / thicker and therefore not quite as stretchy as the Stoic.
I like both of them a lot, the only little con about the BC is that it does not fit tight around the neck, it is actually pretty loose.
Backcountry's Merino wool zip tee was too good of a deal to pass up. I got mine for $35 bucks! Takes a few washes to soften up the wool. I bought the XL and it is a snug fit but comfortable, sleeves are long and I LOVE the thumb loops. Comparable garments sell for over a $100 bucks so this is a GREAT DEAL. I bought 2! Washing makes it BETTER!
light weight and comfortable
Very light weight and comfortable. In my case, it is a little bit tight and the sleeves are little bit long. Other than that, very good product!
Great for people with long arms
I am a great fan of wool. I love the long(er than normal) sleeves and the athletic fit I am 6'3'' tall and ~180lbs (got two XL). I would not recommend this shirt for people with short arms; however, wool shrinks when dried-warm (this can be used for fitting). The material is great, but I more color options would be nice. (darker or neutral perhaps)
I have now worn my new shirt several times as a snowshoeing base layer. Only one of these was overnight but I can tell you right away I do not miss the synthetic funk of other base layers. The fit was great for me. I am 6'5" and the length of my shirt was better than I expected. My XL shirt was long enough but yet was cut trim enough that I did not drown in it (I'm 180 lbs). The neck zip is nice and long allowing great venting. With thumbs in the holes the sleeves are long enough not to pull. It has washed well and retained size and shape.
This is a great shirt to wear when going on those winter runs. I just went for a run today and this shirt preformed amazingly. It was roughly 30degrees, snowing, and a bit windy and all i wore on my torso was this shirt. Even when the outside of the shirt began to get wet from the snow I was still warm and pretty dry. This is yet another great Backcountry.com product, keep up the good work guys. Also the shirt fits tall, slim guys well; I'm 6'6" 210lbs and the XL fits just right.
Love this type shirt most out of everything I own! Actually I like the crew neck most but I have some of each type. The XL fits like a large should on me, so you might want to size up. Just dont forget that the sleeves will be a little longer. I wear one of these almost everyday and they have yet to smell bad once (I dont like to was them much)! Even that wet sheep smell that I have heard of. If you are looking for the crew neck type, Stoic Merino Tees are actually the same shirt with a different label. They all breath awesome in even 60 degree weather, hold back the stink, soft as can be, and keep extra heat in too.
How does this compare to the equivalent...
How does this compare to the equivalent Ibex merino wool baselayer? That's what I have now and absolutely love it.
Personally I find them very similar, in weight, warmth and wicking. The fit on the BC.com Tee is a bit better, at least for me. If you love the Ibex, then I say stick with the Ibex, but this is about the same type of deal.
How thick it is? compare to smartwool...
How thick it is? compare to smartwool weight,is this micro,light or mid? thanks gurus!
About the same as a lightweight Smartwool I would say.
Hey there, I am 6'2", 220 lbs 43-44" chest....
Hey there, I am 6'2", 220 lbs 43-44" chest. L or XL? Thanks guys!
No one's weighed in yet that has the shirt. I have other Backcountry.com products and I have other merino base/mid layer tops and I'd say go with the XL. I'm 6'1" 185 and I'm in a Large without a lot of room to spare, but I have an XL Icebreaker 200 that fits fine as well. Since you've got me on height and size and since they're stretchy pieces XL should work well. If somehow you find XL too big (it won't be) just bump it a few minutes in the dryer CAREFULLY--but it won't get to that, XL is the way to go.
1 month in the same shirt
I spent an entire month long expedition in the Merino Zip Tee recently. It performed relatively well, but the white sleeves became brown in a matter of days and holes emerged where my backpack rubbed against the shirt within about a week. I also feel that while this wool may make you smell less bad in a typical human BO kind of way, in the end you still smell bad, just a different kind of bad. Maybe more like a "wet sheep" as the other reviewer said.

In any case, the shirt worked well to deflect the sun (we were on glacier most of the time) and managed heat and moisture just fine. It did stay damp for longer than I expected, but I didn't feel cold in it when it was damp like I would with a synthetic baselayer.

Also, after two washes the sleeves are still brown :( Its probably not going to make it after what I put it through.
I like this shirt alot, but the color bugs me. It doesn't stop me from wearing it though... The thumb holes are great, I still can't believe that they only seem to be on wool long sleeves. Made in China (Bummer for some)
Unanswered Question
Is this the lightest weight longsleeve...
Is this the lightest weight longsleeve merino wool offering from Backcountry?