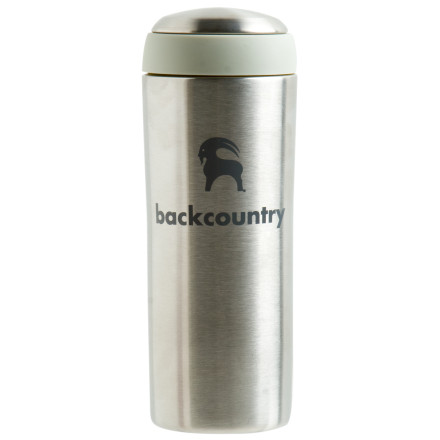 Detail Images

Community Images
For all those looking check out:

http://www.biome.com.au/thermos/7353-sigg-metro-mug-spare-parts.html
, ☃bcs_badge_alumni_label☃
Backcountry coffee tumbler
It gets the job done: this one really keeps the temperature. I find it great for the office but not very confortable to carry on from one place to the other.
Wish BC would re-issue these
A great little coffee thermos that allowed me to get a cup everymore without wasting disposable cups or getting too much caffine. Unfortunately I lost a key rubber piece and now it is worthless. BC was no help in this case. Wish they could have told me who the manufacturer is at least.
I broke my previous favorite coffee mug and decided to try these out. I find them great for camping since you can store them without leaking any leftover drips that might have been in there and great when you want to bring a hot beverage to work and not have to drink it all right away. It's also nice to not worry about it leaking in my tote bag on the way home. Also great to take into your local coffee shop for a 12 oz refill (and force yourself to NOT spend the money on the 16 or 20 oz). I also used these on a road trip.... loaded up one with a chai to drink right away, and kept a mocha hot in the other one to drink 4 hours later. Been using them for 2 months pretty consistently and they are not as scratched up as I expected either (green and blue ones).
Good insulator, small size
This tumbler keeps coffee warm for a long long time. Up to 3 -4 hours with my experience. People complain about the small size, but I think it's a perfect size for someone who doesn't drink a whole ton of coffee. The Backcountry logo is also a cool touch to the tumbler. I hope Backcountry continues to make more branded items.
For $3.00 you can't beat it but it makes you wonder why a $20.00 coffee tumble was reduced to such a low price....hmm. Well it looks great but you cant drink from the plastic top. To get a full gulp you are required to unscrew the entire top.
Jithu,
The stainless steel parts are certainly dishwasher safe, and considering the temperature of hot coffee I would be willing to bet that the plastic piece is also safe. However, when in doubt keep the plastic piece on the top rack and away from the heating element of the dishwasher. I hope this helps.
I just bought 5 of these at $3 each. So far Im a big fan. I can tell that the good looking blue and red colors are going to get scratched to crap but they seam pretty durable otherwise. The main reason i am writing a review so soon after I bought it is to bring up something that everyone else seemed to miss or doesn't care about. The stated capacity is 12oz. and it is, so long as you leave the cap off and fill it to where surface tension keeps your liquid in. In reality, with the lid on it fits EXACTLY 10oz. Just a friendly heads up. I don't really care too much about that. at $15 for 5, i can afford to live with it.
Great pocket coffee tumbler, price is awesome!
I really like this tumbler because it fits easily into a cargo pocket. I carry it every day when I walk to work.

I have taken it on a few hikes and have brought it skiing several times.It is very durable. It keeps liquids warm for very long periods of time. It kept my coffee warm (at 2600 meters and -14C in Austira) for a whole afternoon on the slopes so that I had a nice steaming hot pick me up on every Gondola ride.

For the price I say buy it---so long as you already meet the quota for free shipping it makes a great add on, almost like a free gift.
I got the three pack when they were really cheap, and I love it. I ride my bike to work and don't always have time to finish my coffee before I leave. I can put this mug right in my bag and it doesn't spill.
Good way to rock the logo
Great Price for a fun little tumbler to rock the Backcountry Logo. Keeps my coffee warm for at least 4 hours. Can't beat the price. Since there is no sip side it can drip a bit.
Good way to rock the logo
Great Price for a fun little tumbler to rock the Backcountry Logo. Keeps my coffee warm for at least 4 hours. Can't beat the price. Since there is no sip side it can drip a bit.
I work at a University overseeing an Outdoor Adventure Program. These are great we put a sticker with our logo on them and we have been using them as a give away for students who come out on our programs. We have taken them backcountry skiing, backpacking in Moab, and a few of them even made it on a service trip to the Domican Republic. These have kept things hot and got people excited to come on our programs. The only critism is if you don't get the lid on exactly right it can leak. Everyone here loves these things.
Sorry, but this doesn't cut it for me. It is hard to drink from (I don't carry an extra cup). I don't know about heat exchange because I just put some water in it to try the functionality when I first got it. It would be better if the removable cap allowed me to drink from the bottle; however, the extra lid is just for some storage space and pressure relief. It does a good job of not leaking, so I guess that is where the two stars come from.
A nice little thermos. I got two cheap. one came scratched up but not worth returning. I should have remembered how worthless it is to buy painted metal vessels. Otherwise they hold heat well. I like the size, it quietly limits the amount of coffee I drink.
Simply a addition to any trip.Toss in some grinds and hot water, enjoy some cowboy coffee!
Does the job- for a while.
It's kinda odd to think of carrying only 12oz of hot liquid on any overnite trip, so I think the BC Tumbler is best for a morning warm-me-up on a half day outing. I found it kept things hot for a surprising amount of time- but realistically about 2 hours- and that's if kept in a pocket, not a cold backpack. it's pretty tough construction, but a bit too heavy for my liking when compared against against a lexan cup for my weight-conscious alpine climbs. However, on a few casual overnites I've taken it along- exchanging weight for warm drinks; plain lexan only keeps my drinks warm for about 5 minutes.
I bought some of these for my husband and my brother and they both love them! I like it that I can put a teabag in the top of the lid and that they are lightweight. We hike a lot in Northern Arizona and while some reviews say it doesn't keep things cold for six hours, I've found that there's no way I'm going to hike for six hours without having my beverage!!! I'll be purchasing more for the rest of the hiking fam!
These look cool and are nice and lightweight- and wont spill- but they aren't made to drink out of- you would think there would be a spout or something underneath the silver cap- but there isn't. I don't even know why the silver cap comes off- the only way to open it is to completely screw off the plastic top. Good for transporting hot things I guess but not made to be a mug of any type.
Thought this thing would be your traditional coffee mug but it doesn't even let you drink without completely unscrewing the top lid. Has a storage space for tea bags I guess (useless for me). Didn't return it though because would have cost as much as the item to send it back. Only thing on this site I have not been happy with.