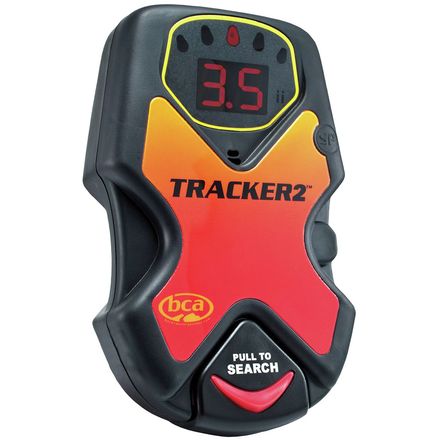 Detail Images

Community Images
Description
The Tracker 2 is the new standard in simple, reliable beacons from Backcountry Access.
The Backcountry Access Tracker 2 subtracts weight and size, and adds real-time display and a third receiving antenna to the best-selling, dead-simple Tracker DTS. The third digital antenna increases accuracy and provides a strong buried signal in any orientation, while the real-time display eliminates lag time, allowing you to narrow your search zone quickly when seconds count. The Tracker 2's single search / transmit switch makes learning and teaching a snap, and it reduces confusion when you hit adrenaline overdrive.
Share your thoughts
What do you think of the
Backcountry Access
Tracker 2 Avalanche Beacon
? Share a...
Ease of Use
Familiarity:

I've put it through the wringer
This beacon is super easy to use and really easy to learn with. Its not too complicated while still getting to the mark as fast as the other, more high tech devices. Teaching Avy courses, I find most students have the easiest time with this model. Simple and easy.
Works for me.
Familiarity:

I've used it several times
It is pretty simple. I know there are fancier ones out there but I am a guy who never learned to program the time on the VCR. I only know how to use a fraction of any high tech piece of equipment.

I want it to be simple and this one is. And I am a cheap asshole.

So lets recap..

Quality. Check

Ease of use. Check

Great value. Check

I think it is a pretty easy decision and If I am that worried about an Avalanche I will take a course and most likely I won't be out in those conditions anyhow or I will go buy an ABS device to keep the odds in my favor even more.
Simple and effective with one catch
This beacon is simple, and the three antenna system is more effective on a fine search then the previous model so in a situation where time is critical it is great. Be careful not to depress the search mechanism when using in a rescue situation - its very easy to accidentally do this and the mission is then lost.
Easy choice
Familiarity:

I've put it through the wringer
I've been using the Tracker 2 for 3 seasons now. It's durable and shows no signs of wear after all this time. The simplicity of the beacon is definitely a draw and leads to fast searches.
Backcountry filming w Tracker2 in WY
simple
Familiarity:

I've used it once or twice and have initial impressions
straight forward simple design - easy to use
Great beacon!
Familiarity:

I've put it through the wringer
After extensively using my original tracker, i decided to make the upgrade to the 2. I am not disappointed at all. straightforward design and use, and the reliability that bca is known for. I wouldn't hesitate on buying this.
Hello. Does this come with the harness?
Has anyone had any experience regarding the durability of this beacon? Impact with hard objects etc.
Tracker beacons have proven to be some of the most reliable beacons on the market. However no beacon is really designed to take hard impacts.

This will hold up well if you take a hard fall. If you were buried and dragged over several rock bands it could be damaged, however almost any beacon on the market could be damaged in a scenario like that. If used for the purpose it is designed for this beacon will hold up to years of use.
A Backcountry Gear MUST HAVE!!!
Familiarity:

I've put it through the wringer
I've never had to use my BCA Tracker 2 Avy Beacon for an actual rescue, however the Tracker 2 is so easy to use that anyone can learn to use this device in a matter of minutes. Very reliable, batteries last quite a long time, and I don't go anywhere in the backcountry without. A MUST HAVE for the exceptional blower pow days on steep terrain and a must have in general. Highly recommend the Tracker 2. BCA has the most affordable and reliable avalanche safety gear on the market to date.
Mandatory Gear
Familiarity:

I've used it several times
After being buried a meter down in an avalanche many years ago, I have always made sure to take avalanche gear along with me in the winter backcountry. This beacon replaces my older Pieps and I find the BCA Tracker 2 very easy to operate, accurate, and the harness is very secure. It is, as noted several times here, easy to mistakenly switch back to transmit.
Easy to use
Familiarity:

I've used it several times
Great simple beacon. With a little practice it guides you to a signal with ease.
good beacon
Familiarity:

I've put it through the wringer
this is a great beacon. its reliable, high performance, and very easy to use.
Great Beacon!
Familiarity:

I've put it through the wringer
This is a great product that is very solid. I am pleased with the easy of use. It works really well in search mode. It will defiantly help you find your buddy in an emergency. The harness that is included works well as well. Great product and one that I hope to never use.
Excellent product
Familiarity:

I've put it through the wringer
My first beacon and I am very, very pleased. It does its job and ensures I will be found quickly in the event of a rescue.

Great auto search mode and "special mode" for multi burial searchs.

Compact enough and light weight. Great strap system on the harness that ensures it wont swing around or be uncomfortable while riding.
Great Beacon
Familiarity:

I've used it several times
This is my first beacon and its super easy to use. I really like it. Hopefully I NEVER actually have to use it in search mode. But during drills it worked great and the signal was able to keep up with me while I was running.
Can be mailed to Hong Kong?
Can be mailed to Hong Kong?
Best Answer
Yes, we can ship this to Hong Kong, although any additional customs, duties, and VAT fees may apply. To figure out the shipping charges, just follow these easy steps: First, add the item or items to your cart. Then proceed to checkout (don?t worry?proceeding to checkout doesn?t make you obligated to purchase anything). Enter your address in the billing and shipping fields. Once you change the country, the page will show you the shipping charges.
My next beacon
Familiarity:

I've used it once or twice and have initial impressions
I don't own this yet but I'm about to. It's fairly simple to operate and coming from the tracker 1 it's an easy transition. I have many friends with this current beacon and the only flaw seems to be the ease of putting it back into transmit by mistake. Something to pay attention to when stashing it during a search.
Initial impressions
Familiarity:

I've used it several times
The past few weeks I have been getting to know this beacon. I went from the Tracker 1 to this out of familiarity and ease of use. I was super comfortable with the Tracker 1 and figured I would stick to what I know. A couple of things that I love about this beacon is that it is so easy to use. Great to teach people with and really basic and straight forward. A major improvement with this beacon from the Tracker 1 is that when you get within 2 meters the lit up arrows disappear allowing you to only focus on the numbers for your pin point grid search. This is great for beginners as they won't pay attention to the lit up arrows at this point and they will only focus on the numbers. This is also a great cue for them to drop to their knees and start pin pointing.

One thing that I noticed right away was the search to transmit pull tab system. This is my only major gripe so far with this beacon. After you have found your lowest point in your grid search and you stow your beacon to probe/shovel it is incredibly easy to push the search tab back into transmit. Important to note this! Even though I am acutely aware that this is an issue, it happened to me last weak in a singe burial scenario. I quickly noticed and switched it back to search mode, but realized that even though you are aware of this feature, it can still happen very easily! Wouldn't want to throw of an entire search unknowingly going back into transmit.

Have not yet worked in a multiple burial scenario, but excited to do so ASAP!
mediocre
Familiarity:

I've put it through the wringer
So this beacon works, let me start by saying that. It transmits a reliable signal, and its search mode is standard numbers and arrows that lead you to the victim.

here are its flaws. the switch to turn the unit on and off is very hard to turn. it could be fixed with some lube, but as of now, mine is actually painful on the fingers to spin the flat plastic knob. Everyone else I know with the beacon has the same issue. Secondly, the beacon DOES NOT DO MULTIPLE BURIALS. It has a button on the unit that says SP. It seems like the button is intended for multiple burials but it is not. It is for Special function, and it narrows the search signal, I haven't learned how to use it but I have heard it is difficult and not worth learning. I recently took a class and we practiced multiple burials and people with the mammut beacon that can cancel a beacon out once it finds it, had a much easier time than those of us with this beacon. Lastly, the beacon can be easily jarred out of search mode back into transmit mode. this could be good if you got hit by a second avalanche while in search mode looking for someone, but for the most part it seems to be an issue. if your party is looking for a buried person, everyone must be in search mode or off so that the only signal being picked up is that of the buried person. when you keep accidentally jarring your device back into transmit mode it confuses the rescue operations, slows them down, and seconds are precious in such a scenario. my advice, spend more dough and get the mammut, I wish I did.