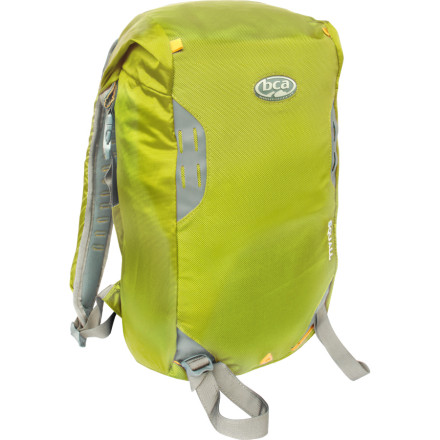 Backcountry Access entices you with its stripped-down, price-point Stash Squall Winter Pack. This beauty-of-a-pack cuts down on weight, but not on space to hold your gear for a full day of fun in the backcountry.
A back panel access allows for easy-access to your gear
Multiple internal organizational pockets hold your shovel, shovel handle, probe, and 2-liter hydration bladder (included)
Freezeproof hydration bladder system with Outlast sleeve helps your hose and bite valve retain heat longer during chilly lift rides, and when you remove your pack so you have water to sip on during your escapades
Ski carry straps hold your skis diagonally
Best fits torso lengths between 17-22 inches
Solid little pack
Gender:

Male

Familiarity:

I've used it several times
Great pack for in-bounds skiing or light loads. Back zipper access is awesome, especially when the pack is loaded. On the flip side of that, the zipper can be of some annoyance as it does not fit flush into the pack. I would be weary if you are tall, I am 6'4 and the pack is not an ideal fit, although it is a OSFA pack so you should not expect it to be perfect.
Simple, Light, and Accessable
Gender:

Female

Familiarity:

I've put it through the wringer
I got this pack last season and just love it for those days when I'm going out for a casual day of touring or a day digging pits. Personally, I love the dry bag closure system- no zippers to worry about and a strait forward top loading bag with a full length back zip access point. Unlike some of the reviews that claim their is no separate section for avi tools, I'm not sure what year pack they have because mine has internal sleeves between the exterior nylon and the internal fabric designed to hold blade, handle, and probe. While the hip belt is a nylon strap, I don't mind it for a bag of this size. The goggle pocket is also a nice touch, although it can get crowded out if you fill the bag too much. All and all I like it for its simplicity and quick ease of use.
Decent - Never Really Satisfied
Pros
- A perfect size for backcountry day trips with ample space for food, camera, gear, and water pouch
- well designed openings
- sturdy and has held up so far
- comfortable with weight added
- a nice bright color for added visibility

Cons
-the rolltop closure is a bit awkward, and can be annoying at times
-no padded belt
-no divider for avy gear

*I've really never been satisfied completely with a winter pack. They're either too small or designed a bit poorly like this one. I must say this is the best pack I've had so far though tied with a Dakine pack.
I've used the older version, which had a...
I've used the older version, which had a lightly padded hip belt.

It's hard to see from the photos whether the updated version has a padded belt. Can someone who has one (or Backcountry.com) say whether the hip belt is still padded?

Thanks!
Just received this pack as a gift, and the hip belt is not padded. It's just a wide (1.5"-2") strap.
I borrowed my girlfriends old squall a few times and thought that it was a great simple pack except that it had no sleeve for a drinking tube and I was not convinced by some of the fabrics that were used.

When I saw that they had brought out a new version with tougher materials and a drinking tube I bought one. The new fabrics look good and the pack is simpler and more streamlined making it fine for riding lifts and having enough room for a day in the backcountry. Unfortunately BCA decided to remove the divider between the avy gear and main compartment, and the opening to get to the avy gear (top) has become a strange combination of a drawstring and a velcro and a rolltop closure. The drawstring does allow you to create a little more room in the pack (say for a helmet on the up track) but this opening is fiddly and I think that I would prefer a zipper to the velcro. The roll top doesn't seem to add any benefit that I can see. If the current design had a zipper to access the avy gear and a divider between wet and dry then it would be no less than perfect.

It loses 1 star for the fiddly closure and the lack of a divider.