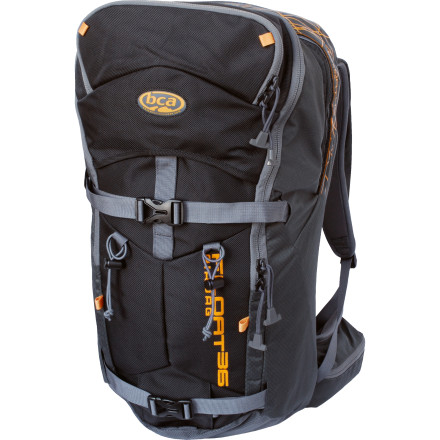 Community Images
Backcountry Access created the Float 36 backpack for ski guides, avalanche forecasters, and dedicated ski bums who wouldn't think of stepping into avy terrain without an airbag pack. If you find yourself going for a ride just pull the oh-crap handle to deploy the airbag. This bag adds buoyancy to your body to keep you on top of the slide and protects you from debris. While it's not a guarantee for survival, it's a whole lot better than your well-worn lucky rabbit's foot.
Float avalanche airbag deploys behind the head, protecting the upper body from trauma without sacrificing the mobility and peripheral vision you need to escape an avalanche
An internal rod frame, load lifters, and a waistbelt provide support and a custom fit
Ski and snowboard carry system handle your gear
Internal shovel and probe pockets organize your life-saving tools
Back-panel access allows easy access to your gear
A hydration sleeve secures your H2O, while a fleece-lined pocket stashes your spare goggles
Torso length: 17-22in (43.2-55.9cm)
Re-fill able air canister included, but ships empty
Editor's Note: wearing this airbag system does NOT guarantee that you will survive an avalanche burial or a slide amidst avalanche debris; get educated, get the right tools, travel with partners, and be smart out there
**Cylinder Sold Separately**
Reasonably comfortable pack. Like the easy access pocket at the top for goggles. Also nice having access from the back. My 7 year old son was really disappointed though that the "balloon" is compressed air rather than helium - he thought it'd be neat if you could float away from an avalanche.
I was reluctant to carry a pack with an airbag. I am touring for most of my turns, and the extra weight turned me off. I changed my mind when I saw the design of the Float 36. I am incredibly impressed with the pack design. The airbag is just a huge bonus.

The Float 36 is big enough to handle my entire guide kit - first aid kit, rescue sled, repair kit, food, water, extra clothes, camera, etc. The zipper design allows easy access to everything in the pack. The back panel access allows for access to the stuff on the bottom if you've got skis attached to the back. The pockets are excellent. The pockets on the waist belt are big enough to be functional. The goggle pocket is in a great spot and doesn't interfere with the rest of the pack.

If I have one negative, it would be that the shovel blade doesn't have a great home. If it goes in the pack, it is awkward. I have a BCA shovel and have managed to get the blade into the compartment with the canister and mechanical pieces of the pack. I haven't asked if this is a bad thing to do. So far it hasn't been an issue.

The pack carries extremely well, and the extra weight doesn't fall onto your shoulders. It doesn't flop around on the descent. Honestly, since touring with it, I haven't even noticed the extra weight. If you're used to carrying a full pack, it's not really a big deal.
pack is empty except for shovel, probe, and a few small items. compression straps work well
does the Float 36 ship from Backcountry...
does the Float 36 ship from Backcountry with the canister initially filled?
I would certainly hope so, and would guess that would be the case.
It does, but it only ships via ground. FAA regulations prevent shipping pressurized containers on an airplane. So, no overnight shipping and no travelling with a charged canister.
I just got one a month ago and it shipped with an empty canister. quite frustrating since it is counties away to find a filling station.
Due to hazmat regs, we have to ship our canisters empty. Apologies for the inconvenience - we hope to have a more streamlined solution soon!
Ships with canister empty, but I got mine refilled for free at a local BCA dealer. I deployed the airbag to test it, and got it refilled a second time for $7 at a local scuba shop. Apparently anywhere that refills paintball gun canisters is another place to check.
Will airlines allow charged air cylinders...
Will airlines allow charged air cylinders onboard, as either checked baggage or as carry-on?
Best Answer
no you can't have them in your carry-on and you might run into problems even checking them in. the best way is to mail them to your destination or just buy them when you get there from a ski shop.
I have flown from the middle east to the US via Germany and they allowed me to have inflatable life jackets in my checked bag (had CO2 canisters attached). When I got home, I found a note in my checked luggage stating that they inspected my bags. I am sure they were just taking extra precautions to make sure that I wasn't carrying some sort of explosive. Just check with the airlines first if any doubts.
Nice pack, but beware it's far smaller in practice than 36L. I managed shovel, probe, puffy jacket, food, water, first aid kit, emergency tarp, PLB, sunglasses/goggles, spare gloves and either my jacket (during the up) or skins (during the down). There was little space if I needed to add a harness or crampons or other items. That said, for a day tour I found it super comfortable and definitely appreciate the insurance value.
Does the 36 come with leg straps like the...
Does the 36 come with leg straps like the 30, to keep the pack from coming off over your head?
There's a leg strap on the right leg.
Unanswered Question
re:Japan refills. You can't have a Float...
re:Japan refills. You can't have a Float cylinder from North America or Europe filled in Japan. Each Japanese cylinder contains a special stamp and certification that's received through secondary inspection when the cylinders arrive in Japan. However, if you do have a cylinder that was puchased in Japan, there are 100's of scuba shops and paintball stores that can fill it.
Super nice pck with added insurance.
First off this pack is very well designed, and looks even better in person. I definitely like the looks of the 36 over the 30, plus the added room over the 30 liter is great. I really like the added waistbelt pockets to make up for space taken up by the air bag system.

In addition to the great design, the material on this pack is bomber and very durable. The pack has plenty of padding on the back plus a back panel zipper access (mainly for getting to the airbag system, but some gear can be stored there as well), but the padding isn't ventilated, but that's not a deal killer.

Do note that even though is a 36 liter pack, after the airbag system takes its space, you're left with around 20 liters usable room at most. I wish there was a separator for the avy gear pocket from the rest of the storage, but everything is piled into one pocket. And I wish they made the airbag pocket a tad bit bigger and it's pretty tight with the airbag in there and getting a deployed airbag back into the pack isn't as easy as other packs. Just a small bit of added space would make this pack a 5 star rating in my books.

The added mesh helmet holder and compression straps are good enough to store your gear for the uphill. This pack will definitely be getting a lot of time from sidecountry runs to full days in the backcountry. Worth the cost of admission.
Hello, I ask from Japan. I'm wondering...
Hello, I ask from Japan. I'm wondering getting a BCA Float 30 or 36 bag from your store. But I worry if it's possible to ship to japan by air plane or some other ways. Because this bag contains air cylinder which might be already high pressure. Thank you.
I know if ordering directly from BCA you can request to have an empty cylinder sent to you. Backcountry may do the same.
Best Answer
Looks like Backcountry ship with empty cylinders... I just bought a Float 36 and was surprised/disappointed that it shipped ground and I got an empty cylinder. They really should make this explicit on their website (like BCA do).
I looked into getting the float 30 sent to Japan, and contacted BCA about refilling options here in Japan. They informed me that there were no refill centers here at this time , so you have to ask yourself, 'How will I refill it in Japan?' I would love to know the answer to this question myself.
what style of ski carry? Diagonal or...
what style of ski carry? Diagonal or side?
Looks like diagonal, I don't see straps for side or A frame.
The video on the BCA website states it's vertical ski carry. Wild Snow back that up in their comments.
vertical carry, but you can make it sort of diagonal by routing the upper horizontal strap through the vertical one and putting the skis to one side of the vertical strap. (not sure if that made sense).
Just got a float 30 and spoke to BCA it is definately a diagonal carry. I was specific about this as I can't stand vertical carry constantly hitting the heels of my boots. Great pack though a little heavy but looking at all on the market they all are! Great shovel pocket and separate probe pocket too.
The ski carry for the Float 36 is vertical but can be rigged as a diagonal ski carry by orienting the skis in the top compression strap to one side by using any type of ski strap, such as a velcro or voile.
I have the pack, I spoke to BCA, it is a vertical ski carry.

All the morons who said otherwise best check themselves!