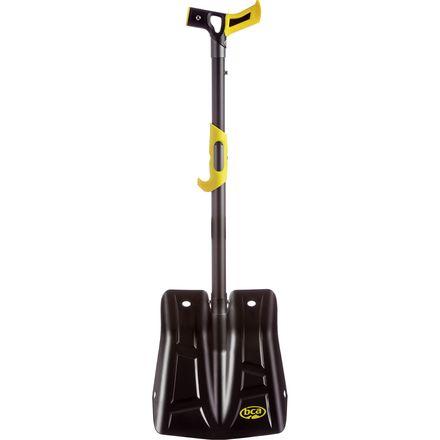 Colors

Videos

Community Images
Description
Just what the sledneck, ski mountaineer, and backcountry powder glutton ordered.
Whether you're brrraaaapppp, braaappppping on your snow machine, skinning up the track, or rappelling into a couloir, the Backcountry Access Dozer Hoe Shovel with D2 EXT Blade digs like no other thanks to its hoe shovel design that easily converts into a traditional shovel.

Effective hoe shovel design lets you dig like a machine, while its slip-proof shaft and blade grips give you a solid handle on things
Tough-as-nails aluminum shovel blade offers a high strength-to-weight ratio so you can depend on the construction when lives are on the line
Converts easily to a traditional shovel
Oval shaft with a 'ferrule-less' blade, ergonomic grip, and T6 heat treatment offers a more packable, bombproof shovel
T-grip can be looped through and worn without a pack with user-supplied webbing or rope
Pre-punched holes in the shovel blade make it simple to set up a sturdy snow anchor or emergency litter
Best shovel ever
Familiarity:

I've put it through the wringer
I have used several shovels in the past. This one is my favorite for many reasons. First I was able to keep the shovel in tact with the shovel head and shaft connected, saving precious moments in a moment of need. The Shovel is also very light weight. The ability to switch from a traditional shovel attachment to a "hoe" style is really awesome. The "hoe" feature enables you to move a lot of snow quickly! The metal is very durable and the handle very comfortable in your hand. Best shovel ever!
Sledding Shovel
Familiarity:

I've put it through the wringer
When I am out snowmobiling I have a little more room in my pack for a larger shovel. That's why I like to pack the Dozer Hoe when I am sledding. Not only is it a great rescue device, but you can build jumps with it really quick too.
Careful with the handle
Gender:

Male

Familiarity:

I've used it several times
I took my Dozer up to St. Mary's Glacier in CO to test it out in the snow. The hoe and shovel both worked great at clearing out the snow. The hoe mode and handle at the end while in hoe mode were big reasons for getting this. I dug a pit just to test it out and was quite surprised when the handle broke while using the hoe mode. Looking at the angle, the slanted angle where the plastic handle meets the aluminum shaft seems to be on its shear plane. All I did was give the handle a small lift up to "pop" the snow out. Also, the handle and hook at the end seemed to hurt my hand more than help with grip. My gloves were able to hold it just fine, even without using the end handle. It seemed to also get in the way while shoveling too.
I lovell my shovell!
Familiarity:

I've put it through the wringer
This is one solid shovel. The hoe/shovel option is especially handy for sweeping away large amounts of snow. Which is especially handy when you stick that snowmobile in deep fluff..... it's also exceptional for shoveling the driveway and digging up potatoes....but I don't recommend it.
Solid
Familiarity:

I've used it several times
I'll never go back to a non-hoe shovel again. There are a few others on the market but compared to some others I've used I prefer this one. The grips really make hoe-mode much easier to deal with than a straight shaft for a grip.
Dozer style shovels have been around, but the BCA D2 EXT is a step above some of the other earlier iterations. The shovel packs down to two pieces to stashing in the pack tools pocket, but is a slightly larger profile than say the BD Deploy 3. Bigger shovel profile = Moving more snow faster. Its incredible how much snow you can move quickly in dozer mode, be it digging a pit, running practice drills, or digging your car out of the parking lot at the end of a powder day. I have not had to use the product in a real rescue situation but it is incredibly sturdy and I have full confidence it would perform very well in avalanche debris.



My only knocks would be the weight and the fact that early in use it was fairly easy to get the handle portion caught in-between sliding on the shaft and locked into position. After some wrestling I worked the handle back in place, but it did result in some cold hands.
amazing shovel!
Familiarity:

I've put it through the wringer
I used this shovel all season, the hoe mode is great for digging pits and for digging in powder, while the standard shovel mode is great for digging in firmer conditions. While skiing in a very steep couloir with lots of cliffs I had to climb back up to the top due to a cliff, which is usually all right because I have my ice axe but the snow was too deep and soft to use the axe, I discovered that when in hoe mode it can be used to climb up very steep slopes.
This is a great multipurpose shovel. If you are planning on using it for touring, make sure to give yourself time at home to learn how to properly adjust your shovel. It took me a few try's to get the hang of how to transform the shovel back and forth, but definitely worth the time! I found this shovel is great for digging pits and clearing snow.