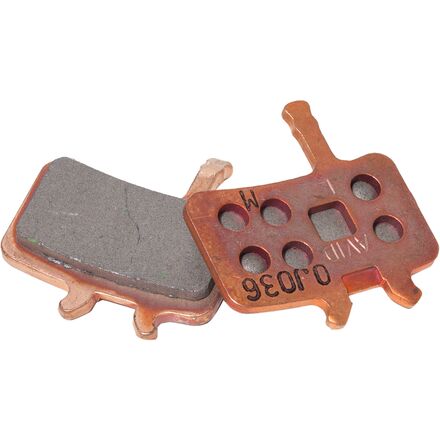 Description
Meaty.
This rectangular pad set, enough for one brake, works with all of the Juicy hydraulic brakes and the cable-operated BB7.
Since you never want to ride metal on metal, it's always good to have two sets of pads around, so you don't need to hustle to find pads when you suddenly realize you need to replace your old pads the Friday night before a big weekend of riding. Included in the kit are two pads and a spreader spring for one brake. Choose organic or metallic compound.
Organic brake pads: quieter but wear out faster than metallic; better modulation, less power
Metallic brake pads: noisier but last longer than organic; less modulation, more power
Choices.....
Familiarity:

I've used it several times
Organic/semi-metallic/resin pads are softer and tend to be quieter. They offer more initial bite, but fade faster than metallic pads on longer descents. Do not use organic/semi-metallic/resin pads in wet conditions.

Metallic/sintered pads last longer, handle heat better, and resist fade better under heavier braking loads, making them good for downhill. In wet conditions, metallic pads are a must.
great brake pads
Familiarity:

I've put it through the wringer
These fit my avid juice 7 brake system like a charm. I don't have any complaints, they fit and they work as advertised.
awesome pads, 1000s of ks
Familiarity:

I've put it through the wringer
if you buy these, it means two things: you ride a lot and your pads last a while. both are good things, and one of the reasons I stick with juicy and bb7s for all my bikes. Easy to rack up 10000km without having to change pads, and the number can triple on the road. Pretty easy to change with just some pliers which is nice in the field.
Killer stopping power. Last a long time (metallic). Easy install for the most part.
Are the Avid brake pads universal for all...
Are the Avid brake pads universal for all levels of the Juicy line?

More specifically, are these Avid brake pads compatible with the Juicy 3s?
These will work with all Juicy brakes.