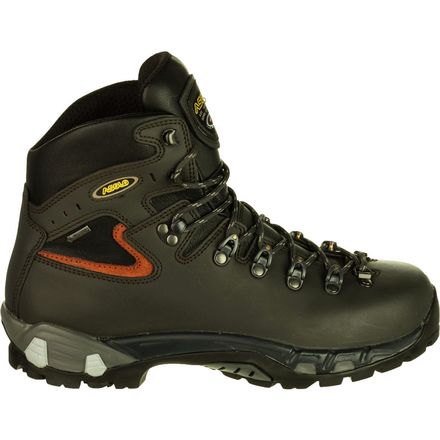 Detail Images

Videos

Community Images
Description
Give long lasting power to your stride with Asolo's Power Matic 200 GV Backpacking Boot.
The Asolo Men's Power Matic 200 GV Backpacking Boot has a waterproof Gore-Tex lining and fatigue-reducing technology to keep you moving for your hardcore winter hikes. The Power Matic sole's front density gives you maximum support, and a heel density that reduces shock and fatigue. Cylinders throughout the outsole and midsole absorb jarring from your steps, so you can take on the trail and have more energy for the long haul. The waterproof Gore-Tex lining protects your feet from those soggy spring days, and provides high breathability for the long haul. A wide fit gives your feet more comfort without sacrificing support—less squashed toes and more stability.
These boots are untouchable. Great comfort, grippy no hot spots when you lace it tight and the roller system is amazing. I would like a little more tread but my every day shoe is a salmon speedcross 3 so I'm not the best judge for that.but this boot never stops in snow, mud, water or rock
Shipping and product
Gender:

Male

Fit:

True to size
Great service! Timely delivery and product is awesome. Even got some goodies along with it. Thank you!

Dan King
Arroyo Grande, California
Love
Familiarity:

I've put it through the wringer

Fit:

True to size
I love these boots. I have had many others, including old-school logger style Hawthorns for fire. The Asolos are durable, comfortable, and look good.



Good:

Fit - I have the normal width. My feet are painfully uncomfortable in normal width Vasque boots. They are almost perfectly comfortable in the Asolos. I have just enough room so that when my feet swell I don't feel constricted.



Durability - They are leather, and they will get scuffed up. I took a nice chunk out the other day on an easy afternoon hike. However, if you invest in some Obenaufs or comparable leather grease, you can hide most of the damage. Plus, scuffed boots look better.



Aside from the leather, these things are tanks. I can roll over nearly any terrain, side hill may way up a muddy slope, huff it through snow, ice, and slush, and still have dry, comfortable feet.



Waterproofing - I said it above. They are very effective. I stood in a running creek to wash them off at one point. My feet were bone dry after.



The only problem is that, on a warm day, the boots don't breathe as well as you might like. Bring a second pair of wool socks if you are overnighting.



These are awesome 4-season boots. They fit just fine in snowshoes. They don't breathe as well as, say, a pair of Chaco sandles, but they aren't Chaco sandles, so that's not a fair comparison!
only boot I'll wear
Familiarity:

I've put it through the wringer

Fit:

True to size
went on a trip recently. my friends all had "waterproof" boots with gore tex liners, etc. I was the only one with dry feet by the end. great boot, relatively light, supportive, good for high-volume / semi-wide feet. only complaint: no rubber toe rand. the front leather got all scratched up on the first trip! I built a rubber toe cap using polyurethane glue made for boots. That fixed the issue right up.
After 8 hard years they finally died
Familiarity:

I've put it through the wringer

Fit:

True to size
Bought a pair of these in 2006. They took a long time to break in, but eventually they were perfect. I've used these boots to climb 14'ers in colorado, hunt elk in the high country, go on a safari in africa, and wear almost every day in the winter...after 8 years, the soles finally started to come apart. Last year I made a minor repair with some shoe goo, but this year the different laminations on the sole itself finally failed. I'll be buying another pair of these boots for sure. I've got several other "high end" hiking boots, but I always went back to my powermatics. I have a relatively narrow foot, and the lacing system on these allowed me to really cinch them down to where I could haul 80lb. loads of elk meat off the mountains without any blisters. Fair warning...it took me a year to break them in...but getting 7 more years of happiness after that is just about priceless if you value your feet and use (abuse) them regularly.
Mid Sole Rotted into Grey PU crumbles
Gender:

Male

Familiarity:

I've put it through the wringer

Fit:

True to size
Ok so I have stomped in mine for 8 years since 06. Blistered a few times due to super long miles and heavy (skis/boots and overnight gear) so the leather was well worn. I am chaffed that the PU Grey midsole foam has turned to a dry rot. like powder, while the treds have a 100 miles and the leather uppers have 100's of miles to go. I wanted to get more out of them. I had the wide version and did not buy them at backcountry.





If I had known the gimmicky grey PU or EVA midsole would turn to crumbly powder and cause my sole to delam hiking (or in my backyard) I would have went with another boot. Wish more boots were resoleable. Unfortunately my midsoles rotted apart and delamed the treads several hundred meters above Zermatt in August. Bad timing.



Probably expecting too much of value these days when most things are built to fail. But with a full grain leather upper that still has lots of life and tread that still bite and stick, I am disappointed with what is a material failure of the gimmicky Grey foam PU or EVA midsole that you can see as little grey wedges when looking at the tread from the side. If the sole hadn't rotted out from the inside, they would still be my go to heavy backpacker hiker despite the occasional loss of flesh.



They probably were never heavy duty enough so maybe it is a blessing.



I always end up with heavy packs so maybe a heavier duty backpack or summer weight mountaineering boot will suit my short legged heavy footed 210 lbs better.
Unmatched Durability and Support
Familiarity:

I've put it through the wringer

Fit:

True to size
First off I'll say that if you're looking for an ultralight or breathable hiking boot then these are probably not the ones. They're heavy and Goretex+full grain leather=little breathability. What separates these boots from the pack is their ruggedness and support.



I have only had these particular boots for a couple of months but I've been using them a lot. Previously I had a pair of Asolo TPS 520 GV's which are so similar it's hard to tell the difference. I had those boots for almost 8 years and used them for everything--hiking, snow, mud, hunting, backpacking, etc. I abused the hell out of them and they never let me down. I've never had a pair of shoes/boots that lasted nearly that long and held up that well. Long story short they were stolen and when I went shopping for a replacement I decided to try these boots because they felt slightly more comfortable. So far they have completely lived up to my expectations. I actually like them a little better than my old TPS 520's. Though in hikin I can't tell a difference, the lacing system is a little nicer (these have rolling/pulley-style eyelets) and this is the biggest difference I can notice. The pulley lacing system makes the pressure of the laces more equalized, and hopefully it will keep my laces from getting torn up as quickly (on my old TPS 520's I went through a pair of laces every year).



So overall, if you're looking for something that will last long and stand up to abuse these are simply awesome. Sure, they're heavy and don't breathe but that's the price you pay for this kind of ruggedness, and nothing waterproof is going to breathe well. Though they're best suited for long backpacking trips, heavy loads, and rough or wet terrain, I've been using mine for just about everything and couldn't be happier.



Also, do yourself a favor and buy some Obenauf's Heavy Duty Leather Protectant.
Every Penny, and then some
Familiarity:

I've put it through the wringer

Fit:

Runs small
I have had these for a couple of weeks now, and they are about as broken in as they are going to get. That said, I love these boots. They are a bit hot, but with the 90+ degree temps I have been outside in, anything will be hot. Cut, height, fit, I would put these on par with my Lowa Ticams. I do think they are perhaps a bit more comfortable as far as the footbed goes. I do like the lace system in the ticam better. My Ticams though have started to show signs in the leather of wear, because of it being a waxed split leather. These are a full grain leather, so I am hoping that I will not have any such issues. I think these are even more comfortable than my Tibet Pros, though the tibets are not nearly as hot. The soles are great, I have even tested these out on a 12 hour shift at work, which was on hard tile floors. I did a coat of Nikwax before I took them out, and during the past few days of rain I have had no issue what so ever. I have seen else where, where they advertise to go up a 1/2 size. I would agree with that. Especially if you were a ticker sock. Great boot over all, and I will be looking for more from Asolo in the future. For size info, I wear a 8.5 wide in Lowa, and went with a 9 wide in these.
Beast mode
Familiarity:

I've used it several times

Fit:

True to size
Best hiking boots I've owned. Definitely worth the money. I used these over the summer in Colorado and they held up to the Sangre De Cristo trails. Not light or breathable but they are rugged and rough! Would buy again!
Rugged is an understatement
Familiarity:

I've put it through the wringer

Fit:

True to size
Best boot purchase ever made. I am a professional tree climber in the south east and these boots have held up longer than any other. I can usually get about 4-6 months out of a decent pair of hiking boots but these have lasted longer than a year with daily abuse. The durable leather has withstood handsaw cuts, climbing rough barked trees, harsh rain and deep marsh muck. They provide great support and traction, even when working on spikes. They truly have kept my feet happy and dry.
These are simply amazing
Familiarity:

I've put it through the wringer

Fit:

True to size
I've been backpacking for over 12 years. Have gone through 5 pairs of boots since and these have been by far my most comfortable and reliable boots. I've used them for work, I've used them through mud, I've used them through snow, I've used them with 50lb pack. Amazing boots!
Limited Experience But Excellent
Familiarity:

I've used it once or twice and have initial impressions

Fit:

True to size
Bought these on the reviews of a lot of people. Clearly the Power Matic 200 GV has rock star status. I took a hard look at Zamberlans which are also amazing but decided on these based on fit. Hiked all over Yosemite for 4 days - very comfortable.
Amazing Boot
Familiarity:

I've put it through the wringer

Fit:

True to size
I have owned these boots for 5 years. I am in the market for a new pair of boots and I keep coming back to these. They are totally waterproof. I find them to be plenty warm in the winter, as long as your socks are not too bulky - then you may lose some circulation. They are comfortable to wear all day without a problem. They breathe well enough that sweating is almost a non-issue. Worth every penny. I am taking up snowshoeing this year because I can't ride/ski anymore due to an injury. If anyone has any experience wearing these with shoes - I would love to hear how they fared!!
BAD ASS!
Familiarity:

I've put it through the wringer

Fit:

True to size
I wore my pair out! I had owned them since 2008 and put numerous miles on them between Tennessee, North Carolina and Colorado. Fit great, easy break in and I couldn't have asked for a more comfortable fit. Also, spent two winters/falls working construction in them with nothing to complain about. Killed them a little faster than I would have liked, but worth it to have comfy feet.



Took the step down to the Asolo TPS 535 for my new next boot when my soles finally wore out...mistake! I miss my Powermatics and just waiting for the moment when I pull the trigger for my second pair!
Very well designed all around hiking boot. If they fit; buy them. My right foot didn't fit so I was unable to wear them but if my right foot did fit I'd be wearing them. Solid boot. Very well done.



Ive been wearing the Zamberlan Skill GT boot now for a few months. This boot is also on a pedestal of its own. Very agile boot. These boots work for me & love them!



The Powermatics are taller and offer better water protection and support.



P.S. I bought two different pair of thee Powermatics to be sure and put 40 miles on one of the pair because I wanted them to work so bad... Worth every penny of the $300 bucks



Hey ass chap294597, did you not read the post? Nothing wrong with the boots; they just didn't fit my right foot.

40 miles on one of the pair.
2nd Pair
Familiarity:

I've put it through the wringer

Fit:

True to size
This is a great boot. My first pair saw numerous trail miles all over Idaho and Oregon. Great fit, easy break in, great traction on rocky or muddy trails. If you are looking for an all leather boot that will go the extra miles with you this is it.
So Far, So Good!!
Familiarity:

I've used it once or twice and have initial impressions
Tried these boots for the first time on a rough gravel road for 4 miles. The boots felt fantastic! They were much lighter than I expected. I am also glad I ordered 1/2 size larger to accomidate my slightly wide feet. My feet felt perfectly comfortable and the boots gave my ankels the support I will need when I backpack with 40 pounds. I also will be putting the waterproofing to the tesy on my planned hike. I also need the breathability due to I prespire allot. I am very happy with this purchase!
Great ASolo boots
Familiarity:

I've used it once or twice and have initial impressions
Just perfect, confortable, great for hikking, protect my feet, happy to deal with Backcountry.com