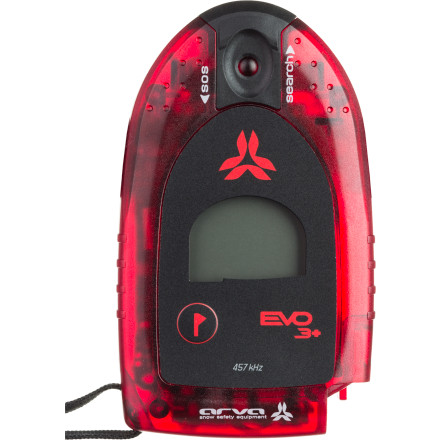 Description
Easy to use and fully capable, because it's that important.
Nobody has time for a complicated beacon when riding in avalanche-prone terrain. Keep things simple to get them safe and use the ARVA all-digital Evolution 3+ Avalanche Beacon for quick recovery. When you clip on this lightweight, compact device it never feels like a burden, and with three antennas, and an easy-to-decipher display you're fully armed in the event of a slide.

An average digital search band width of 40m lets you sweep the debris field without missing a signal, while its LCD display uses arrows and distance values to guide you to the buried signal as well as give you updates on your battery status. The beacon also detects multiple victims and lets you mark them as you locate them and move on to the next signal. Four AAA batteries that last 250 hours add further simplicity for quick readiness.
Triple antennas
Average digital search band width of 40 meters
LCD display uses arrows and distance values
Detects and marks multiple victims
Uses Four AAA alkaline batteries
250 hours of battery life
Share your thoughts
What do you think of the
ARVA
Evolution 3+ Avalanche Beacon
? Share a...
AIARE Level 1
Familiarity:

I've used it once or twice and have initial impressions
I used this beacon for an AIARE Lvl. 1 course and it did the job as far as ease of use, accuracy and send/receive, but when put under the gun the beacon can easily be knocked back into send when trying to search for the victim. The straps when worn for intended use make it difficult as well to go from a send to emergency search mode. I found it better worn at the waste with the elastic straps attached at the waist like a lanyard.
My first beacon. Peace of mind!!!
Great beacon slips on and I didn't notice it. Easy to use even for the inexperienced person you can't put a price on safety I feel safer in the backcountry. Great warranty 5 years is reasonable with the investment awesome company they know there stuff.
As simple as it gets!
Familiarity:

I've used it several times
This is the easiest beacon to use I've ever come across. As soon as you strap it in, it is on. As soon as you undo the buckles, it is off.

Nevertheless, such simplicity comes with one drawback, which is the reason why I'll rate it 4 stars out of 5.

When you have to make the transition to search mode, after unzipping your jacket, you need to take the beacon off completely to search comfortably. This means that you have to un-do the buckle (turning it off), take it off your body, and then turn it on again to finally activate the search mode.

It would be PERFECT if this beacon included a harness which you could keep strapped to your body while searching and having the beacon still attached to you like high-end beacons do. ARVA offers a harness for this beacon but I'm not sure how it works as there is very little info on it online and I've never seen it.
This gives you a clue as to the size of the 3+ Arva Unit
EVO 3+
Gender:

Male

Familiarity:

I've put it through the wringer
I have had a few different beacons over the years and this is by far the most user friendly. I also like to know that as soon as I get the EVO strapped on and in place I am beepin! I hate having to remind myself and then trying to remember if I turned my beacon on. Multi victim search can get complicated with some beacons, but not with the EVO its super simple which I personally think is key in a hectic situation when your trying find someone. The majority of the people I shred and splitboard with have all converted to the Arva beacons, they are reliable and simple to use. for a triple antenna beacon its for a first time user and also facilitates the needs of the needs of a more advanced backcountry shredder. solid price for anyone, I would definitely recommend it
This beacon is very simple to operate and proven worldwide as a great value 3-Antenna beacon with a multi-victim display and Masking function.
This beacon is super user friendly with single button operation. Good to have multiple victim search ability. Just need more snow to really put it to use.
is this the 2013 or 2014 model?
is this the 2013 or 2014 model?
Best Answer
Hey Baku,
This is their latest release and is a great choice for avalanche safety. No need to worry about turning it on as when you clip on the harness it automatically starts up and has the ability to locate multiple victims (hope this never happens in an actual recovery).
Many thanks tripleS... I found this unit to be skinny on reviews so am wondering how well it stacks against the Ortovox S1+ and others.



The big difference is the range is limited to 40 m, where the S1+ has the greatest range over all the beacons which are in the 60 m range. It has the latest in 3 antennae technologyl
For the 2013-2014 season the Evo 3+ added a flagging button on the front of the unit to make mutli-victim searching easy to operate with a single hand, versus the previous model which you would toggle the top switch. You are comparing a very simple simple unit with a more complex, both units are good, but if you are going to spend more I would look at the Arva Neo. BTW- the info I see on the S1 shows 50M search range, there are only 2 units on the market hitting 60 and the Neo is one of them for $350
I put in 130 to 140 days per season skiing in Little Cottonwood Canyon and I wear this on every one. The shoulder strap stays put and the waist strap keeps this beacon comfortably where it should be.
I do a beacon drill about once every 2 weeks or so (like all beacons, you need to practice) and the display is simple and easy to follow. I have spent some time looking for this beacon as well and it always gives a positive, easy to find signal.