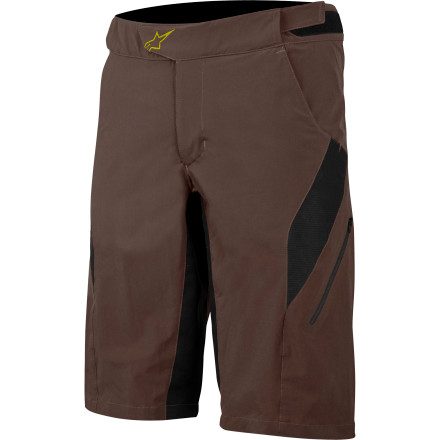 Detail Images
With all the fancy bells and whistles on every piece of bike clothing these days, nobody has been able to come up with a substitute for lightweight simplicity. The folks at Alpinestars buck the trend with Hyperlight Shorts. These shorts focus on a toned-down, simple approach to keep you cool and comfortable while you ride, climb, run, or do whatever you do for fun in the sun.

Alpinestars built Hyperlight Shorts with strategically located stretch and vent panels. On the back and in the crotch, spandex panels stretch for an unlimited range of motion. This also adds to the shorts' durability, because it stretches rather than wearing. The synthetic fabric pulls moisture away from your body to keep you dry and comfortable, even in the heat of the summer. Alpinestars added stretch mesh vents on the thighs that push hot, stale air out and allow fresh, cool air to flow in and around your body. The Hyperlights also include hook-and-loop waist adjustment straps that allow you to perfectly dial in your fit and a mesh lining that allows air to flow through the shorts.

Alpinestars Hyperlight Shorts come in Black, True Red, Dark Gray, and Chocolate and are available in even sizes 26 to 40.
What do you think about this product?
Have questions about this product?
Save your money. These shorts are weak.
The only positive is that these shorts look good. My girlfriend complimented me on them, but beyond that, the material is thin and the back seam is as weak as can be. These are a very, very light duty short and probably fine for casual bike cruising on a boardwalk or biking to a picnic spot on a Sunday afternoon or walking around posing at a BBQ. Any kind of real riding, forget it!



The front has Velcro in place of a zipper and button and while I thought at first it was a cool idea, I then realized it seems to be a cost-saving measure. It does not secure the short well enough for any kind of real riding. The rear stitch began to separate after one ride.



Do not buy this short if you're looking for something that's suited to mountain biking. The material is so thin, it offers little protection. Big disappointment. I also have the Alpinestars Manual short, and it's what I recommend, though it's much more expensive.
How many zipper pockets on the Alpinestars...
How many zipper pockets on the Alpinestars Hyperlight shorts?
Best Answer
Hey Rob,

According to Alpinestars website, the shorts havetwo zippered pockets on the thighs underneath the mesh venting and two regular hip pockets. Here's the website



http://www.alpinestars.com/cycling/shorts/hyperlight-shorts-16238.html#.UcmfneC3Bw0