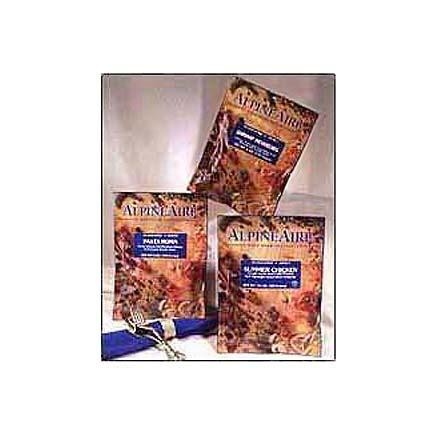 AlpineAire Blueberry Pancakes make it worth getting out of the tent in the morning. If you own a cookstove or even just a pot and some matches, these freeze dried and dehydrated meals are the way to go. They're lightweight, compact, and super easy to prepare. The meals are packaged in resealable foil pouches. Most weigh between 5 and 7 ounces and offer 2 servings. To prepare a meal, just add a couple cups of hot water right to the pouch. A few minutes later you're ready to chow.
Now this was some really good eating for me. I used to use these in scouts and they always were a nice break from the freeze dried eggs
I lost my virginity to these pancakes...and I don't regret it. Made me orgasm with every bite.
so this is a batter? not premade pancakes?...
so this is a batter? not premade pancakes? whats the difference between this then and store mix?
, ☃bcs_badge_alumni_label☃
Yes. The AlpineAire Blueberry Pancakes is a dry batter. It requires water and cooking. How is this different from store brands? AlpineAire does not use preservatives, MSG, coloring or any artificial flavors.
Looking forward to breakfast
I used this on my 5 day winter hike with my girlfriend in Norway a month ago and they were bloody awsome! Easy to make when you got the time(as you always got on hikes). We both loved them, i made them and got the girlfriendcreds. It takes some time, but it really taste delicious.
These were not truly awful, or so I tried to tell myself. Not only is it kind of a pain to be flipping pancakes in the back-country, but who packs syrup? Yes, these things were in definite need of some sweet, sweet syrup. Although, I am not entirely convinced that even pure maple syrup could save these pancakes. They were just so dry and bland. Weren't there suppose to be blueberries in them?? Oh they made me wish for a diner to pop up around the corner.
When I first ordered these I wondered how alpine did it, how could you make pancakes without a pan? Well, you can't, you need a pan. And once you get a pan you need lots of butter and syrup 'cuz these taste like cardboard.
was it ME or the BATTER?...
No matter how much margarine I put on, it stuck like super glue, and came off looking more like the moss I was sitting on than a pancake (tasted about like that, too). The ravens LOVED it!
Excellent Breakfast Treat
These pancakes were the greatest. Took only minutes to make and cook on my MSR stove. They didn't even stick to the spatula! I just can't say enough about them. They will be a staple of all my future backcountry breakfasts.