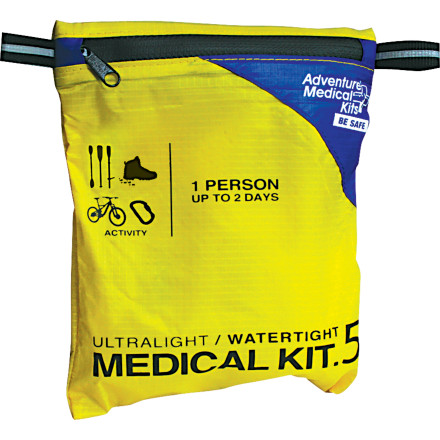 Detail Images

Community Images
Description
First aid should be your first thought.
You crave solitude, but you also know enough about the backcountry to be prepared for those not-so-peaceful moments. The Adventure Medical Ultralight & Watertight .5 First Aid Kit puts first aid essentials into a nearly-weightless pack so you can be ready for any cuts, sprains, and blisters that might pop up. The rugged Silnylon bag with a DryFlex liner keeps everything sog-free in case you catch a little rain or dump your kayak.
GOAT IS GOOD
Familiarity:

I've used it several times
Great kit for some simple backcountry emergency supplies. For you gram counters, mine weighed just under 5 ounces (134 grams). You won't splint a broken bone or sew up a deep gash with this kit (and I wouldn't know how to do that properly anyway), but for blisters, scrapes and routine cuts that can and do often occur, you've got some basic first aid stuff to tackle those issues with
Peace of mind
Familiarity:

I've used it several times
This is a great kit for a day hike. I keep this in my day pack at all times.

This will cover all the less serious issues that could arise on a day peakbagging. If you break an ankle 5 miles out on a trail, no personal medical kit is really going to do you any large favors. That being said, I do keep this kit taped to a small C-splint with some athletic tape.

For the solo hiker, grab this up for your day trips, and get the 0.9 kit if you're with a buddy (or make them carry their own of course!)


Can you afford not to have this?
Familiarity:

I've put it through the wringer
I used to carry tissue and duct-tape. This is a big upgrade.
Cheap and Easy!
Familiarity:

I've used it once or twice and have initial impressions
Good kit, small. lightweight and includes everything you should need for minor injuries. Prob not good for deep back country adventure as there is not a lot of gear for serious trauma . But a good personal kit for your day pack or car.
I agree with what everyone else about this little first aid kit. It has room to put extra stuff, which is needed. I bought this to replace a bigger med kit i had, which is now in my truck. The water proof aspect is awesome. I made mine into more of a survival style kit. I added a space blanket, strike anywhere matches, small lighter, lip bomb, a few more pain pills, hand sanitizer, 540 para-cord and a little bit of TP for starting a fire. Duck Tape is a must as well but I carry that around my water bottle.
Nice kit!
Familiarity:

I've put it through the wringer
I take this little kit everywhere! It came with useful items, but I added some additional things to make it a little more comprehensive. I added more butterfly closure bandages, additional medications, QuickClot, sunscreen, and lip balm. Great kit to take on a day trip or while traveling. Love it!
Carry it everywhere!
Familiarity:

I've put it through the wringer
I have always lived by the mantra that it is better to be safe then sorry... but with this medpack if you end up sorry at least you can sort it out ok! Plus it's so light that you can always keep it with you!



I have the older version, but it's still going strong. I've obviously used some stuff up, like the moleskin and med tape... but luckily I haven't had to use most of the more serious stuff but the pack is easily refillable with things you can buy at the store yourself (don't let them trick you into buying their overpriced refills). I'v also added some things like a small bottle of ibuprofen, gold bond power, safety pins, anti-diarrhea pills, and some extra bandaids. I use those things specifically all the time, and i'm always the person who has a bandaid on hand when someone scrapes up their fingers or something.



The waterproof bag on the old one was crap, ripped like the second time I tried to close it, but this was fixed easily enough by replacing it with a durable freezer ziploc bag. It looks like they might have updated the design of the waterproof bag for this new one anyways.



If you aren't already carrying a MedPack I would certainly suggest this one, it's great for 1-2 people, so either make sure everyone in the group has there own, or maybe look at something bigger.
Perfect for a short trip!
Perfect for a short trip where you will be just a little too far from help if needed. Waterproof bag is essential.
Solid Backcountry Day Trip Medical Kit
This is a great light addition to your pack for day backcountry split/ski touring. It's ultra-light, takes up next to no room and is waterproof so the contents don't get damp from condensation. The only thing I add is finger/thumb splints. You could probably stuff it in the inside pocket of a ski shell if you really wanted to.
Good small and light kit, no excuse to not carry it! Enough room in it to add what you want to, such as quickclot, or a SAM splint. Good spread of stuff, and the things it comes with are pretty good, some medical kits come with really lousy band-aids and gauze, but the items in this kit are of good quality.
Comes with most everything you need, and has room to add the things not included.
this is a minimum kit with bare bones. plan to supplement it with more stuff but it also is a necessity. downside is that the kit is so small that plan to pull everything out then search for the needed item. Otherwise, buy one and get a larger kit for your base station with more advanced care items. This is absolutely perfect for a day hike other small adventure.

I added sting wipes, moleskin, and more band-aid sizes.
a delight for ultralight backpackers
at less than 5oz, this kit comes with an extensive array of items to address the typical wound care, medication, and blister needs. The kit comes with a superlight rip-stop like zippered bag, and a dryflex waterproof zip lock bag inside that tolds all the items. The zippered bag is big enough to also hold AM's pocket survival pak and a Gerber Ultralight LST Knife, and some rubber bands. All together, they make my survival kit. The items seem to be all of high quality.
I'm an ex wilderness EMT and current medical student and this is the kit I always have on me. If I'm out with the family or a large group I bring something more, but going solo or with competent friends this is it. I will even throw it in the pack around town for those bike vs cab road rashes or dealing with the random subway first responder situation.

It's a great little package with room for extras. I added a pair of small trauma shears, a couple single use superglue tubes, a very small spray bottle of hand sanitizer and another of deet, an extra set of gloves a couple sugar and re-hydration packets, a couple packets of sting-ease, two yards of duct tape and a mini bic lighter. There is more than enough room, and the whole thing weighs in at under 8 oz. Not bad for a kit that can fit in my pocket and handle any common situation.
a reasonable insurance policy
I have this in the older version, but it is a great solo kit. One of my hiking buddies is a trained medic, so he carries a larger kit for the group, but I keep this one in my pack. At four ounces and seventeen bucks, it's a reasonable insurance policy.