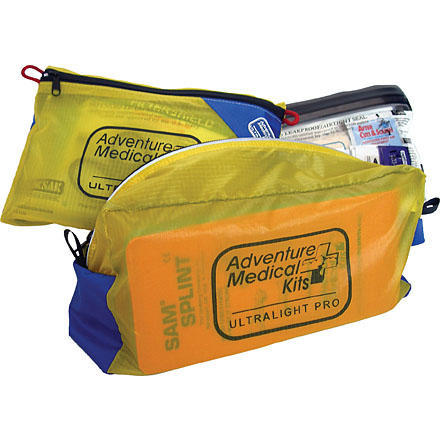 Description
Be prepared for the worst with the lightweight Adventure Medical Ultralight Pro First Aid Kit.
Adventure Medical developed the Ultralight Pro First Aid Kit at the request of the Yosemite Mountain School to provide pro-level equipment at a low weight. This water-tight medical kit adds only 1lb 12oz to your pack and provides enough first-aid gear to handle an emergency evacuation from the remote backcountry. The Ultralight Pro First Aid Kit includes everything from a SAM Splint for a broken arm to Aspirin for a headache. This Adventure Medical kit is a must for trip leaders.
Great first aid kit for mountain biking
Familiarity:

I've used it several times
Now, this kit may seem like a little much for mountain biking, but I wanted a full kit to be in my pack (I have a large pack that can hold my full-face helmet) when I go out on more technical and steeper rides. The bag it comes in makes the whole kit quite large and doesn't allow it to easily fit in smaller packs, but if you remove the smaller bags from inside the kit and just carry those, it fits very easily into small packs.
MISSING EMT SHEARS
Familiarity:

I've used it several times
I had to call the adventure medical kits company and they said they would mail them to me. Then they asked me where I bought it because alot of people were calling in about missing EMT shears and i told them Backcountry.com. Be aware that they may be missing the shears.
fantastic kit for multiple people
Familiarity:

I've used it several times
I got this kit for fieldwork in a remote area of Baja and have since used it for just about everything else I do - backpacking, hiking, mountain biking, etc. I've used this for my dog when he got cut badly on a hike, and for numerous other bumps and scrapes. It comes with all the big stuff you'd need (SAM splint, face shield, huge gauze pads) and then I augment with more meds and lots more bandaids and we're good to go. It weighs hardly anything and comes with a fast and light dayhiking bag inside. Great kit!
the almost perfect kit for my BC skiing
Familiarity:

I've used it once or twice and have initial impressions
ultra light (peace of mind)even though( mind) can't rest long enuf to have peace.LOL..def a great kit to carry into the back/slack country...all i had to add was a quik clot,some candy,and a cam strap, to make this the perfect kit


Great group FAK
Familiarity:

I've put it through the wringer
This is a great lightweight kit for groups. It has the things you need with plenty of room to add more. Contrary to the description the kit only weighs 1 lbs. 12 oz. One thing I would recomend is mark which bags hold what. This will help avoid confusion when you need to pull stuff out. I used colored tape and put them on the top. Bottom line this is the kit you want if you are going backpacking and don't want to rack up unneeded weight.



There are several things you might consider adding such as more medications and bandages, one thing I added is a SWAT-T
What is the trauma pad for and how does a...
What is the trauma pad for and how does a trauma pad compare to a sterile cover sponge to stop bleeding?
The trauma pad is for covering large areas and for controlling serious bleeding. Gauze sponges are 4"x4" and trauma pads are typically 5"x9" or 8"x10" and more absorbent. Hope that helps!
I am looking for a lightweight kit for...
I am looking for a lightweight kit for mountain bike rides. This product appears to be excellent but may be more than I need. Are there any other lightweight kits appropriate for day rides or is this the one?
I would recommend this kit for you (AMK0124). It will be more than enough for short mountain biking trips and it will save you some cash. Hope this helped; good luck and be safe out there.
Best Answer
This kit is big. The picture is a bit misleading. The main bag is about the size of a shaving kit bag (roughly 12"x6"x6"). The other Ultralight kits are much smaller. In fact, the Ultralight .9 kit is the one you see being pulled out of the bigger bag in the picture. For just day mountain bike trips close to the road, this kit is overkill. With a Laerdal CPR mask, a SAM splint, and some other expedition gear, I think a smaller AMK kit would do you a bit better for bumps and scrapes on a MTB ride. I'd probably get the Quick Clot Adventure Medical kit. For multiday backcountry camping trips, this would be the best kit. I added some Clif bars, water purification tablets, diphenhydramine, advil/tylenol PM, a heat reflective blanket, a couple chemlights, more sterile gloves and a Sharpie to mine, and it works well for the backcountry in Alaska.
Christopher is absolutely right as far as size/weight...I just got the A.M.K. .9, and it just fits in my Osprey Raven 14 with enough room for some other essentials; You can still tune & tweak it. I am also adding eye drops, the quik clot, tube of bee-sting ointment; and for longer trips, charcoal tabs, golden seal concentrate ( the charcoal can be taken internally for various stomach complaints (if you may have ingested something that may have been contaminated/spoiled, etc.; charcoal can also be mixed with the golden seal to make a poultice for wounds if necessary...charcoal absorbs and draws out toxins, and golden seal is a natural antibiotic of sorts, and healing agent for external use only, of course); a small lighted magnifying glass.

I think the kit here would be great to have, if you have a lager pack (like maybe the Osprey Zealot, or larger), and were planning a bit longer trip.
This is med kit that offers all the basics with room to add your own details, like personal meds etc. I have most recently brought this on ski expeditions to Tibet and Bolivia, and the kit provided everything we needed for simple trip mishaps. It's light enough and has a great internal compartment system that you can add and subtract out what you do or do not need for a specific endeavor. Comprehensive for general needs.
Good with room to improve
There's a fair bit of gear in here. Some of it you'll probably never need, other bits you'll go through regularly. Just as importantly, there's heaps of space in the pack to customise, add in medications from a pharmacy that they cant sell you, etc etc. And its all kept nice and waterproof. Would definitely recommend.
I have my Wilderness First Responder and a kit like this is just what I need. It has all the essentials for any backpacking trip. The extra weight is well worth the piece of mind.