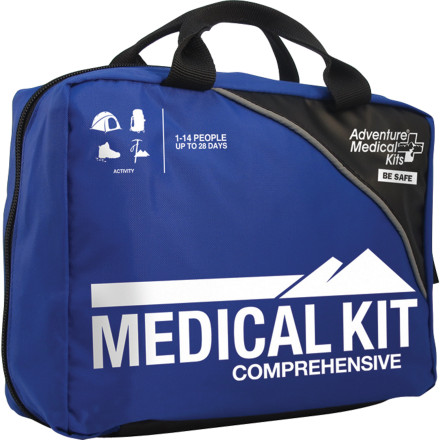 Detail Images
Description
Be prepared for just about anything.
If you get hurt when you are at home or in town, you grab a bandage, you go to the ER, or you call an ambulance?it?s fairly simple. In the backcountry, there is no ER, and there is no ambulance to call. Your ability to stabilize an injury by yourself becomes crucial, and you must have the tools to do it. The Adventure Medical Comprehensive First Aid Kit gives you the tools to treat a wide range of medical issues that might arise while away from the comforts of civilization.
I have numerous AMK product but this newer Comprehensive series is my main large kit for backpacking, home, car etc. It includes everything you can think of to help you get by until you can get to hospital care. Comprehensive says it all. The packaging is excellent, the case is easy to manage and look through, and items remain protected from water.
is this the mountain series comprehensive...
is this the mountain series comprehensive kit?
Hey Ken,

This is the mountain series comprehensive kit. Also to make a correction to our information listed the correct size of this kit is 12" x 12" x 6".
Excellent - Perfect Size and Components
Familiarity:

I've used it several times
Perfect Size and Components. Great to always have one in the car.
AMK Co-Founder Frank Meyer takes you inside the Comprehensive kit, the original backcountry medical kit, with features that are still exclusive to AMK even now - 20 years after it was originally introduced.