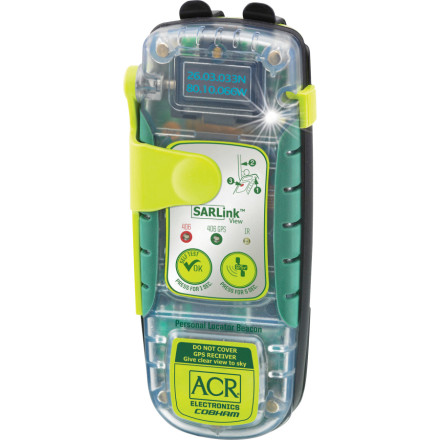 Community Images
The ACR Electronics SARLink View 406 Personal Locator Beacon has the identical features to its fraternal twin (the SARLink 406 PLB) with one main difference; a digital display window. You'll have the same confidence on any adventure knowing that emergency rescue is just a push-button away, with the ability to view critical data.
Digital display window shows confirmation your beacon is working, exact GPS coordinates, remaining battery life, and visual prompts that ensure proper distress signal operation
GPS acquisition test mode allows you to test GPS functionality up to 12 times over the life of the battery life
On-board GPS accurately notifies rescuers of your position within 100-meters
406 MHz signal relays information to the worldwide SAR satellite network
121.5 MHz signal relays your location to localized ground Search and Rescue operations
Optional upgrade capability to include non-emergency messaging and real-time GPS location to online maps
Bright LED strobe light is automatically activated when rescue signal sent
Lanyard features a clip on the end loop to secure to the outside or inside of a pack or clothing
will this device when activated give out...
will this device when activated give out a PRIMARY call for help or is it just for location AFTER authorities are alerted by someone or some other way.
Yes, this sends the call for help AND continues transmitting your location.
Best Answer
Before you take this unit out to the backcountry you HAVE to register it, it is with NOAA. The unit has a PIN that it will transmit along with your position and with that PIN they will be able to pull up your personal information(name, emergency contact, allergies, ect.). this is all transmitted on the 406 MHz frequ. then there is a homing signal transmitted on 121.5 MHz. PLBs transmit over the SARSAT system integrated into NOAA satellites and then get transferred to the Air Force Rescue Center who then alerts local rescuers in your area. To me this is more comforting than SPOT type transmitters whoes signals operate through other satellites. Plus ACR launched the survivor's club so if you ever have to use this unit to save your life all you have to do is share your story with them and they send you a brand new unit free of charge.
Has anyone used the optional upload for...
Has anyone used the optional upload for non-emergency communication? Is this something where you can push a button and it sends an email that says "all ok" and pinpoints your location for your family? And is there a monthly fee associated with that?
Nope - this is for emergency situations only. When you push the button, help comes. If you want some of the "Ok" feaures, you can look a the SPOT and Delorme devices.
Actually the SARlink 406 does have an "I'm OK" function on top of the SOS function where you can send prewritten messages to family and friends, for a subscription of course.
does this unit use voice transmissuion...
does this unit use voice transmissuion over 406 ?
Nope - just sends an emergency signal and your location. No voice.
No just transmits a PIN and location over 406 MHz and a homing signal over 121.5 MHz
does thos unit have voice ? if needed to...
does thos unit have voice ? if needed to call 911 or buddies.does it have voice channels .can you voice tramsmit on 121.5 ? john
Best Answer
No there is no voice. It just sends a signal. It does confirm that message has been sent on the screen. When the signal is received SAR treats this as a life and death situation. This system is the most reliable system of its kind. The SPOT, other Satellite massagers, and SAT phones work good, but do have some reliability issues with signal. This is has the strongest transmitter and works on 2 different satellite systems (1 GPS based and 1 Radio Frequency Based. The other systems work on only 1 satellite system. The ACR products are basically the same systems that the military uses for downed pilots or fishing vessels that are in distress.
does anyone know what the monthly/annual...
does anyone know what the monthly/annual cost is for the check in/i am ok service??
I was unable to locate a cost amount for this unit on its in ok service. But what I can tell, is that it is free to operate and will function as a help service. Most rescue service is free, but that would be up to the rescuing party. I would assume that it is relative in cost to the Spot messenger, which I have and subscribe to, and that costs me about 120 per year
Best Answer
http://406link.com/406Plus.html
1.what is cost of each set 2. can 121.5...
1.what is cost of each set
2. can 121.5 and 243.0 Mjz also be provided with 406 Khz
Best Answer
Ramesh,

It's sold as a single unit. A set isn't necessary. In the US, the unit requires free registration every two years through the NOAA, and in other countries,it's best to also register through whatever their emergency service provider is in order to avoid delays. The satellite link is established using 406 MHz. This gives your approximate location for ground and air rescue units, who then close in on your exact coordinates using 121.5 MHz. That's it, that's all you need, no other frequencies. If you need rescue quickly, regardless of where you are on the face of the earth, this is what you want. Virtually nothing is as reliable for putting a helicopter over your head faster. Hope that answered your questions.