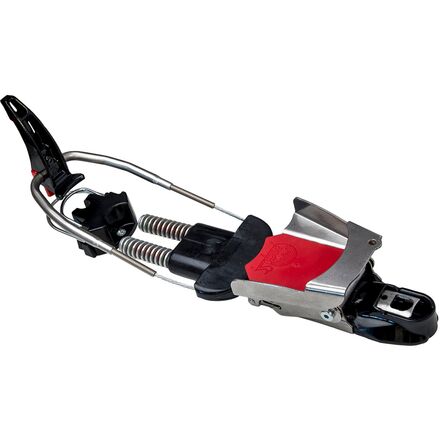 Colors

Detail Images

Community Images
Description
The legendary performance of the Hammerhead, plus a new level of versatility and durability.
Snap into the Twenty-Two Designs Axl Bindings and carve with confidence at the resort and in the backcountry. The Axl gives you the legendary stiffness and adjustability of the Hammerhead and adds a free-pivot backcountry touring mode that allows you to tour longer and with less fatigue.
2000-lb test cables, a one-piece molded scratch plate, and one-piece stainless-steel latch mechanism boost durability
Flexes at the boot bellows unlike other designs that give you a feeling of tip-toeing
Three cable-guide positions allow you adjust how active the binding is for a customized feel
Six-hole mounting pattern is wider and longer than a standard four-hole pattern, which transmits power more efficiently and offers extra-secure attachment to the ski
2.4-inches of smooth compression spring travel mean you won't bottom out, even with hefty boots
HammerHeel climbing bars are easy flip up and down with ski pole
Great Binding, Great Company
I've had these bindings for two years and truly put them thru everything. I tele'd over 70 days this past season in CO at Vail, Beaver Creek, Abasin, Breck, a trip to Jackson, and about 8 days of back country. The touring capability is awesome and a real pleasure to use, it would be nice to have two sizes of climbing bails, however this did not really bother me in use. Secondly, at the end of this season I broke one of the usheredheel bars
Life-changing
Familiarity:

I've used it once or twice and have initial impressions
My husband got these to replace some alpine bindings on his ~100mm underfoot daily-drivers. He had another set of skis mounted tele with some BD O1s, and he said that the switch to the 22 Designs was a night and day difference in control (he is by no means an expert tele skier). The shop mounted them and put the pin in the middle position, and he immediately felt that he had more control of his trailing ski, and a lot more confidence.
Top of the line bindings
Familiarity:

I've used it once or twice and have initial impressions
Got these for my husband who is an expert telemark skiier. He is happy with them after a few uses.
Bomber Bindings
Familiarity:

I've put it through the wringer
Bomber bindings all around. Used these extensively for several seasons in and out of the resort. They're great going up. Plenty of range of motion. Switching between tour and ski mode is easily accomplished with the tip of a ski pole. Ice and snow buildup is not usually an issue unless the snow is unusually clumpy (think a big dump of cold snow and 45 degrees and sunny immediately afterwards).



Downhill performance, is, as one would expect, fantastic. Super solid feeling and buttery, round, progressive flex. Very solid boot-binding interface. No lateral play and no issues coming out of the binding when things get rough. It is worth noting that these are very active bindings. In the least active position, they're about on the level of a Hammerhead at #3. Very light skiers or folks that are used to more neutral bindings may have a bit of an adjustment to make.



Manufacturer has great service, too. After a few years of use one of my heel risers sustained a bit of damage and getting a replacement from 22designs was completely painless.



By far, the best tele bindings I've skied. You won't find a better option for a duckbill binding.
Thank You Idaho.
Familiarity:

I've put it through the wringer
Ever since being introduced to 22 Designs I have used their telemark bindings almost exclusively. All of my lift-access set-ups, including Rossignol Super 7 pow skis, have Hammerheads but it is the Axl that has impressed me the most. Although a little heavier than other telemark touring bindings, the Axls are the most durable, stable binding out there for backcountry enthusiasts plus they can drive any size ski. I have over 50 days touring and many more side country trips on my pair and they are going strong. Not to mention they are made in Idaho, USA. Strongly recommended and much more affordable than NTN.
Solid
Familiarity:

I've used it several times
I used this binding this past winter with no problems. The touring mode works great. I had a couple instances when the boot popped out traveling uphill, but I suspect it had to do with ice and snow that I failed to clean off my boots.
I went to high school with this tele-shredder.

He's an amazing skier!

Check out this vid!
So far so good
Familiarity:

I've used it once or twice and have initial impressions
I'm limited in my use on these bindings but am crossing my fingers they I will have better luck then those listed below. The bindings are indeed made in the U.S., making warranty's easy to deal with, and they are a bomber design. If your into new school tele skiing, I have not seen a comparable binding on the market. The heavy duty spring kit is a nice option for further adjust-ability as well.
Major Weakness!!
Familiarity:

I've used it several times
Why would the Empire engineers make a nice round defect just large enough for an X-Wing to blow up the Death Star? Crazy. Just as crazy to me, is that the Axl made it through the prototype stage, full production and release, and is still praised overwhelmingly, despite a massive vulnerability. I know this problem has happened to others, and it seems 22 Designs is aware as well. Got a spanking new T1 here from BC, and the Axl shredded it up. The reason is that the 'flex plate' on this binding is really embarrassing compared to how bomber everything else is. This flimsy red piece of plastic is supposed to protect the cables underneath and keep snow/ice out. All other bindings I know of have a nice FLAT dense piece of clear glass-like plastic screwed in here. But this 'flex plate' is only secured by the metal pin that chooses the activity of the binding; as in position 1-3. Now if you ski with that pin in the front, least active; there is a very good chance that with a lot of deep tele turns this sharp ridge in the front of the flex plate will slice apart the underside of your boot by the 3 pin area near the front. You can see another reviewer below where this happened, I'm sure we're not alone. Furthermore, the whole thing curls up and becomes useless as it is not secured in the back and the black plastic part that is on your heel knocks into it and curls it up. My first T1s lasted 11 years with Targa bindings; no problem. With Axls new T1s were chewed up after being used 3 times!! As always, Back Country was AWESOME and took the boots back under warranty, which is why I will buy gear only from them. Such a shame, as this binding really powers fat skis and the free pivot climbs amazing. Weak engineers must be the conclusion, as this binding is exactly like a great puzzle that comes with one piece missing . A piece of gear can only be judged by its weakest link. Just had a ZEN day on a loaner NTN, lifechanging, so perhaps I should really be thanking 22D
Axl hated Scapa T1's
Familiarity:

I've put it through the wringer
Love the binding but it ate up the vibram rubber sole on my Scarpa T1. From the 3 pin holes forward the rubber was destroyed on both boots by the plastic foot plate underneath........twice!!! 22 Designs not helpful. Aware of the problem but unable(read unwilling) to suggest an answer.

I'm off to get another binding. Very disappointing.

Can't use the Axl.
Bomr!
Familiarity:

I've put it through the wringer
The binding is indestructible. I've skied this at resorts and in the bc since the bindings inception. I am yet to have any problem with them. A little heavy compared to other touring bindings, but if you like to tele with speed you need the stiffness that only 22-designs can provide.
Axl
Familiarity:

I've put it through the wringer
I have skied the Hammerheads for years and loved them. My wife skis on the Bombshells. These bindings ski just as well and the Hammerheads and the switch to touring is much easier. My only complaint is the engineering on the red rubber plate that goes under the boot. It has a moulded triangle shaped piece that is suppose to clip into the metal plate below. It does not stay clipped and this makes it very difficult to slide the boot in. I will probably have to shave it off. Also, you will need to have access to a printer to make the template for mounting. I had difficulty printing this as well and had to get the company to send me a PDF attachment to make it work. Considering the price and the mounting instructions printed on a good quality paper, I am confused as to why a simple paper template is not included.
AXLs...
Gender:

Male

Familiarity:

I've put it through the wringer
Took these out about thirty times last year mounted on my fat skis, maybe twenty times skinning and the rest lift served at a pretty steep local spot. Only on soft snow days though. Response and feel is outstanding, did some adjusting of the pin at first, but now it pretty much chills in the rear position. The pin that allows the free pivot of the toe piece for walking got a bit loose after some heavy shred, but was easy enough to retighten with a dab of red locktite and two allen keys. Also a bit on the heavy side, but construction is very stout. I'm a little rough on my gear and I feel confident these will give me a lot of worry free days compared to some lighter bindings I have abused in the past. Overall, very satisfied.
Excellent, powerful, Made in USA binding
Familiarity:

I've used it several times
After doing research of what bindings to use with tour mode, my choice was brought down to 3;

The Black Diamond o1, the 22 designs Axle, and the Voile Switchback . (Hadn't found the g3 Enzo yet)



As I was putting the bindings a pretty wide set of skis (Unleashed hell - 111mm waist 140mm tip), I wanted as much lateral control as possible.



I previously had Black Diamond o1's but agree with other users on the net that indicate there is a fair amount of slop in the hinge, and that the spring cartridges tend to change tension (second is an easy fix with some tape)



When I read that the Axle and the Voile were made in the US, that made me more willing to spend a bit of additional money on them.



Then I found and read the reviews for them at www.earnyourturns.com



The result was me choosing the Axl due to its high turning power markings. I can deal with the slightly lower Touring markings, as a lot of what I do is at a resort (planning on getting out more in the future tho!)



The Axle is a hefty, nice binding. The only drawback i've found to the BD is that it didn't come with a pre-printed mounting template - and the one provided on the internet needed some tweaking to print right on my printer (thank you GIMP/ignore margins/set pixle per inch indicator)



axle: http://www.earnyourturns.com/5222/review-22designs-axl-2011/

o1: http://www.earnyourturns.com/12708/backcountry-binding-review-bd-o1-2012/



Enzo: http://www.earnyourturns.com/13486/backcountry-telemark-binding-g3-enzo/



Switchback: http://www.earnyourturns.com/1700/review11-voile-switchback/



Note - there is not a review for the new version of the switchback.

Also see

http://www.earnyourturns.com/15367/or-report-backcountry-bindings-for-201314/
gotta get up to get down
Gender:

Female

Familiarity:

I've put it through the wringer
This is the only telemark binding I will use and here is why:

98% of my time on skis I am in the backcountry

100% of the time I want to have a binding that I am confident will not fail in the field

100% I go up for the fun on the way down

There are a lot of bindings on the market right now that offer a tour mode, but none of them offer such a responsive and active feel as the Axl.

When I tour I am busting my Ass to get to the top so I can have fun on the down. So for me a binding has to perform on the down, not just be a walking machine. Conversely, if I get crushed slogging some stiff overweight setup up the mountain I won't have the legs to ski the line how I want. The answer, well I think it's clearly the Axl.

The toe piece is made out of one solid piece of stainless steel and runs longer than any other telemark binding on the market. What does that mean? well it means that the ball of your foot, where most of your control comes from, is actually being harnessed more, so you have more control over your skis. Also it gives you more lateral rigidity so you can carve better. The spring that run underfoot and the cables that run along side give you the initiation and power that you are looking for to really drive your skis. Also the 3 pivot point options allow the rider to really dial in where the binding flexes to fit their unique style.

I have used these bindings everywhere from brutally cold days in AK to wet heavy BC to the champagne powder of the Wasatch and have never had them fail. Occasionally snow or ice can build up under the toe plate, but taking my pole tip to it for a couple taps does the trick and then I am ready to be locked and loaded. There are no cheesy and unnecessary plastic cover plates that keep you from accessing any mechanical part of the binding so you can always give a few taps and be on with it. The Axl is hands down the rock star of all touring bindings
Super Bomb Binding
Gender:

Male

Familiarity:

I've put it through the wringer
I've been through the ringer of tele bindings over the better part of a decade. I've been victim of spring blowouts, frozen tour modes, binding rip-outs and on an on. After such a troubled past, it was difficult to have confidence in making a turn when charging hard or being in sketchy terrain.



The AXL restored my confidence in tele bindings. Unlike competitors, 22 Designs have always had 6 mounting screws from the start, so before I even rode them I began to have a sense of security in my binding. Additionally there is no lag in the mechanics between flexing your boot for the turn and activating the springs, which makes it a super responsive binding. This has been an issue in other brand models for me in the past. The tour mode rocks, easy to use and never freezes - check.



As a side note, I've also spoken with the 22 Designs guys through email and was shocked at how quickly they responded and helped me out. Awesome dudes!



My only gripe, which should be noted, is that they make different sized climbing wires HOWEVER they are not easily interchangeable. They have to be put on while the heel piece is being mounted, there is no easy swap out option, but this doesn't warrant a deduction in their 5 star rating for me.



Bottom line: These bindings ensured the utmost confidence in my riding, are very powerful, and have a burly construction. Two thumbs up!
I'm looking for a solid back country binding...
I'm looking for a solid back country binding for my tele skis, and I have always heard great things about the axels and always thought they would be my second pair. But reading some of these reviews makes me want to try out the Voile Switchback X2s. I have been riding the 22 degisn bombshells (female hammerheads) for 2 years and love them at the resort but it sucks adjusting them in the backcountry. I'm a female with a super small boot(size 7) and am just curious which binding would be better to go with?
Hi Jen, the 22 Designs Axl Telemark Binding will be super easy to use in the backcountry. You will be able to switch it back and forth between touring modes hands free and the climbing bars will make uphill skinning a breeze. I like this more than the Voile Switchback X2s, however, that's also because I'm really aggressive. I would prefer the Voile's more if I wanted a softer binding. Bottom line is, both bindings will be super easy to use in the backcountry, the Axl is a higher end binding that will give you the stiffness to rip harder and faster. If you liked the bombshells, then get the Axl's.
Thanks Reuben, you have made up my mind, the Axl it is. :)


Third season on the axles for more backcountry than resort. Love the binding's power in third position with spiffy springs. why not? You can free pivot on the way up. Do have to say I really loved borrowing my friends vector BC's mounted with Switchback two's the other day. I felt the switchback 2's had very similar power and feel, but the switch over was easier ( from tour to ski), and of course it's a lighter binding. Both american made which I like.

I will say I've got a pretty big repair kit for my axles that I never leave home with out. First off though, I never switch back into ski mode with out taking off the ski and cleaning out the ice or snow build up under the lock mechanism. Locked in, it's bomber, but if you force the bar forward into locked mode with ice present you are risking bending or breaking the attachment point to the lock bar. Not good on a 3-4 day trip...

So. I've broken a heel piece, I've lost the main pivot screw in front of the toe, and the rear transverse bar, the one I think the new crampon will be attached to, broke a spot weld at one end: I've replaced the pivot allen headed bolt with a regular 5/16" hex head bolt, with threads twice as long as the standard cap bolt. I did reassemble with a dot of epoxy, but I also watch it like a hawk.

I've also seen the power pin almost work itself out in use. I bought an extra pin, for that 1,2, or 3rd setting, but because that aforementioned rear most transverse bar which broke spot welds ( happening on both skis, I found), I use 1/4" bolts in the third setting, with double nuts on to keep from loosening and falling off. So I have the bolt tightened down enough to mitigate the transverse bar failure, and I keep the supplied power pin stored in the first hole just in case I need it. I'm using B&D crampons with a lock feature so I don't have to hear any clicking while climbing. The axle changed up my skiing. I love it, but would buy the switchbacks for the next boards.