Free 2-Day shipping on orders over $50. Learn More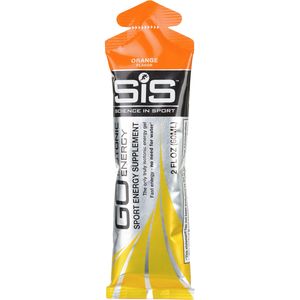 Free gift with purchase!
GO Isotonic Gel - GWP
Details
The simple choice.
Wahoo's first generation of ELEMNT computers was focused on ease of interface for the user. The ELEMNT BOLT Computer expands this ethos of hitch-free operation to the realm of aerodynamics, as in: the Bolt's revised body shape reduces drag. In retrospect, this makes obvious sense. The computer is hanging off the front of your bike, effectively replacing the handlebar as the leading edge of aerodynamic drag. Despite this, drag has been a surprisingly low priority for most head unit manufacturers, and the computers have grown ever block-headier as technology like GPS, wireless metric gathering, and the myriad compatibilities we expect consume require more and more hardware space. Like it did when it made simplicity of use top priority, Wahoo is now elevating aerodynamics while simultaneously lowering the bar for entry, price-wise. Less drag, less cost, more simplicity, and virtually universal compatibility: the choice is simple.
The ELEMNT BOLT differs from its predecessor, the standard ELEMNT, in two key ways. It's smaller and more aerodynamic. These changes necessitate a smaller, less brilliant screen, but the computer's form lets you tilt it for best visibility from the saddle without compromising on aerodynamics. When set at zero degrees, the BOLT reduces drag by a claimed 50% over an unidentified competitor that we're fairly certain is a Garmin; when titled to six degrees, this number jumps up to 60%.
In terms of the complete bike, that number is relatively small (Wahoo puts it at 1.5% in net drag reduction); however, that 1.5% means that your head unit isn't effectively undoing some of the gains you made with 50mm rims, a NACA-shaped handlebar, those ever-evolving tube shapes, etc. In any system, every piece is important. This holds true for the total aerodynamic footprint of a bike, and the ELEMNT BOLT provides one of the few missing pieces towards total aero-awareness.
Of course, no aerodynamic gain is worth sacrificing any of the functions that we expect—or rather, that we now require from a head unit. By carrying over all of the user-friendly features and compatibilities of the bulkier ELEMNT, the BOLT doesn't disappoint. First, it reads your body. Power, heart rate, speed, cadence—even muscle oxygen. If you have the sensor, it can display the data. Second, it reads your drivetrain, displaying data from Shimano Di2, SRAM eTap, Campagnolo EPS, and even FSA's new WE system. Third, it reads your phone and friends, displaying text and call alerts and live tracking your friends. Fourth, it reads your ambitions, letting you custom-map data fields, training plans, and routes and live-syncing with online apps for the purposes of segment hunting.
An aerodynamic GPS head unit that privileges ease of use
Virtually universal functionality in an intuitive interface
170 customizable data fields lets you tailor your training
Transmits via both major wireless protocols and wi-fi
Compatible with all top electronic drivetrains
Syncs live with apps for real-time data and segment hunting
Live tracking and smartphone notifications keep you in touch
Rechargeable with included USB cable
Item #WHA000L
Tech Specs
Heart Rate Monitor
yes, monitor sold separately
Technical Features
GPS, KICKR smart trainer control,
Includes
out-front mount, stem mount, USB cable
Dimensions
[body] 2.9 x 1.8 x 0.87in, [screen] 2.2in
Manufacturer Warranty
1 year
What do you think about this product?
Have questions about this product?
No big colorful screen, but this computer has everything I'm going after and then some. It's very easy to set everything up through the app. My favorite parts are the auto uploading to Strava, and phone/txt notifcations that I just wasn't getting with my Garmin 500.
All the features and integration with accessories is fantastic. The precision of the GPS is horrible. I rode a known MTB trail with a length of 10.3 miles. A friend rode with Strava on their iPhone 6 and recorded 10.2 miles. My element bolt recorded 8.5 miles. Seems a bit much to be off. Contacted Wahoo and was told they are working on this, but that adding the speed/distances sensor would help. If the GPS was better I'd give 5 stars, but alas the the GPS is no bueno, no five stars for you BOLT. I did get the speed senor and it is much more accurate in distance.
First Bike Computer and very happy
In comparison with other bike computers this one comes at a very reasonable price, all the features are amazing and it is really easy to setup. Havent try the strava live segments but from what i saw on videos it is amazing, it is a very accurate bike computer.
Great device
Familiarity:

I've used it several times

Fit:

True to size
Has good turn by turn and easy setup. Does everything they say it does. I would recommend it. I like that it sees all my sensors on my 3 bikes so now I just use one computer and never need to change anything or set anything up to switch bikes.
love it
Familiarity:

I've put it through the wringer
finally no more push small button to set up the screen
Wahoo Elemnt Bolt
Familiarity:

I've put it through the wringer
My old Cro Mag brain found simplicity and happiness right out of the box. As advertised AND more. Btw, the crew at competitive cyclist are top shelf#
Reliable and easy to use
Familiarity:

I've used it several times
I bought the Bolt to replace an old Garmin that wouldn't update, and was impressed with the Bolt's simplicity and ease of use. Setup over home wi-fi was a snap, and the push-button commands are more reliable/intuitive than touch-screen commands I've used on Garmin models. The Bolt paired quickly to my Pioneer power meter, and the zero-offset function just takes a few seconds at the start of each ride. [Note: unlike Garmin models, the Bolt does not prompt you to zero-offset; you gotta remember to do it yourself, which probably isn't an issue if you're uptight about power data accuracy]. Lastly, post-ride data feeds to my phone are quick and easy via Bluetooth, and the phone app tells me when I need to update the Bolt's firmware via wi-fi...Bottom line: for $250, the Bolt nails head unit fundamentals, looks sharp on the bike, and offers all the functions and data 99% of us need on a routine basis.
GREAT!
Familiarity:

I've used it several times
I was a diehard Garmin user, but was having troubles getting my Stages power meter to hold a consistent connection. Had the same problems with my phone as well. Thought I'd try something different and glad I did. The user interface via the phone is night and day better than Garmin. I'm pretty tech savvy, but navigating the screens on the garmin was always a bit antiquated. This is logical, intuitive, and seamless. GPS lock takes 50-70% less time. Pairing devices is a snap. Battery life is great. Screen is easy to see. Buttons are in logical spots and are labeled (via software) in a manner that actually makes sense vs some odd symbol. In regards to the buttons, this seems small, but it's real. On the garmin, stop/start and lap are on the bottom edge. With an out front mount or even on a stem it is kind of hard to get at them. Also, there were numerous times I'd dismount from a bike for a cattle gate and somehow bump the stop button. When you just ride 20 miles on a Fatbike trying to get a gauge of how you rank vs a buddy on a good day, there are few things that make me more upset then getting to the end only to find out the last 2 miles of your ride didn't record. Enough with the garmin 520.

The Bolt just works. And works dang well.
Love it.
Familiarity:

I've put it through the wringer
Never going back to Garmin. Love it.
Awesome!
Familiarity:

I've used it several times
I am a longtime Garmin user for head units. My Garmin 810 recently started crapping out and I decided to do some research on the newest units out there. My expectation was to upgrade to the Garmin 820, but was surprised when I ran across this product.

What I love about this unit is the ease of setup and use compared to my Garmin 810. The companion app is outstanding and makes setup and configuration a breeze. The unit paired easily with my wi-fi, found all of my sensors (shows battery status of each, which is awesome), and was easy to install on the bike.

What really sets this apart to me from my Garmin 810 is how thoughtful all the menus are. For example, I ride early and turning the back light off and on is essentially a two button procedure. The post ride breakdown is not as detailed as other services (i.e., TrainingPeaks), but I actually like the way the information is displayed over Garmin's and TrainingPeak's apps.

I also love that you can easily adjust what you see on the screen while riding. If I want to focus less on power and just ride, it is easy to decrease the data fields on the screen while riding to one or two fields (e.g., speed, distance). Also, configuring data fields in the app is extremely simple and doesn't require all the menus that the Garmin 810 did.

I rarely use my head unit for navigation. I have not used navigation with the Bolt, but I have read other reviewers say that it is cannot do re-routing should you take a wrong turn. Others have also reviewed the navigation feature negatively due to the black and white screen, but I don't think this will be an issue for me.

Finally, the size of this thing is brilliant. It is small and light, and I prefer that over the heavier, clunkier Garmin 810 (even though it was a pretty good size too).

The one thing that may be a negative for some is the handlebar mount. It is plastic, and even though it installed easily, I can see some people stripping it in their tightening zeal. Also, I run a Arx II Team stem, and it is slightly (<2mm) off center. If you run a chunky stem, it would look weird way off center of the stem. Also, it can only be mounted left of the stem, so if you are a stickler about this.... The combo out-front mount and unit are supposed to be more aero, but if you choose to go another route, there are still plenty of great options (included stem mount, K-Edge, etc.).

I don't have the Garmin 820 or 520, so I can't compare this unit to those. However, what got me to buy this one over those was the reviews about the app (which I wanted after dealing with the Garmin 810 for so long) and the price. I also have to give a shout out to Kyle Brown at CC for helping me with the decision and purchase--Thanks!
Easy, Easy, Easy!
Familiarity:

I've used it once or twice and have initial impressions
Configuration is a breeze and operation is super intuitive. Much easier to navigate the menus, setup, use than Garmin, Lezyne, etc. Fantastic computer.
Hit or miss as to functionality
Familiarity:

I've used it once or twice and have initial impressions

Fit:

True to size
Had this unit all of 48 hours before I returned it. Spent way more time trying to get it to work that I should have. Out of the box it paired with my phone in a snap. It found the Wahoo heart rate monitor and my Stages power meter fine. Then it needed a firmware update and it just would not connect to my home wifi (FYI wifi is the only way this unit will firmware update and it's the only way it will automatically upload your rides). Finally I created a unencrypted guest zone on my wifi and it connected to that. Then I decided to test it with the sensors. It seemed to pick up the power reading fine from the Stages power meter but not the cadence (ugh). This is a feature that has worked from the first time with my Garmin 510 (a unit I was going to replace with this Wahoo product).

Here's the bottomline, if something works with this unit then it works first time and it's a snap. If something doesn't work, there are no diagnostics to tell you what's wrong. When it wouldn't connect to my home wifi, there was no notice that something was wrong. It took the command to update, indicated it was updating for some 10-15 minutes then came back with no errors but yet NOT updated. Is there a screen to tell you definitely that it's connected to wifi or not? NO. Can you look up it's MAC address so you can verify whether it's on your home network or not? NO. When it won't acquire cadence from your power meter is there a way to tell it specifically you want this data to be read from this device? NO. When you call or try to chat with customer service during their somewhat restrictive hours can you get them on the phone the first try? NO.

So if you buy this device and it works fine with no issues with all the sensors you currently have, you might be okay. If anything doesn't work easily the first time, send this unit back. If later on you want to add a new sensor and you have trouble, send the new sensor back for a refund because good luck to you trying to make it work or getting customer service to help you out.

Mike
It does everything I expected...
Familiarity:

I've put it through the wringer
I had been going back and forth between a Wahoo and Garmin GPS computer for some time. The announcement of the Elemnt Bolt solidified my decision to go with the Wahoo. I primarily use this computer on my mountain bike with some riding on my road or time trial bikes. Road GPS navigation was not a priority for me. What is important is size, accuracy, configuration, and battery life in which the Elemnt Bolt does very well.

The device setup is generally easy and straightforward. However, I wanted to use my phone as a wifi hotspot and allow the Elemnt to use this hotspot to sync data. There is no straightforward way to do this as turning on my phone's hotspot means it cannot communicate with the Wahoo app meaning you could not complete the pairing process. I had to work around this by pairing my Elemnt to another phone first, connect it to my wifi hotspot on my primary phone, and then re-pair it to my primary phone. By doing that, it remembers the wifi.

Another minor complaint, additional handlebar mounts are entirely too expensive (for what they are) from Wahoo. They should include more and offer a discount on additional mounts after shelling out $250 for the Bolt + additional for HR and Speed Sensor.

Another positive note is the Wahoo phone app works very well and is generally quicker and better than Garmin Connect at managing my ride data (and syncing to sites like Strava). I run my Elemnt Bolt as my primary device and a Garmin watch as backup.

Overall I'm very satisfied with the Elemnt Bolt and would recommend it.
Garmin has been complacent for many years. Finally Wahoo has come along to bring some competition. After a frustrating experience with my Garmin 520 where it would crash, not find sensors, fail to sync, and be a pain to customize; I decided to try the Bolt. This this is quick, picks up sensors every time, and is instantly customizable via the companion app. Finally someone is here to make Garmin compete. We as consumers will all win, and this is proof.
Can't ask for more
Familiarity:

I've used it once or twice and have initial impressions
Installation is sample. Take it off from the holder is easy. Not problem with pairing power meter (powertag), Speed sensor and HR monitor (both from Wahoo). Linked with Strava and Ride with GPX, downloaded maps from my accounts just a blink. Setup the Bolt with my own preference data pages, fully charged and head out for a 100k ride. After 3 hours and 30 mins still had 66% battery remain. Turn by turn navigation was accurate (perhaps because of the route is downloaded from strata?) Bought it not because of the aerodynamic factor but just my old computer broken, did not notice aerodynamic improvement but maybe after a few more rides I can tell the difference. Overall it is a good device do its job properly and easy to use.
You've gotta give it to Wahoo for creating yet again, an incredible, user-friendly piece of equipment. With 15 hours of battery life, rest assured you'll be able to ride a couple of times before having to charge the BOLT. I love how easy set up is for this computer, as well as the high-def, easy to read customizable screens. You can also real time adjust the different screens right from your phone which comes in handy. I've had no issues connecting this to my Training Peaks account or even my TrainerRoad account. Super quick pairing with my power meter, HR Monitor, and cadence sensor. Overall pretty rad little device. It is simple, easy to use, and accurate. Oh, let's not forget it is more aerodynamic than all its competitors. Pretty sure my FTP went up 7 points. Overall stoke levels are high.
First Impression
Familiarity:

I've used it once or twice and have initial impressions
Just received the Bolt last week and have only used it a couple of times, so definitely getting the feel for it buy very impressed so far with how easy it is to set up and get going and seemless file transfer, connection to sensors, and ease of use. Works nice on trainer as well as outdoors, very happy so far.
Or more appropriately lack thereof. Had trouble getting the bolt to work consistently with my garmin vector pedals and wahoo's tech support is so busy it take days to return a phone call. Then days more to follow up.
I like the unit a lot but if I can't get it to work consistently it's no good to me.
Does the Bolt come with a mount? Or do I add that.
it comes with two actually, the little arm to attach to the handlebar and another just to use it with straps on top of the stem or i saw a video that it is used for the triathlon water bottle cage that goes on top of the handlebar
Hi! I wonder if the ELEMT Bolt on its aero mount will fit in a set-up with a zipp sprint SL stem, as this stem has a very thick face plate...
Thanks!!
Personally, I'd post that question with Wahoo Fitness. They have a Live Chat session and phone support.