Free 2-Day shipping on orders over $50. Learn More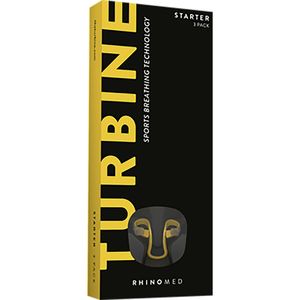 Free gift with purchase!
Turbine Nasal Dilator - GWP
Details
Hop on the Flux and time warp through winter.
While autumn makes for some of the most stunning cycling, there's always a looming darkness in the back of our minds as we try to deny that these cool and crisp mornings will turn into snow banks in a matter of weeks. Many of us loathe trainers, we'd prefer to sip Scotch and sit next to a fire than stare at a screen while listening to the whine of rollers or a fly wheel, and certainly are displeased with the way so many trainers feel so unrealistic compared to our beloved pavement. Then there are the high end trainers, which do a great job simulating the road-feel, and tend to be much quieter, but with such a high price tag that it's hard to fathom bringing one into the house. Finally, Tacx has a solution to offer us with the Flux Smart Trainer, with a heavy fly wheel and electromagnets to simulate the torque and power of road riding with a smaller price tag. Will it be enough to get you to set down your class of Scotch and give it a spin? We suppose that's for you to decide.
The Flux is Tacx's response to the well-received Neo, which has proved to be incredibly popular. The global acceptance of the Neo created a drive to create a similar direct drive smart trainer that's a bit more pocket-friendly and accessible to more riders. With compatibility on a massive array of apps and the ability to transmit via Bluetooth as well as ANT+ FE-C, the Flux can pair with virtually any smart phone, tablet or computer.
It's happy to work with Tacx's own app, or other popular third-party apps such as Zwift and TrainerRoad. Two LEDs illuminate on the side to let you know when you're connected to your device, so there's no guessing whether or not you've successfully paired with the trainer. The trainer is intuitive and fully programmable for your training plan du jour. Smart electronics work to transfer each watt accurately to your body when you make even the slightest adjustments to your power settings, so you know the resistance will increase or decrease where needed during your routine, and the information output is accurate within 3%. Firmware is easily updated on the Tacx app, so you can always keep things running smoothly and with the latest technology.
With a heavy, 7kg fly wheel, the trainer maintains serious smoothness that pairs with 8 electromagnets for resistance and response to torque that feels damn-near natural. The internals are tuned to resemble to feel of a real road ride. While most strong riders tend to maintain about 450 watts for 20 minutes or 850 for one minute, the Flux is capable of absorbing up to 1,500 watts when you need to punch out serious climbs in your training routine. Noise is an obvious issue with trainers, and while the Flux isn't quite as quiet as the Neo, its sounds are quite different from many trainers, a low, almost gravely tone generates as you get spinning, and is easily tuned-out within minutes of riding, as it does a good job of resembling the sounds of the road.
The Flux doesn't come with a cassette, but will be compatible with most 9 to 11 speed cassettes and any medium or short cage rear derailleur. It's not compatible with long cage rear derailleurs, which will find themselves snagging on the top of the trainer's leg when in the larger cogs. The trainer is compatible with standard 130mm road spacing and 135mm mountain bike spacing, but will require adapters for other rear spacing requirements. When you can't jump in the DeLorean and gun it through winter, hop on your Flux instead and train like you're time warping to warmer days.
Compact and realistic direct drive trainer for the off season
7kg fly wheel for a super smooth ride
Pairs via Bluetooth and ANT+ to any device
Compatible with 3rd party apps for smarter slogging
Works with most 9- to 11-speed cassettes
Electro brake sets resistance with electromagnets
Will not warp time or send you back to '88, unlike the similarly named capacitor
Item #TAC002I
Tech Specs
Resistance
8 fixed electromagnets
Wireless
Bluetooth Smart, ANT+
Dimensions
26.4 x 25.6 x 18.3in
Manufacturer Warranty
1 year
What do you think about this product?
Have questions about this product?
Great trainer
Familiarity:

I've put it through the wringer
Have had it for more than a year and it has had no issues. I got it over the more expensive Neo that is supposedly quieter and can simulate tougher gradients. The Flux is rock stable even when sprinting, although I am not Sagan... It makes almost no noise. It is also Campy compatible, as some of my friends have complained that their Wahoo Kickr's were finicky/noisy with Campy cassettes and didn't shift well. I used a worn cassette, did not replace my chain and can't say I have noticed any shifting problems. There have been ZERO mechanical or connection issues with Zwift. Power calculation seems accurate enough.
One downside is it only simulates gradients up to 10%. The more expensive Neo goes to 20%. The Neo also simulates cobbles and gravel while this trainer makes no attempt at such gimickery. It is heavy and doesn't fold up as other reviewers have stated, but that it why it is stable.
The trainer is sold worldwide, so if used in 220V countries just a different power cord is needed, which Tacx sells online I believe. I have not used the Tacx online training software.
Just a solid, simple & fun trainer
Familiarity:

I've used it several times
First time using these type of direct mount trainers, since I always rode on the traditional turbo/fluid trainers. this Tacx is better than the old school trainers, faster to set up & very simple & practical to use. Connects very easily with my Garmin, Macbook or Ipad. It's a real game changer since it turned fun the boring times riding indoors. it's very quiet also. The only thing I don't like is that it's heavy & the legs cannot fold so its very difficult to move around.
Set up is EASY and QUICK
Familiarity:

I've used it several times
I've been hesitant to get a trainer due to how notoriously loud and obnoxious they are. I did some pretty extensive research on the flux and after seeing one in person, I was sold. So sold I got one for me..... for my mom..... and for my sister...... THEY ARE SO QUIET. set up took me less than 30 minutes. probably would have been less time, but I am still figuring my way around bike assembly. the base is so solid and even though i didn't have a mat under mine. and it was on hardwood, I barely noticed it. It works right away as a straight ride, but if you want to get fancy, it's compatible with zwift, or tacx training programs and you can pick rides all over the world! and if your friends or family also have the program, you can even ride together. If you have been on a trainer before... you know how completely mundane and BORING it is... this changes it all! it's more interactive and allows you to strive towards something other than looking at a wall! 10/10 recommend.
Worth every penny!
Familiarity:

I've used it several times
90 minutes on the trainer now flies by - my fitness and happiness have both increased.
First trainer & this ROCKS
Familiarity:

I've used it several times
I was very intimidated by buying a trainer, between dropping a ton of cash on something I wouldn't use much, the weird trainer sounds, it not being enjoyable .... but this is a really great option for buying a smart trainer where you don't need to use your wheel, it's almost mostly silent, the feeling is great, and it's one of the cheapest smart trainers out there. I am VERY happy with this purchase and would recommend it to anyone looking to spend less than a $1200-1600 smart trainer but still get something that's in all reality just as good.
Genuinely Impressed
Familiarity:

I've used it several times
I was on the fence for a long time about picking up a "smart" trainer and a) would it really benefit my training THAT much over my old fluid trainer, and b) would I actually ride it and justify the expense. I've ridden the Kickr and other products in lab/group class settings and enjoyed well enough but could never quite justify the expense.
I finally pulled the trigger on the Flux and have been very impressed. Of course any trainer is only as good as the software you use to drive it and the Tacx stuff is pretty decent. I've been using with Velo Reality and have been really happy with how it reacts to the video and GPS track of the rides I've paired it with.
I find there is a little dead spot in the gradient difficulty between 8-10% simulated, although this is likely software rather than the trainer. Overall the "road feel" is very genuine. My simulated speed and power output are very consistent with road data in the same gears at the same cadence and speed. The ability to run virtual training software is fantastic and makes boring sessions a bit more interesting and appealing.
If you're on the fence about the Flux, I'd recommend picking it up. It's every bit as good as the more expensive competitors and $400, or more, cheaper. Very happy.
Hello, My bike has a long derailleur. On the description it tells you that It's not compatible with long cage rear derailleurs. In this case what do you recommend.
I have along cage and it works, just not in the small ring


Unanswered Question
Hi, is this compatible with both 110v and 220-240v power supply? I want to use in multiple countries.
hello - just ordered a tacx flux smart trainer - one question - does it come with a cassette or do i need to purchase one separately?
Hi Surendralal,



It does not come with a cassette. You will need to buy one separately.
Yup, this trainer will be compatible with Zwift.
Hi, is this trainer compatible with 12mm thru axle rear wheels?
Hi Paul,



Here you go!



https://support.tacx.com/hc/en-us/articles/211920829-Does-my-142-12mm-axle-fit-on-my-trainer


I see cord and plug in the picture. Does the flux trainer need to be plugged in to outlet operate?
Hey Bill, the resistance is provided by electromagnets, so it does need to be plugged in to function.
Hey Bill, the resistance is provided by electromagnets, so it does need to be plugged in to function.