Our Group is Skiers & Snowboarders.
State of Gold: Chapter 4
We're rock climbers, world travelers, and guides. We have expertise in a lot of things, but our surfing experience is limited.
For those of us just getting into surfing there is a purity of excitement in being beginners again, in letting our guards down and experiencing something new. With each wave I've caught I've had the familiar feeling of letting a force of nature grab me and take me for a ride of which I'm not fully in control. I haven't felt it since learning to ski nearly 20 years ago, and I like it.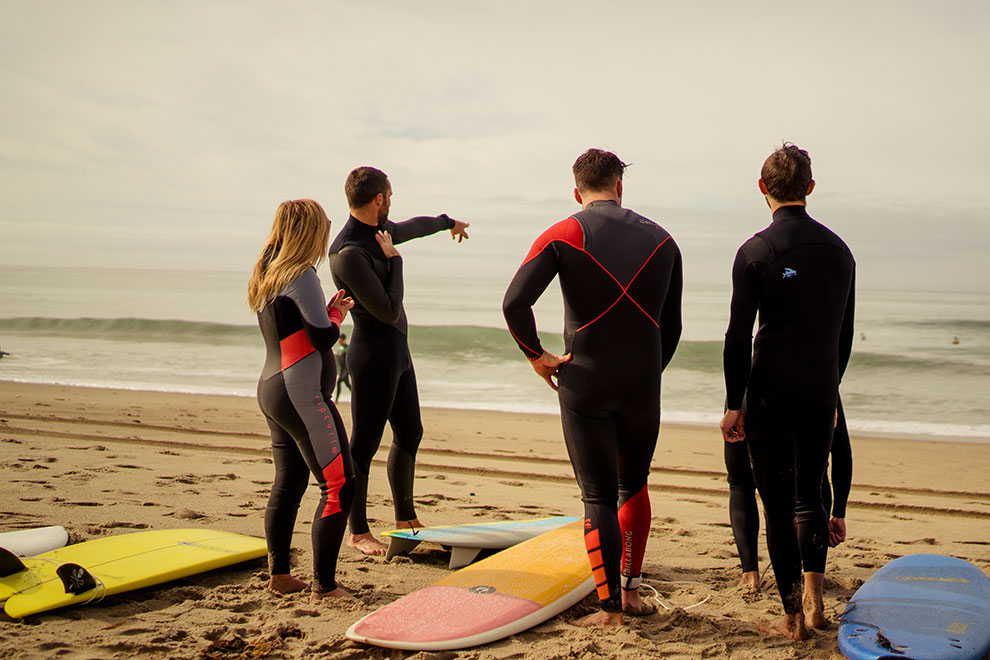 We Knew That We Should Seek Out Surfing Expertise.
State of Gold: Chapter 4
Our first stop as we rolled into San Clemente yesterday afternoon was Album Surf, where they provided us with some boards and some pointers. We surfed with the Album guys this morning on the bigger waves in front of our campsite at San Clemente State Beach. Actually, they surfed, walking up and down longboards and doing airs on short boards, while the waves churned the rest of us like clothes in the wash.
Shop Surf
Now, In These Mellower Waves, It's Just Us.
State of Gold: Chapter 4
This whole trip there's been a sense of excitement knowing that we'd eventually arrive at the coast. No one seems more thrilled to be here than Cameron, who also happens to be the most experienced surfer in our group. His enthusiasm was apparent last night at dinner when he ordered margarita pitchers for the table and downed a pile of fish tacos and a whole plate of churros. And it was apparent this morning when he, usually the one who most appreciates sleeping in, was the first person awake. I'm pumped for him as I watch him catch a wave and ride it all the way to shore.
The Next Wave is Mine.
State of Gold: Chapter 4
I hear Kyle and Ben cheering me on as I paddle frantically into it. For me, this tiny wave feels huge as it grabs me and pulls, as I fly down its face for a second before pushing myself up and standing. I ride it.
In a few seconds I'll lose my balance, go ass over teakettle, and feel the wave crash over me and spin my world upside down. Tonight we'll have a bittersweet dinner out, celebrating the end of a great trip. Tomorrow morning we'll break camp, give hugs, and go separate ways. But right now I'm just a noob surfer riding water and loving it. It's a raw feeling. It's pure gold. And it's what we've been chasing for the last thousand miles.
Shop Casual Apparel
What's Next?
State of Gold: Chapter 4
For over 20 years Backcountry has been about pursuing passions, about pushing ourselves to be the best. Kate Ediger reminds us that it's about more than that—that trying new things and chasing down experiences we've never had before can be far more valuable than staying in our comfort zones.
About The Author.
State of Gold: Chapter 4
State of Gold was written by Colin Clancy, who has written articles, marketing copy, and product descriptions for Backcountry.com for three years. In that time he's skied a lot of powder, explored the trails of Utah with his pit bull mix Daisy, and spent almost every summer day fly fishing just outside the door of his Winnebago home.