Free 2-Day shipping on orders over $50. Learn More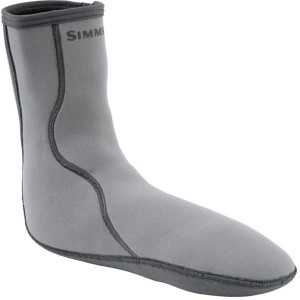 Free gift with purchase!
Neoprene Wading Sock
Details
Designed for the adventurous angler who desires lightweight, minimal wading boots for accessing remote, pristine backcountry fishing holes.
If you rarely stay in one fishing hole for longer than twenty minutes and prefer to move fast on the river while you fish, turn to the Simms Men's Vapor Boots. Designed with Simms VaporTread platforms, the Vapors deliver trail-ready and wading-ready performance for the adventurous angler. The VaporTread features molded 3D footbeds with arch support and ball flex that align your feet for all-day comfort and optimal bio-mechanics. Molded dual-density EVA midsoles provide cushioning for hiking comfort and enhanced proprioception. The molded TPU heel cups ensure heel-hold and lateral stability while the VaporTread platform's molded, minimal, and hidden TPU retention plates provide lightweight cleat retention and enhanced proprioception.
To keep the Vapors lightweight, Simms used synthetic leather, textile, and scratch rubber in the uppers while giving the entire boots a low-profile, minimal design. Anatomical top lines at the collars add comfort. The partial neoprene linings provide wading warmth, cushioning, and an easy on-and-off while the Vapor's traditional lacing helps ensure a just-right performance fit.
Simms also gave the Vapors a CleanStream design which includes features and materials that are more resistant to hitchhiking organisms—less exposed stitching, fewer ridges and pockets, and non-absorbent materials—all to make the boots easier to inspect and clean. And for long-lasting traction on trails, slip-resistance in water, and toe protection, you can rely on the Vapor's molded Vibram Megarip rubber outsoles with 4 millimeters of self-sharpening, multi-directional lugs.
Synthetic leather, textile, scratch rubber uppers
CleanStream design
Partial neoprene lining
Anatomical top line at collar
Traditional lacing
VaporTread platforms
EVA midsoles
TPU heel cups
4.0mm Vibram Megagrip rubber outsoles
Item #SMM000I
Tech Specs
Manufacturer Warranty
lifetime
Claimed Weight
[size 10] 3 lb 3.2 oz
Sole
4mm Vibram Megagrip rubber
Upper Material
[face fabric] synthetic leather, textile, rubber
What do you think about this product?
Have questions about this product?
Love them.
Familiarity:

I've put it through the wringer
Debated between this, the G3, or possibly Patagonia. Glad I went with these, although the decision was simply based on color and style.
These fit very well, do not get nearly as heavy as others I've tried, and seem to be holding up. They are comfy after all day hiking and wading.
great boots
Familiarity:

I've used it once or twice and have initial impressions
buy for my husband his first time wearing hiking boots a little heavy for him but he says he recommends them totally
Amazing Wading Boot
Familiarity:

I've used it once or twice and have initial impressions
Loved how these felt out of the box. Reminded me of wearing lightweight hiking boots and were perfect for tromping from hole to hole. I'm normally a 9-9.5 and went with a size 9 on these and they fit perfectly!
Great wading boots
Familiarity:

I've put it through the wringer
After putting my first season on these I could not be happier. They are light weight and super grippy, can take studs, drain water quick and help you to cover a lot of water. They are a little stiff your first couple wears but they break in and are very comfortable. My favorite part about them is the smaller profile. Other wading boots I have had feel clunky and wide like clown shoes but these feel like you are putting on your hiking boots. Could not be more satisfies.
So far, so good.
Familiarity:

I've put it through the wringer
Bought these as my new brookie-hunting boots, as much for walking as for wading. They are great to hike in and so far it's been a dream logging miles in the woods until reaching my favorite streams (been doing a lot of fishing in Shenandoah National Park). In the water they have a tendency to be a little bit slick at times on the odd algae covered rock. Fit is outstanding and coupled with the Simms wading booties they've been a exactly what I needed for small stream, summertime fly fishing in the mountains. I trust they'd be just as useful elsewhere.
true to size
Familiarity:

I've used it once or twice and have initial impressions
Got these in a size larger based on some recommendations and past reviews. That was way too big with waders and socks on. Returned and went with my normal street shoe size and they were perfect. Also, I ended up getting the Hardbite cleats and the Alumibite cleats. The Alumibite stuck out from the sole way too far for my liking. I would say a good 3/8 inch was sticking out below the rubber and did not feel that comfortable walking with them. The hardbite cleats were perfect, however. They barely stuck out from the rubber of the sole, but did protrude just enough to get a good, secure footing and still allow the Vibram sole do its job. Would definitely recommend the boots!
Great after 2 weeks
Familiarity:

I've used it several times
Bought this to replace second pair of Riverwalkers. They were good but did not last more than 2-3 years. The RWs were light, sticky and felt good but thought I'd try these for a change. Weight for travel is a consideration but I don't feel I sacrifice function with these boots.

Hard usage - 2 weeks in Patagonia, mostly on freestone creeks, not particularly slippery. I typically do not step on tops of rocks so sticky seems less important.. Many days 6 miles walking/wading. Put them on 3 days after purchase and went wading (I know, risky). Comfortable from the start, no discomfort or chafing. "EEE" + socks seemed fine. Stiffer sole than RWs but flex at ankle made walking seem natural.

Seem a little heavier than the RWs but can't compare them to the newer Patagonia light weights.
Great boot for hiking and rowing.
Familiarity:

I've used it several times
I admit it, I am lucky and spoiled. I own a drift boat and spend most of my fishing days in it. I don't alway wade fish but when I do I like to walk aways. These boots do both really well. Whether it is jumping over the gunnel 100 times a day to fish riffles, man to oars or an extended walk to quite waters. Light weight, comfortable with just the right amount of support. My running shoe size is a US 8.5 and I purchased US 9. A little tight for winter fishing with thick socks and waders but just right for summer wet wading.
Built for long hikes to that secret spot
Familiarity:

I've put it through the wringer
The Vapors are really kind of a new take on wading boot technology. Being designed more like a lightweight hiker than a traditional wading boot, It feels a lot lighter on the foot, and is not nearly as stiff as some of the other models on the market. If you cover a lot of river miles on foot, or are usually doing some hiking to your favorite water, than these may be for you!
As for sizing, the fit is much closer to a hiker, and you will likely fit into your standard shoes size, rather than size up as you would for most wading boots. The Vibram Streamtread sole is killer on wet rocks and also does just fine on loose trail.
My one con would be that they may not be as durable as their beefier brothers, the Headwaters, or G3s. I went through my first pair in about one season; they blew out on the outside seam near my pinky toe. Although I probably spent about 160 days on the water last year, so the average angler may get quite a bit more time out of them. However, Simms replaced mine without batting an eye, and that kind of customer service will always keep me coming back!
Love em!
Familiarity:

I've used it several times
I recently upgraded from the all in one waders to the stocking ones so i needed to pick up some boots to go along with them, and these seemed like a great fit to my new Simms waders and they are i love them, now i'm a size 9.5 and i got the size 10 they don't give much room so if i needed a winter sock it could be a problem, I would recommend going up a size to anyone who likes to fish ll year around.
This is my first pair and I love them so far. Very well made and comfortable.
Awesome Boots
Familiarity:

I've used it several times
Got these boots in early spring of this year. The fit was perfect (I'm a 12 in regular shoes, 13 in these fit great). Have worn both with waders and wading socks and they work great in both. Very lightweight but superb traction and durabity so far. Break in period was about a week but after that they feel more like a light hiking boot than a wading boot. By far my favorite wading boot I've owned.
Perfect for the type of fishing I like.
Familiarity:

I've used it several times
The sole on my first pair of another brand of wading boots delaminated and I needed a new pair. I emailed my fly fishing guide in Maine and asked for his opinion. He knows where I like to fish... on back country streams that require a hike in, sometimes a couple of miles. Without hesitation he recommended the Simms Vapor Boot.

I have used them about a dozen times. Comfortable, easy to put on and take off, walks like a lightweight hiking boot. I put the Simms studs on (they fit in the tread perfectly)... and these are exactly what I was looking for in a wading boot. I can wear them all day and my feet are happy. My feet are wide and I appreciate the fit of these boots.

They also work great for wet wading, though with my lighter weight neoprene wading socks, the fit is a little loose. I will get a thicker neoprene sock for this purpose soon.
Love em so far
Familiarity:

I've used it several times
I've got about 10 miles on these so far over 3 outings & they're great. I almost forget that I'm wearing a wading boot instead of my hiking boots. Can't speak to durability yet but they do have great traction even without studs. I plan to keep these without studs, I've got my g3 boots studded when I need some real bite. I too think these could use a bit more drainage but it's not bad enough for me to detract any point really, these are def my new go to wading boot. Looking forward to some warm weather wading with these & some neoprene socks.
Durable, Fast, and Lightweight
Familiarity:

I've put it through the wringer
Sizing=True to size(depending on if you are using waders or wet-wading socks)

A typical day fishing for me I will cover 10-15 miles. The Simms Vapor was the shoe made for me. After a break in period of 2-3 days it felt like I had a nice fast hiker on my foot. Just enough support to keep you ankle from buckling going through a gravel bed with enough range of motion and sensitivity too move quick with efficiency.

Durability is fantastic, the thick rubber that wraps the shoe, much like an approach shoe, protects from sharp rocks or branches cutting up the sides and toe of the boots.

I Highly recommend these boots to the fly fisherman or woman on the go. If you are looking for a boot that pushes you on, not holds you back, look no farther you found your boot.

If you have any question on this or any other fly fishing gear feel free to shot me an email or call me. 18004094502 ext.4665
Durability meets lightweight
Familiarity:

I've put it through the wringer
These boots are surprisingly burly for how light they are. I've been in them for a year and they have almost no signs of wear. They're the perfect boot if you have a hike to get to your hole. The only thing I'd like to see would be more drainage. The only drain holes are on the inside arch of the boot.
Pretty Swell
Familiarity:

I gave it as a gift but have feedback to share
Got these as a gift for a friend, who definitely needed some updates in his fishing gear. Took them up to the Green the first weekend, and they couldn't have been any better! Super sturdy for walking in and around water, and not too clunky or heavy to wear through the longer days. Easy to get on and off, fit very well with waders. He wears a 10.5 street shoe, and an 11.0 in these fit the bill!
Sturdy & lightweight boots
Familiarity:

I've put it through the wringer
I have used these for an entire season now and I'm really impressed and happy with my Vapor's. I do a fair amount of hiking along the rivers I fish and always wished for a lighter wading boot that felt more like a hiking boot. The Vapor boots do just that. They fit me really well and when I walk and wade I never think about the boots, they just work and don't weigh me down. The result is that I can get further up the river in a day and the lightweight design feels secure and supportive without being too stiff or clunky. The materials are synthetic and absorb little water compared to conventional fabric and leather boots. This helps the boots to dry quickly and makes them lighter when walking out of the water.



The Vibram soles are very sturdy and provide good grip on slippery surfaces although the addition of cleats can be advantageous.



These boots are also quick and easy to step in and out of with my waders which I really like. Fighting those boots when you want to get on the water or at the end of a long day is never fun.



Overall a great wading boot!
Well built, but not for narrow feet
Familiarity:

I returned this product before using it
The star rating I gave this was a result of my personal fitting rather than any experience with the boot on the river. I purchased this and the Patagonia Ultralight to compare. For reference, my foot is a size 10.5 US in a Nike tennis shoe and relatively narrow. The size 11 in this boot proved the proper length with 3mm wading socks and also when bulked up with hiking socks under the wading socks.



However, the heel pocket was strangely designed. Most boots tend to taper toward the tongue above the heel cup but this one actually tapered away from the tongue above the heel cup. As a result of the heel cup design, there was nothing I could do to negate a substantial lift in my heel with each step.



The footbed is non-removable and pretty close to flat, although I found that because of the flatness, I could insert an additional footbed without issue. The volume of the forefoot is tremendous, way more than I needed.



Overall though, if the boot is sized for your foot, go for it. This boot is clearly well made, if not better made than the Patagonia. It felt slightly heavier, but not offensively so. It also felt slightly stiffer while still transmitting more feel underfoot than the Patagonia Ultralight does. While I cannot vouch for their underwater performance yet, friction tests on dry concrete (approximately the same texture as fine grain granite) proved both to be outstanding so I wouldn't let any biases for or against the Vibram sole affect your choice.



If it had fit me better, I'd have preferred the Simms Vapor simply because it felt like the better tool for the job than the Patagonia Ultralight.