Ice Climbing Her Way
to the Top
Every Little Change Has Led Angela VanWiemeersch to Right Now
Shaping Community on the Mountain
How Snowboarder Nirvana Ortanez is Changing Her Sport
Blazing Trails in the Backcountry
How Backcountry's Co-Founder Continues to Break New Ground
Building a Business
Inside and Out
How an Executive Balances First Tracks with Fiscal Goals
Finding Balance in
the Backcountry
How a Snowboard Guide and Mountain Mom Gets Winter Ready
An Affinity for Ice, An Affinity for Life
"You can't quit what you love just because you're afraid of change." For over a decade now, that thought has been the guiding principle for ice climber Angela VanWiemeersch. From fashion school in Detroit to the unknown world of ice climbing in Ouray, CO, if there's anything Angela understands about life, it's that its trajectory is ever-changing.
Purpose & Passion
When Angela decided to leave fashion school, turn off her phone, bike 1,400 miles from Michigan to Canada (solo!), and camp every night, she realized that there was more to the life she'd been living. She began feeling fulfilled by her explorations … finding a certain purpose in living outside of the confines of her own comfort, and amping up the adventure. That was nearly a decade ago. Change, paradoxically, has become quite the constant for Angela.
"I went from classrooms and outfit mocks to ice picks and helmets. It took a leap of faith, knowing nothing of what lay on the other side. It was so worth it."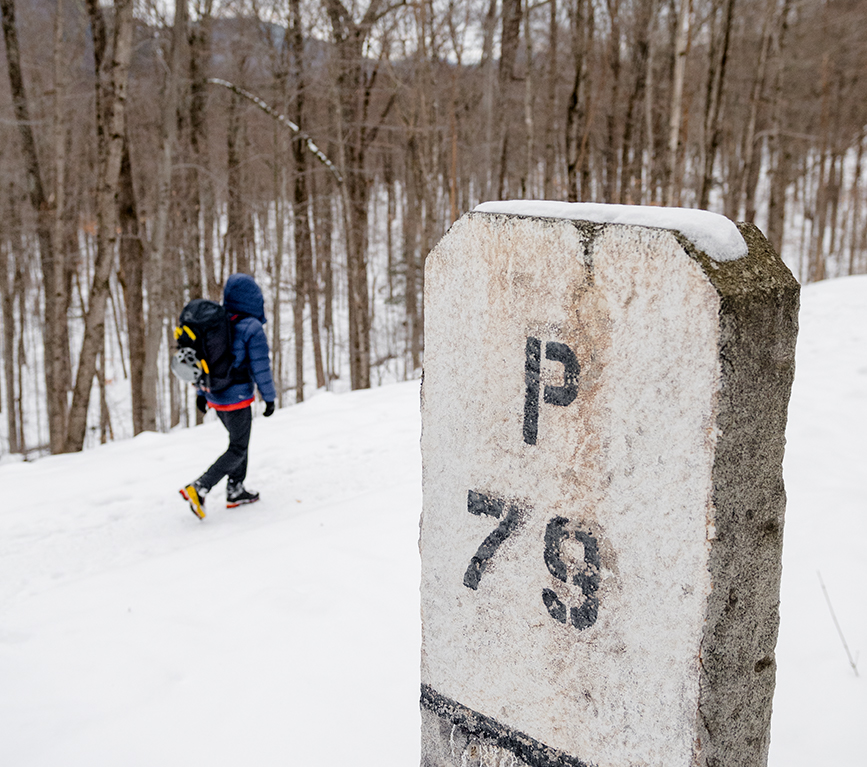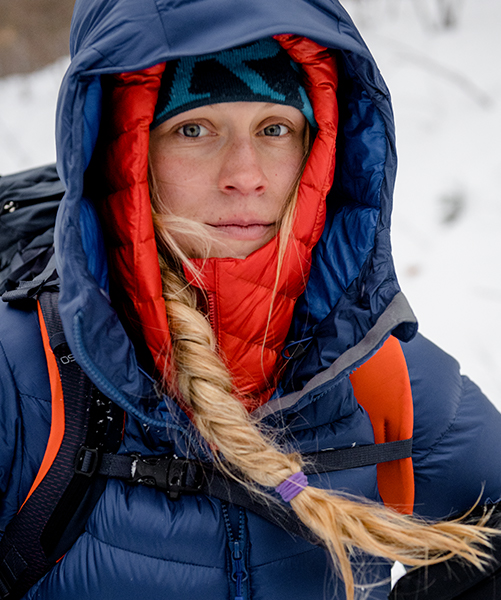 Angela VanWiemeersch
@angela_vanwiemeersch
Angela is 5'5" & Wearing:
Rab Women's Neutrino Pro Down Jacket - Size S
Grivel Stealth Climbing Helmet - one size
Rab Baltoro Glove - Size M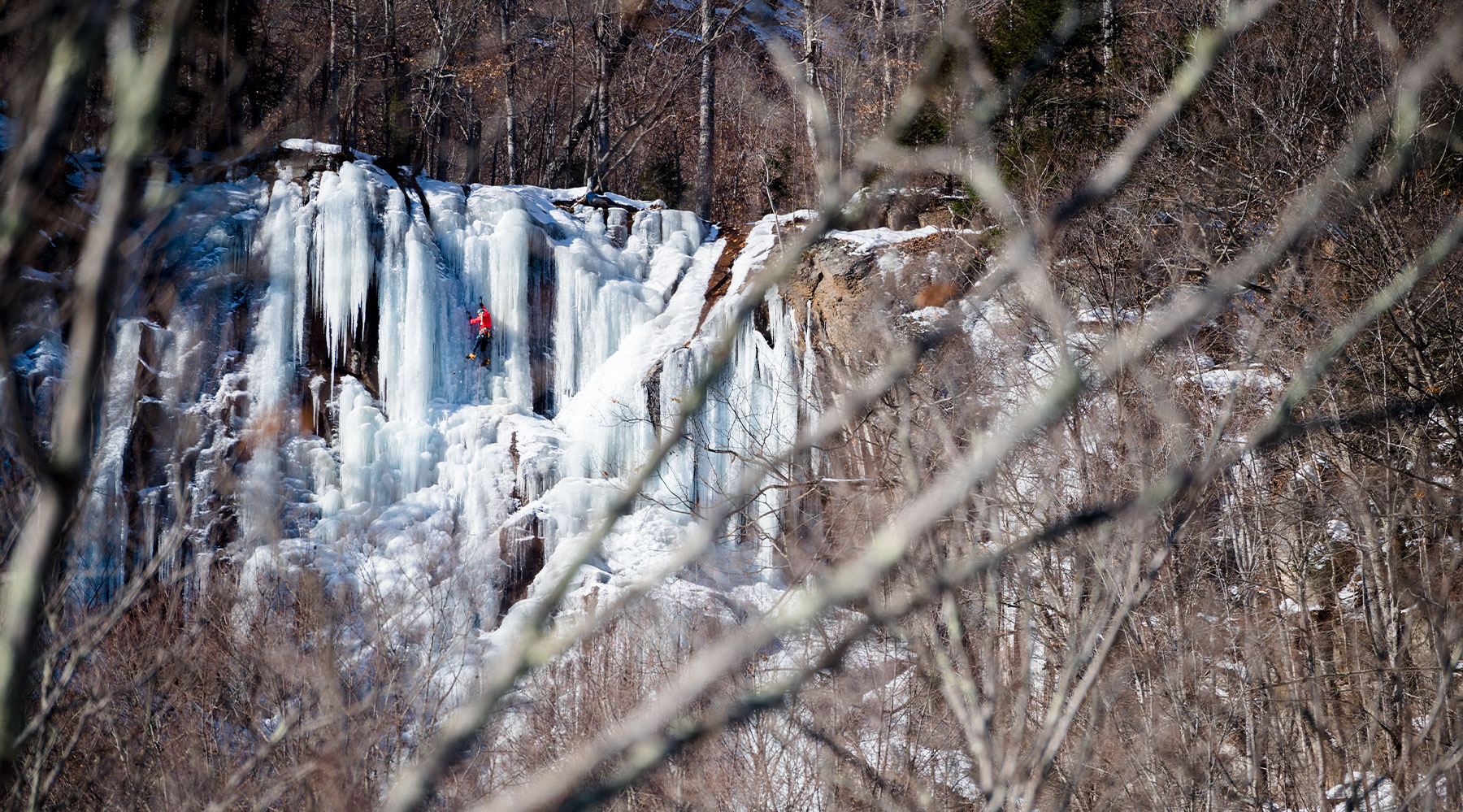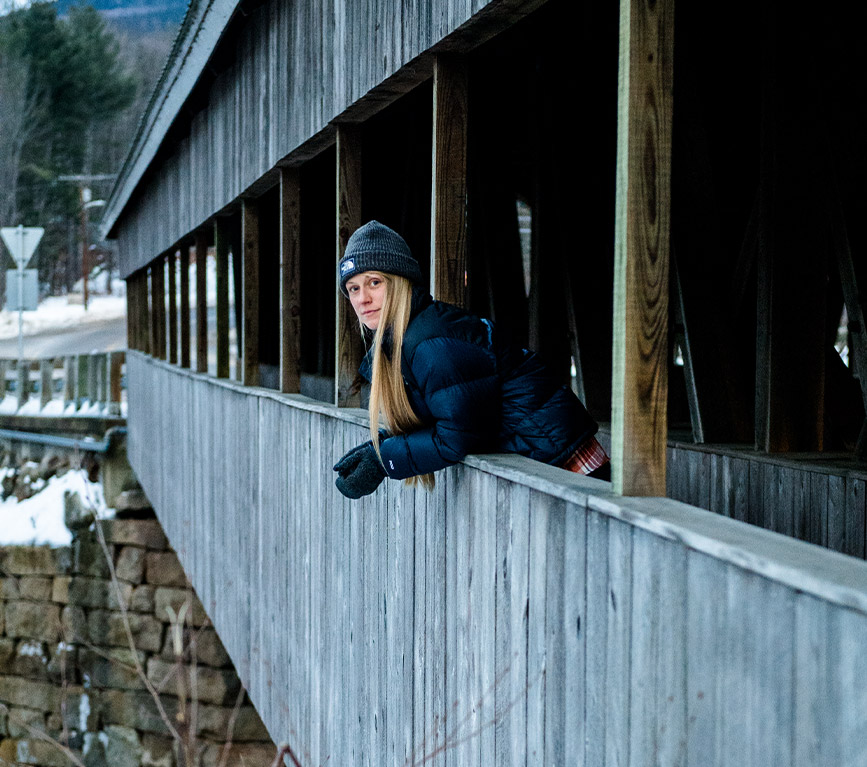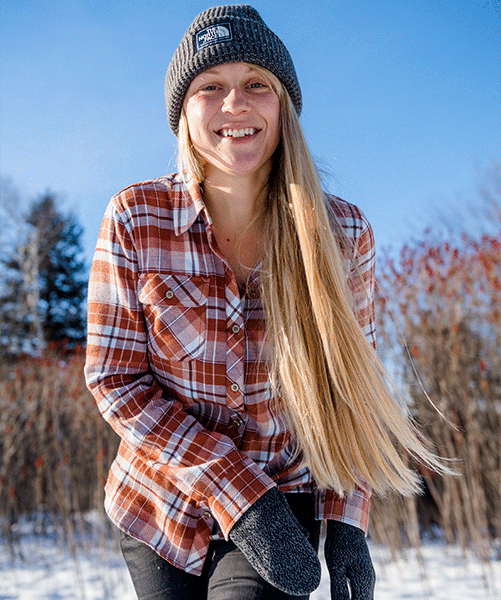 Go with the Flow
Angela is the first to admit that ice climbing can be a dangerous endeavor. But she also knows that true growth can't come from within the confines of one's comfort zone; instead, she's motivated by what lies outside of it. Living passionately, never giving up, and pushing herself to the limit, whether in climbing or in life in general, is what keeps Angela excited about every day. She believes that no matter what you're going through, where you've been, or where you're headed, embracing the hardships that come, changing with the tide, and continuing to climb ever-upward is the way to go.
"In ice climbing, the only way to improve your ability is to challenge yourself on new terrain. I think that same idea can be applied to life. The only way to know what else is out there is to try it."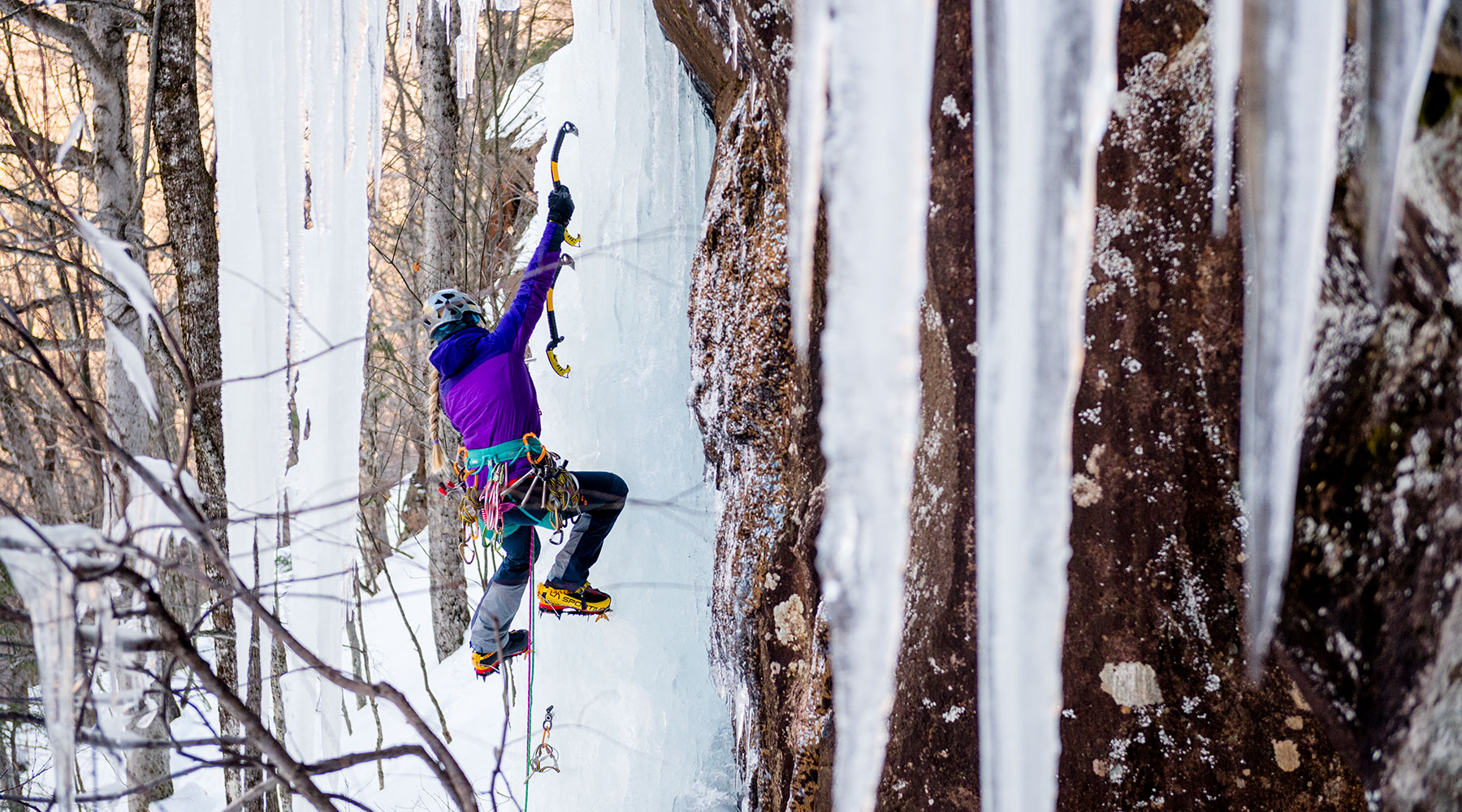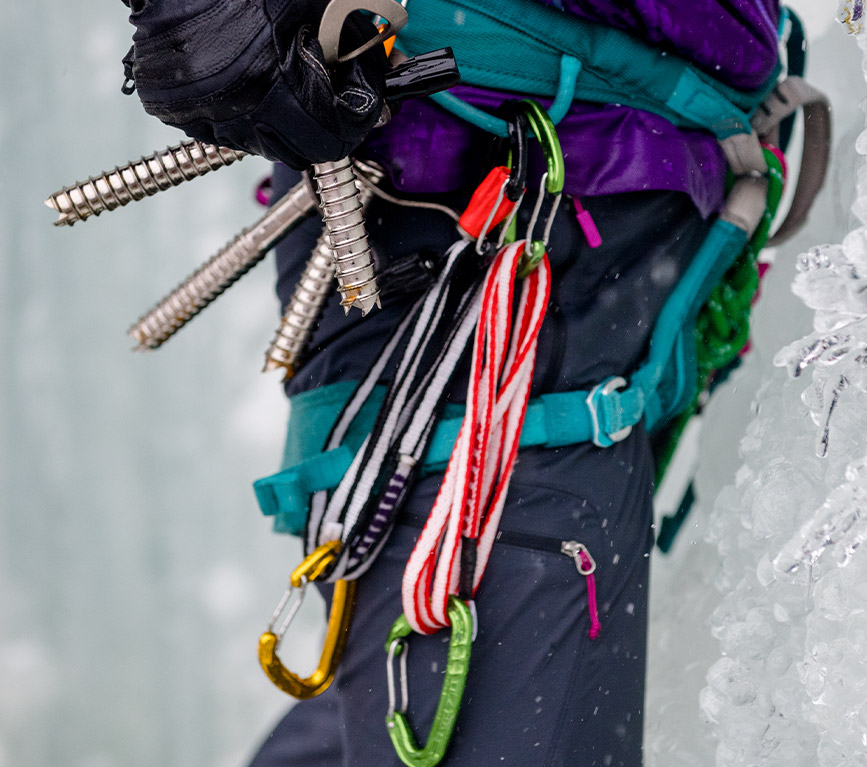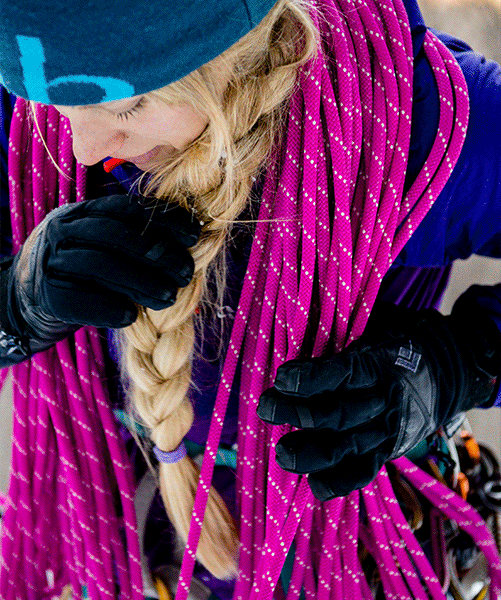 Finding Courage Amid Fear
Ice climbers are not fearless. In fact, a few years ago, after Angela's partner in both life and sport passed away while ice climbing, she began to feel a great deal of fear around her beloved sport. Despite all the safety precautions, the risk remains. It's her commitment to the uncertain, though, and the embracing of that fear, that keeps Angela climbing: for herself, for those who are still here, and those who are gone.
"No matter what I'm climbing, the value is always on life. It's a bold way to live, to pick into ice every day. And I think about all the things that have changed since [my partner] passed. But this is what he would have wanted. And it's still what I want when I wake up every day."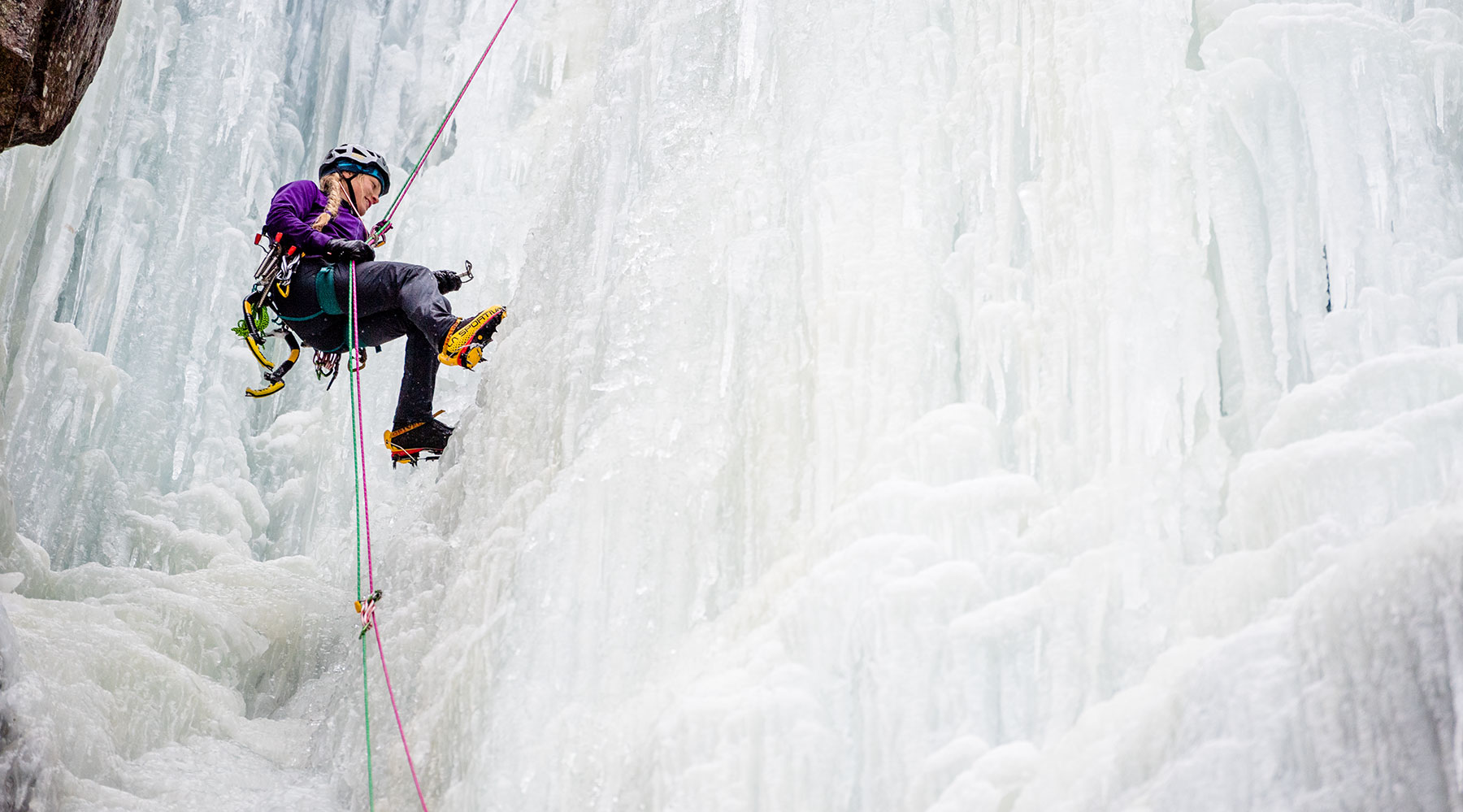 Melt, Flow, Freeze, Repeat
To Angela, ice climbing often feels like one big metaphor for life: the ups the downs, the flow of it all … it's about the journey. With every challenge accepted, new place seen, and wall climbed, she's embracing and facing it head on. Recently, Angela took on a new, different kind of challenge: homeownership (and, in a way, learning to stay put!) in California.
"Nothing is ever certain in ice climbing. You have to look at a climb and think honestly: 'can I do this?' You can't assume you'll be okay. Like life, it's a fine balance."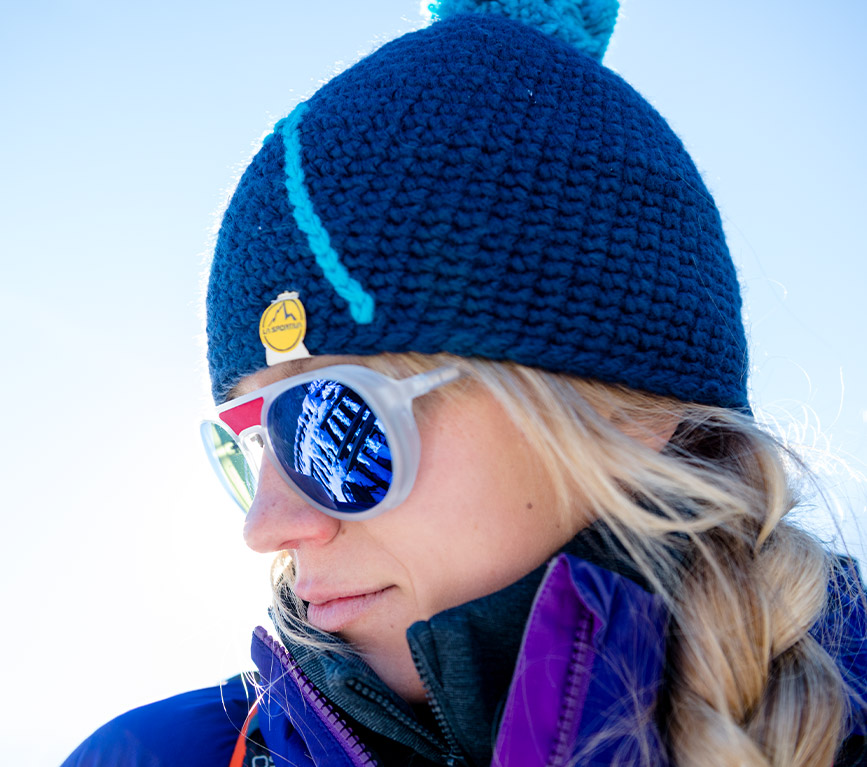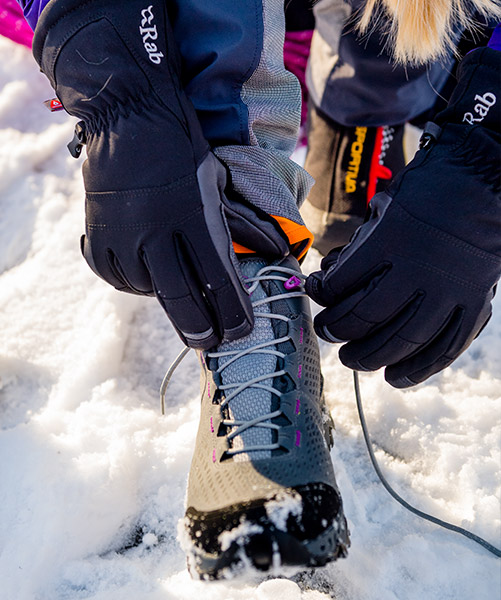 Welcome to Nirvana
Co-founder of the women-led 'Jetpack' snowboarding group, mixed media creator, and community builder, Nirvana Ortanez is more than a talented snowboarder (though her World Cup and Grand Prix appearances are quite impressive). She began advocating for a more inclusive snowboarding world back in 2012, when she and her friends started asking, "why aren't women featured in more snowboarding videos?" Since then, Nirvana has dedicated herself to helping snowboarding gain traction in underdeveloped markets. Her goal? To prove that anyone, regardless of ethnicity, gender, or any other perceived difference, can strap in and take a lap on the snow.
Taking Off with Jetpack
It all started when Nirvana landed a job at Oregon's High Cascade Snowboard Camp, the ultimate summer destination for a snowboarder. She worked in the kitchen, which was, as Nirvana puts it, "the gig that got you outside the most!" Meeting the girls at High Cascade not only got her involved in filming, but it's also how their women-led snowboarding group, Jetpack (@jetpack5000), began.
"We're a group of women who love to snowboard. But more than that, we're dedicated to female initiatives; pushing the envelope, doing the same things the guys do. It proves something much greater than 'we can snowboard, too."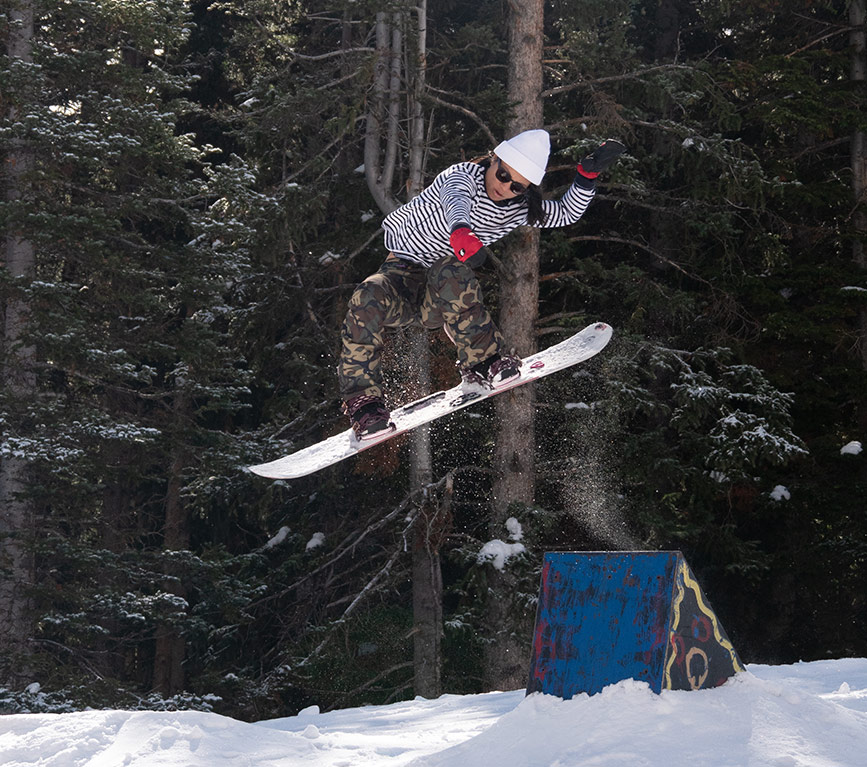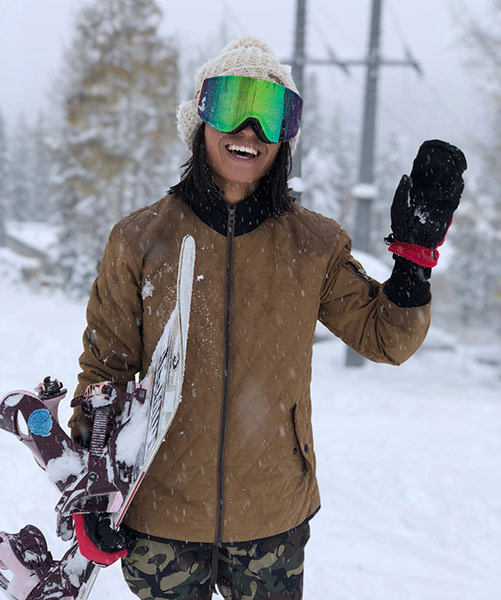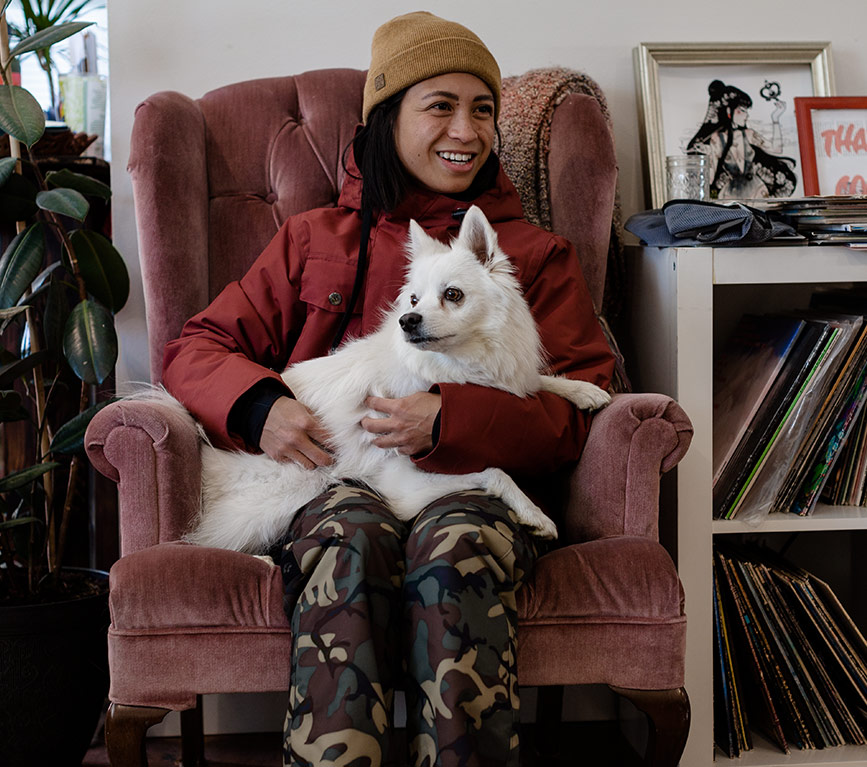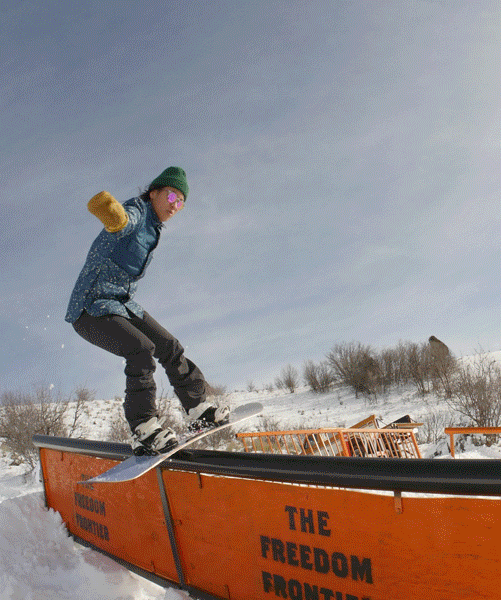 Nirvana Ortanez
Hometown: La Jolla, CA
Home Mountain: Brighton Resort
Instagram Handle: @nirvermind
Height: 5'1"
Jacket Size: Small
Pant Size: Small
The Making of Soy Sauce Nation
Nirvana's love for snowboarding extends far beyond the snow, and even further than the implementation of women's initiatives in the outdoor world. Enter 'Soy Sauce Nation' (@soysaucenation), another snowboarding group Nirvana co-founded with a keen focus on showcasing Asian minorities in outdoor sports. Nirvana, a dual citizen of the US and the Philippines, uses Instagram to create a group of passionate advocates for diversity in action sports. In addition to snowboarding, filming, editing, and working her day job, Nirvana also designs and screen prints limited edition t-shirts. Look out for Soy Sauce Nation designs in 2019!
"Soy Sauce Nation quickly became a way for minorities to connect. It helped make clear that people of color are not alone in pursuing their passions on the snow, or anywhere else."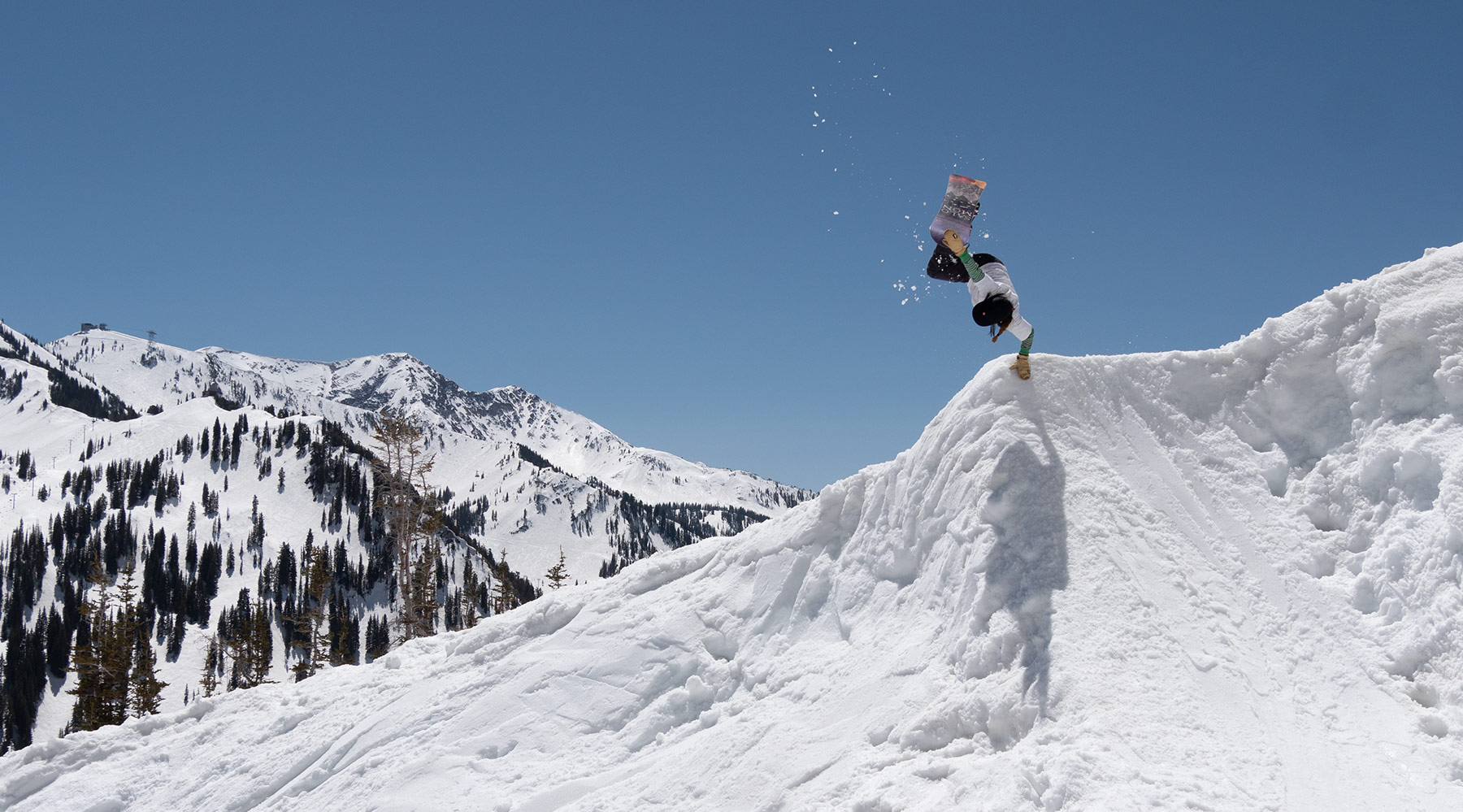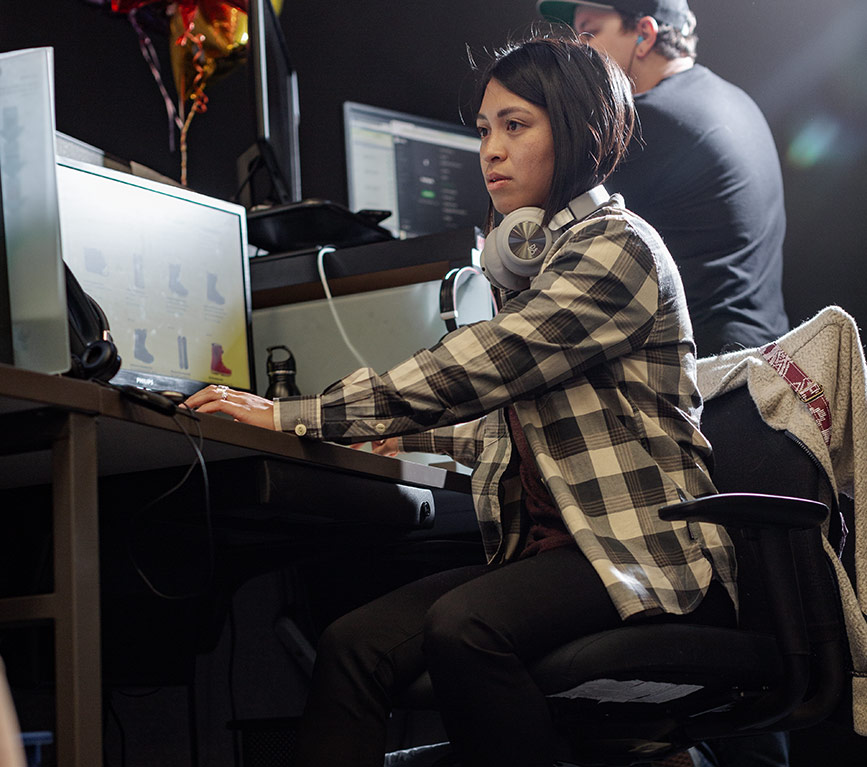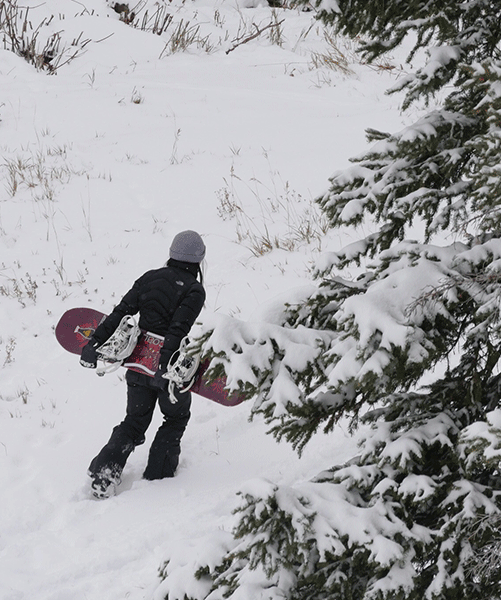 Hiking to the top of the
Brighton terrain park
Life in Her Boots
During the winter months, Nirvana's days are pretty consistent: go to work at Backcountry where she's a part of the marketing department, then it's off to Brighton Resort where she'll meet up with friends at the terrain park to film a bit and grab a few laps on the hill. Then, it's back home to edit and write. Rinse, gradually change the face of snowboarding, repeat. Nirvana shows no signs of slowing down any time soon, either on the snow or behind the camera. She's determined to keep expanding the world of snowboarding that she loves so much. Next up? A snow-filled trip to Japan in February … Nirvana is taking things international.
"I'm going to keep pushing for more female and minority representation, and keep getting out there and doing it myself, too."
Check Out Some of Our Other Recent Adventures
Since co-founding Backcountry in 1996 with just a small range of ski touring products, Jim Holland has helped thousands of people navigate countless adventures in the outdoors. Now, 22 years later, he's navigating a new adventure–curing Parkinson's disease. From pioneering the way in which outdoor gear is browsed, bought, and spoken about through Backcountry.com, to working with the world's leading scientists on cutting edge medical research, Jim's life has always been about breaking ground and blazing new trails. We recently spent the day with him to learn about his dedication to the spirit of adventure.
Backcountry Beginnings
Jim's youth was spent honing his skills as an Olympic ski jumper. In the summer of '93, a training camp to Park City spawned a lifelong love affair with the town, and laid the foundation for the Backcountry business. More than two decades on, Jim still loves touring in the surrounding mountains.
"On our days off I'd explore and climb mountains. I was blown away at what an awesome place it was, and vowed I would find a way to come back when I was done with my ski career."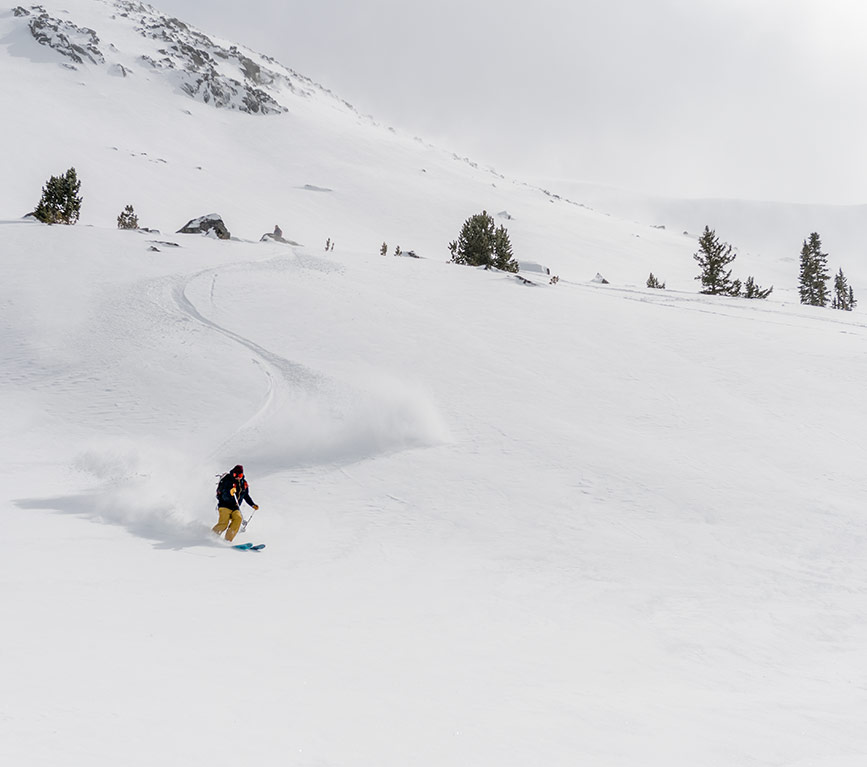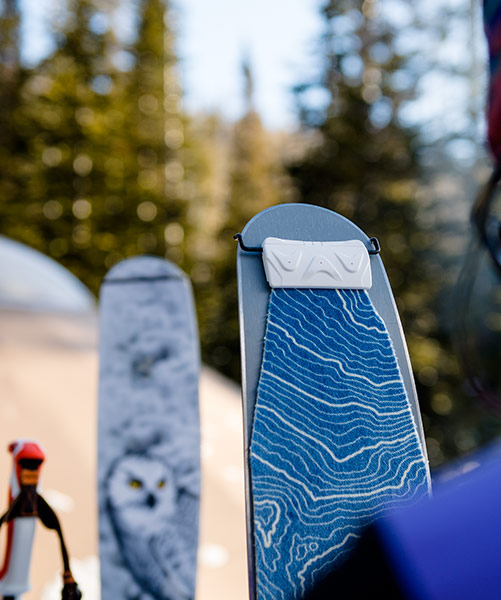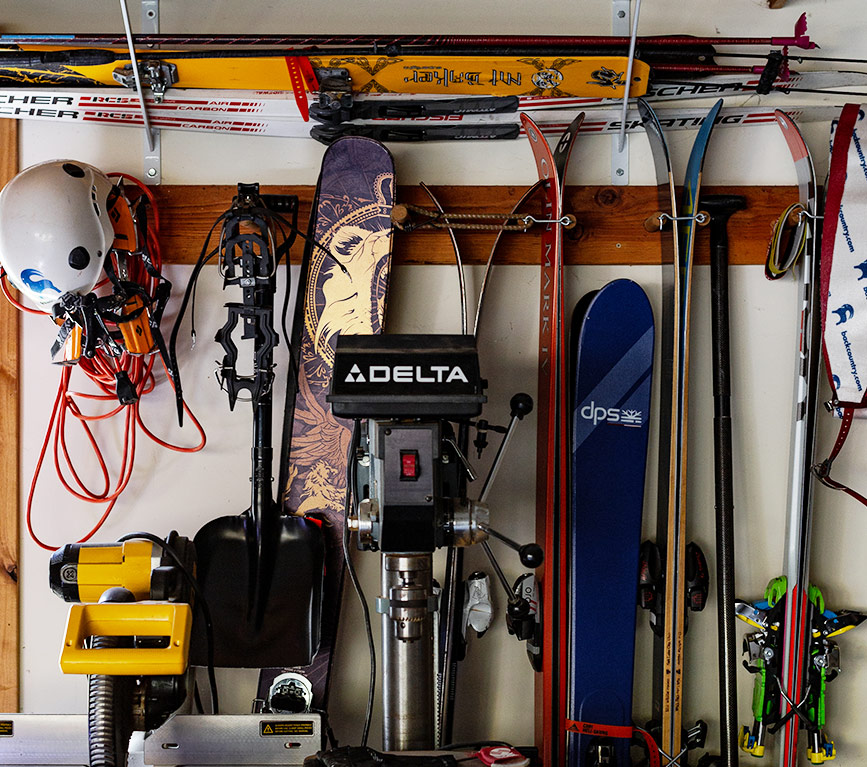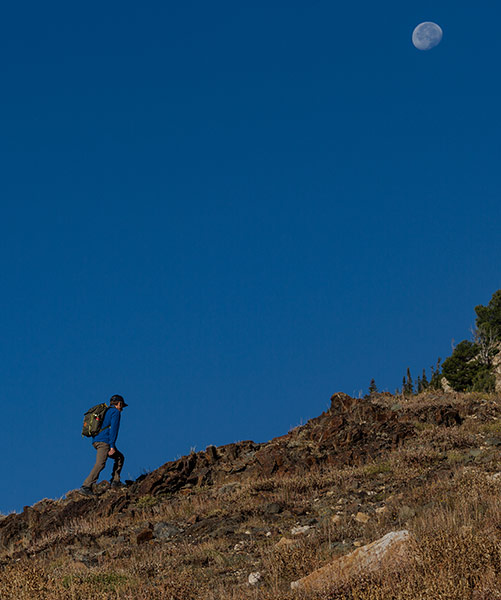 In Gear We Trust
Today, a dedicated team of Backcountry Gearheads ® is always ready to offer expert advice over the phone for your adventures. But when the company first started, it was all hands on deck–with everyone pitching in to man the lines and be a 'gearhead' for customers.
"It's so rewarding to pick up the phone and find out what someone has planned, then work out how we can hook them up to have the best trip possible. Gear can enable some amazing things. Think where we'd be without it? It'd be a lot less fun. And cold!"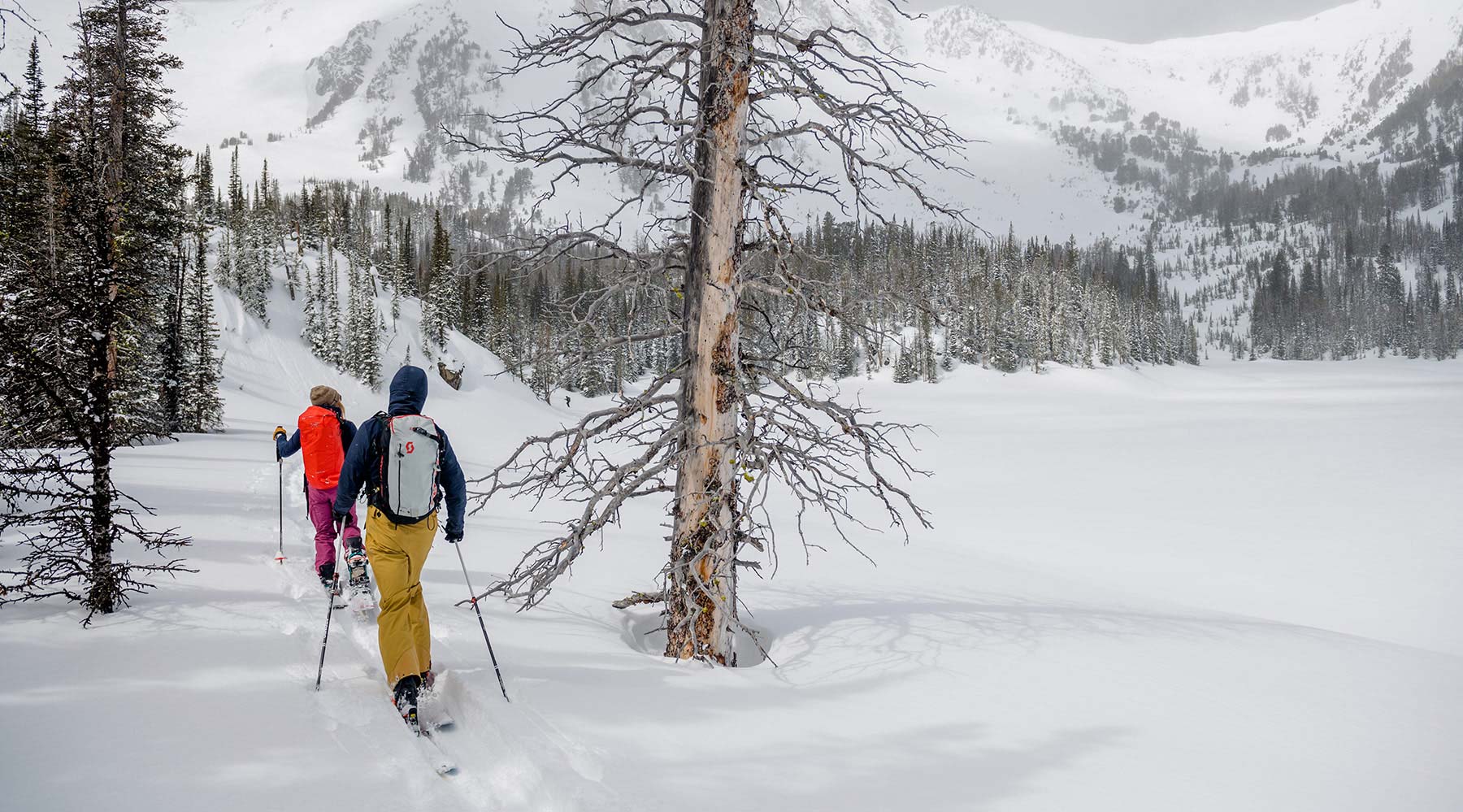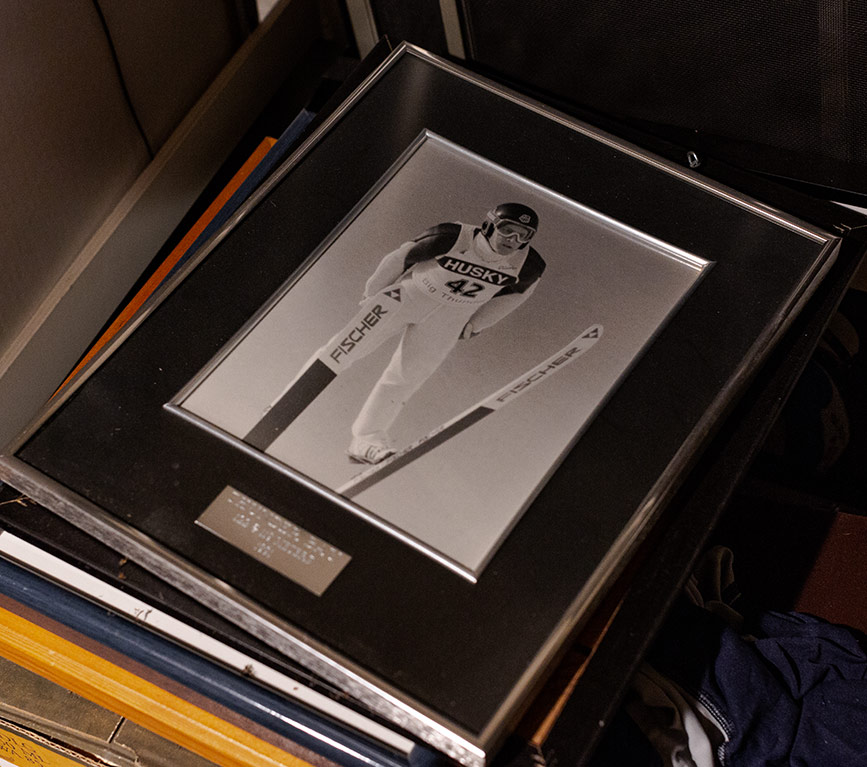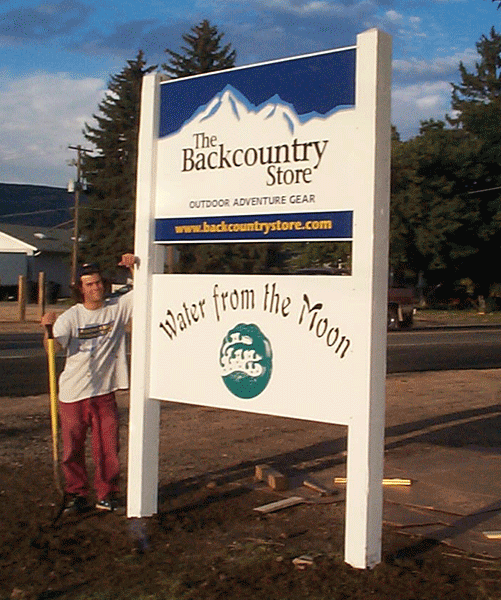 Blast from the past.
Historic images of Jim & the early days of Backcountry.
The Next Challenge
When Jim was diagnosed with early onset Parkinson's disease, he decided straight away that he'd talk openly about it, and committed to help find a cure. Turning his love of a challenge to something like this certainly wasn't in his plan, but he's taking strength from the chance at breaking new ground once more.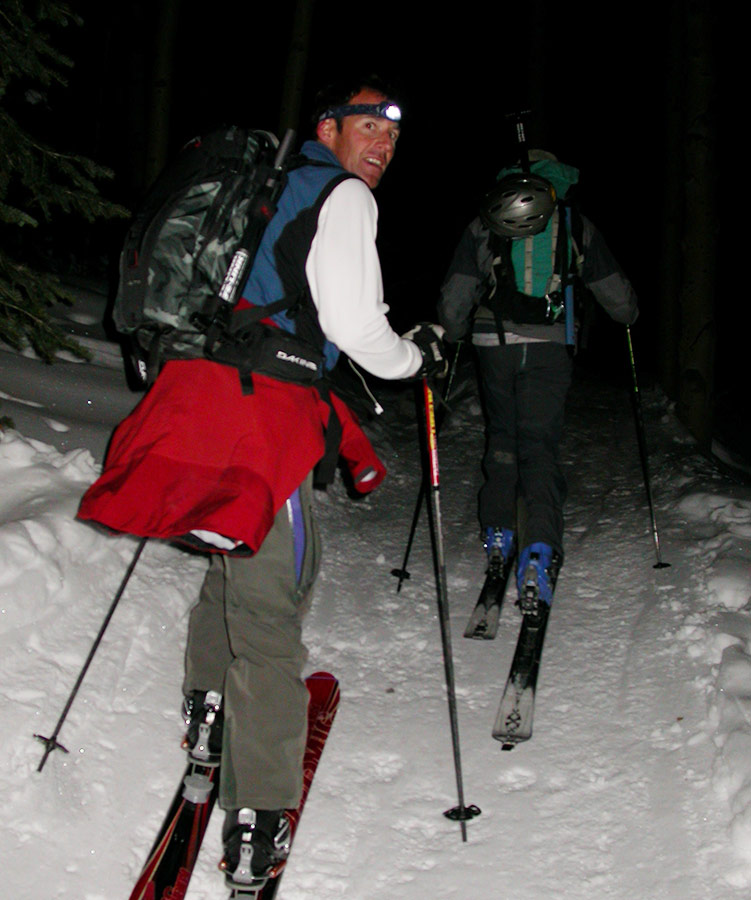 "I wish I didn't have this disease, but I like the challenge. If I can help find the formula that works for me, hopefully it will work for other people. Now, working with some of the world's leading scientists, I have this inspiring goal not only to help myself, but potentially millions of other people, too."

The Touring Tradition
When Backcountry began it offered just a handful of products. As Jim's passion was ski touring, it seemed only fitting that his fledgling business's inventory matched his interests.
"It's really wise to have an avalanche beacon if you're touring, and that's where it started. When we sold the first beacon, we also had a little bit of touring gear for sale. It's the genesis of the Backcountry brand."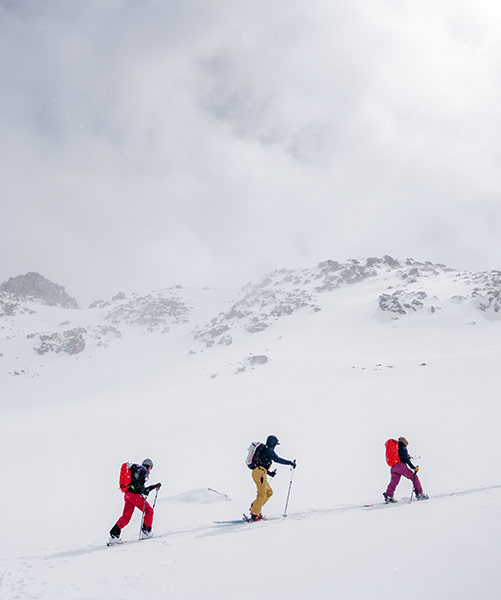 No Place Like the Wasatch
Jim has been ski touring in the Wasatch Mountains since he first visited Park City. The range spills right into town, creating some of the easiest access to mountain sports in North America. From the gladed slopes of Little Cottonwood Canyon on the west side of the range, to the secret chutes of Catherine's Pass, Jim is a fount of insider knowledge–and a popular touring partner in the office when winter hits.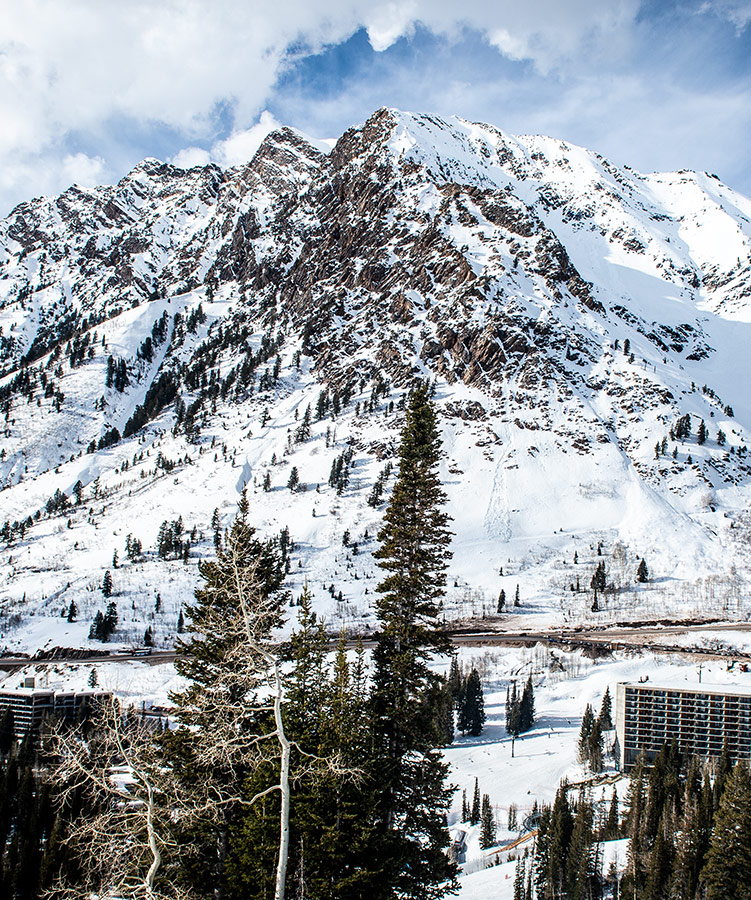 "We're located in the Wasatch Mountains, which is mecca for people into outdoor recreation–it's like there's a tractor beam pulling you in. There's some mind blowing ski lines right out of the gate, and some of the best backcountry ski touring anywhere in the world."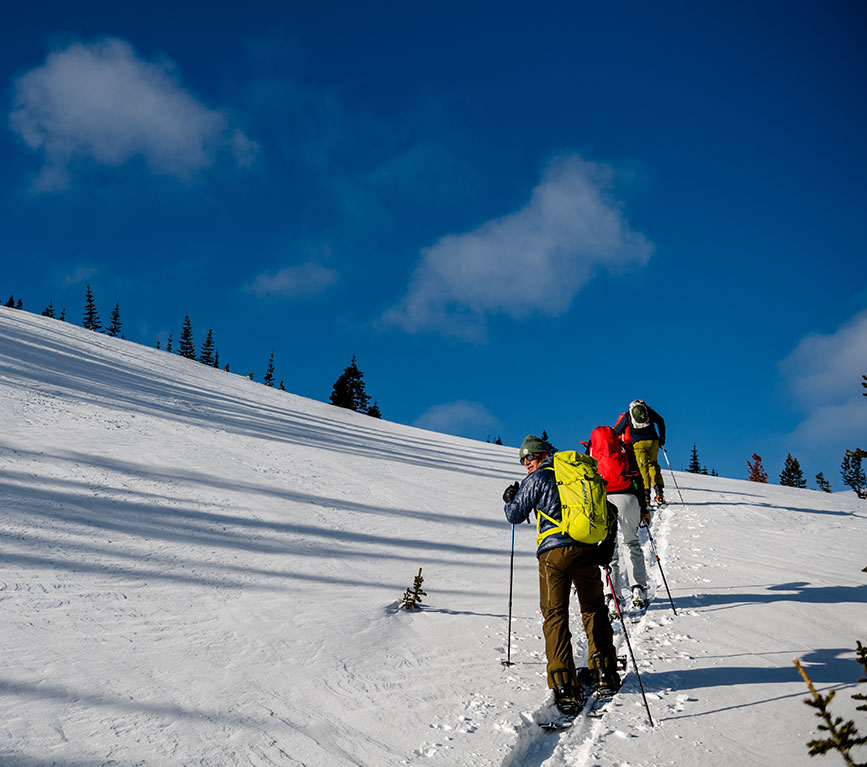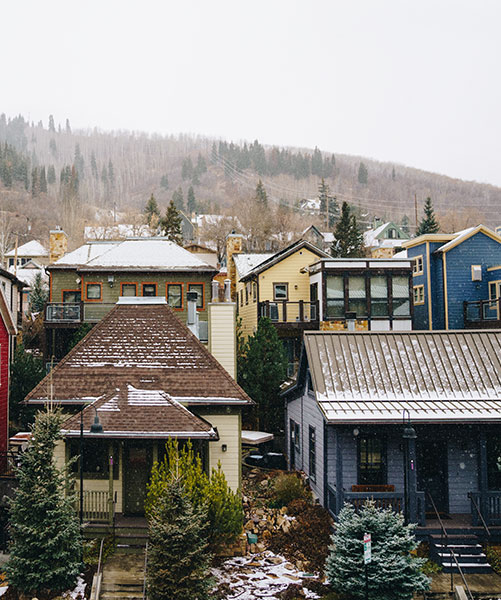 Adventure is Everywhere
Adventure is a broad term, and one that Jim uses freely. For him, it encompasses all the fulfilling things you can do outdoors–from ski touring to paddle boarding–but also so much more.
"Learning an instrument is an adventure. So is learning to cook vietnamese food. And although it's unfortunate that I have early onset Parkinson's disease, it's also a fascinating adventure that I'm on–using my business skills together with my financial resources to help advance some amazing science."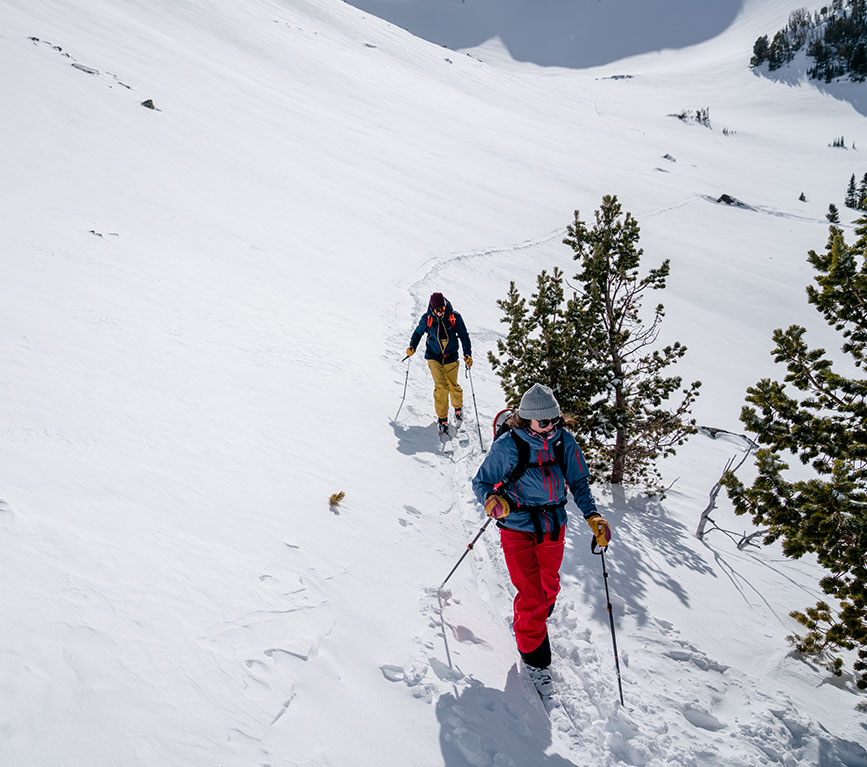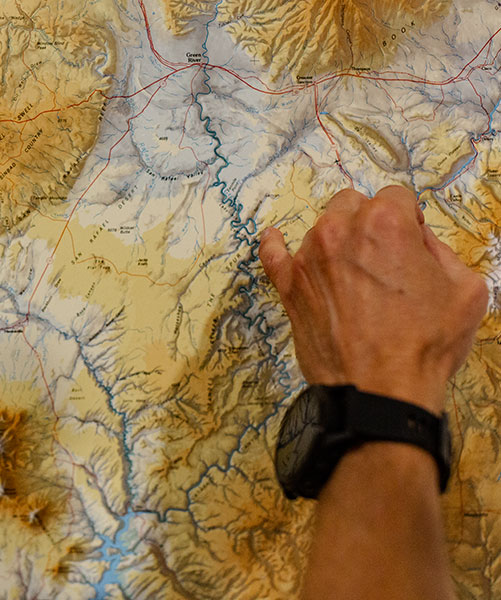 Check Out Some of Our Other Recent Adventures
Lifestyle or career? It's often said that you can't have both. But for Pete LaBore, Chief Operating Officer at Backcountry, combining the two has been top of his agenda since joining the company more than a decade ago. From catching the first lifts at the resort before heading into the office, to supporting his fellow employees' adventures, it's all a part of why Pete loves to do what he does. We recently spent a day in the office with Pete to find out how he's building a business inside and out.
On Schedule
We all know getting out there is important. So why do we let other parts of our lives get in the way so often? Just like working out how to achieve your career goals, Pete believes the key to more time spent outside lies in the planning. And to make sure you can maximize your adventure time, Backcountry offers its employees extended leave of up to two months to chase their chosen pursuits.
"Getting out there as much as you'd really like can be difficult, but it helps to make it part of your plan on a daily, weekly, or even monthly basis. The same way you'd plan your career, you should plan your time outside. Both will be better when you plan them together."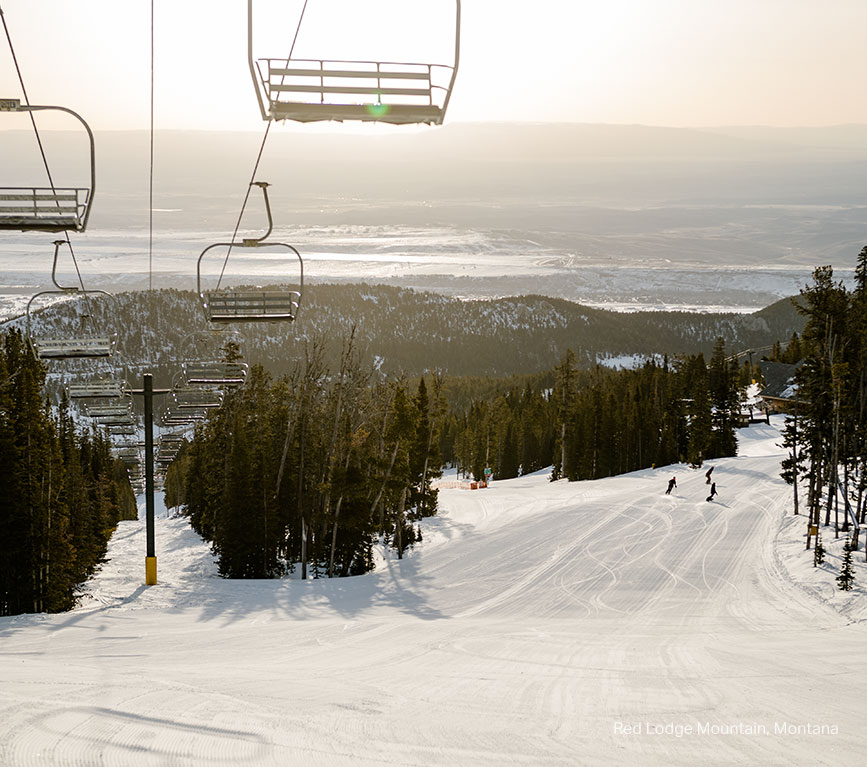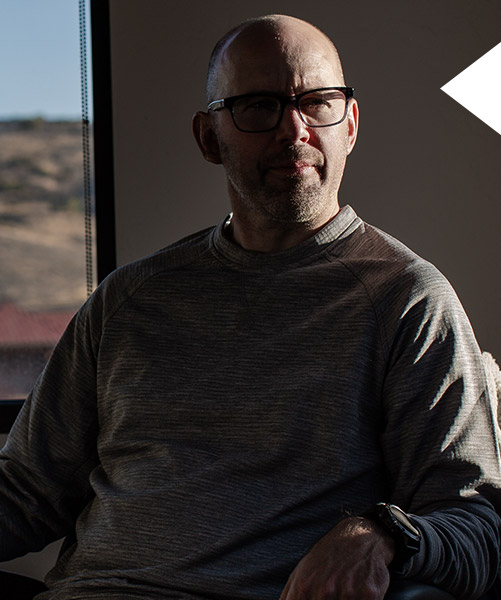 Pete LaBore
Chief Operating Officer at Backcountry
Pete is 5' 11" and wearing:
Backcountry Grid Fleece Crew-Neck Sweatshirt - size M
Backcountry Go-To Stretch Twill Pant - size 32x32
Vans Authentic Shoe - size 9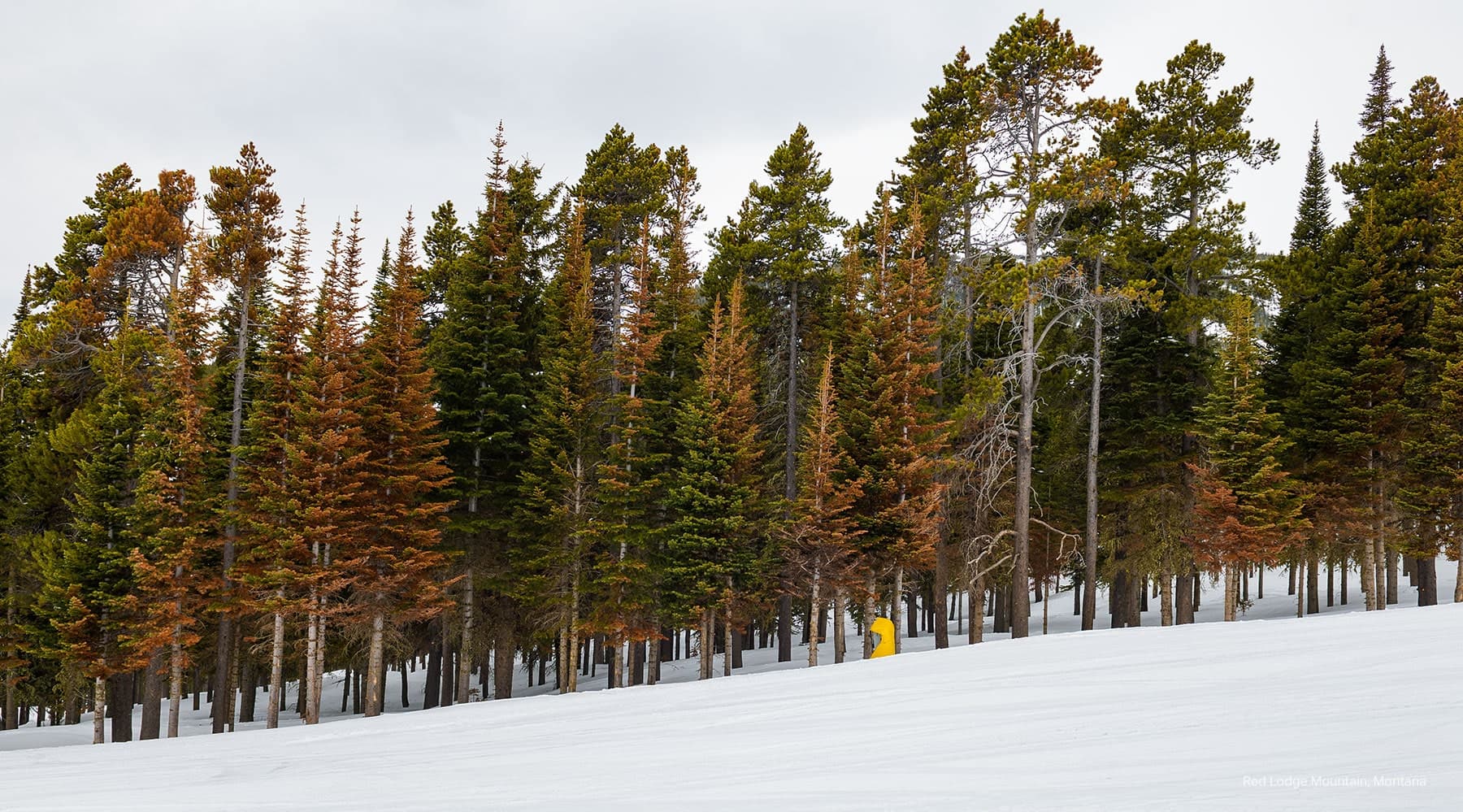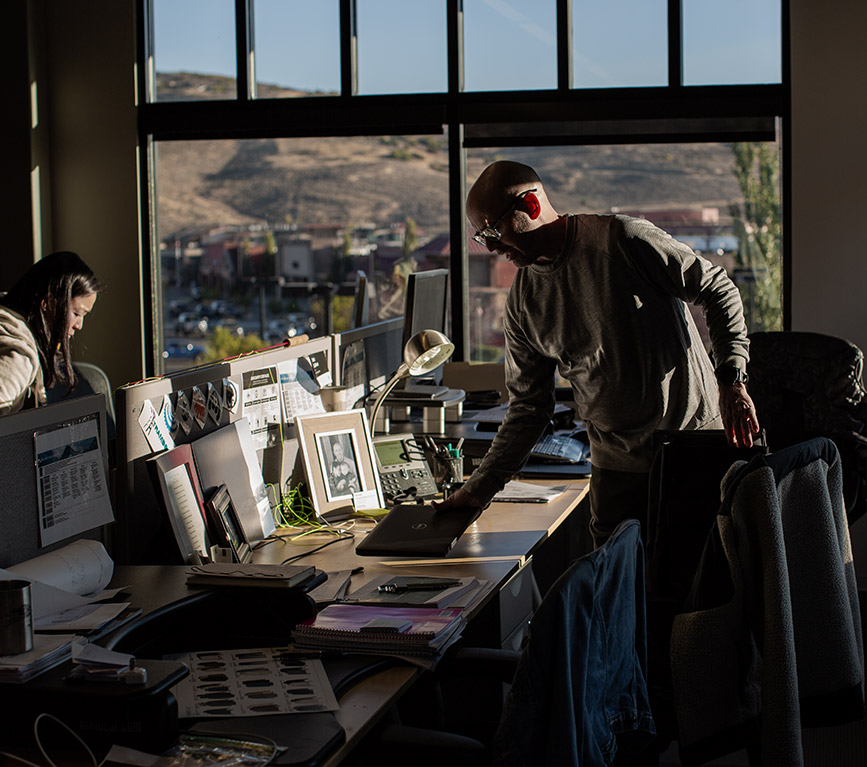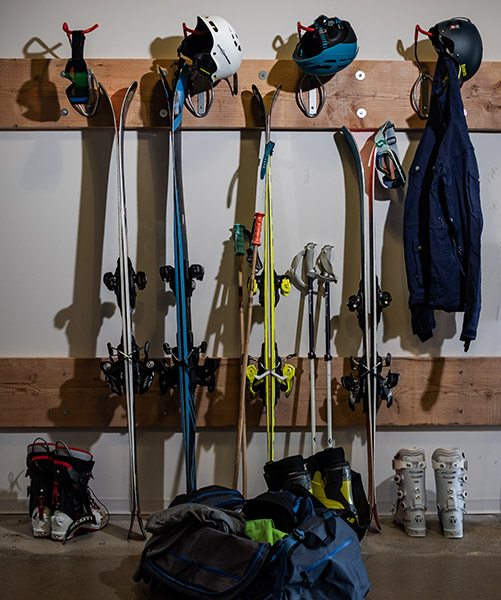 From Dawn Till Dusk
Whether it's taking a morning meeting on the lifts, keeping his lunch free for breaking out of the office with colleagues, or encouraging people to make use of the dedicated gear room, Pete actively builds the outdoors into his and his employees' daily routines. As COO, he oversees the majority of Backcountry's front-end business–from merchandising to marketing to customer services –and time outside helps him find clarity when the noise around big decisions grows too loud.
"I'll suggest meeting outside over sitting in a conference room. When I have a large decision to make, I find it's better to get out. You can think much more freely, and consider the pros and cons with better clarity."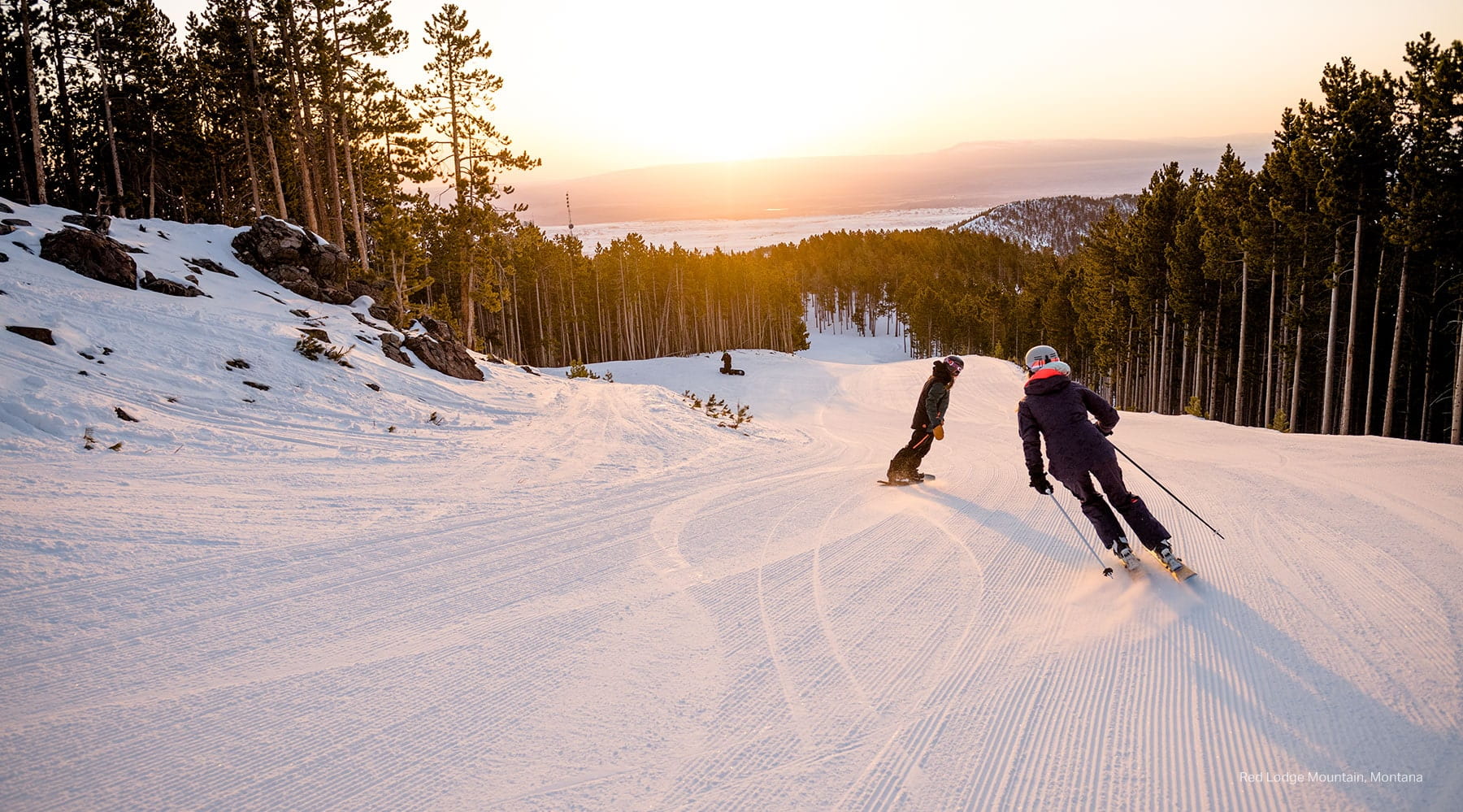 Show and Tell
The Backcountry office is much like any other, where stories of the weekend's achievements occupy most of the Monday morning chatter. But Pete encourages wider sharing between colleagues–organizing dedicated sessions for people to talk about what gets them outside. Departments also get a budget to use for anything from mountain biking days to skiing expeditions.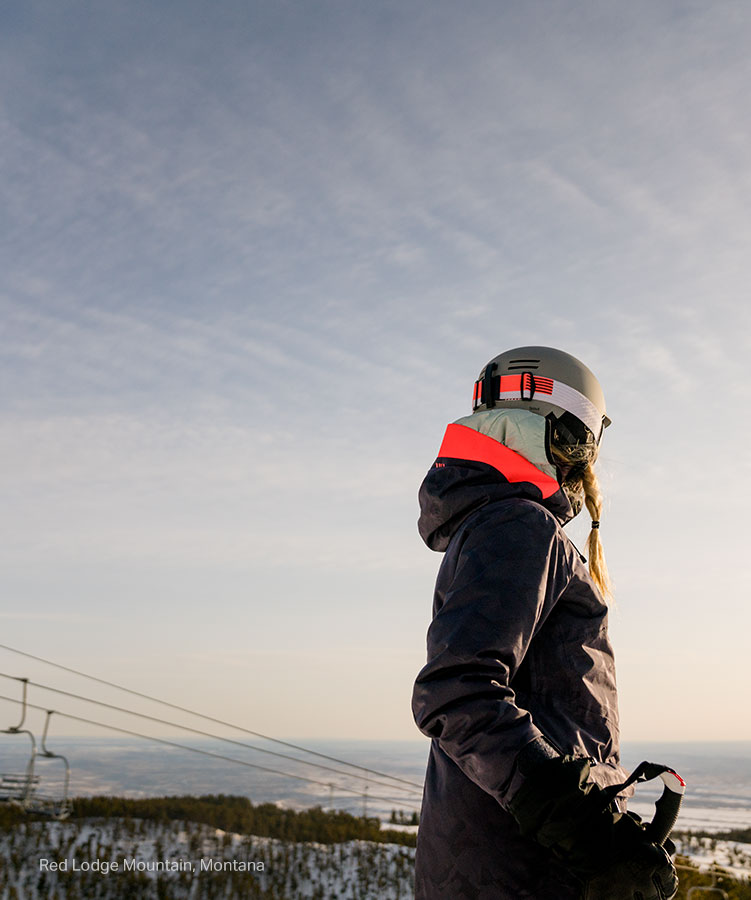 "We're not just talking about it, we're out there living it. We make time to share stories and talk about adventures. It's not all about conquering mountains, but what gets you excited about being outside. The people, the mental ups and downs, the camaraderie, it's the entire process."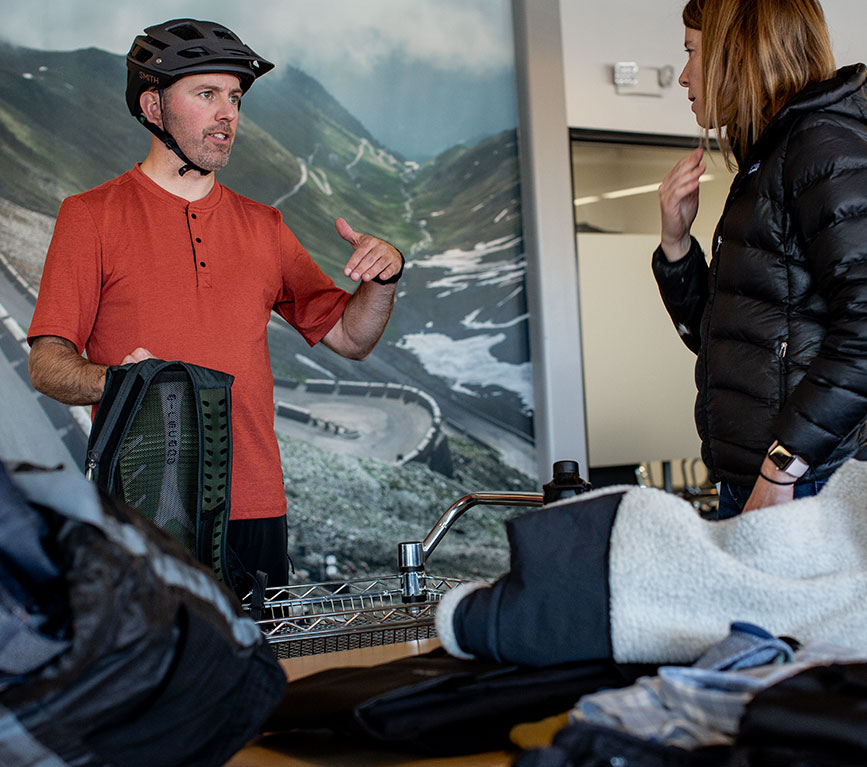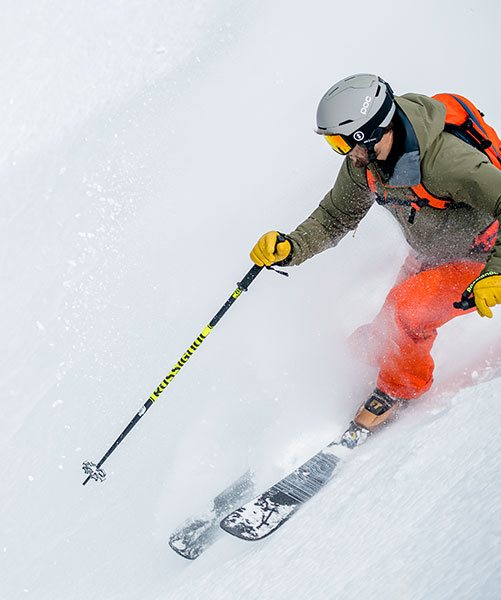 The Home Advantage
Pete's lived in Park City, Utah, for eight years, and says that the town's small scale and near-immediate access to all things outdoors–from world-class trails to the biggest ski resort in the US–is hard to beat.