Dehydrated meals will never taste like fine dining (although after Day 3 on a grueling alpine loop, some of them can seem pretty close). But backpacking food has come a long way, and much of it has earned five stars from foodies in the Backcountry.com community. Here are the top-rated meals, as chosen by the discerning palates of backpackers like you.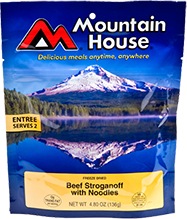 mountain house
beef stroganoff
meat
lunch/dinner
time-tested favorite
Probably one of the better tasting meals that Mountain House offers and maybe one of the most popular. I've consumed several different types of entrees from MH and this ranks right up there. Great texture and flavor for a freeze dried meal. Boil the water until it's almost rolling out and pour in package as quickly and safely as possible. And based on conditions and altitude, make sure to let sit for a minute or two longer than the instructions call for. Enjoy!
WAPITI77
Of all the Mountain House meals I've had the privilege (or punishment) of eating, this is my favorite. It's tasty enough that you might actually forget you're eating freeze dried food. As with most freeze dried food, the serving size is deceiving. I mean 12g of protein and 310 calories, for dinner? On a hiking trip? There's no way that keeps you going. I usually eat one to myself, or bring some instant rice and beans to stretch the meal for two people.
Griffin Post
I tried lots of freeze dried food over the years and Mountain House beef stroganoff is one of my favorites. Mountain House meals are quick and easy to prepare, and if you add some extra water with some instant mashed potatoes, well you have yourself a serious meal..!! When I carry Mountain House meals I repackage them to save a little weight and re-sealable bags pack neater than the original packaging does. With re-sealable bags I can squeeze out all of the air, so they take up less space in my pack.
Willy Syndram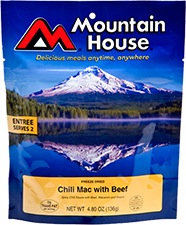 mountain house
chili mac with beef
meat
lunch/dinner
time-tested favorite
We're talking about freeze dried food here so I'm not going to be using adjectives like "fantastic" or "awesome" but I can say with confidence that this is the best freeze dried food I've ever had and the Chili Mac is one of Mountain House's best. I agree with the review below that talks about using a couple ounces less water than the instructions call for. I do most of my backpacking solo, and I've tried everything from tuna to oatmeal to instant ramen to freeze dried. What I've settled on is a mix of all the above with 60% to 70% of my calories coming from freeze dried food as you can't beat the light weight.
Steve Chapman
Delicious for a freeze-dried entree! I'm a foodie, which makes this a very guilty pleasure for me, but I absolutely love the chili mac. Lightweight, quick to prepare, and easy to dispose of when you're leavin' no trace! Buy, eat, and savor in the beautiful setting of your choice! No sharing with bears though!
Taylor EM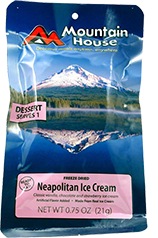 mountain house
neapolitan ice cream bar
gluten free
dessert
snack
time-tasted favorite
I bought one to try out. Man, talk about a pleasant surprise! The taste is just like a frozen one. I really expected a cardboard-like taste. Mine was a little crumbly, partially broken so it was a little messy. But so what! When you're out above the timberline this treat satisfies the taste buds!
Fernando Octavio Brendinberger
I've enjoyed this stuff ever since I was a little kid, and I continue to enjoy it today. The sweetness goes so well after a long day on the trail and a hot meal. And on top of that, you never have to wait for it to cook or set up. Does have a little bit of a buttery taste, but I think that is what I love.
BK
This tasted just like ice cream, and had a really nice texture once it melted in my mouth. I felt like an astronaut when I ate it, which was fun. I probably wouldn't carry it on every trip, but for a few delicious extra calories, it's a good way to go.
Nicole Hillstrom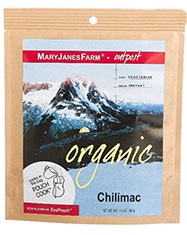 mary janes farm
organic chilimac
vegetarian
organic
lunch/dinner
time-tested favorite
It's a bit pricey, but it is good. I had to bring a dish to potluck night on a backpack trip. I combined this with a package of Spanish rice. It was a hit and many were able to get a good size sample. I would buy this again.
Lad5052742
Wow this stuff is good. I found myself SCARFING it down and wanting more. I like Mary Jane's Farm and all, but it was really good, not just for Dehydrafood, but good... period. Like, I would eat this at home if I wanted to also, because it's that good, so just get some, and you'll see!!! Plus, you can burn the bag, the food's organic, and really delicious...seriously. My new staple.
Ryan OConnell
I haven't had 'em all, but I've had quite a few. MJ's Chilimac is by far the best, making this one destined to be a part of every backcountry expedition. It's kind of expensive, but it tastes so good you'll know why. A satisfied belly is a priceless commodity after a hard day on the trail. The burnable packaging is the icing on the cake—no waste to carry out. Give it a try. If you don't like this meal, you won't like anything.
Thoreau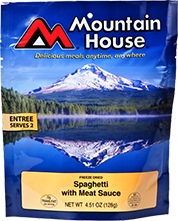 mountain house
spaghetti with meat sauce
meat
lunch/dinner
time-tested favorite
If you love pasta with meat sauce then you'll love this meal. It cooks in its own re-sealable pouch which means no mess after the meal and the taste is every bit as good as the lasagna meal, plus it is much easier to clean your utensils after the spaghetti vs. the lasagna (the lasagna cheese sticks wickedly tight to utensils).
TN Hiker
Great taste, but make sure that you stir it really well from the bottom when you add water and then let it sit for a little bit longer than recommended wait time. It makes an awesome recovery meal as well as a good power breakfast in the morning for a 35 mile push. Taste is very real, you don't even think dehydrated. Just let it sit for a while before you dig in.
Michael Popov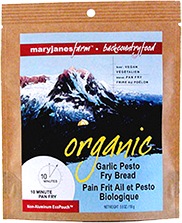 mary janes farm
organic garlic pesto fry bread
vegetarian
organic
side dish
time-tested favorite
So far, I've only tested these in my kitchen (using trail prep methods), but they were deeeelicious and super easy to make. I would happily make these with dinner on a normal night and should be downright luxurious with some soup on the trail.
biohazard1
Very very good food. Just watch it. Make sure you have a pan with decent heat dispersal. I tried cooking some in my MSR pot (thin walled stainless pot) over my Jetboil. And it just burned in the middle. The bread is awesome when properly made :)
ajerviss956249
These were so easy to make, and the taste was stellar. I loved that the batter just squeezed straight from the package so there was minimal clean up.
Joshua Barnes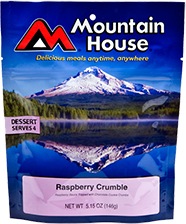 mountain house
raspberry crumble
vegetarian
dessert
snack
time-tested favorite
What a great end of the day treat. A fellow backpacker asked for a taste. I mistakenly complied. After everyone tried it, I only got about 1/4 of it back. Pack extra or hide your pleasure.
fish
No surprise that this was very sweet; I should have noticed that sugar was the number one ingredient. A bit too sweet for my taste, but it is nice to have a little something like this with you on a backpacking trip. If someone in the group brings a stove, I like to have a little dessert with my afternoon coffee. This fits the bill for that nicely, and there is plenty here to share.
Big Papa
This is one of my favorite desserts to bring backpacking, and is worth its 5.2 oz weight. I did in fact have my crumble after some Mountain House vegetable lasagna, and it is quite a delicious pairing indeed. We added a glass of wine too and that really topped it off. Who said you couldn't live it up when you're miles into alpine country? Plus if you only have two people and can't finish it after your meal, the raspberry filling goes great mixed in with your oatmeal the next morning!
Steven Good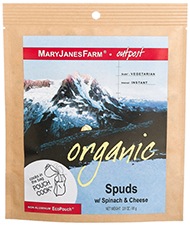 mary janes farm
organic spuds with spinach
vegetarian
organic
side dish
time-tested favorite
Absolutely delicious—as good as mashed potatoes from a top notch restaurant or grandma's kitchen. I was scraping the sides of the package to get every last bite. The consistency was exactly like mashed potatoes. High in salt (eating one packet which is two servings provides about 70% of the RDA in salt). I would buy this packet again and be very happy with it—maybe even eat it at home!
Crag
I grew up in Idaho potato country, so I grew up with delicious spud recipes that gave me an inability to tolerate dehydrated potatoes. These were pretty tasty though. There was only the slightest hint of that faux-potato taste, and the flavor from the spinach and cheese covered it up pretty well. I'll definitely eat these again.
Joshua Barnes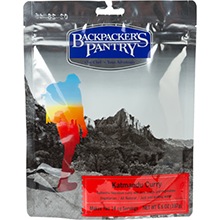 backpacker's pantry
katmandu curry
vegan
gluten free
lunch/dinner
relatively new to backcountry.com
This is a great meal. I'm a meat and potatoes kind of guy, so I was a little skeptical at first. But even without meat, this is a great meal. This is now one of my favorites.
RLB5718126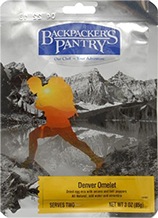 backpacker's pantry
denver omelet
vegetarian
breakfast
relatively new to backcountry.com
Needs pan – best quick eggs I have tried. This is the best breakfast meal I have come across yet. Get it try it you won't regret it.
JOE JOHNSTON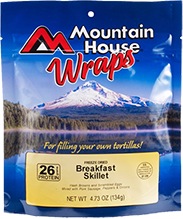 mountain house
breakfast skillet wrap
gluten free
meat
breakfast
time-tested favorite
These Mountain House Wraps make an awesome breakfast burrito with great flavor. Go a little light on the water...there will always be a little left in the pouch if you add as much as they say in the directions. Strain it out or just don't add quite as much.
TeleJunkie
I need to clarify that I eat this for any meal not just for breakfast. This is my favorite MHS freeze dried meal. Great combo of flavors, VERY filling, and like everything else they make, very easy to prepare.
Simon Brewer
Do yourself a favor and bring along a mini bottle of hot sauce, it makes it SO much better. I also add about a fourth-cup less water than the package calls for. Good breakfast to wrap in tortillas or eat straight from the bag. Very filling.
Annie Naylor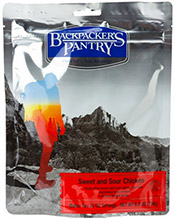 backpacker's pantry
sweet and sour chicken
meat
lunch/dinner
relatively new to backcountry.com
This is better sweet and sour chicken than I've had in many Chinese restaurants. No cloying sweetness, instead, there are peppery bites, a good amount of chicken and the rice was cooked better than a rice cooker could do it. That was an engineering marvel in itself in my opinion. If there were a fault with this, it would be that the pineapple didn't hydrate as perfectly as everything else. It was slightly crystalized and chewy but still imparted good flavor. Overall, I'd count on this as a staple in my kitchen for a Chinese food craving instead of ordering takeout! I can only imagine how awesome it would taste after hiking all day.
Heather
I saw this meal described somewhere as "Chinese takeout on the trail", so of course it piqued my interest. And, I was pleasantly surprised by just how good it was. The sweet & sour sauce rivals with any that I've had at Chinese takeout joints. There's a lot of chicken. And, it comes with a pack of organic olive oil, which I thought was a nice touch. Definitely can't go wrong with this one! My girlfriend and I shared one package and we were satisfied.
Mitch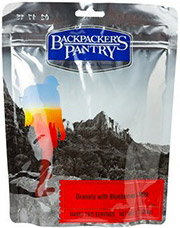 backpacker's pantry
granola with blueberries and milk
vegetarian
breakfast
relatively new to Backcountry.com
I would eat this breakfast regularly in my house frankly. The granola was quality oats in right-sized clumps. Loved the almond and vanilla flavors that were forefront in every bite. Milk mixed up nicely without residual clumps. My only complaint, which isn't really a complaint, is that the blueberries were definitely lacking in flavor. The only time I could taste them at all was when I picked them out individually with my spoon and ate them alone--which delivered a fairly concentrated flavor at the end. My husband and I shared the bag and both were filled and satisfied.
Heather