Finding Balance in
the Backcountry
How a Snowboard Guide and Mountain Mom Gets Winter Ready
Chill Out
Your Campsite Awaits: All Amenities Included
Work, parenthood, passion and play. It's a lot to juggle, and achieving the perfect balance is never easy, but Kate Ediger – a backcountry guide, splitboarder, and mom to five-year-old Timber – wouldn't have it any other way. As she and her young son prepare for the winter season ahead, we traveled to their home in Revelstoke, British Columbia, to find out how she divides her time between responsibility, ripping on the mountain, and encouraging others to do the same.
Guiding Principles
Kate has lived in Revelstoke for six years, and is partway through training to become a lead guide in the backcountry. Long before the first snow falls and her first guests arrive, she takes stock of her winter gear and makes sure it's ready.
"As soon as the air gets colder, you know it's time to get your stuff dialed. I'll put all my gear in the living room, dig out my backpack, and make sure it all works, that it's clean, and then I organize it."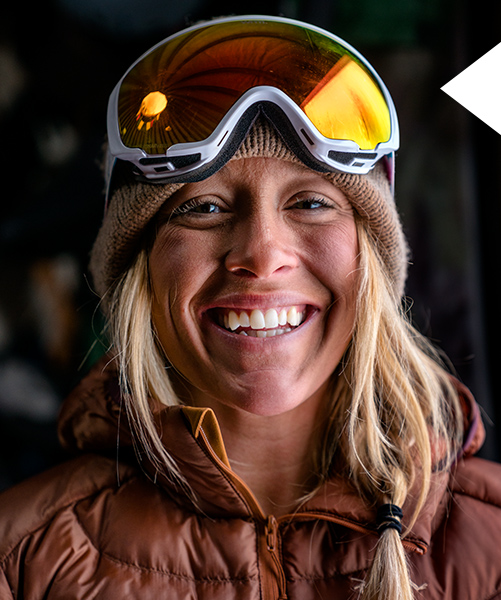 Kate Ediger
@shrediger
Kate is 5'5" & wearing:
Arc'teryx Sentinel Jacket - size S
Arc'teryx Shashka FL Pant - size 4
Arc'teryx Cerium LT Hooded Down Jacket - size S
Anon WM1 MFI Goggles - one size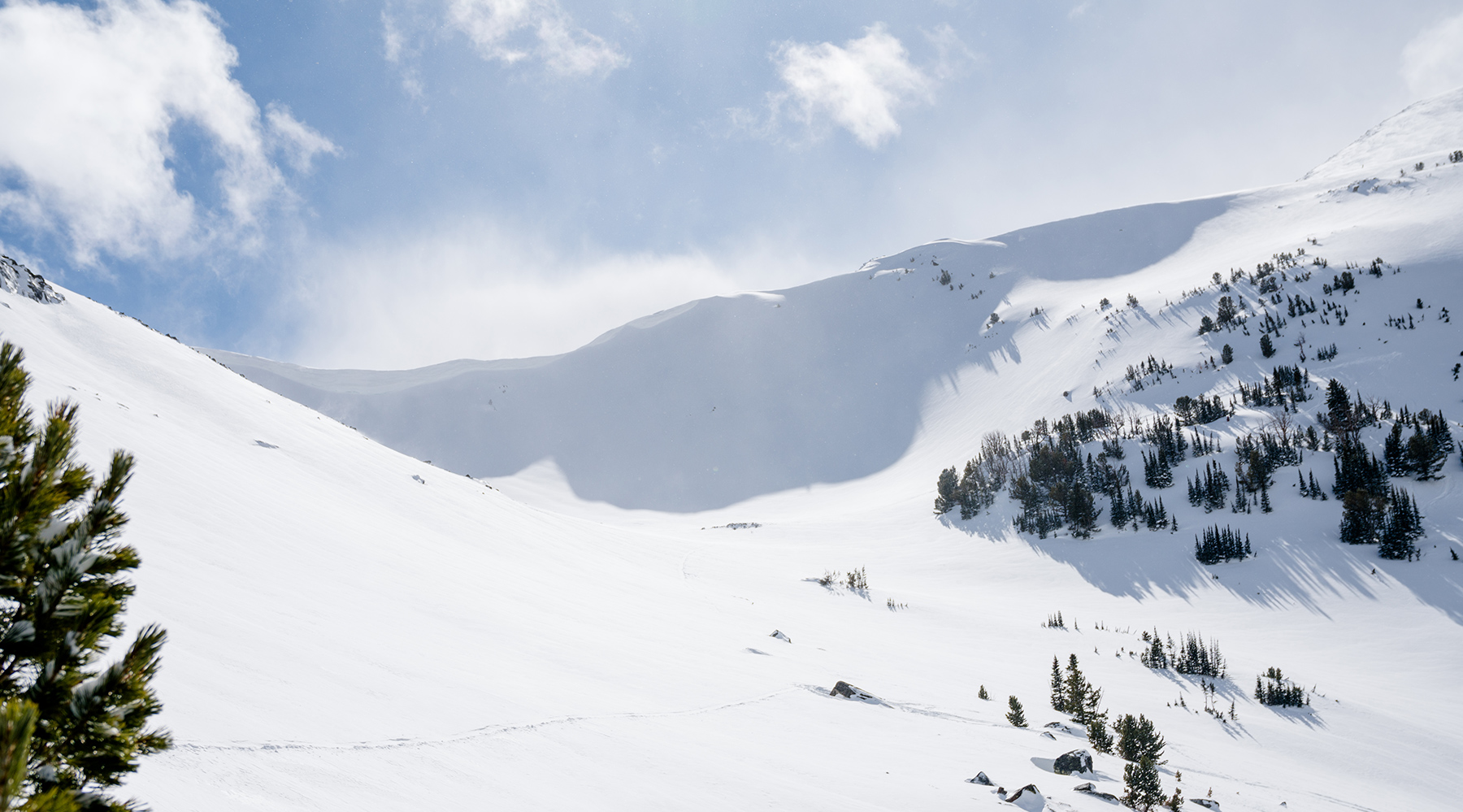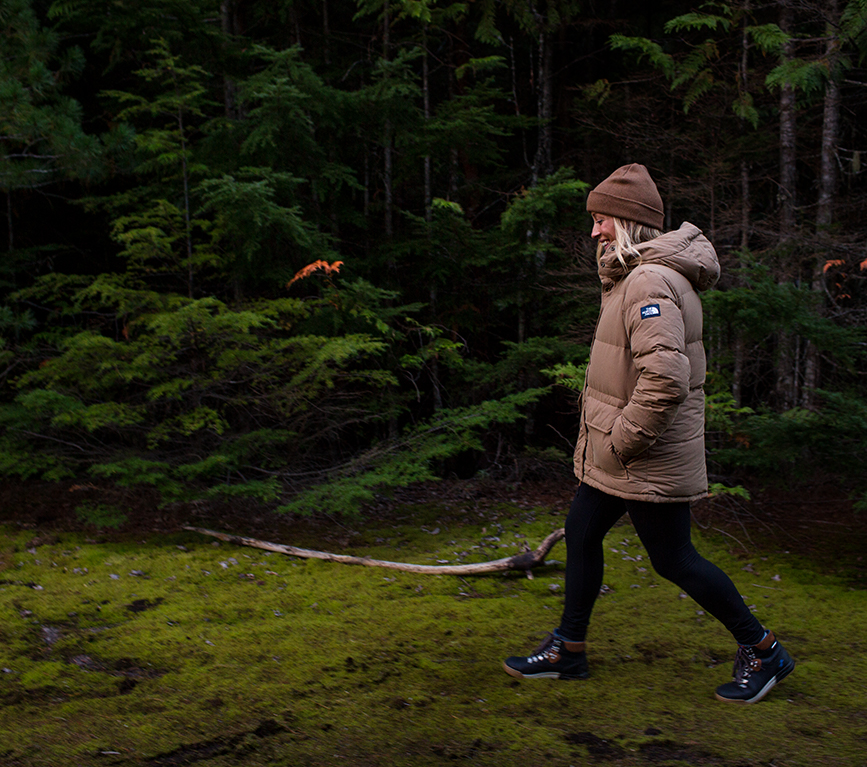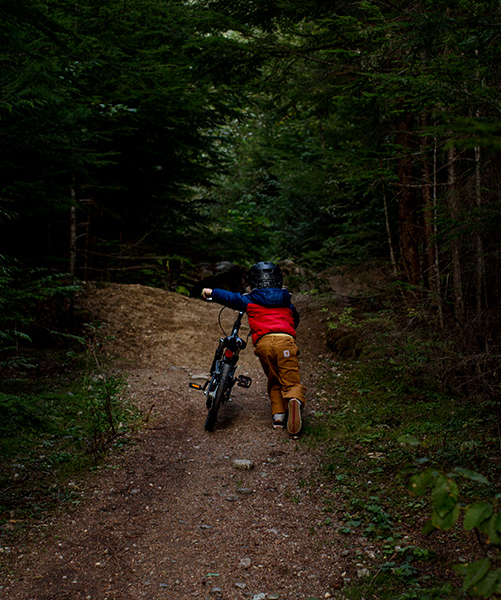 Like Mother Like Son
Now five years old, Kate's son Timber is starting to make decisions for himself. And as you can imagine, nothing makes Kate happier than when Timber wants to head outside – whether it's out on his board, riding his bike, or just a walk around town.
"All the hard years of carrying him, sweating, and crying are paying off. If he complains about hiking or camping, I'll let him choose what he wants to do. Snowboarding has become his favourite thing, I'm so proud."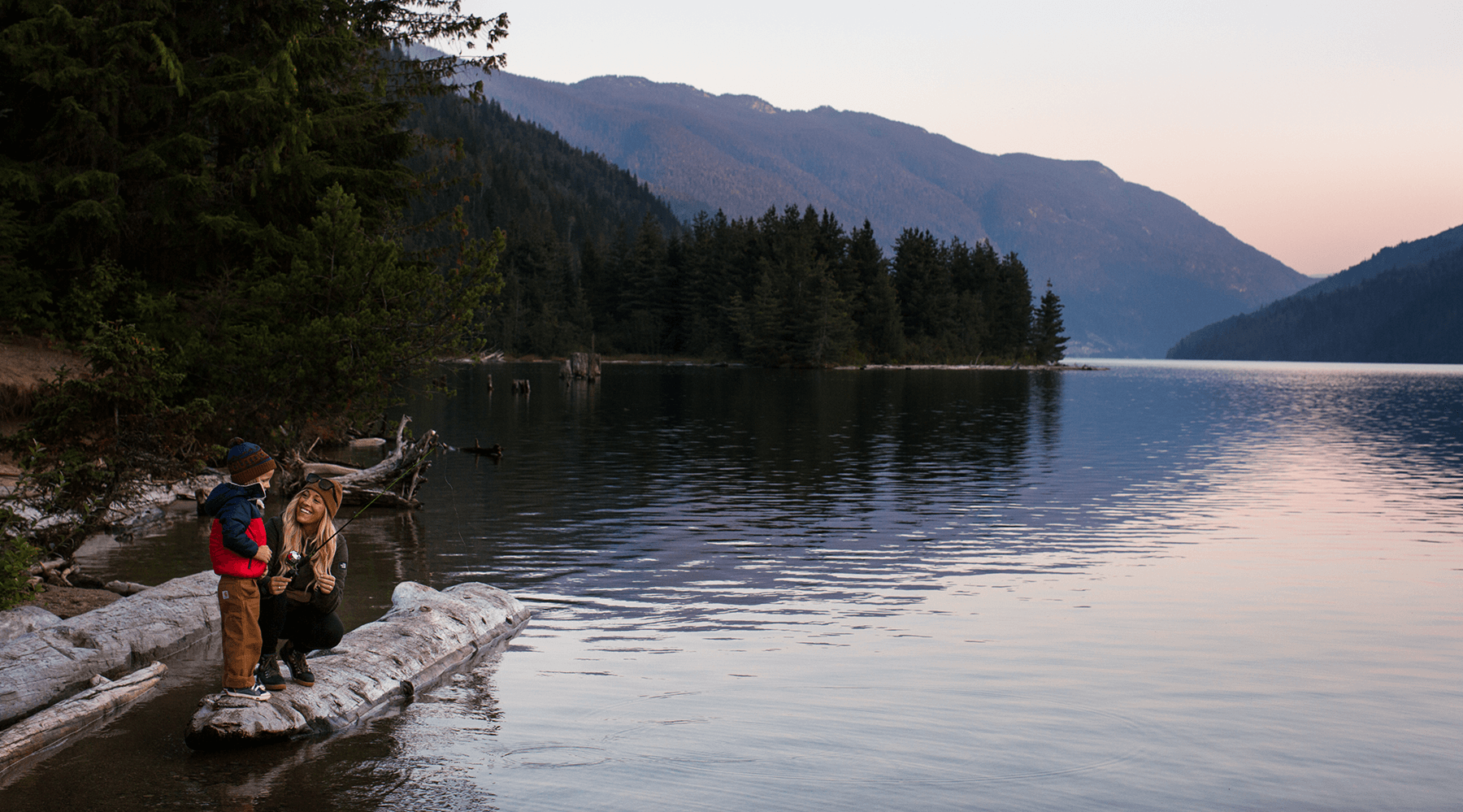 Shifting Seasons
In fall, Kate has time to plan. She'll drop Timber at school then work at a coffee shop, or meet with people to prepare for an upcoming adventure. She's also a photographer, and shoots jobs when time allows. But as winter approaches and guiding season kicks off, Kate's days, and her to-do lists, grow longer. Her guiding schedule can be gruelling, but it's in the outdoors that she draws her energy.
"Once guiding season hits, I'm up at 5am looking at the avalanche reports and dialing my bag in. Then I rush to a guide's meeting at 7, then get Timber to school. There are days when I have anxiety about all the things I want to accomplish, but I get my energy from being outside, so it motivates me."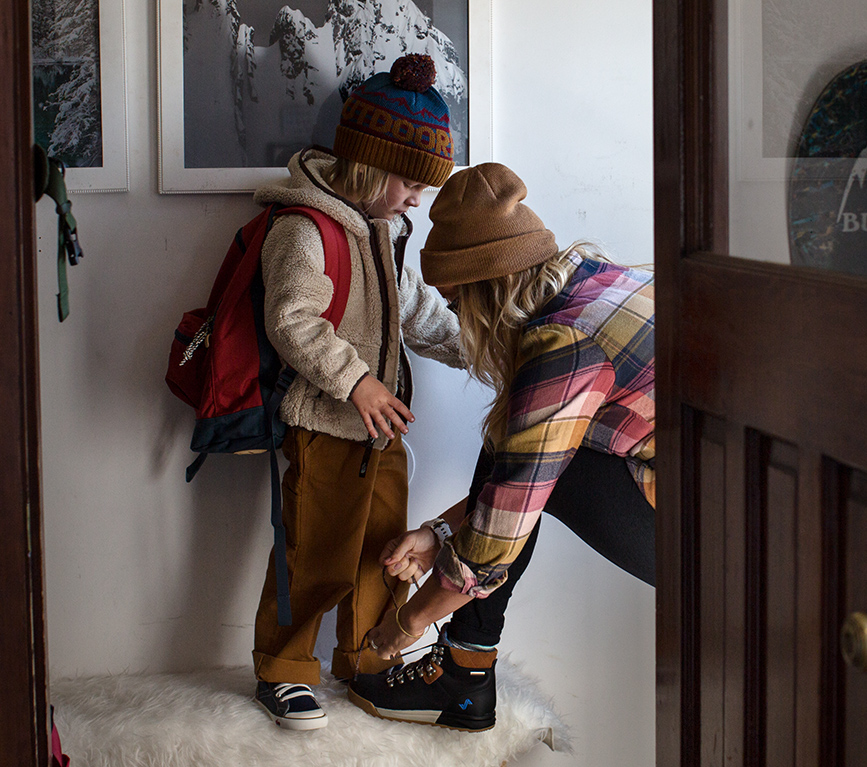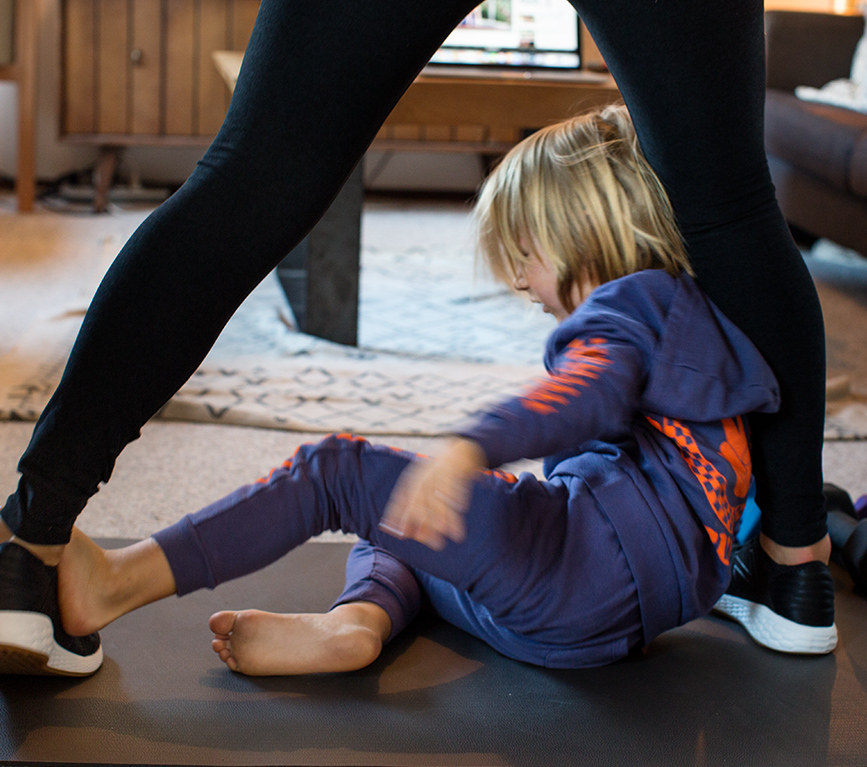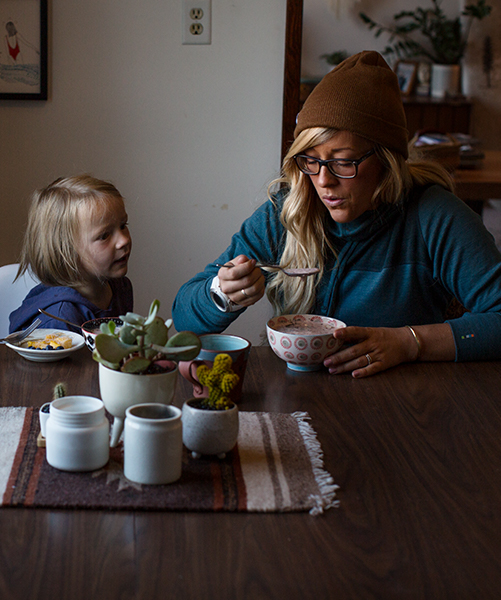 Training Days
As well as gear prep, Kate's job demands her to be in peak physical shape – often carrying a heavy pack for up to 12 hours a day. When Timber's not in school, the gym is out of bounds, so working out requires a little creativity. Fortunately, biking, home workouts, and even goofing around with her son all count.
"I prep my body by working out daily. I run and try to get my cardio up, do a lot of core, balance, and back work for the weight I carry when I'm out in the backcountry. Timber is always trying to workout with me, climb on me, or distract me with a million things, but that's our life."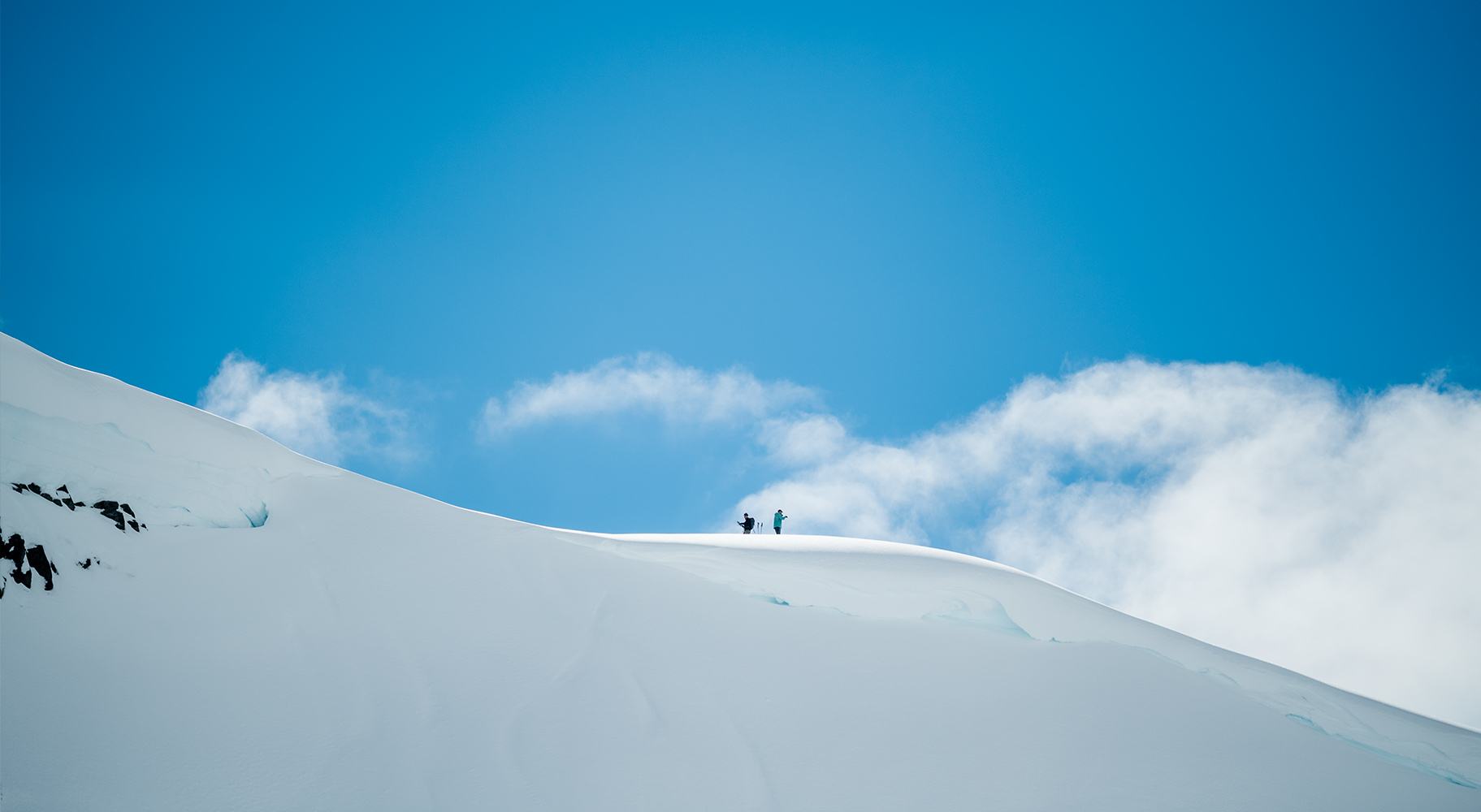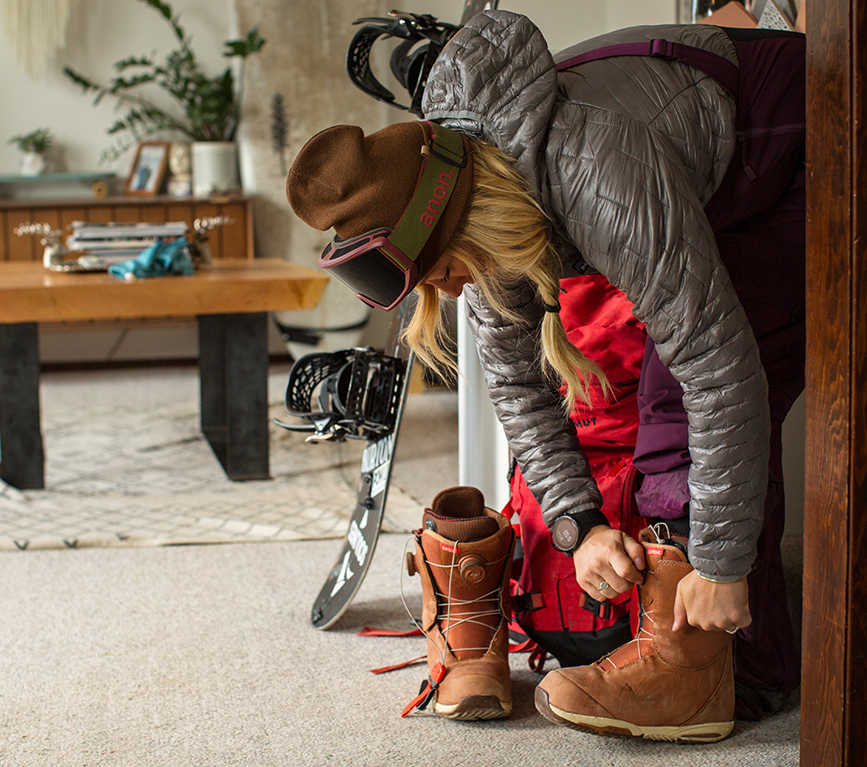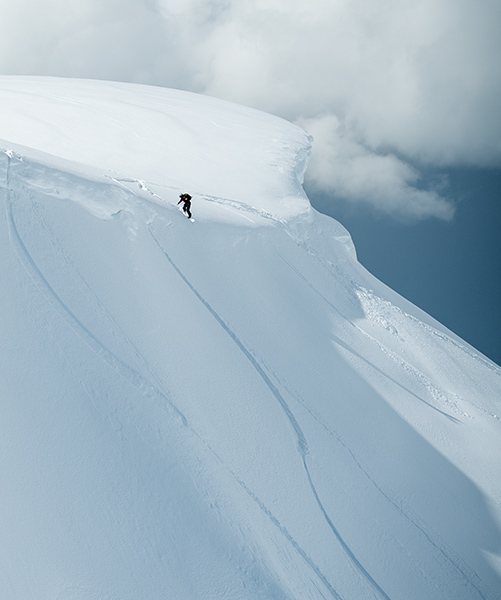 Natural Dangers
While accidents and injuries are rare, being ready to handle anything is key to success in the backcountry. For a guide, constantly practicing rescue techniques is paramount, and as Kate says, even your shovelling game counts.
"I'm always running in the snow, practicing my beacon work, or even practicing shovelling. I know it sounds nerdy, but if I have to dig someone out, I want to be the fastest digger – I don't want any excuses that a person suffered because they were buried for one minute too long."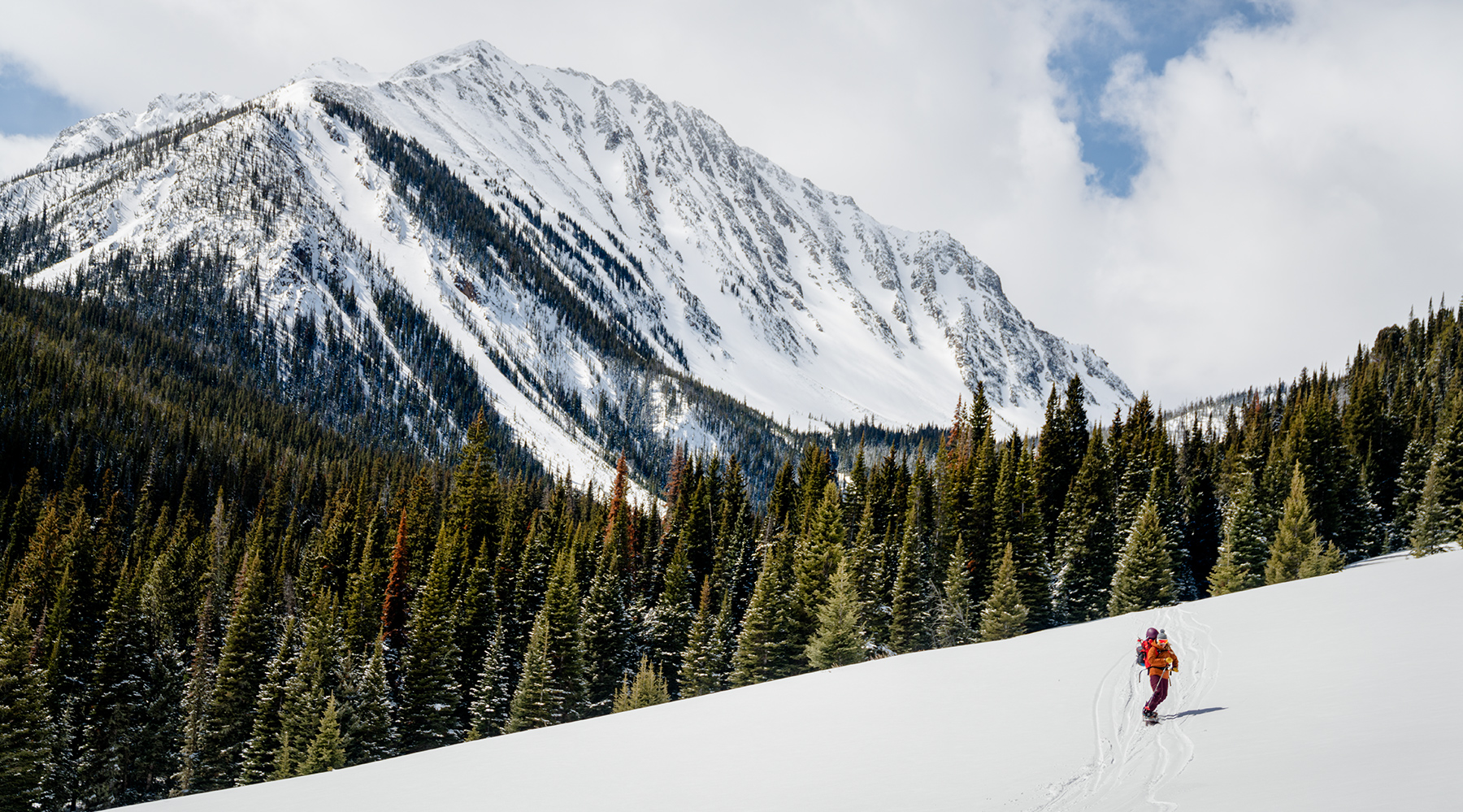 The Test of Time
Becoming a lead guide takes time. Not only does it require courses and qualifications, but you're expected to run your own adventures as well. Kate is especially excited for a week-long trip to Fairy Meadows in December, where she'll test her knowledge and skills on the complex glaciers and demanding terrain.
"Knowledge is key to any adventure, and especially as a mom, I want to stay as knowledgeable as possible. There's always improbability in the mountains – things can happen that you can't choose or figure out – but you just have to prep yourself to deal with it."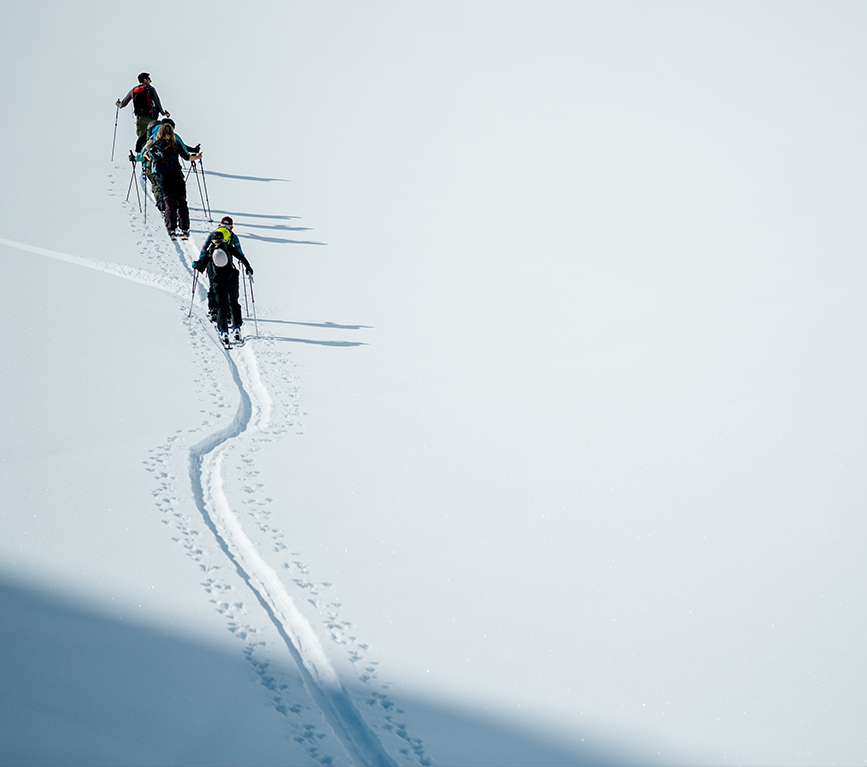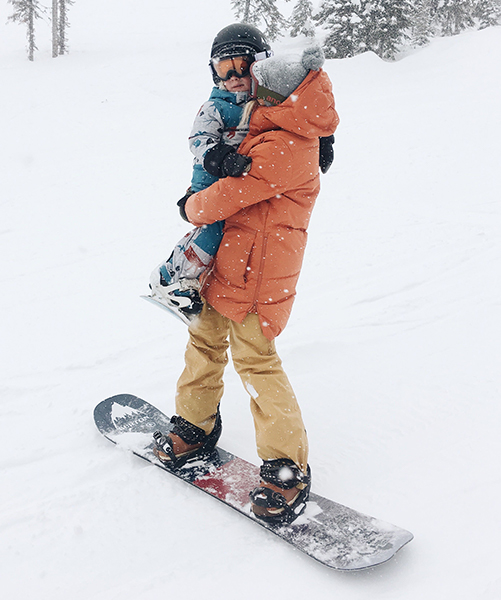 Kate and son, Timber, enjoying a day out on the slopes last winter in Revelstoke, BC.
Kate says, "Snacks and hot chocolate go a long way. I always keep a couple of extra dollars in my coat pocket for a mid-day treat."