Reality Check
20-40
20 to 40 people die in avalanches each year in North America.
90%
90% of deaths are from slides triggered by the victim or members of the victim's group.
30%
There is only a 30% chance of survival when buried by an avalanche.
---
However, there's good news. Avalanches aren't magic. If you know what to look for and what to avoid, you can drastically decrease your chances of getting caught. The following information is a sampling of the topics you'll learn about in an avalanche course.
The Red Flags

Significant Warming
Warming temperatures can cause snow creep and wet-slide avalanches. Wet slides can occur without a human trigger.

Wind Loading
Windblown snow can overload leeward slopes even when it's not snowing.
Persistent Weak Layers
Weak layers deep in the snowpack can trigger a slide weeks after a storm, even when no other flags are present.

Recent Avalanches
If you see recent avalanches, then more are likely. Find more information at avalanche.org.

Signs of Unstable Snow
Look for cracking or collapsing snow and listen for hollow "whumping" sounds.

Heavy Snowfall or Rain
Avalanches are often triggered the day after a storm due to significant loading. Sunny does not mean safe.
Avalanche Terrain

Slope Angle
Avalanches are possible on any slope steeper than 30° and occur frequently on slopes between 35 and 50°.

Terrain Traps
Anything that could worsen the consequences of being caught in a slide—for example, trees may increase injury and gullies my deepen burial.

Trigger Points
These are the most common places to trigger an avalanche, but if conditions are bad enough, a slide can be remotely triggered from flat ground or a ridge.

Aspect
The slope's relation to the sun and wind may dictate the presence of avalanche danger.
Steep slope (above 30°)

Low-angle slope (below 30°)

Cliffs

Gully

Trees

Near rock outcrops and shallow areas in snowpack

Breakover or mid-slope steepening

Wind-deposited snow

Shade

Cornices indicate prevailing wind

Sun Exposure
Safety Protocol
Never expose more than one person to danger at a time.
Stay spread out if you must move together. Watch each other from safe locations and avoid stopping on or below avalanche terrain. Never ski directly above a partner or another group.
Stay alert to changes in aspect, elevation, or weather that may change snow stability.
Avalanche conditions change throughout the day. Your initial assessment of the danger may not be accurate after you travel even a short distance.
Avoid group-think and keep all options open.
Many accidents happen as a result of experienced backcountry travelers not sharing concerns with each other. Always voice your concerns, even if your partners are more experienced, and ask others in your group if they have any concerns. Address all concerns and make a group decision on how to proceed.
Always be prepared to execute a rescue.
Stay up to date on your rescue practice, and have your beacon, shovel, and probe readily available at all times. Don't bury any of this gear in the bottom of your pack.
Do everything you can to not get caught.
Always have an exit plan in case an avalanche begins. If caught, do everything you can to avoid being buried. Remember, if buried, your chance of survival is only 30%.
If your partner gets caught, do not go for help!
You have only 15 minutes for a good chance to recover someone alive. Watch your partner as long as you can to establish a last-seen point where you can begin your search and yell to alert others. Quickly establish a leader and make a plan, then get to work conducting your search.
Know before you go
1. Take a class.
Proper education is crucial to staying safe in the Backcountry. Click the map below to find the class nearest you.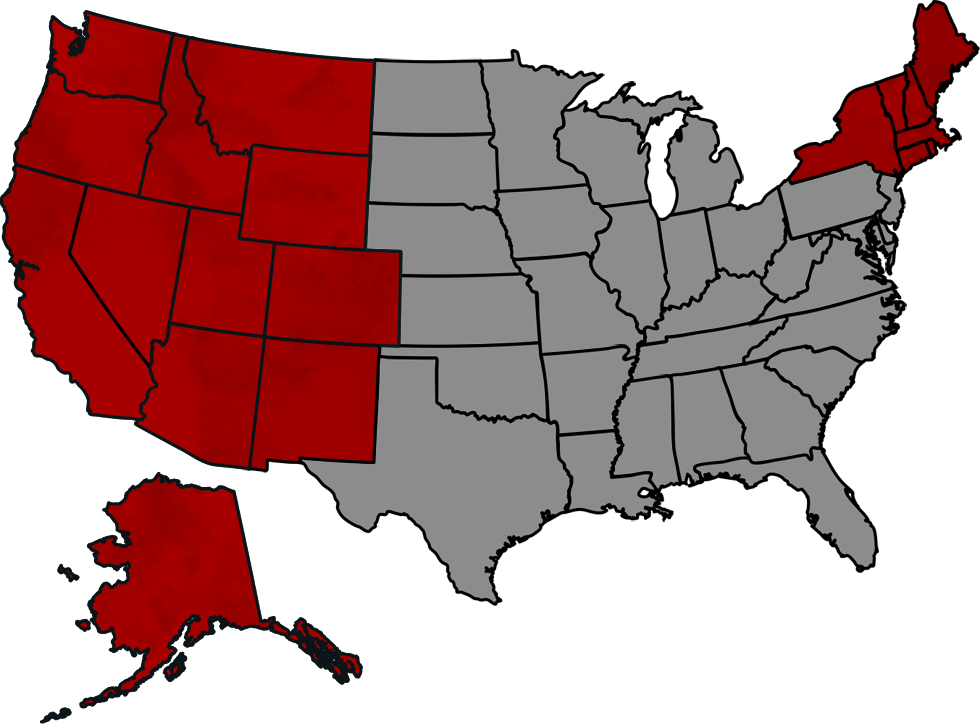 Washington

Idaho

Montana

Wyoming

Nevada

Colorado

Utah

Arizona

California

Oregon

Alaska

East Coast

New Mexico
2. Practice.
It's not enough to know how to use a beacon and probe. You need to be an expert. If you ever have to conduct a search in real life, you will be doing so under immense stress—it's hard to think clearly and remember what to do when your friend's life is in your hands. Practice searches until the entire drill is a reflex. It may save a life one day.
Beacon Training Parks (BTPs) are training systems created to make it easier for recreationists and pros to practice with their transceivers. Look for a BTP near you.
4. Check daily reports.
Avalanche advisories provide daily reports on backcountry snow conditions and advice on when and where to avoid skiing. Be familiar with the Avalanche Danger Scale, and always check the day's report before heading out.
The Bottom Line
By forgoing proper training, you're not only endangering yourself, you're risking the life of anyone traveling with you or skiing nearby. There's more than one meaning to "earn your turns":
Don't ski, snowboard, snowshoe, or snowmobile in the backcountry or sidecountry without formal avalanche training. Period.