Free 2-Day shipping on orders over $50. Learn More
Need advice picking the right gear for your next adventure?Talk to a Gearhead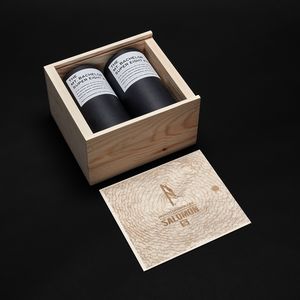 Free gift with purchase!
North Drinkware Mt. Bachelor Super Eight Pint Set
Details
Super 8 Snowboard
The Super 8 Snowboard is a high-powered daily cruiser that kills it on icy groomers and pow-choked chutes. Backseat Camber brings both explosive turning power and playfulness in powder, while Rocket Science Shaping increases its waist width for more stability and float, allowing you to downsize a few centimeters for quick-turning agility when you're banking between trees and negotiating narrow chutes, without sacrificing straightline stability.
Slight tapering allows the tail to naturally sink while the buoyant nose effortlessly planes across the snow. The board's Aspen SLCT core lends high levels of impact resistance, should you accidentally smash into some rocks or tree branches. Salomon also added in the smooth edge-to-edge feel of a quadratic sidecut and fast glide of a sintered base for crushing big mountain laps and high-speed groomers with tons of control.
Pro-level performance comes in this all-mountain shred stick
Backseat Camber delivers powerful turns and powder prowess
Directional shape charges hard and lands switch easily
Rocket Science Shaping has extra width for more stability
High-density wood strips and Popster core ensure powerful snap
Quadratic sidecut provides reliable edgehold and easy turning
Sintered base keeps you at the head of the pack
Item #SALZ993
Tech Specs
Length
151cm, 154cm, 157cm, 160cm, 163cm, 166cm
Profile
Backseat Camber (camber under back foot, flat under front foot)
Effective Edge
[151cm] 1125mm, [154cm] 1145mm, [157cm] 1175mm, [160cm] 1200mm, [163cm] 1225mm, [166cm] 1250mm
Waist Width
[151cm] 254mm, [154cm] 258mm, [157cm] 260mm, [160cm] 264mm, [163cm] 266mm, [166cm] 268mm
Sidecut Radius
[151cm] 7.5m, [154cm] 7.7m, [157cm] 7.9m, [160cm] 8.1m, [163cm] 8.3m, [166cm] 8.5m
Stance Width
[151cm] 18.9 / 23.6in, [154cm] 19.3 / 24in, [157cm] 19.7 / 24.4in, [160cm] 20.1 / 24.8in, [163cm] 20.5 / 25.2in, [166cm] 20.9 / 25.6in
Core
Aspen SLCT, Popster, Damplifier, Rocket Science
Laminate
BA MD (medium-density biax)
Recommended Rider Weight
[151cm] 110 - 154lb, [154cm] 130 - 165lb, [157cm] 130 - 185lb, [160cm] 155 - 195lb, [163cm, 166cm] 155 - 230lb
Recommended Use
all-mountain snowboarding
Manufacturer Warranty
2 years