Free 2-Day shipping on orders over $50*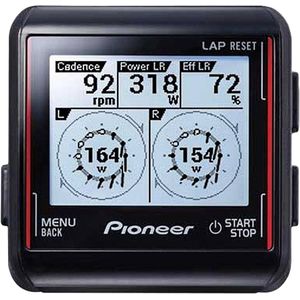 Free gift with purchase!
Touchscreen Cycle-Computer
Details
Gain valuable metrics.
Extensively tested by the Belkin professional cycling team over the last two years, the Pioneer Shimano Dura-Ace 9000 Power Meter Crankset provides real-time performance data under the most rigorous conditions. It's compatible with ANT+ cycling computers, working best with Pioneer's SGX-CA900 and 500 computers for real-time analysis of torque vectors. It even uploads data to Pioneer's CycloSphere software via Wi-Fi for hassle-free post-ride analysis.
The Power Meter Crankset relays information to your ANT+ cycling computer with strain gauges along each crank arm for real-time analysis. Each strain gauge takes 12 individual measurements at every 30 degrees for one full pedal rotation. This allows the Power Meter Crankset to measure power magnitude, power direction, and pedaling efficiency as you train.
The Shimano Dura-Ace 9000 Crankset itself is both lightweight and stiff for optimum training efficiency, thanks to its Hollowtech II construction and new four-arm spider design. Also, the transmitter is bolted directly to the crank's spider for a sleek look that's non-obtrusive.
Compatible with ANT+ cycling computers
Uploads data via Wi-Fi to Pioneer CycloSphere software
Torque vector data only with Pioneer's SGX-CA900, 500
Item #PNR0002
Tech Specs
Manufacturer Warranty
2 years
Compatible Components
Shimano Dura-Ace 9000, Pioneer electronics
BB Type
Shimano Dura-Ace SM-BB9000
Chainring Sizes
53 / 39 t, 52 / 36 t, 50 / 34 t
Arm Length
165 mm, 167.5 mm, 170 mm, 172.5 mm, 175 mm