Disco 15 Sleeping Bag: 15F Down - Women's
---
Why We Like The Disco 15 Sleeping Bag
What if we could have it all—lightweight backpacking convenience, side-sleeping comfort, and the luxury of down insulation in wet climes? The Disco 15 delivers just such wonders, with hydrophobic down that stays lofty in condensated tents, and NEMO's unique spoon shape offering extra room at the elbows and knees to keep the nights near at-home comfort levels.
Details
A lightweight sleeping bag for cold shoulder-season camping
Hydrophobic down won't lose its lofty warmth if it gets wet
Spoon-shaped design offers comfortable nights for side-sleepers
Waterproof footbox keeps feet dry despite tent condensation
Thermo Gills can be unzipped to dump excess heat come sun-up
Blanket Fold external draft collar rolls back to mimic your bed
Zips together with the men's Disco for a cozy night's rest
Down fill sourced from birds that were never live-plucked
Item #NEMK00X
Responsible Collection

Responsibly Sourced

Material

[face fabric] 30D nylon ripstop, DWR finish, [footbox] 40D nylon ripstop OSMO, DWR finish, [lining] 30D nylon taffeta, DWR finish

Insulation

650-fill hydrophobic down, RDS-certified

Shape

Classic Spoon (modified mummy)

Zipper

right, full-length

Max User Height

[regular] 5ft 6in, [long] 6ft

Shoulder Circumference

[regular] 62in, [long] 64in

Hip Circumference

[regular] 58in, [long] 59in

Foot Circumference

[regular] 60in, [long] 62in

Bag Length

[regular] 73in, [long] 78in

Pockets

1 zippered stash, 1 pillow sleeve

Pad Retainer

none

Venting

Thermo Gills

Fill Weight

[regular] 1lb 13oz, [long] 1lb 14oz

Degree

15F

European Norm/ISO Comfort Rating

31F

Storage Sack

mesh

Stuff Sack

compression

Stuff Size

12.5 x 8.5in

Claimed Weight

[regular] 3lb 1oz, [long] 3lb 3oz

Manufacturer Warranty

limited lifetime
Reviews
Q&A
Overall Rating
5 based on 32 ratings
Fits True To Size
Screen reader users: the following list provides a visual scale to illustrate the product fit. Please refer to the heading above for the fit type in text.
Runs small
True to size
Runs large
What do you think about this product?
View
Selecting an option will reload the available reviews on the page
5 out of 5 stars
November 16, 2023
Great for side sleepers
I just purchased this bag (Disco 17F comfort, women's regular) so have not taken it in the field yet, but wanted to share few tips. I am male, short, and sleep cold - don't be afraid guys to buy women's bag if you are 5'6" or below, because you will appreciate the extra leg room and insulation. This is a decent woodsy neutral color and no one is looking at the color of the bag in your tent at midnight, I promise. Secondly, I was initially disappointed in the poor insulation loft when I first purchased it. It did not look like a 17F bag at all. For the top layer, only 2" loft at the highest point, 1/2 inch in other areas. But give it time. Hang it up in the closet by the foot loops, fluff it every now and then, and in a few days it is going to fluff way up and look more like a 17F bag. This is not unusual and happens with other manufacturers - regardless if 650 or 850 fill down. In the field, shake it good from both ends to distribute the down before getting in. It is at least 2X loftier now, and I cannot sleep inside it in the house - the bag just too warm for that, and very cozy. Can't wait to use it outside at elevation. Lastly, the draft collar is excellent, though feels like synthetic insulation inside that strip. Much praise for the extra large neck flap as it helps seal the gap if you leave the zipper a little open for more shoulder room or breathing room. Well done.

Originally reviewed on nemoequipment.com
5 out of 5 stars
September 18, 2023
Great bag and warm, but I need layers.
I have used this bag for about 20 nights and love it. I think the overall quality and features of this bag make it 5 stars for me. I agree this bag is not as warm as it could be. This is my second Nemo bag, my first being the Nemo Rave 30. I needed an warmer bag and bought the Disco. For my most recent backpacking trip in the White Mountains in Arizona we had at least one night at freezing temps because water in some camp bottles was partially frozen in the morning. I was not cold but did need to sleep with the Blanket Fold draft collar over my face. I actualy wish Nemo would consider making this portion waterproof like the foot box since concensation really forms on this portion if it is cold and you have pulled this up over your face where you are breathing inside the bag. Two mornings this area was pretty damp and this happened another time in really cold weather. I see a lot of comments about this bag not being warm enough. TBH I wear wool baselayer leggings and shirt to bed. On occasion I did add another layer of wool on top. So I think the bag is not as warm as it could be. When in the 30's I need at least two layers on my torso to try to be comfortable. However, the spoon shape for me is a winner and I will never sleep in another mummy bag. I would rather layer a bit when I sleep to adjust warmth if needed but enjoy the spoon shape of the bag as a side sleeper. I think the full lenght draft tube is amazing and helps. I use this with the Nemo Quasar insulated pad and sleep really well.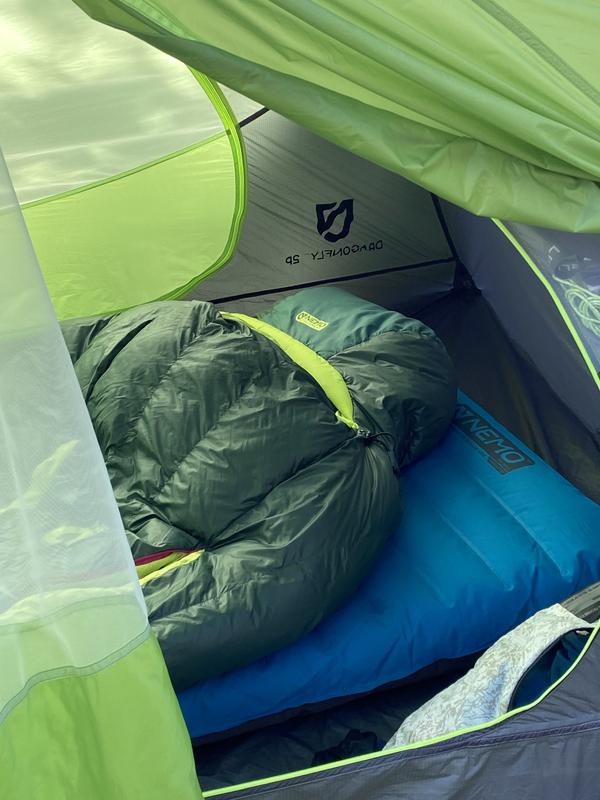 Originally reviewed on nemoequipment.com
5 out of 5 stars
August 24, 2023
WONDERFUL!
My boyfriend bought this for me for my birthday and I was able to use it for the first time this week. I can't give this bag enough credit! 10,000+ elevation on top of a mountain with just a rain guard above us, a ground tarp and Nemo bed pad below, pouring rain all day and all night. The temperatures easily reached the low 30s and I slept better than I do at home. Can't wait to use it again! Easily the best birthday gift a girl could have received! Also I should add the amount of space I was able to save in my pack all because I was able to compact it down so small! Highly recommend!!

Originally reviewed on nemoequipment.com
5 out of 5 stars
January 5, 2022
Side Sleepers Perfect Bag
Familiarity:

I've put it through the wringer

Size Bought:

Reg

Height:

5' 2"

Weight:

110
I have always loved backpacking, but I have always struggled to sleep in mummy bags. I'm a side sleeper only, and all mummy bags make it impossible. This bag, with it's spoon shape, allows me to actually sleep on my side without sacrificing comfort or warmth. This bag is jam packed with features as well! The thermo gills allow you to adjust your temperature without dumping all your heat and my personal favorite, the blanket fold, makes the sleeping bag feel more like a blanket then a bag.
5 out of 5 stars
November 3, 2021
High quality
I bought this tent for my 2021 fire season. I spent about 56 nights in it. It was my home away from home. Many days were high winds and heavy rains and I'm pleased to say my tent held up. Loved the design and the quality. Extremely light weight and durable. Several nights of rain and my tent stayed dry. Would highly recommend.

Originally reviewed on nemoequipment.com
4 out of 5 stars
October 27, 2021
Love!
I love this sleeping bag I only recently got it and really love it. It's warm and soft my only issue is it's a little snug on the arm area for a plus size woman like me. Maybe I would have got the long for the extra room but oh well i still love it.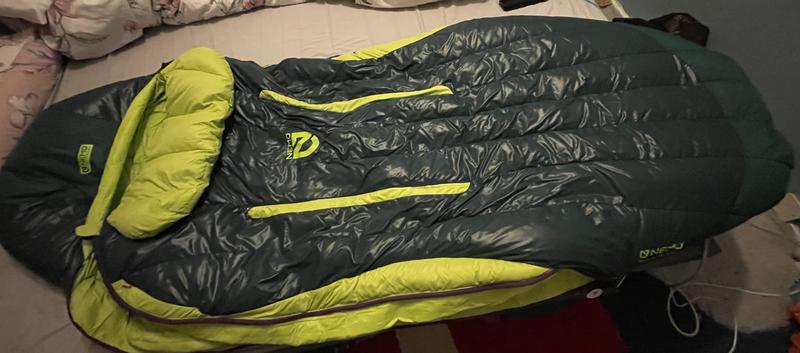 Originally reviewed on nemoequipment.com
5 out of 5 stars
October 21, 2021
Incredible bag
The womens Disco 15 is a great bag that has some well thought out upgrades. I am a little jealous because my older disco (purchased this bag for my fiance) doesnt have the pillow compartment. It zippers together perfectly with my disco (highly recommend for a couples sleep system). The materials used have you feeling as if you are sleeping in luxury. I have used it in freezing temperatures and there were some cool spots but that's to be expected in a bag with more room. There really isn't anything bad to say about it the bags. If you want something that packs down small but doesnt feel like you are sleeping in a straight jacket I highly recommend the disco sleep system.

Originally reviewed on nemoequipment.com
5 out of 5 stars
September 28, 2021
Perfect design
I got this sleeping bag a year ago and I have loved it every day since! It is perfectly designed for side sleepers that love to camp but never feel comfy in other sleeping bags. Super high quality!

Originally reviewed on nemoequipment.com
5 out of 5 stars
August 27, 2021
2 season
This will be thet star of my 3rd season. Taking it on 5night solo elk hunt. Have no concerns on its performance. I am expect 1st snow fall with Temps from mid 40s to mid 20. Paired with my hornet tent I cannot ask for better ultra light set used to use AIR BIVY because the simplicity when setting up and the weight but the the hornet I have no problem with weight at 2lbs and once you have experience seting up time is no a problem. The best products out there if you concerned about weight and u don't have to sacrifice e room and comfort

Originally reviewed on nemoequipment.com
5 out of 5 stars
July 24, 2021
So warm!
Very warm and comfortable! I am presently surprised by the warmth and heat retention

Originally reviewed on nemoequipment.com
Need Expert Advice?
Our Gearheads Can Help
How can the compressed volume be 9 liters when the bottle next to it on the picture is 1 liter and although the bag is larger it is not 9 times larger than the bottle. I'm trying to understand if the picture is true to size or the specs might be off?
Are there going to be some updates to 30 Disco Women's bags this year? Some new colors perhaps? I'd like to purchase one, but I am really not excited about available colors.
Where can I get a compression stuff sack for the Women's regular disco 15? Mine came without it, so I received a discount.
I have a memo rave -9... I am looking for a mens sleeping bag in regular length that will zip together with it... will the disco zip together with the rave?
Hello, I'm 6' tall, 230lbs, Athletic build w/ broad shoulders and hips. Would a regular or tall disco work best for me? I'm kicking around getting a Women's tall for the extra insulation. I had a mens forte 20 in a tall and it wasn't warm enough for me.
Hi! My height is 170 cm, so I am not sure whether I should choose regular or long women's size.
Bought two bags to zip together, but the womens zipper is about 1-2 inches longer than the mens. Wondering if this is how it's supposed to be, since it says they're compatible I assumed they'd be the exact same?
Hi. I was wondering if it is still possible to zip together a men's long Disco sleeping bag with a women's regular? My fiance is quite tall, and I am only 5'5" so I get the feeling a women's long might be quite big for me. Thanks!
Is there a compression sack that goes with this?
How long can they be stored in their compression sacks?