sale
$159.25
$245.00
35% Off
Free 2-Day shipping on orders over $50*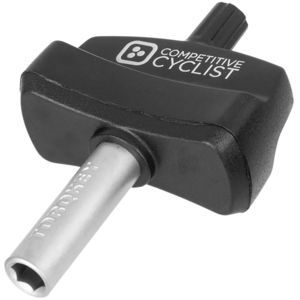 Free gift with purchase!
Torque Tool
Details
More capacity.
If you have a Kuat NV 2 Bike Rack with a two-inch receiver, and you need to carry four bikes, this Add On is just the ticket. It'll fit normal-width, 20-29-inch wheels, and, when added to your NV 2, you'll be able to carry four, forty pound bikes with ten inches between them, so scratched frames will be a thing of the past.
Increase your NV rack's capacity and bring your buddies along
Gravity-friendy design adds space for two mroe 40lb bikes
Preserves 10in of space as buffer between bikes
Extended frame support reduces movement to prevent damage
Integrated cable lock secures your prized machines
Folds for storage and tilts down for trunk access
Fits wheels ranging from 20 to 29in
Only compatible with the two-inch version of the NV-2 Bike Rack
Item #KUA0004
Tech Specs
Compatibility
Kuat NV 2-inch only
Recommended Use
travel, mountain bike, cycling
Manufacturer Warranty
lifetime
What do you think about this product?
Have questions about this product?
Good rack system, room for improvement
Familiarity:

I've put it through the wringer
I think the Kuat racks have been relatively good but I've definitely experienced some durability issues with wet weather. A fair amount of rust on certain parts and then the metal on the arms have shown some corrosion. Great purchase for a discounted price but full price for these things is not great value in my opinion.
A couple of things:
This is a pain in the butt to put together. You might need another human to help you put it together. My dog wouldn't help, she just sat there watching us struggle. If you have a furry kid who will help, please send me your dog trainers contact info.
Once you put this together with your existing rack, you probably won't ever take it off. Not that that is a bad thing. But putting it together does take some time. Like almost an entire Tour de France Stage kind of time. It is also quite heavy on its own. So when added on, this whole thing is pretty burly.
Overall it is sturdy, carried all four bikes quite well. None of the bikes bashed against each other, and it also comes with two extra cable locks for each individual bikes for added security.
KUAT FOR THE WIN.

Awesome
Familiarity:

I've used it several times
Love the quality of the extension. Just as sturdy as the bike rack itself. It is a little pricy, but I know that my bike won't fall off while I am driving.
Best bike rack we've owned
Description
Big, but an excellent rack
Agree with other comments about it being a little tricky to install. And, as noted, it is essentially a permanent addition. You cannot easily install/un-install it. So be prepared to have a very big rack permanently. That said, it is an excellent bike rack! Holds 4 bikes well. Very sturdy. Easy to load/unload.
All killer, no filler
Familiarity:

I've put it through the wringer
This rack is bombproof. Holds all 4 of our bikes easily and safely. This thing is a tank though. Heavy as hell. I wish it was spring loaded so you could lift and lower it solo when loaded up with bikes. The locks ARE a little short, but still work. They would be better if there was more cable to route thru the bikes but that's nit picking. I like the bike stand addition and have used it quite a bit. All and all, totally worth the hefty price tag. Buy cheap, buy twice. You get what you pay for.
Good Product, if Challenging to Set Up
Familiarity:

I've put it through the wringer
If you have four bikes, this is a much better option than getting 2 racks. That said, keep in mind that you need to set up the initial piece differently than you'd set it up if you didn't have the extension. With the extension, the rack is heavy and bulky...but I gotta say, it makes biking with a crew so much more do-able. Bikes go on easily, the rack is sturdy, even on dirt roads and it folds up well enough to leave it on over the weekend if you are planning to do a couple of rides. It's made driving to biking a much more probably plan...
Just returned from a three day mountain bike trip to Brian Head Utah. Four guys, four bikes on the back of a Ford F-150. The rack was perfect. No frame scratching, easy locking and unlocking, no worries transportation of our bikes. Love Kuat!
Nice Addition
Familiarity:

I've put it through the wringer
It seems like adding 2 more bikes would increase your chances of scraping it through bumps or steep driveways. Although you need to remember it's back there, it has only scraped the hitch portion of the rack on our low Rav4. Being able to carry 4 bikes means your friends are going to want you to drive, but at least you know your bike will be safe. Plus, my friends are crappy drivers, so I would rather be the one up front, instead of in the back and car sick.
Sweet
Familiarity:

I've put it through the wringer
I've been running this rack for a while now, and am super happy with it. It's very easy to switch between cars, and I can get my bikes on and off in no time. Quality is nice and I dig the orange anodized parts.

A few nitpicks regarding the cable lock though...
1. The cable lock is not long enough. It barely makes it through both bikes.
2. The cable lock gets kinked and is virtually impossible to get back into the rack without, at a minimum, hiring a shaman to come cast spell or a snake charmer to coax it back in.
3. The rubber on the arms is already starting to fall off from my road bike's front brake, so I guess that could be a little tougher and durable for the money.

Otherwise, it's a great product. A tad pricey, but the quality is nice enuogh. Plus it looks good.
Add-on is (mostly) permanent
Familiarity:

I've put it through the wringer
Writing this review to clear up the fact that this is not an easy take on/off add-on. Once added to the rack, you won't want to take it off again as it requires major disassembly. Because Kuat over-engineers everything to make their racks bomb-proof, this add-on is bolted to the original rack to make the entire thing just as strong as it was without it. The add-on makes the rack weigh about 100 lbs, so taking it on/off the car is a pain and definitely a 2-person job if you want to save your back. We ended up buying a second 2-bike rack (in black, which looks awesome on our black Jeep!) after adding the extension to the first one so that we could use that for our more frequent day trips. The big guy gets used for groups or longer trips when we need to haul more bikes, but it doesn't stay on any of the cars while not in use because it obstructs the rear window and makes an awful whistling sound. For us, the 2-bike is great to keep on all the time, and the 4-bike stays stashed in the garage for less-frequent use.
its the hitch rack to get
Familiarity:

I've used it several times
I agree with the last review, it's nice to have a helper although you can assemble it yourself. Once it's together its just so simple and convenient to use, it doesn't get any better. I am using the 2" hitch and it holds super secure, no worries at all. I also got the attachment and that has been stellar as well. I bought this after using a friends and also trying some other types, I just didn't feel they were as solid. Treat yourself and make your bike hauling easier and pick one up. I have hauled road, mountain 29er's, bmx, and Tri bikes on mine, yea we are bike people.
Sweet, but.....
Familiarity:

I've put it through the wringer
Installed the 2 bike add-on to my NV this evening. Sturdy and heavy, its durability is unquestioned. Assembly was fairly easy, but I would recommend a 2nd set of hands to hold the cross beams in place while engaging the bolts. The only complaint I have is the addition of the add-on takes the industry best 13" spacing between bikes down to 10". Total bummer. Defo keeping some painters tape in the car again to apply to frames during transport to prevent scratching and damaging from pedals. That being said, I still think its worth 5 stars.
Amazing but heavy bike rack
Familiarity:

I've used it several times
I purchased this as a gift, here is what the user said:



I have been searching for the BEST bike rack system for my truck and this is the one! I bought the Kuat NV 2 Bike Rack (Item # KUA0003) and Kuat NV 2 Bike Add On (Item # KUA0004) together. It is super easy to install and very user friendly. The rack is very durable and holds up against the toughest terrain. The only downfall is how durable it is. The rack is heavier than most but i know my bikes are safe. I give it 5 gold stars
Disappointed with Assembly required.
I will either return this unit or put it together as a 4 tray set-up for family trips and buy a 1-up as my daily driver. Still deciding.

I've had the same frustration as Steve Brain (below) putting together the original rack. Furthermore, I just got the add-on and am again frustrated that assembly will be a painful process. You have to remove one of the trays on the NV standard rack in order to put the add-on in. Then reassemble the rest of the trays afterward. I purchased the add-on so I could ""throw it on" in a pinch when I need to haul two bikes, but had no intention of keeping it on the entire time. I wrongly assumed it would be a quick take on/off. Boy was I wrong. I wish their mfg. specs were tighter so the bolts installed easier and also wish they would design the add-on with the mentality that people want to use it occasionally, but don't want to leave it permanently on. The rack is too large and heavy with 4 trays as a daily user. All that said, the rack performs amazingly once its together. Right now I'm debating whether to keep the add-on and keep together permanently as a 4 bike setup and then buy a 1-up or something smaller/lighter for my daily driving rack. The NV would sit in the garage until the big family trips. Would hate to do this, but painful assembly leaves little choice.
Easy to install, works exactly as advertised. I can get 4 bikes on here of any type without any problem or finagling.
This was a pain to add to my NV-2 rack. Poor quality finishing on the holes on the frame meant I had to file the burrs down before assembling. More details on my review of the Kuat NV-2.
Will this fit the nv 2.0?
Hi Ernesto,



Unfortunately, this will not fit the NV 2.0. You will need the specific NV 2.0 add on for that rack. This will fit the older NV version.
I'm looking for a 4 bikes tray rack. If I...
I'm looking for a 4 bikes tray rack. If I make a decision on the Kuat NV, I have to order NV2 plus add 2, $529 + $329?