Free 2-Day shipping on orders over $50. Learn More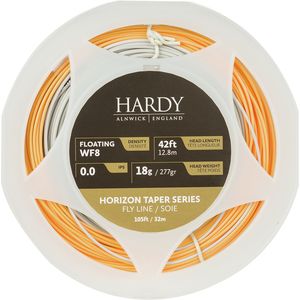 Free gift with purchase!
Horizon Taper Series Fly Line
Details
Vintage feel with modern performance.
Built and designed by master craftsmen in Alnwick, England, the Hardy Wide Spool Perfect Fly Reel provides a truly classic look and sound with uncompromising performance. The wide spool increases the backing capacity for long runs, and the time-tested click-check system lends a butter smooth, sweet singing drag. Add in the dark anodized finish and ivorine handle, and you've found a worthy companion for your vintage bamboo rod.

Wide spool design increases backing capacity
Proven and time-tested check system utilizes stainless steel ball bearings for a silky-smooth drag
Wide ranging check system provides a classic drag sound
Aluminum construction with a dark anodized finish provides tough durability and corrosion resistance
Ivorine handle adds timeless style
Reel can be easily changed between left- and right-handed operation
Included leather case with a sheepskin lining keeps the reel safely stowed
If you're buying a reel or spool and fly line, we'll be happy to rig it up for you, please give us a call at (855)-712-0513 for details
Item #HDY0049
Tech Specs
Material
[spool] aluminum, [bearings] stainless steel, [spindle] naval brass, [handle] ivorine
Backing Capacity
[2 7/8] (DT3) 55 m, [2 7/8] (WF3) 75 m, [2 7/8] (WF4) 60 m, [3 1/8] (DT5) 47 m, [3 1/8] (WF5) 72 m, [3 1/8] (WF6) 53 m, [3 3/8] (DT7) 50 m, [3 3/8] (WF7) 90 m, [3 3/8] (WF8) 75 m
Diameter
[2 7/8] 2.9 in, [3 1/8] 3.1 in, [3 3/8] 3.4 in
Left and Right Handed Operation
yes
Claimed Weight
[2 7/8] 5.3 oz, [3 1/8] 5.7 oz, [3 3/8] 6.2 oz
Recommended Use
fly fishing
Manufacturer Warranty
5 years