Free 2-Day shipping on orders over $50. Learn More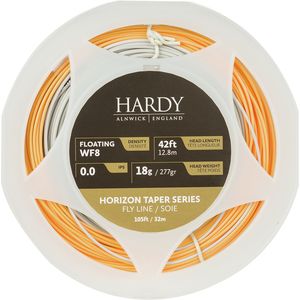 Free gift with purchase!
Horizon Taper Series Fly Line
Details
Light in weight, classic in looks.
The Hardy Ultralite MA DD Fly Reel keeps your lightweight rod balanced and looking good thanks to a lightweight construction and a classic Hardy look. The reel is machined from a durable bar stock aluminum and features a smooth disc drag system that can be quickly set between its lowest and highest settings with less than a full turn. The drag knob is color coded for quick reference, so you always know exactly how much pressure you're applying to fish, while the mid-sized arbor will hold plenty of extra backing for anglers who prefer to have plenty of line ready for those big fish that will give even the best fisherman a run for their money. Switching out different spools is made easy through the tool-less captive spool release system, so you can have a few extra spools of line on hand for when you need to get your line and fly down to where the fish are feeding.
Bar stock 6061 aluminum
Two tone anodizing
Mid arbor spool size
360-degree color coded drag
Captive spool release
Item #HDY000T
Tech Specs
Backing Capacity
[3000] DT4 + 55 yards, [5000] DT6 + 85 yards, [6000] DT7 + 140 yards, [8000] DT9 + 150 yards
Diameter
[3000] 4.1 in, [5000] 4.3 in, [6000] 4.7 in, [8000] 4.7 in
Fly Line Weight
[3000] 3 - 5, [5000] 5 - 7, [6000] 6 - 8, [8000] 8 - 10
Left and Right Handed Operation
yes
Claimed Weight
4.8 oz, 5.3 oz, 5.9 oz, 9.0 oz
Recommended Use
fly fishing
Manufacturer Warranty
5 years