25% Off
sale
from
$471.71
$648.95
Free 2-Day shipping on orders over $50. Learn More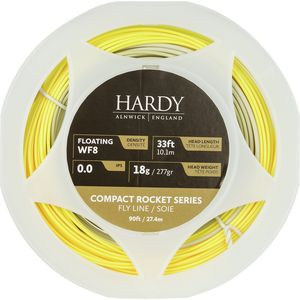 Free gift with purchase!
Compact Rocket Series Fly Line
Details
Cascapedia Heritage Trout Fly Reel
Bring old-school quality with modern technology into your rig with the Hardy Cascapedia Heritage Trout Fly Reel. This smaller version of the Cascapedia features the classic click-check system for impressive drag that maintains the sound you loved from the original. Full bar-stock aluminum construction has the durability you need with the sleek appearance you want, and features an S-shaped handle for a classic look. The Trout edition of this reel is designed to take on the smaller applications of two-handed rods while balancing things out in terms of power, strength and weight.
High-quality reel for trout and other smaller species
Bar-stock aluminum is lightweight yet durable
Click-check drag system has the classic Cascapedia sound
Large arbor for fast pickup and low memory
S-shaped handle for a stable and balanced feel
Item #HDY001O
Tech Specs
Material
bar-stock aluminum
Backing Capacity
[4/5] WF5 75yd, [6/7] WF7 85yd
Claimed Weight
[4/5] 6.3oz, [6/7] 8.4oz
Recommended Use
freshwater fishing
Manufacturer Warranty
5 years