---
Paragon 68L Backpack
The Paragon 68L pack fits into Gregory's line as a lightweight and modestly sized backpacking pack, ideal for multi-day trips and extended trails with places to re-supply. Aerolon adjustable suspension technology distributes your load's weight to make it comfortably bearable over long distances in demanding terrain.
Details
Technical backpacking pack carries your favorite gear over long hauls
Top-access features an integrated rain cover so you don't need your own
Separate sleeping bag compartment is accessible from the bottom
Hydration compatible with most bladder systems for ease of use
Ventilated foam back panel is breathable for comfort in sweltering heat
Padded hip belt offers excellent support and has zippered snack pockets
Item #GREZ05D
Material

[body] 210D CryptoRip nylon, 100D high-tenacity nylon [bottom] 210D high-tenacity nylon, 135D high density polyester [lining] 135D high density polyester

Volume

[small/medium] 65L (3966cu in), [medium/large] 68L (4150cu in)

Support/Suspension

dual-density LifeSpan EVA, tubular 7001 aluminum (7mm) [stay] alloy, HDPE (3mm),

Shoulder Straps

padded, adjustable, sternum strap

Waist Belt

padded, adjustable

Hydration Compatible

removable sleeve doubles as daypack

Reservoir Included

no

Access

top

Pockets

2 zippered hip, 2 zippered top, 2 stretch side, 1 stretch front

Ice Axe Carry

yes

Trekking Pole Carry

yes

Sleeping Bag Compartment

zippered

Rain Cover

removable

Detachable Daypack

doubles as hydration reservoir sleeve

Compression

side

Weight Capacity

50lb

Dimensions

[small/medium] 29 x 13 x 12in [medium/large] 31 x 13 x 12in

Claimed Weight

3lb 8oz

Activity

backpacking

Manufacturer Warranty

limited lifetime
Reviews
Q&A
Overall Rating
4.5 based on 33 ratings
Fits True To Size
Screen reader users: the following list provides a visual scale to illustrate the product fit. Please refer to the heading above for the fit type in text.
Runs small
True to size
Runs large
What do you think about this product?
View
Selecting an option will reload the available reviews on the page
5 out of 5 stars
October 14, 2023
Solid and reliable
I've taken this pack on a few long hikes so far and I've really enjoyed the comfort and balance. The frame keeps the pack close and contoured to your back and the adjustments for fitting it to you work great. I had my pack weighed down with about 40 pounds on the longer hikes and it still provided good comfort on my back and hips. Definitely would recommend.
Originally reviewed on ExpertVoice.com
5 out of 5 stars
September 29, 2023
My son needed a backpack to grow into with Boy Scouts, previously using the Stout 65. This pack with it's adjustability, especially in the hip belt, will allow him to grow from his 13-year old frame later into his teen years with a pack that can grow/shift with him.
Originally reviewed on ExpertVoice.com
4 out of 5 stars
August 22, 2023
Fantastic Pack At A Fantastic Price
This is a fantastic pack. I've owned the Baltoro 75 for about 7 years and this pack is an upgrade to that pack. It is a very simple pack without a lot of extra features, which I think is awesome. Took it on a short backpacking trip this last weekend and it was great size for the essentials as well as some luxury items. If you're more of a minimalist the smaller 58L size would be perfect. It is very comfortable and the adjustability of fit on the back and hip belt are fantastic! The mesh back panel helps with breathability, but like most packs it will get warm. Overall it's a very comfy pack even when packed to the brim. Tested it out on some prep hikes with around 25-35lbs and it was just as comfortable at 35lbs as it was at 25lbs. It also works great as a day pack for summit hikes while backpacking. I do wish that it had a few additional loops or tie points on the pack as well as a magnetic attachment for the bite valve of hydration packs, like the ones Gregory puts on some of their other packs. I also wish they had buckles on all the side compression straps, currently only the one that goes over the side pocket has a buckle. None of these things detract from the quality or comfort of the bag, they are just a few things I wish the pack had. Honestly, this pack is just a nice as the Baltoro series, but at a cheaper price tag and not as heavy.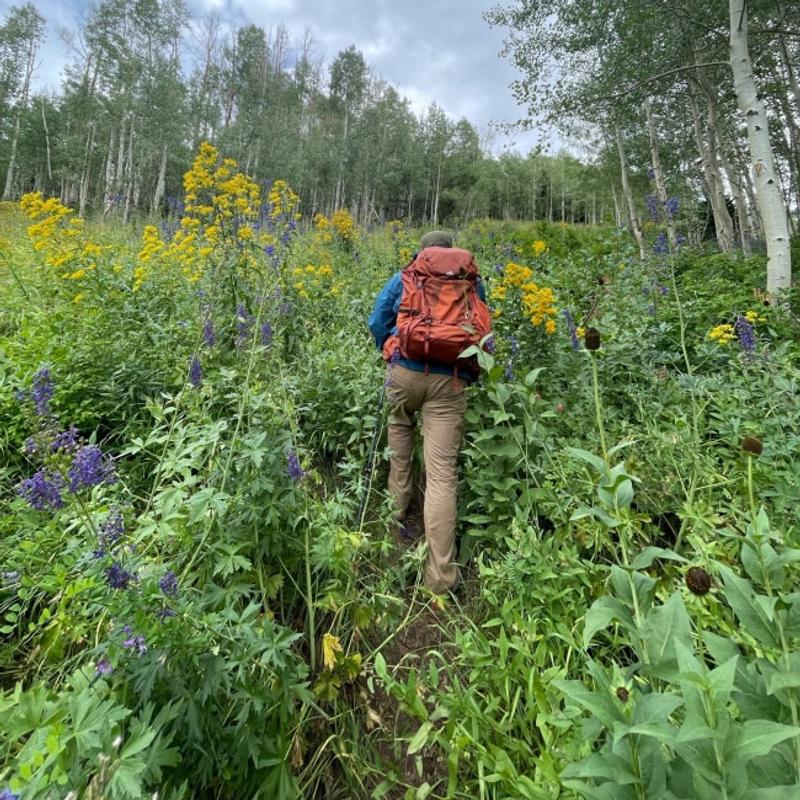 Originally reviewed on ExpertVoice.com
5 out of 5 stars
August 18, 2023
Amazing for travel and backpacking
Would highly recommend this backpack for backpacking trips or any travel in general. You can store a week or more worth of clothing and gear in this backpack. Aluminum frame supports your back and the hip straps take 80% of the weight off of your shoulders and transfer to your legs. I take this as a carry-on for flights and skip checking a bag for any trip over a week long.
Originally reviewed on ExpertVoice.com
5 out of 5 stars
July 16, 2023
Fantastic pack
I have been able to use this bag on two trips now and it has been fantastically comfortable. I haven't gotten any bruises even when I used it for 3 days. My one complaint might be that the shoulder straps do slightly rub my shoulders a little wrong, but that could be more of a fit issue. The hit strap webbing is also very long. I might trim it down. I would definetly recommend trying a pack like this on in a store to make sure it fits well.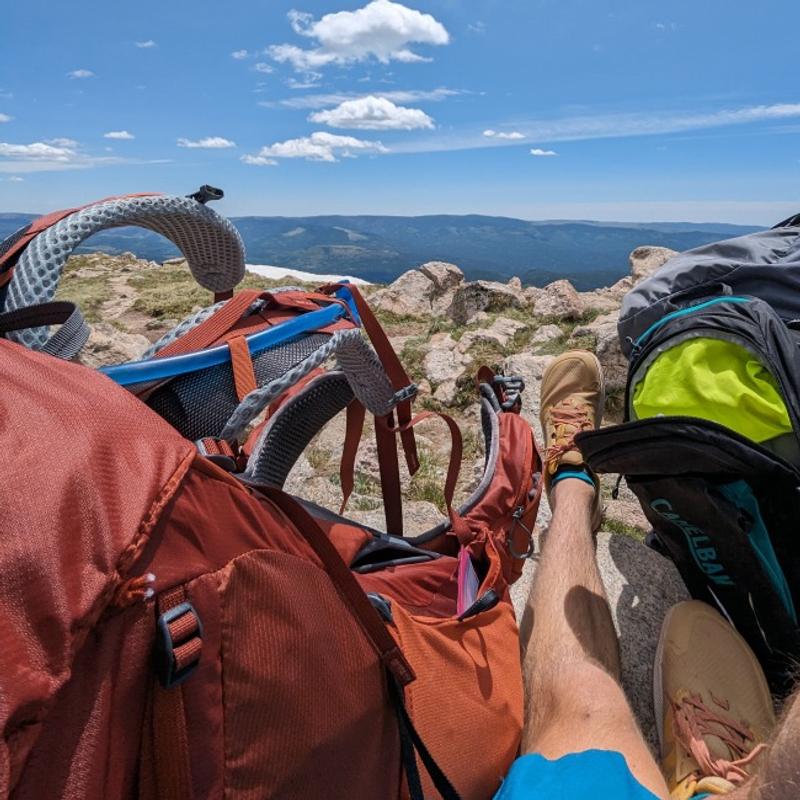 Originally reviewed on ExpertVoice.com
4 out of 5 stars
July 16, 2023
I really like the fit of this bag and how I was able to get it to fit me. There is plenty of room in the bag for several day trips. The only reason I did not give it 5 stars was due to the rain cover. If you are strapping your tent to the bottom of the bag, the rain cover will not fit or stay on your pack. It stormed on the first day of our trip and everything was soaked. Other then that it's a great pack.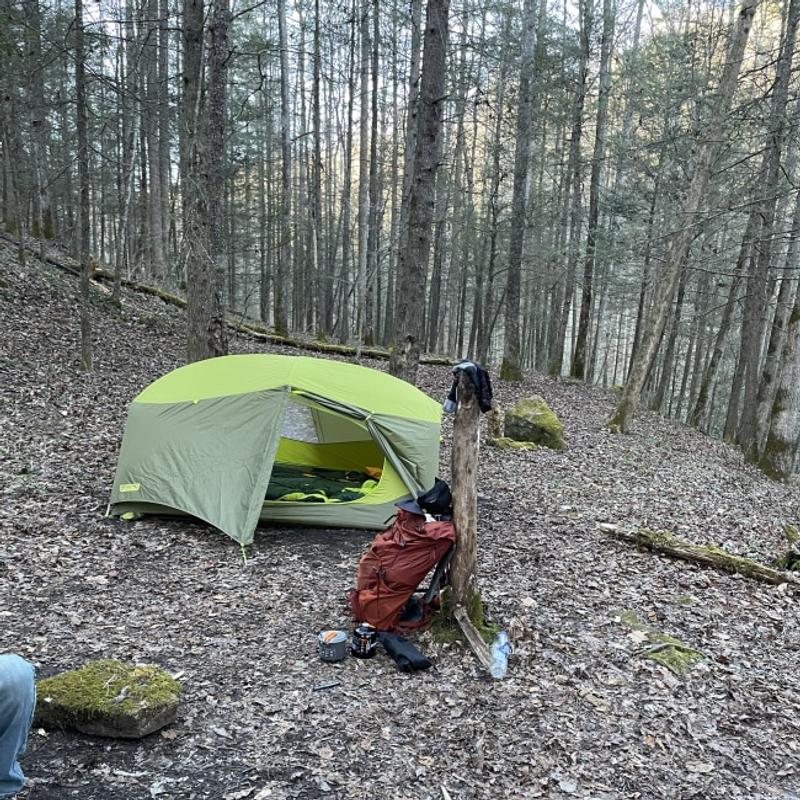 Originally reviewed on ExpertVoice.com
5 out of 5 stars
May 29, 2023
Great pack for a middle aged dad.
Really great pack. I am preparing for Philmont next summer, so we are already working on our preparation hikes. This pack has great size without being overly heavy. I really like the padding and the ventilation. I think anyone would enjoy this pack, except for the hardcore ultra-lighters.
Originally reviewed on ExpertVoice.com
4 out of 5 stars
May 7, 2023
Another High-quality pack by Gregory
I lead mens backpacking trips and we needed a couple of replacement packs for 2 that were a little old and worn. I chose the Paragon68 for its size and relative lightweight. I used one on our last trip (4days/3nights) so I would have a good understanding of how it performs when I loan it out for a trip. Pros- 1. There was plenty of space inside the main compartment as expected with a 68L. 2. The fabric of the pack held up surprisingly well and kept the contents of the pack dry through 2 days of hiking in non-stop rain. (I use a trash compactor bag liner instead of a pack cover, so it was getting hammered all day with rain) only the items in the top pocket of the brain bucket had water seep through (but those were all in ziploc bags). 3. I love the design of the Gregory and Osprey draw-cord at the top of the main compartment. It allows you to either cinch or loosen the top with ease. This bag was no different. 4. There was a significant amount of adjustability in the frame making it ideal for someone like me who loans it out to many others of all different sizes. 5. This pack is constructed very well. I have made my own gear in the past with a thread injector so I look at things like the material quality, stitch design, stitch quality and so forth. This bag has reinforced stitching where needed and not a lot of bells and whistles to weaken the material. 5. All of the straps were easy to adjust and cinched down tight without loosening. The pack fit perfectly and was very comfortable carrying a 45 lb starting weight Cons- 1. I didn't realize it had a side-access zipper. That may be a pro for some, but for me, I'm a top stuffer and do it with fore-thought so I don't need to get at things deep down in my pack. Just added weight (and that one's on me because it was in the pics, I just didn't note it) 2. Because of the sleeping bag compartment, I found the front stuff pocket a little small. Because of the rain, I needed a place to stuff my rain jacket and hammock tarp outside the pack so it would drain as we hiked on a dry day. This front stuff pocket was barely big enough. I had parts dangling out of it. It worked, but I would like to see it be a little bigger.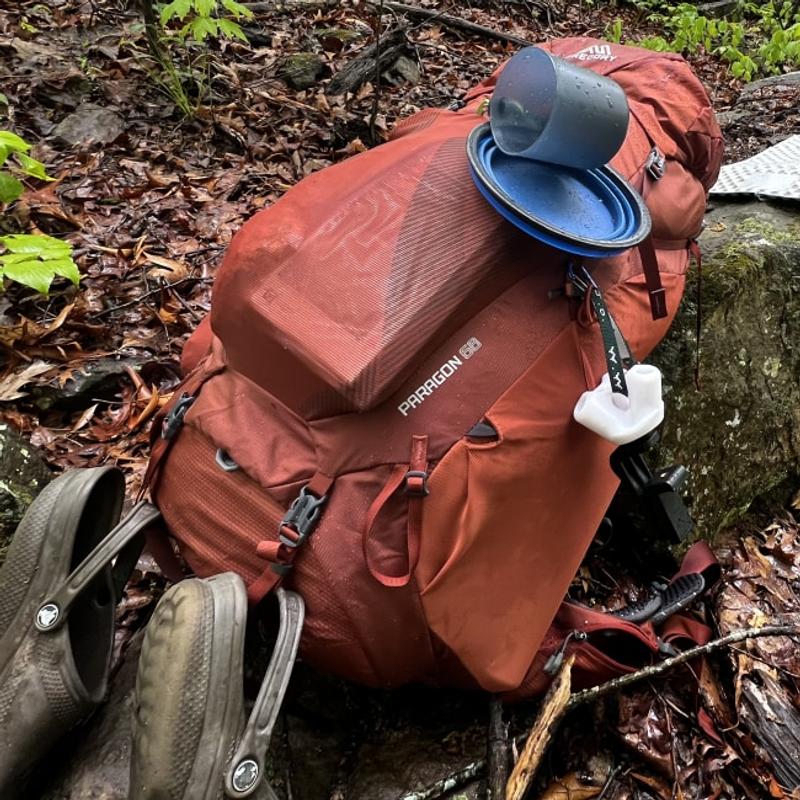 Originally reviewed on ExpertVoice.com
4 out of 5 stars
April 27, 2023
Solid
Great pack with expected storage. bottom pouch for sleeping bag is alittle small for military style bag even in a compression sack. Only issue ive had is the chest strap. I like to have my chest strap rather tight and it just popped right off 4 miles into a 8 mile hike and its impossible to get back on without vice grips. Aside from that its a great pack and is as comfortable as carrying 50 pounds can be.
Originally reviewed on ExpertVoice.com
5 out of 5 stars
March 14, 2023
Flexible Fit is Key
I have tried many packs over the years and this is my current favorite. The main advantage of the Paragon 68 is its adjustability. Both the torso length and the hipbelt sizing are adjustable. This is key for people with non-traditional body shapes. I have a long torso and narrow waist. Most other packs do not fit me. Another pack that does fit me is the Osprey Atmos. I also own the Atmos but rarely use since it is heavier than the Paragon. The Paragon has similar overall comfort as the Atmos, although the Atmos has a more cushy feel. I also tried on the Paragon 58, which seemed to have a slightly better fit, but kept the 68 since the 68 has additional room that I find helpful on long trips or when I am carrying extra gear. This is my second Paragon 68. My old Paragon 68 developed a problem after several years' use - the water bottle pocket on the right side of the pack got stretched out and so water bottles would literally fall out of the pocket when I bent over. I asked Gregory if they could repair this problem. Gregory declined to repair the problem but gave me a nice discount on purchasing a new Paragon 68. It is nice to have a new pack, but I personally prefer Osprey's approach of repairing their packs which is more sustainable. I also own a Gregory Optic (now rebranded as Focal) which was my go-to pack until I lost weight and could not cinch down the hipbelt tight enough. Gregory needs to figure out a way to make the Focal adjustable like the Paragon and they would have a winner. Another suggestion for Gregory is to reconfigure the compression straps and side pockets on the Paragon so that the left-hand pocket works the same as the right-hand pocket where you can access a water bottle while wearing the pack and where the compression strap runs inside the pocket instead of outside the pocket.

Originally reviewed on Gregory
Need Expert Advice?
Our Gearheads Can Help
I have seen the Paragon pack advertised and featuring a compatible day pack/"sidekick". Which product(s) are compatible for such use on the paragon 68?
Where is the key clip located?  I looked for one but did not see any, which I thought was an odd oversight.