Yeti 1500X Portable Power Station
---
Why We Like The Goal Zero Yeti 1500X Portable Power Station
New to the Goal Zero family and designed from the ground up, the Yeti 1500X Solar Generator is one of the most innovative and versatile portable power stations to be created yet. Built-in surge allowances and multi-stage protection means it's compatible with a wide range of devices, from lights and laptops to power tools and refrigerators, so you can use it during emergency power outages, at base camp on expeditions, when working in the field, or just on an extended weekend camping trip.
There are two ways to charge the Yeti plug it into a wall charger before your trip and have it fully charged within 14 hours. It's also compatible and chainable with Goal Zero's Boulder solar panels (not included), with recharge times ranging from 36 hours to 3 hours, depending on which Boulder model you have and how many of them you have. And if you're wondering just how much juice you'll get out of a full recharge, you can expect it to run a refrigerator for 21 hours, 31 charges for a laptop, 70+ charges for a smartphone, and 230+ charges for a GoPro or headlamp. So while it may take a while to fully charge the Yeti, it can last you a long while depending on your usage.
The Yeti's award-winning design features an informative display that lets you monitor usage data in real time, letting you keep an eye on runtime/recharge time estimates, as well as an output and input meter. Goal Zero also included plenty of other information with the Yeti, including storage and downtime maintenance tips, best-use strategy, and cold-weather usage so you can make the most of your power station.
Details
Clean source for quiet, clean power
Powers a variety of devices
Chainability lets you customize your system
Wi-Fi compatibility enables app use
10 ports let you power multiple devices
Charges via solar or wall outlet
Item #GZRG01E
Battery Type

Li-ion NMC

Capacity

1516Wh (10.8V, 140.4Ah)

Charge Time

[120W power supply AC wall charger (included)] 14hr, [100W solar panels (sold separately)] 18 - 36hr

Input

1 High Power charging port (AC, solar, 14 - 50V, up to 50A, 600W max), 2 8mm charging port (AC, solar, 14 - 50V, up to 10A, 150W max), 1 USB-C PD port (5 - 20V, up to 3A, 60W max)

Output

2 AC (2000W/3500W surge), 2 USB-A (5V, up to 2.4A, 12W max), 1 USB-C (5 - 12V, up to 3A, 18W max), 2 6mm (12V, up to 10A, 160W max), 1 12V car port (up to 13A, 160W max), 1 USB-C PD port (5 - 20V, up to 3A, 60W max), 2 High Power port (12V, up to 30A, 360W max), Expansion Module Port

Chainable

no

Dimensions

15.25 x 10.2 x 10.4in

Claimed Weight

45.7lb

Manufacturer Warranty

2 years

Activity

weekend camping, casual
Reviews
Q&A
Overall Rating
4.5 based on 45 ratings
What do you think about this product?
View
Selecting an option will reload the available reviews on the page
5 out of 5 stars
October 6, 2023
Definitely Not disappointed!
I bought the 1500X to power my full size LG refrigerator during the summer months to lower my electric bill. I was using a Yeti 1000 core and that worked well for me but I could only use the Yeti 1000 for about 6 to 8 hours a day. The Yeti 1500X I can use for at least 10 to 12 hours a day. Then at night use the Yeti 1000 to charge the 1500X while the refrigerator is still plugged in the 1500X. During the day I recharge the 1000 with my Boulder 200 solar panel. Sometimes I reverse and use the 1000 for the refrigerator and the 1500X to recharge the 1000. I'm still experimenting but seems to work well. I also like that the Yeti's are stackable. Definitely not disappointed with the 1500X I just wish it had more charge cycles or at least a replacement battery. Same with the Yeti 1000. But both are good products. 👍 Goal Zero keeps improving their line. I highly recommend. I'd like to test more of their products and give reviews on my YouTube.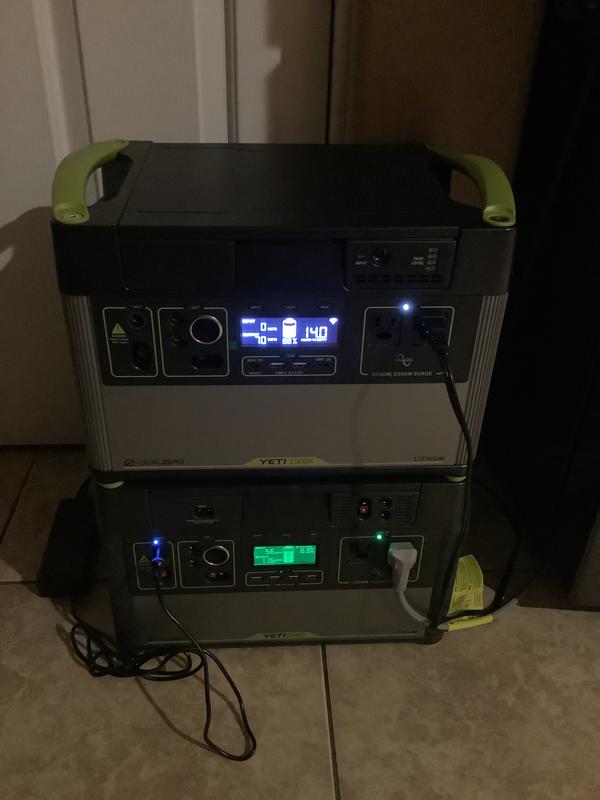 Originally reviewed on goalzero.com
5 out of 5 stars
August 30, 2023
Easy to use and powerful
I bought Yeti 1500X + 100BC solar generator. It's very easy to use and love the portability. 100% charged Yeti 1500X was good enough for continuous plugging of my Alexa and other chargers for phones and iPad. But 100BC solar generator is not fast enough to charge. So, I am considering buy more of solar generators.

Originally reviewed on goalzero.com
4 out of 5 stars
August 28, 2023
Tough built & long lasting.
I own the 1500X for to years now. Great powerstation for the outdoors. Even with direct sunlight and extreme heat inside my car, the powerstations withstands the power draw and charging input. Experienced that quite differently with other manufacturers. Can someone tell me if the 1500X is able to be charged simultaneously with 12V-input via cigarette-lighter-plug (of course with the GZ 12V cable) AND solar panel at once?

Originally reviewed on goalzero.com
5 out of 5 stars
August 15, 2023
Time saver!
I bought this last month for my sprinter van that purchased the same time. I'm in the road right now for 4 weeks from Joshua Tree CA to Vancouver BC, no problem so far. Instead of installing 2 batteries, adapter… just one goal zero and saved a lot of time. Did the calculations, cost me the same!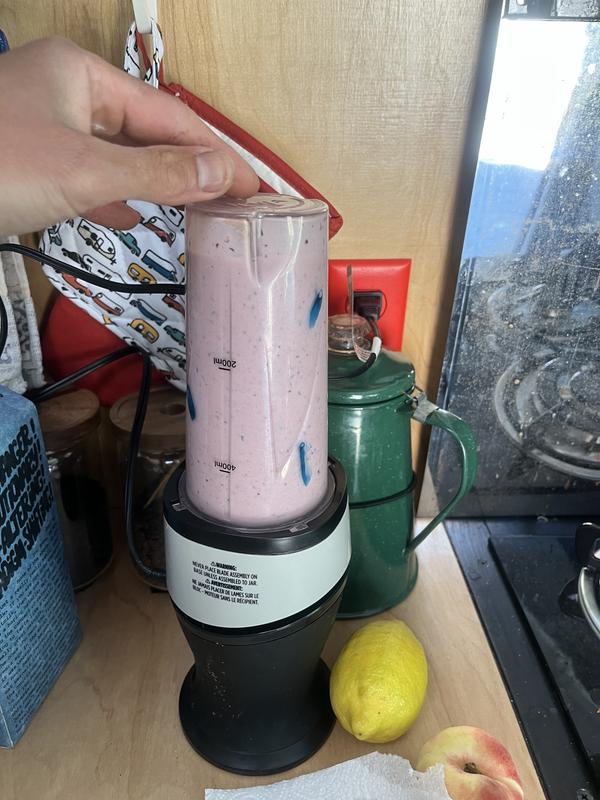 Originally reviewed on goalzero.com
5 out of 5 stars
August 14, 2023
Awesome
I've only used this a handful of times so far, but works very well.

Originally reviewed on goalzero.com
5 out of 5 stars
August 11, 2023
Fantastic
I bought this a couple of months ago and have used it extensively in my camper van. It's great for my morning Nespresso!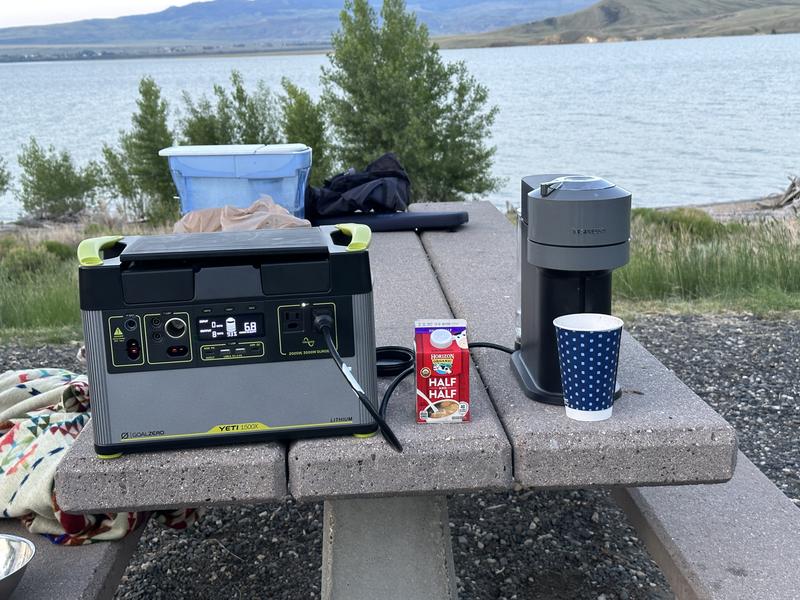 Originally reviewed on goalzero.com
4 out of 5 stars
August 6, 2023
fairly decent axolotl life support system
I've been thinking about this for extended camping trips for years but finally necessity made it happen. We were moving from Philly to Denver and decided to camp our way across i90. The problem was that we had to transport out axolotl. Maintaining 65F in a 30 gallon tank on a 95 degree day is tough. We had the tank pump, a chiller and a dometic refrigerator/freezer attached, as well as the occasional cell phone. A full charge got about 5-6 hours with all this attached. You would obviously get much more life out of a full charge if not running 3 pumps. We had to get creative with finding power sources mid-day. Fun fact, most restaurants with A/C have a service receptacle installed nearby. I purchased three accessories. The rapid charger: absolutely necessary for doing something like this. Will allow you to get half a charge while eating lunch. The car charger: we used this while driving and couldn't tell the difference. Maybe with a smaller load it would be more useful. The protective container: Garbage. The battery overheats too fast when using it. If you do buy it do not fast charge with it. Overall great product. 4stars because of the case and the obnoxious flashing charging light which I had to watch for 31 hours.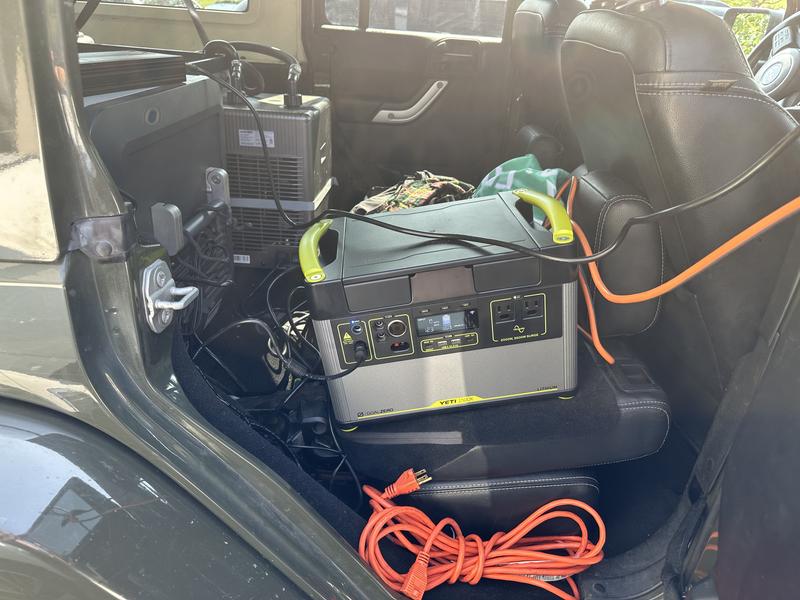 Originally reviewed on goalzero.com
5 out of 5 stars
July 17, 2023
Studio Power
This size Yeti replaced a smaller one that ran my lights and tv just fine, but this summer I planned on adding a portable evaporative cooler so I upsized. Works great - I got the more powerful ac charger just in case the sun lets me down. This will also handle a PS4 when my husband takes over!

Originally reviewed on goalzero.com
5 out of 5 stars
July 16, 2023
Many different power outlets.
This is my 2nd 1500X. I have used it with power tools, mobile amateur radio station, charging cell phones, hearing aids, and C-PAP machines. Soon will try powering a satellite dish and modem in a remote location.

Originally reviewed on goalzero.com
5 out of 5 stars
June 14, 2023
Like new, no issues
Tested all functionality prior to a 4 day off grid camping trip. I was able to run a Dometic 35 and a EDHBay refrigerators for 4 days with minimal solar charging (mostly cloudy). No issues, all functions worked as expected.

Originally reviewed on goalzero.com
Need Expert Advice?
Our Gearheads Can Help
Can I connect 2 Boulder 100 to my YETI 1000X? How do I do that?
Is there a way to do a reset of some type if the front 8mm charger stops charging? It blinks, but doesn't charge. The charger under the lid does charge. Though is it normal for the charging lights to blink?
I have a first generation Goal Zero 1500.  What is the best input to use with the Goal Zero folding 100w Solar panel?  
Is it possible to attach the portable Boulder 200 watt solar panel to the roof of a van? Thanks.
Can a 1500x power a 1500 watt hair dryer ?
YETI 1500X spec says "Lifecycles: 500 Cycles to 80% capacity (Discharge rate: 1C, Full charge/discharge, Temp: 25C)" What does that mean? If I discharge to junder 80% overnight, then recharge with solar the next day, will my battery last only 500 days?
Hi Can you charge the Yeti 1500 for example from a 12v car battery, but via an inverter allowing for faster charging than 150w/10a In one case the engine/alternator will be running avoiding draining tha battery and in the other case the car is a hybrid 
Does the Yeti have an IP rating? We want to use some Yetis on location, to run some LEDs, no matter what the forecast is saying...
Can the 1500x run my Dometic Brisk 2 AC?
I am planning an off-road DYI truck camper build. The Goal Zero 1500 with solar fits the needs for my build (as well as providing back up paper during outages). What clearance do I need around the unit to secure it in an open cabinet?