The Ultimate Gear List for Your Denali Trip
The West Buttress route on Denali is a strenuous and time-intensive climb.
Climbers need to be in top physical shape, and have both the mental fortitude and organizational skills that enable them to stay on top of things in the challenging high-altitude mountain environment. They also need to have all the right gear. This summer, I will be guiding two climbs on Denali and have put together a summary of the equipment I will be taking with me (excluding group items and personal food).
Climbing Equipment
Lightweight Harness
You'll want a mountaineering harness with adjustable leg loops to accommodate your different layers. The Black Diamond Couloir harness is lightweight, has two gear loops, and fits comfortably underneath a backpack waist belt. The sizing is finicky, so make sure it fits well with your layering system. The Black Diamond Alpine Bod is a classic mountaineering harness that's a bit cheaper (and heavier) than the Couloir.
Miscellaneous Carabiners, Slings, and Cord
I bring enough to set up a crevasse rescue system and haul a sled, including:
Eight lightweight non-lockers. The Black Diamond Neutrino carabiner is large enough to handle with gloves and is still lightweight
Five locking carabiners. The Black Diamond Vaporlock is a great lightweight locker and is large enough to be used for belaying, too
Two 5mm Prusik cords (3.5 feet of cord each)
One shoulder-length sling
One double shoulder-length sling
One triple shoulder-length sling; Dyneema/Spectra/Dynex works better than nylon because because it doesn't absorb as much water and is lighter and less bulky
30 ft of 5-6mm accessory cord
Eight feet of 1/2 inch webbing, attached to your backpack, for hauling the sled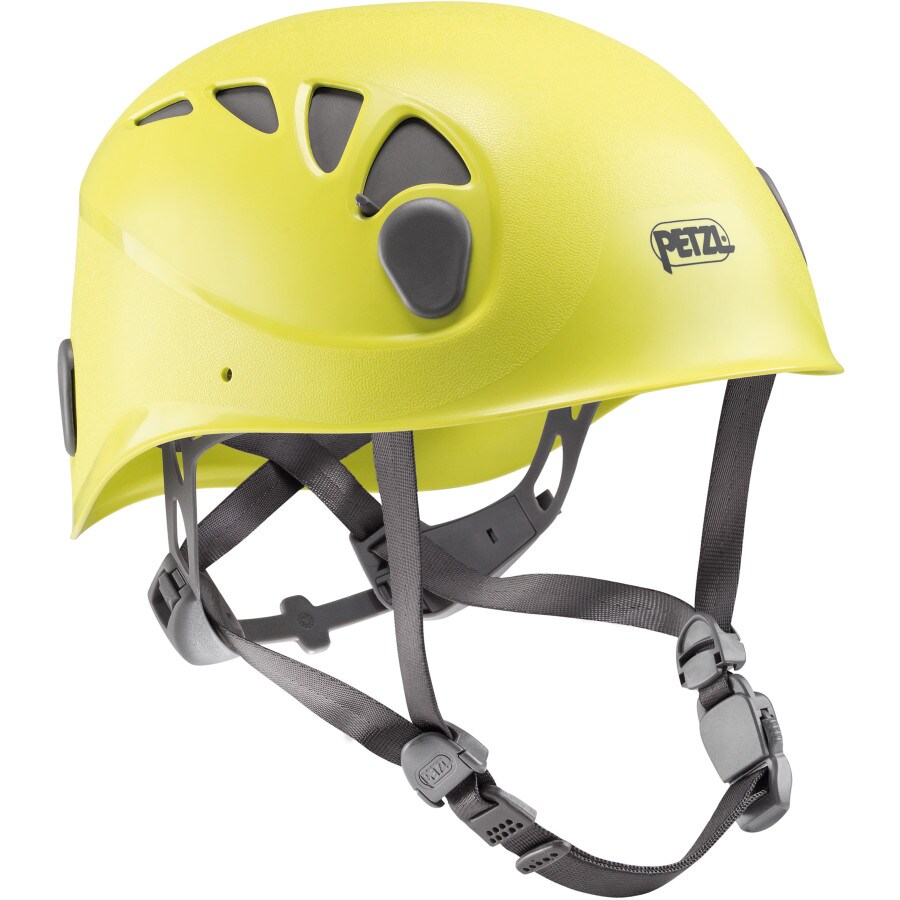 Lightweight Climbing Helmet
The Black Diamond Half Dome or the Petzl Elios are both great general climbing helmets that are very durable. The Black Diamond Vector is a good lighter helmet, though not as long-lasting; keep in mind that the lighter the helmet, the less durable it is for extended use.
12-point Stainless Steel Mountaineering Crampons
The Black Diamond Serac Pro crampons are versatile and durable crampons.
Mountaineering Ice Axe
Shorter is better than longer. If you're shorter than 5ft 6in tall, go with a 55cm axe; shorter than 5ft 10in, 60cm axe; and 5ft 11in or taller, 65cm axe. One with a straight shaft and non-rubberized handle is best for Denali and general non-technical mountaineering objectives.
Trekking Poles
Two trekking poles with snow baskets. Three-section poles are best; the Black Diamond Trail Pro poles are durable and lightweight. You don't need shock absorbers.
Upper-Body Layers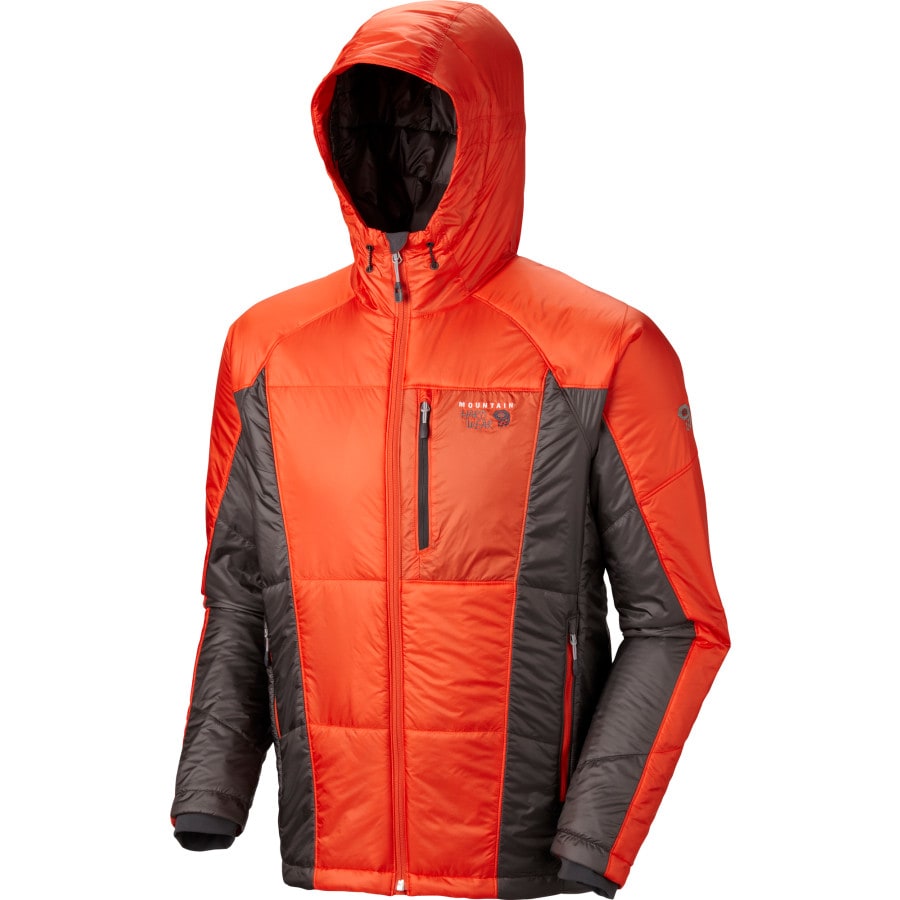 Expedition Puffy Jacket
Down is lighter and more compressible, but it's also more expensive and doesn't insulate when wet. On the other hand, synthetic insulation is heavier, bulkier, and wears out sooner, but it's less expensive and still insulates when wet. Denali is better known as a cold environment, but it can get wet, especially later in the season; for this reason I find synthetic is best for the average climbing months. I use a heavier synthetic and mid-weight synthetic jacket paired together to offer more versatility with my layering system. The Patagonia DAS parka and the Mountain Equipment Citadel are great synthetic puffies; if you're going with a down puffy, the Rab Neutrino Endurance Plus is warm and affordable.
Hardshell Jacket
This technical shell should be lightweight, have a hood, and have minimal bells and whistles. It's useful for the lower glacier later in the season (when rain is more likely) and during strong winds.  Look for a shell with a waterproof rating of 20,000mm or higher.
Softshell Jacket
A midweight hooded softshell is ideal; harness-compatible zippers are a plus, as are minimal bells and whistles. I use the Black Diamond Dawn Patrol LT jacket; other good options include the Rab Stretch Neo, Patagonia Mixed Guide, and Arc'teryx Gamma MX.
Wind Jacket
I use the Patagonia Houdini; it's super lightweight and has no unnecessary pockets.
Midweight Layer or Fleece Jacket
Midweight, without a hood. I use the Patagonia R1 Pullover because it breathes well and provides superior insulation for the weight. The Patagonia R1 hoodie or Arc'teryx Stryka are both great options that have a tight fitting hood, adding valuable protection from the elements.
Two Lightweight Baselayers Tops
For my baselayers I use a loose-fitting hoodie, such as the Patagonia Sun Hoodie, for lower on the glacier, and the Patagonia Capilene 2 higher up as a fresh layer.
Lower-Body Layers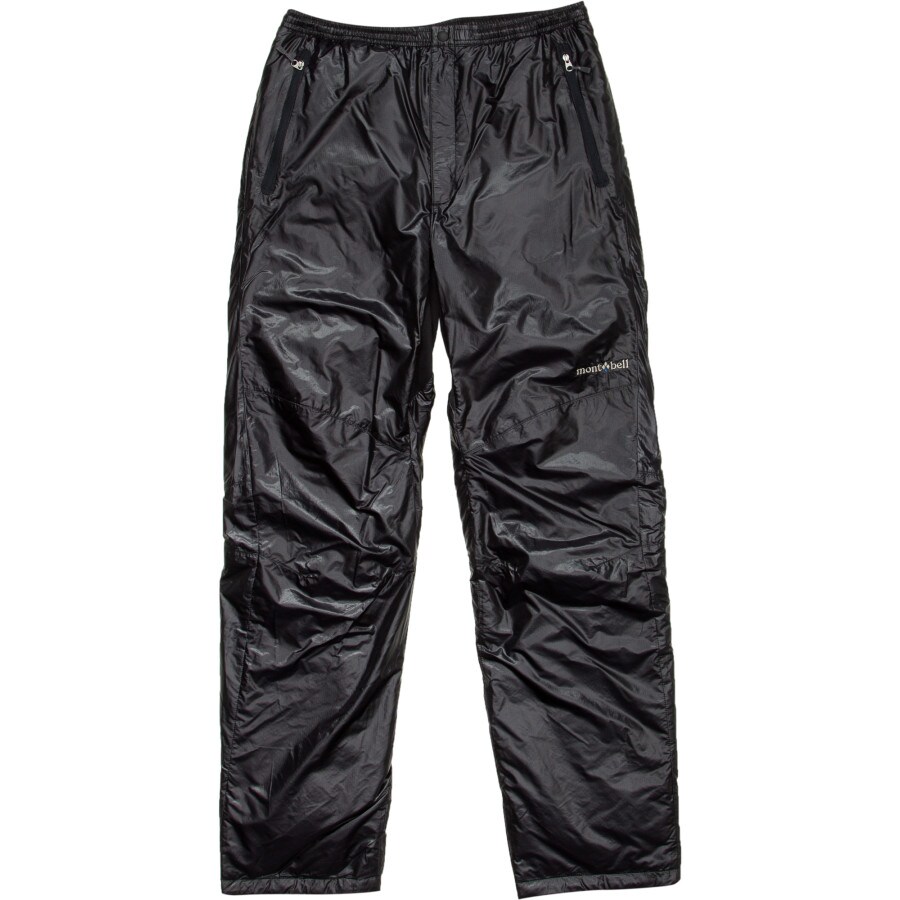 Synthetic Insulated Pants
Keep the pants simple and light. The Patagonia Nano Puff pants, Montbell UL Thermawrap pants, or Mountain Hardwear Compressor pants are all great options.
Hardshell Pants
Again, keep it simple and light for your technical pants; full side-zips are a must.
Softshell Pants
Midweight is best. A thigh pocket and crampon patches on inner calf are nice additions, and an integrated waist belt helps to keep them where they're supposed to be. I prefer the Patagonia Alpine Guide, but other good options include the Black Diamond Dawn Patrol LT or Arc'teryx Gamma MX.
Two Baselayer Bottoms
One should be lightweight and the other should be expedition weight so you can pair them up for additional warmth on summit day. Wool is nice because it doesn't get as stinky, but synthetics will keep you drier. I prefer the Patagonia Capilene 2 for my combo.
Accessories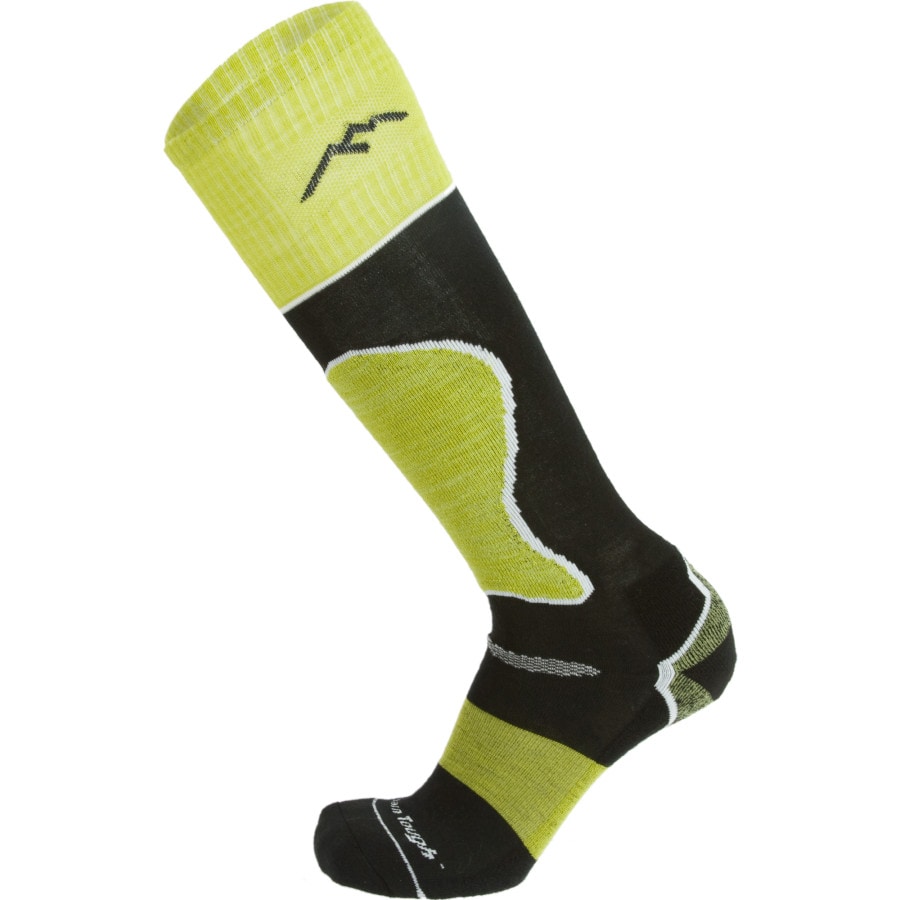 Synthetic Underwear
Two to four pairs should keep you comfortable throughout the trip.
Three Expedition Socks
Warm, dry, and comfortable socks, that's the goal! I recommend Darn Tough Mountaineering socks; they are durable, warm, and come up high on the leg (plus, they're made in Vermont). I don't use liner socks, but if you find them valuable and comfortable you should keep using them; in theory they should help wick the sweat away from your foot and keep you dry.
Buff Headwear
Buffs can be used as a headband, neck gaiter, lightweight balaclava, or face guard for the sun and wind. I bring two and change them out halfway through the climb. They come in lots of funky colors and designs so you can show off your unique personality.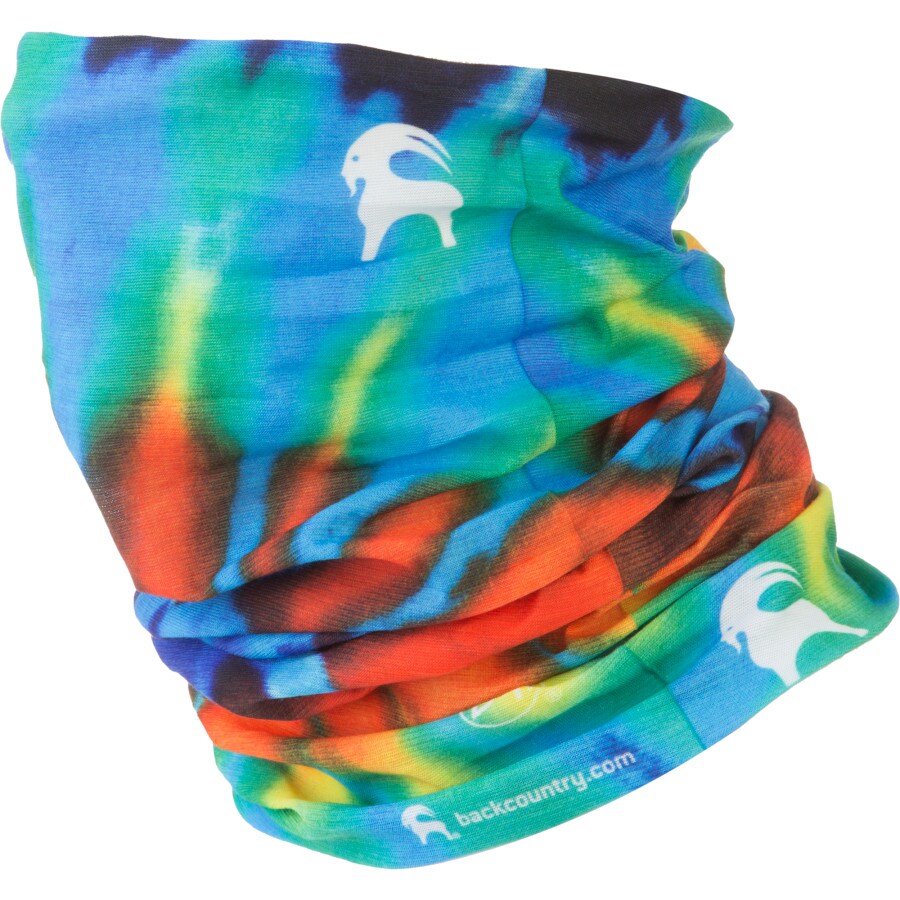 Sun Hat
Can be a simple baseball cap or one like the Outdoor Research Sun Runner, which has an integrated neck cape.
Warm Beanie
The beanie must fit under the climbing helmet; fleece-lined ears are a plus.
Balaclava
There are a lot of balaclava designs out there; find one that fits your face well and doesn't itch or fog your glasses and goggles.
Sunglasses
Glacier glasses with side shields are required; normal sunglasses allow too much light in. If you have prescription glasses, check out Opticus Eyewear; they do a great job with Rx glasses and goggles. Photochromic lenses work well changing the level of light, and usually get dark enough for the brightest days.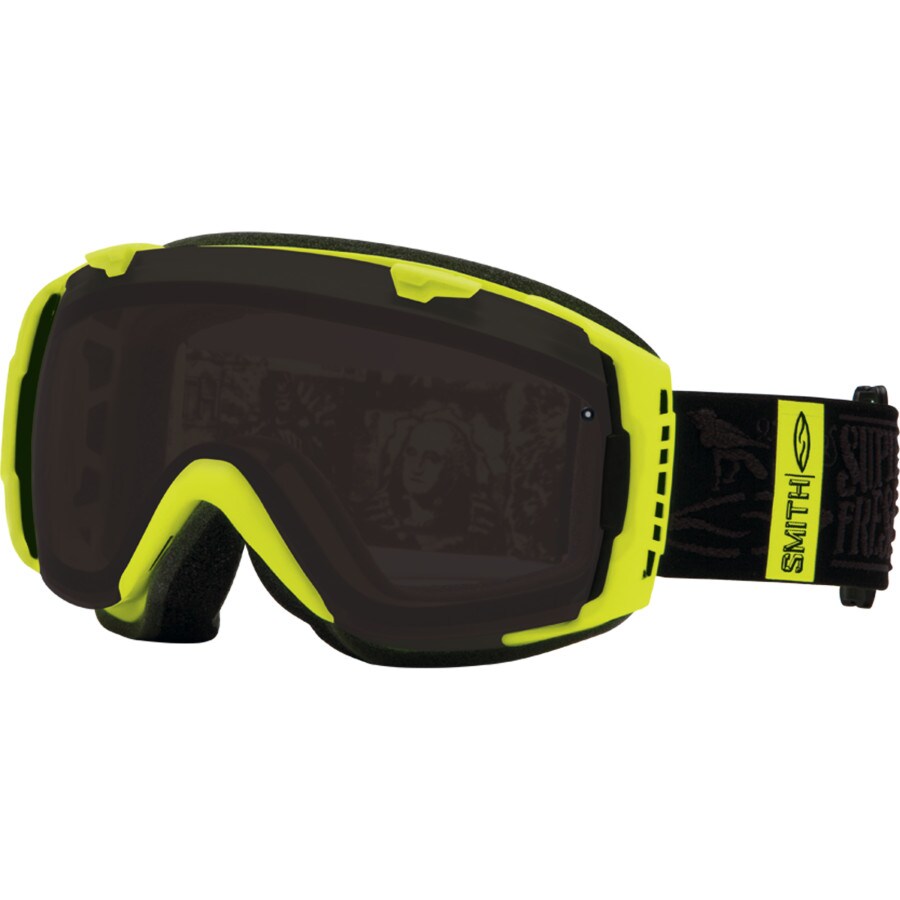 Goggles
Dark lenses are best for your goggles; in addition, they're very useful for keeping your face warm in cold temps and high winds. Consider sewing or gluing a 3-inch strip of spare fleece to the bottom of the goggles to help keep your nose and cheeks warm and your goggles fog-free.
Nose Guard
A flexible foam nose guard helps to protect against the strong sun reflecting off the snow.  Admittedly, it looks a bit dorky, but then again, so does a sunburn.
Lightweight Liner Gloves
Liners are useful inside larger mitts, and for trekking lower down on the glacier.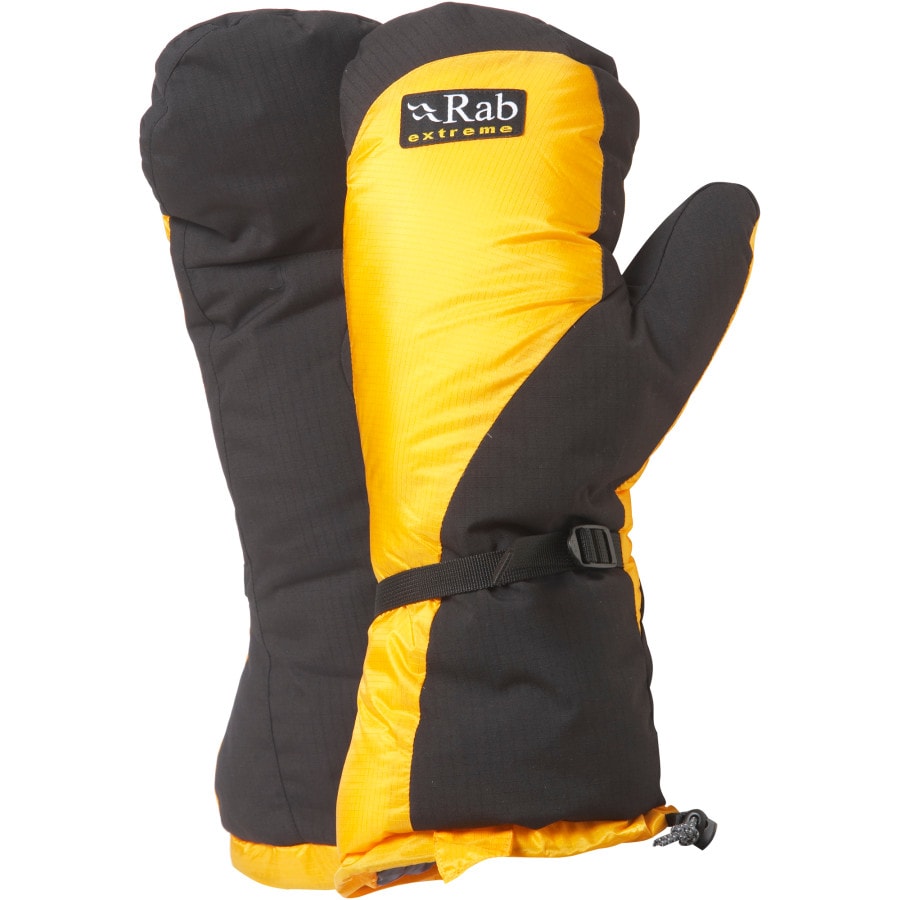 Softshell Climbing Gloves
The gloves should be waterproof, warm, and durable. I bring two pairs, a lightweight glove and warmer, heavier glove. The lightweight glove is useful for handling hot pots and pans while cooking as a guide and doubles as useful lower on the mountain. The heavier pair is useful for colder days and the upper mountain.
Expedition Mittens
Synthetic insulated mittens with a removable liner and wrist leash are recommended. The Black Diamond Absolute mitten or Outdoor Research Alti mitt are both great options.
Footwear
Down or Synthetic Booties
Booties are essential for getting around camp. The Feathered Friends booties have a removable down sock and water-resistant shell, which helps keep them dry as you walk around camp and lets you comfortably sleep with the down socks on. Consider adding a spare closed-cell foam footbed for additional warmth.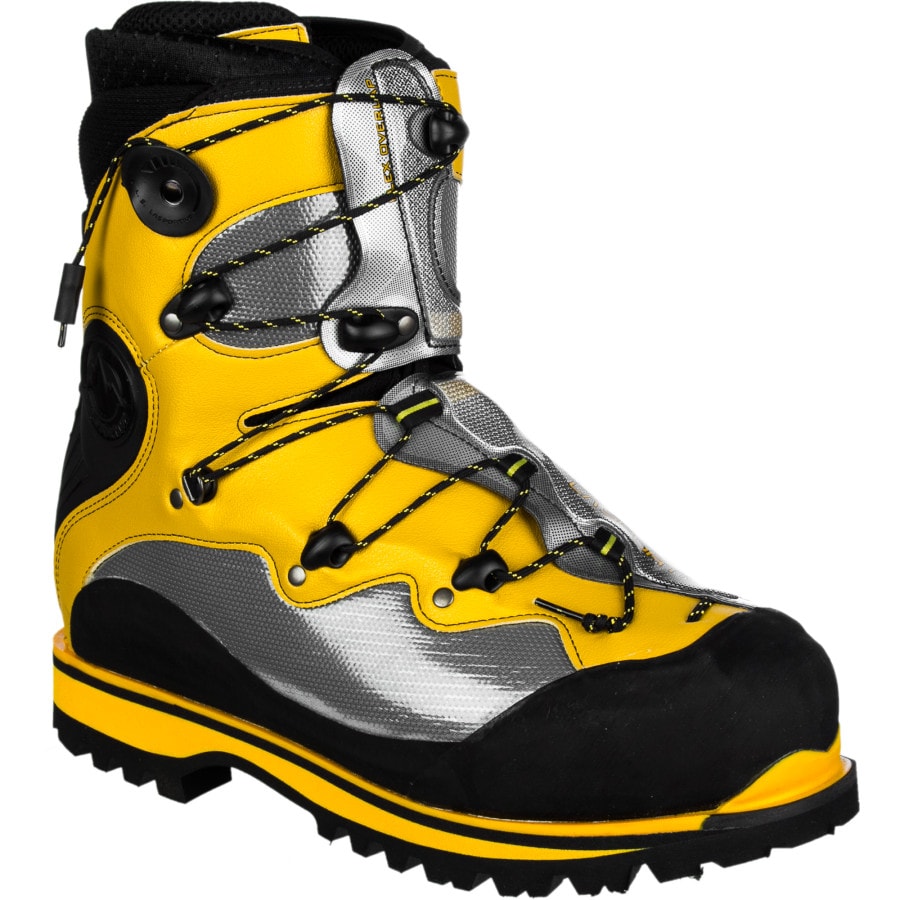 Double Plastic or Synthetic Mountaineering Boots
Synthetic mountaineering boots are warmer, lighter, generally more comfortable, more expensive, and less durable. Plastic boots are heavier, more durable, and less expensive. The high-altitude integrated boot system is the warmest boot system for 8,000-meter peaks and is becoming more popular on Denali; however, it is more expensive and less versatile. I use the La Sportiva Spantiks; other popular options include the Koflach Arctis Expe, Millet Everest, and Scarpa Inverno. For women, or those with narrower feet that tend to get cold, I recommend the La Sportiva Olympus Mons. Consider sizing one full size larger than your street shoe size for additional warmth.
Overboots
The Forty Below overboots are the standard on Denali. If you have the integrated boot system, you do not need overboots.
Gaiters
Though a bit old-fashioned, gaiters do a great job of keeping your lower legs a bit warmer and keeping snow out of boots. I don't use gaiters, and instead thread an elastic cord through eyelets at the cuff of my softshell pants so my pants stay down and keep snow out. This system is lightweight and affordable.
Packing & Sleeping Systems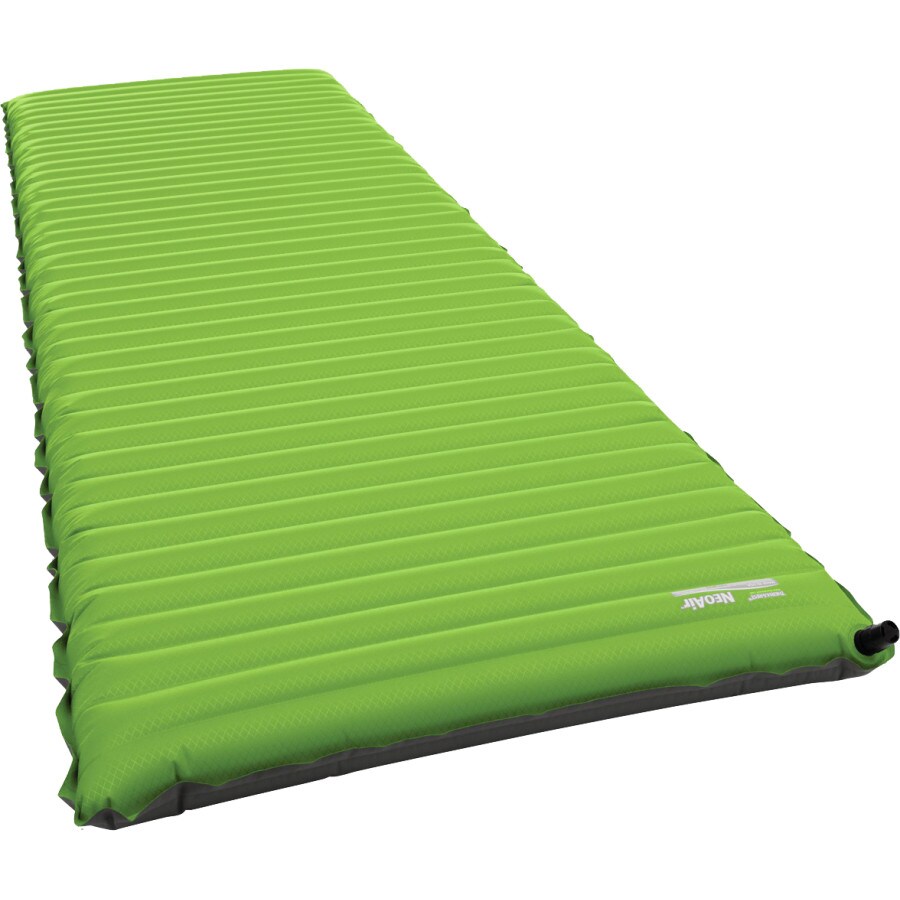 Closed-cell Foam Sleeping Pad
Depending on how warm your sleeping bag combo is, you'll want 3/4 or full length. I recommend the Therm-a-Rest Z Lite.
Inflatable Sleeping Pad
Full-length, comfortable, and lightweight. Newer sleeping pads pack down to about the size of a one-liter water bottle and 4-season pads provide significant warmth insulating you from the frozen ground or snow. I recommend the Therm-a-Rest NeoAir.
Sleeping Bag
It should be rated to at least -20 F; down insulation is recommended for its lightweight and packable properties. I use the Mountain Hardwear Wraith -20, but if you sleep cold check out a bag rated to -40 F. I don't really recommend a liner bag, they don't deliver enough warmth for their weight/space requirements.
Compression Sack
The Sea-to-Summit eVAC Dry Sack does a great job of compression and keeping your bag dry while stored in your backpack.
Expedition Backpack
Get a big and comfortable expedition pack, just make sure it fits your body frame. I use the Cilo Gear 75, but this smaller size can make it challenging to fit everything you need higher on the mountain, unless you're an expert packer. The Black Diamond Mission 75 is another popular smaller size pack. I generally recommend climbers bring larger packs such as the Mountain Hardwear BMG or the Osprey Xenith 105.
Expedition Duffel Bag
Your duffel should be large (150 liters) and long rather than boxy and tall, so it fits better inside a sled. I like the Mountain Hardwear Expedition Duffel Bag or Wild Things Mule, they are lighter and fit a sled better than The North Face Base Camp duffel, although TNF Base Camp is more durable and more water-resistant.
Small Travel Bag
For storing your personal travel clothing and equipment that isn't coming with you on the mountain. A 50-liter pack should do the job.
First Aid
Personal Meds
For pain and stomach ills as recommended (ibuprofen, Tums, etc.)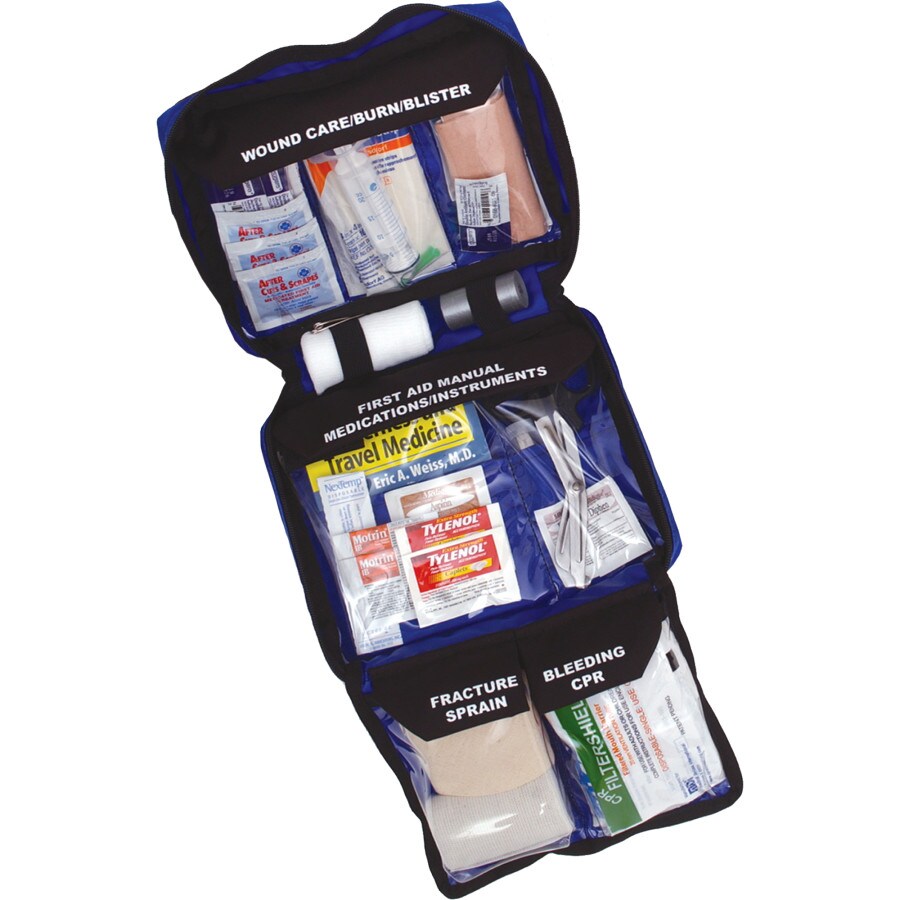 Prescription Meds
Aside from whatever you might take regularly, it's a good idea to carry Acetazolamide/Diamox, 125 or 250 mg tablets for altitude sickness. General antibiotics such as Azithromycin or Ciprofloxacin can be useful, too.
Bandages
Miscellaneous adhesive bandages and a blister kit.
Toiletry Kit
Toothpaste/toothbrush, floss, sunscreen (check out Neutrogena Ultra Sheer), SPF lip balm, one roll of toilet paper, small bottle of hand sanitizer, and contact solution/extra contacts if needed.
Baby Wipes
Your body (and your tent mate) will thank you. Use to clean off sunscreen smear, stinky feet, underarms, and after using the toilet.
Miscellaneous Items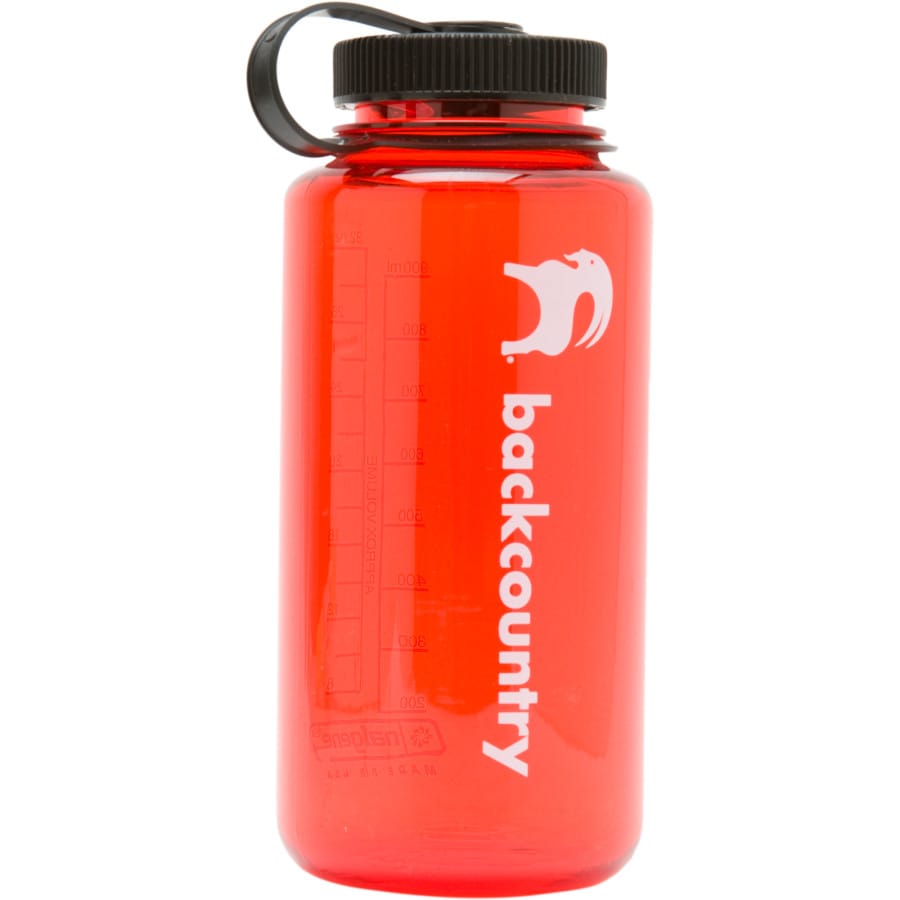 Insulated or Vacuum Bottle
It should have a good seal, stay warm, and have a one-liter capacity. I recommend Zojirushi.
Water Bottles
One-liter and ½-liter bottles will keep you hydrated throughout the day. Nalgene makes lightweight and durable bottles. Avoid hydration bladders and hoses because they freeze or burst.
Insulated Bottle Koozie
40 Below makes a lightweight neoprene koozie.
Bowl and Spoon
Lexan is best for the bowl, make sure the spoon is durable. Light My Fire sporks are popular but also break very easily; check out the MSR folding spoon instead.
Lightweight Insulated Mug
Or you can use your thermos instead.
One Good Book
Paperback and lightweight. If you finish the book before the climb is completed, you may be able to trade with another climber in the team.
Notebook
Rite in the Rain works well in the event that it gets wet. Again, keep it small and light. Bring a pen or pencil, too.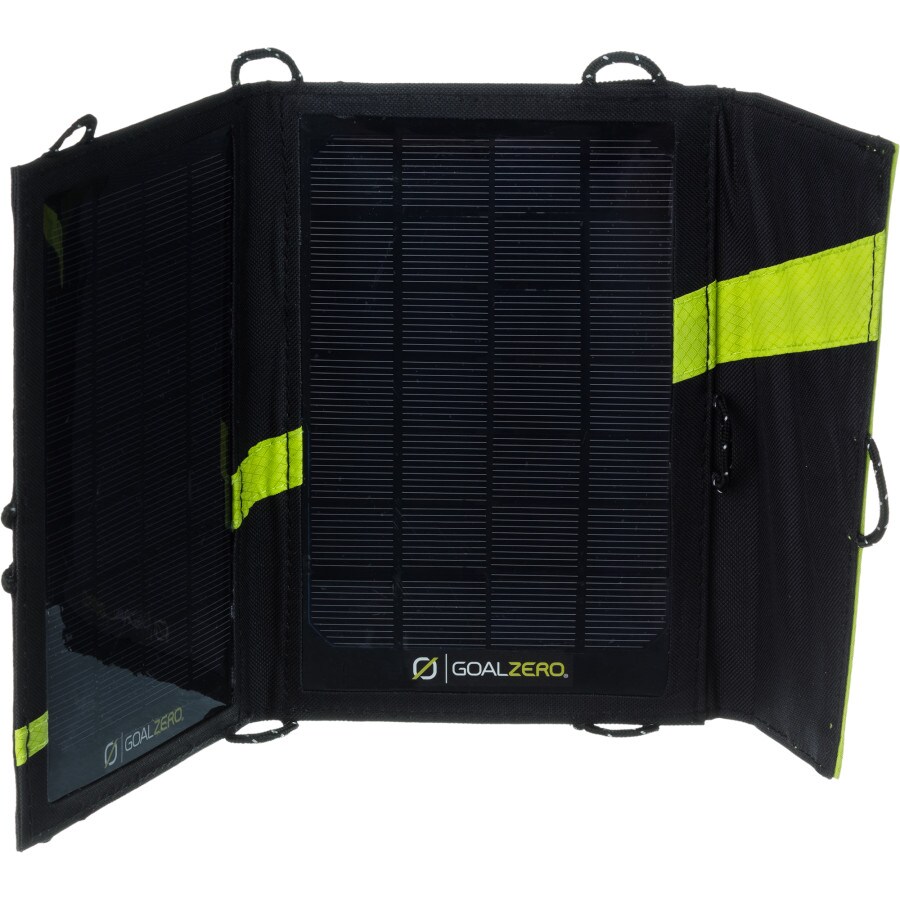 Camera
With modern technology, simple point-and-shoot digital cameras can take fantastic photos without the bulk and weight of an SLR, plus you're more likely to take photos with a smaller and more accessible camera. Make sure you have enough memory on the card.
Solar Charger
The Goal Zero Nomad 7 is a small solar panel that can charge up cameras and iPods.
iPod
Some good music during a storm is comforting and helps you stay motivated.
GPS, Compass, and Map
The Garmin eTrex is a simple and lightweight GPS device to help navigate in poor visibility and mark caches along the route. The TOPO app is also a great program for a smartphone, though it drains the battery quickly.
Repair Kit
10 feet of duct tape, seam seal, small Leatherman multi-tool, and sil-nylon repair tape.
Related
Shop