Truckin': Not Your Usual Family Camp Setup
Brian Tolbert spent 20 years as a self-proclaimed dirtbag, racing bikes and sleeping in trucks or stuffing six dudes into a hotel room. Camping, and life, has changed a bit since then.
Brian, a Backcountry Ambassador, is now the father of four kids, ranging from six months to ten years old. Balancing family togetherness, time outside, and the creature comforts that keep the kids happy is a priority for Brian and his wife, Heather.
During the week, Brian works for a software company, but he still spends his weekends racing. It used to be mountain bikes and triathlons, but now trail running is his sport of choice. He's put up impressive results in recent races, and he desires to pursue his running career but doesn't want to sacrifice time with his wife and kids. So this summer he'll be traveling with his whole family as he hits the race circuit.
He also wants to give his kids a summer spent outside, wants to foster in them a love for the outdoors. This is what's led him to build out his Toyota Tundra into the perfect family-friendly camp machine
"It has to be fun for them," he says of his number one priority for their camp setup. "It has to be a good experience."
Creating the perfect camp setup has been a multi-year process, full of trial, error, and evolution. With four kids, his family has now outgrown their previous Tacoma setup, giving Brian and Heather the opportunity to build their perfect rig from the ground up, starting with a 2017 Toyota Tundra with a cap and rack.
I met Brian at his home in Heber, Utah for the truck build in preparation for his family's first planned outing a week away. His garage is an outdoors-lover's dream: bikes, skis, fly rods, a Honda Trail 90 in the corner, large plastic bins with labels like "camp kitchen" and "sleeping bags."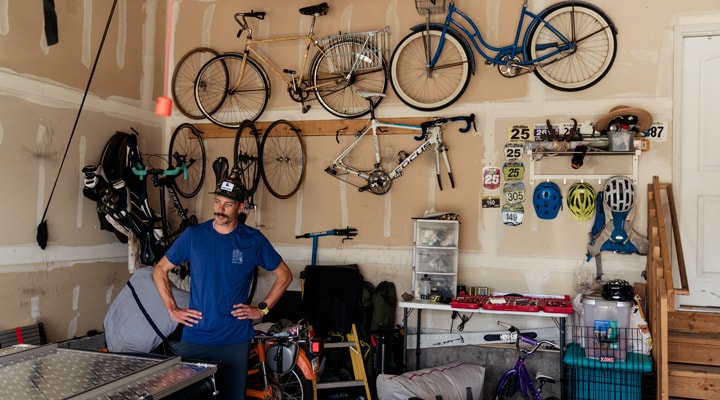 The garage isn't messy, though. Everything has its place. The bins, I'm sure, are packed impeccably. The Tolberts are clearly people who have spent a lot of time dialing in their system.
The Tepui Autana Ruggedized tent goes on first. Brian's clearly thought things through as we hoist it onto the roof. He knows exactly where he wants it: centered over the truck bed, its opening on the driver's side so that he can see exactly how much room he has when backing into tight camp spots. Once folded out, the tent will be huge and its walled annex will allow for two stories of shelter.
It's inevitable that we drop a nut into the grass and can't find it, making a hardware store run necessary. But other than that the installation process is exceptionally smooth.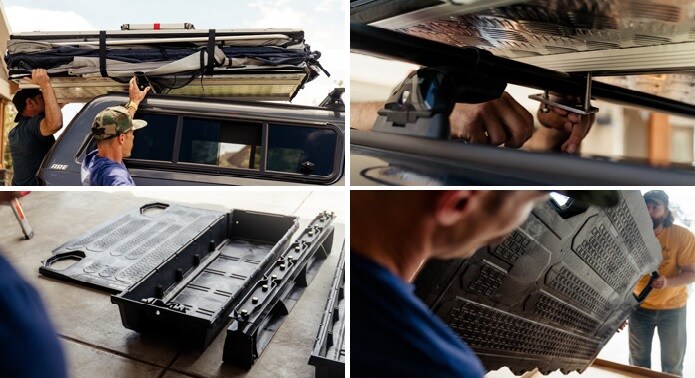 Next is the Decked truck bed system, the drawers of which to be organized depending on the season: a drawer for fly fishing gear will be the ski drawer come winter. Brian and Heather plan to be able to sleep on a pad atop the Decked system, leaving the large tent above them to be "like a tree fort" for the kids. Six-month-old Fisher will sleep in a Pack N Play in the tent's Annex until he's old enough to be up top.
The Tolberts will take the next week to organize other parts of the setup, like a Camp Chef stove, Helinox chairs, and Goalzero recharging kit. They'll also have plenty of sleep options: Marmot sleeping bags, Therm-a-Rest pads, and a Eureka cot.
Brian's spent a lot of time thinking about this setup, getting it absolutely dialed in for his family's needs. He talks about the pros and cons of different setups with precise expertise. He and Heather looked at Sprinter vans and trailers but wanted the versatility of being able to get off the beaten path in ways that a van or trailer cannot. They also knew that whatever vehicle they went with would be a daily driver, so a pickup truck made the most sense. Any camping setup they chose would have to be simple and easy enough for either of them to set up or tear down on their own.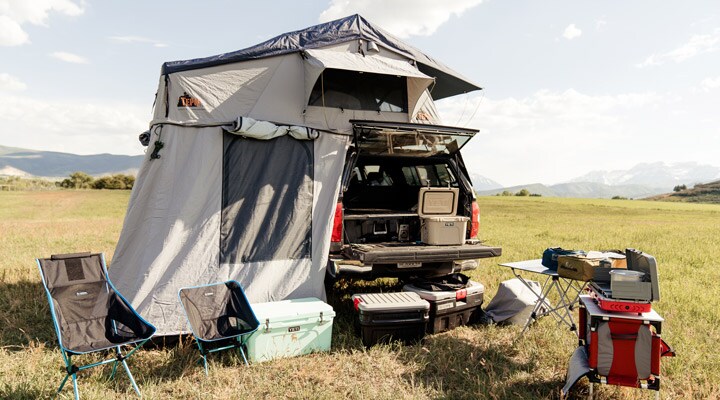 The one con of their chosen camp system, Brian takes in stride: not being able to drive the truck when the tent is set up. He says that this doesn't matter that much. The tent only takes five minutes to put up or take down, and the dirt bike he'll attach to the truck's bumper will allow him to run errands around camp. The versatility of the pickup truck combined with the comforts of the Tepui tent and storage of the Decked system is the best of both worlds, in Brian's opinion.
When his race starts a 4am, Brian certainly isn't going to wake the family to take the truck to the starting line; that's what the Honda is for.
"Half the time it starts—half the time it doesn't," he told me. I didn't ask what happens when it doesn't start, but something tells me he figures it out. Like keeping a 40-year-old dirt bike running, building a camp setup that finds balance between a happy family and time spent outside takes a lot of trial and error. Brian seems to embrace the challenge.
Follow Brian on Instagram @not.quite.lost
Related
Kitchen Setups for Tailgate Camping
Shop
Decked Truck Bed Storage Systems