The Edge of Infinity: Skiing Montana's Beartooths
Skinning through the timber above the creek that leads to Astral Lake in Montana's Absaroka-Beartooth Wilderness, you catch glimpses of mouth-watering pillow lines and wide-open bowls of untracked cold smoke powder.

Film by Greg Cairns / Photos by Elliott Woods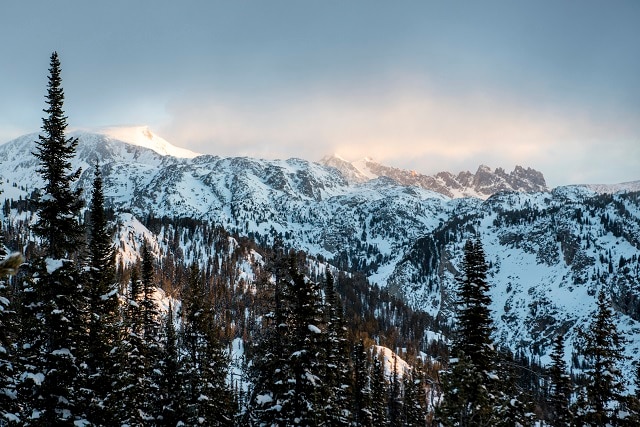 Sunrise over the Beartooths, seen from the Mt. Zimmer Yurt.
You're surrounded on all sides by lines that would make just about anyone want to quit their job and find a dishwashing job in the closest town. The good news—or bad news, if you're seriously considering becoming a dishwasher—is that the closest town, Cooke City, on Yellowstone National Park's northeastern border, only has about five dishwashing jobs. And they're all taken.
The next closest town of any consequence—Cody, Wyoming—is only reachable by a road that isn't plowed until June. Bozeman is three hours away, and while there's a devoted tribe of weekend warriors who make the trip a few times each season, it's too far away from anywhere to attract real pressure. Most of Cooke City's winter tourists are sledders from the prairie states. They make a lot of noise and manage to get themselves buried with alarming frequency, but they mostly stay off the slopes, and they're banned inside the wilderness boundaries.
In the Astral Lake drainage, no matter which way you decide to climb, you'll be in the grip of giddy ecstasy on the way down—avy conditions permitting. It's just one of dozens of zones accessible from the door of Beartooth Powder Guides' Mount Zimmer Yurt, a cozy backcountry hideaway seven miles northeast of Cooke City.
The 20-foot diameter yurt is perched above Companion Lake, at an elevation of 9,500 feet. It sleeps six and has a full kitchen, a solar-powered LED light system, and a wood stove that warms the place in minutes. To get to the yurt, you can skin from town or use sleds to tow in your group. If you're lacking in the sled and toboggan department, Beartooth Powder Guides offers gear hauls and tows for a fee. You can also pay them to haul your gear if you want to prove your grit by making the trek on foot, but don't feel like dragging a few days worth of beer and bacon behind you.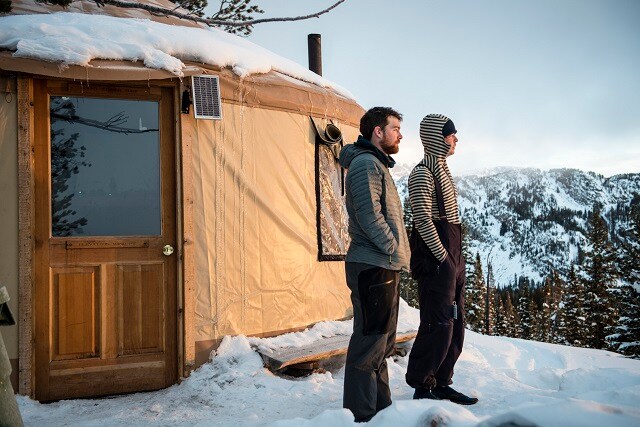 Greg Cairns, left, and David May, right, watching the sunrise from the Mt. Zimmer Yurt.
With a snow machine for access, you're in serious business. Several shops in town rent them if you don't own one. Beartooth Powder Guides also offers fully guided and catered hut trips for a daily fee of $240 per person, which includes snowmobile tows. All you need to bring is a sleeping bag and your ski and avalanche safety gear. The Mt. Zimmer Yurt is a launchpad to groomed trails that open up thousands of acres of terrain on the southern edge of the Beartooth Range—the glacial plateau that boasts lush glades, endless moraines, and ski-mountaineering objectives that promise gut-checks for the surliest backcountry explorers.
The amount of terrain accessible from Cooke City is infinite. It's the biggest backcountry zone in the lower forty-eight states, and its network of sled trails make it more accessible—and substantially less expensive—than heliskiing in Alaska or British Columbia. You could devote many seasons to exploring the Beartooths without coming close to exhausting their potential.
Beartooth Powder Guides sells an annotated map of all the zones accessible from Cooke City. But with such a dizzying array of terrain and limited time, deciding on the day's objective can send a group of ski buddies into thumb-sucking paralysis—or worse, outright mutiny. It can also lead to a long slog in the woods, looking for a place to put up a safe skin track and rip down something that won't slide or get you swallowed by a cavity between house-sized boulders, especially in the early season when the snowpack can be dodgy and variable. I'm not saying this happened to my group on our first day, but, you know … something to keep in mind.
On the second day of our trip, we were smart enough to arrange for a guide. We rose early and filled our bellies with egg and elk sausage burritos, anticipating a lot of legwork. Allen Steckmest, our guide, showed up at 7:30 and gave us a quick map orientation of the day's objective—Goose Lake, a moraine skiing zone inside the Absaroka-Beartooth Wilderness boundary. With two sleds and tow ropes, we reached the wilderness boundary three miles away in no time, and with fresh legs.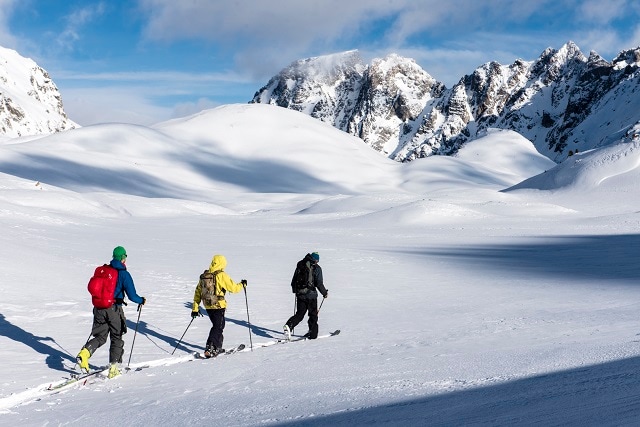 John Trousdale and David May skin behind Beartooth Powder Guides backcountry ski guide Allen Steckmest in the Goose Lake basin. The "goosebumps" are visible on the horizon.
We strapped on our skins and made our way over the boundary, into the Goose Lake basin. Standing on the lake's frozen surface, I felt a bit like a bug on a windshield. The expanse of the lake and the moraine around it, flanked by two-thousand-foot walls of granite, makes one inclined to ponder oblivion, but in a good way.
Our mission for the day was to make our way clockwise around the lake, skiing the "goosebumps" around the periphery—treeless hills offering safe skinning and a few hundred feet of low-angle powder turns. The big mountain lines were out of the question because of the early season avalanche conditions, but we had our hands full following the sun around the lake. We were also pressed to keep up with Allen, who is as fast on the way uphill as he is patient at the top. There are considerable health benefits, it seems, to putting in seventy backcountry guiding days a year.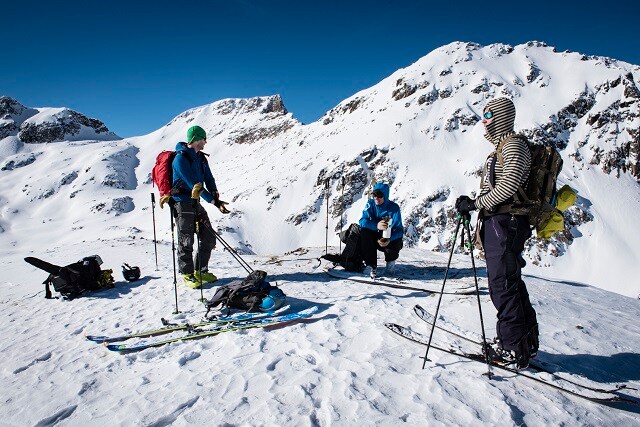 David May, right, guide Allen Steckmest, center, and John Trousdale, left, taking a break above Goose Lake.
The big mountain couloirs and ski-mountaineering lines around Goose Lake would make for some sultry ski porn if helicopters and drones weren't prohibited in the wilderness. Beartooth Powder Guides can lead you to any of them. April is prime time for big-mountain skiing in the Beartooths—by then, the snowpack has settled enough to make forty-degree descents something other than suicidal.
On the subject of suicide prevention, Beartooth Powder Guides also offers a slate of mountain safety courses throughout the operating season, which runs from December to May. The Beartooth Powder University offers the Avalanche 1 certification course and a backcountry skills course based out of the company's Woody Creek Cabin, and a four-day ski-mountaineering course based out of the Mt. Zimmer Yurt. The cost of the ski-mountaineering course is $795, including lodging, transportation to the yurt, and food. It ends up being about the same cost as the catered Mt. Zimmer Yurt package, but you get to push your mountain skills, and the pucker factor, to new levels.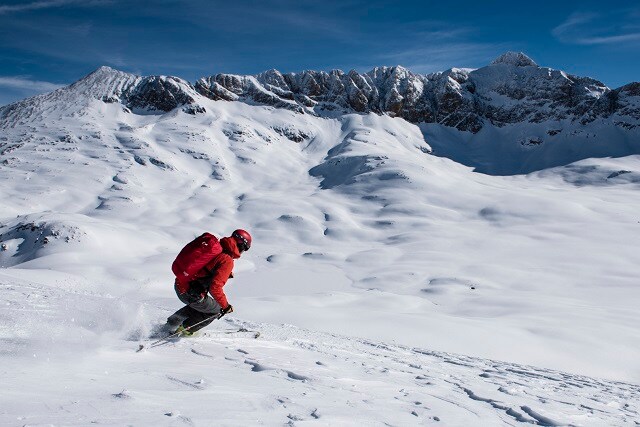 John Trousdale descends towards Goose Lake.
Allen dragged us up and down the goosebumps until our legs were as weak as the late afternoon sun. The late January snow conditions were less than ideal, but Allen managed to deliver flowing descents and powder turns that would put a smile on anyone's face. Back at the yurt, with the soft light of a winter sunset painting the distant peaks in a warm glow, and hot toddies in hand, we were already making plans for April.
Related