The Art of Tarp: Camping with Minimalist Shelters
My first experience with a center pole tent left me running through the sagebrush in the black of night with my three other tent-mates, all of us in our bare feet and underwear.  It was not a good first impression, and it took me a decade to forgive and forget before I finally saw the light.
Center pole tents, also known as single-pole tents, and more commonly called megamids, mids or pyramids, have been around since the cave man and are one of the oldest designs out there. In theory, they are only two parts – a pole and the tarp, but if you find a tree or rock to hang them from, you can even do away with the pole.  In reality, you need a few more things, like tent stakes and some tie-down accessory cord, and most importantly, some tent-erecting skills.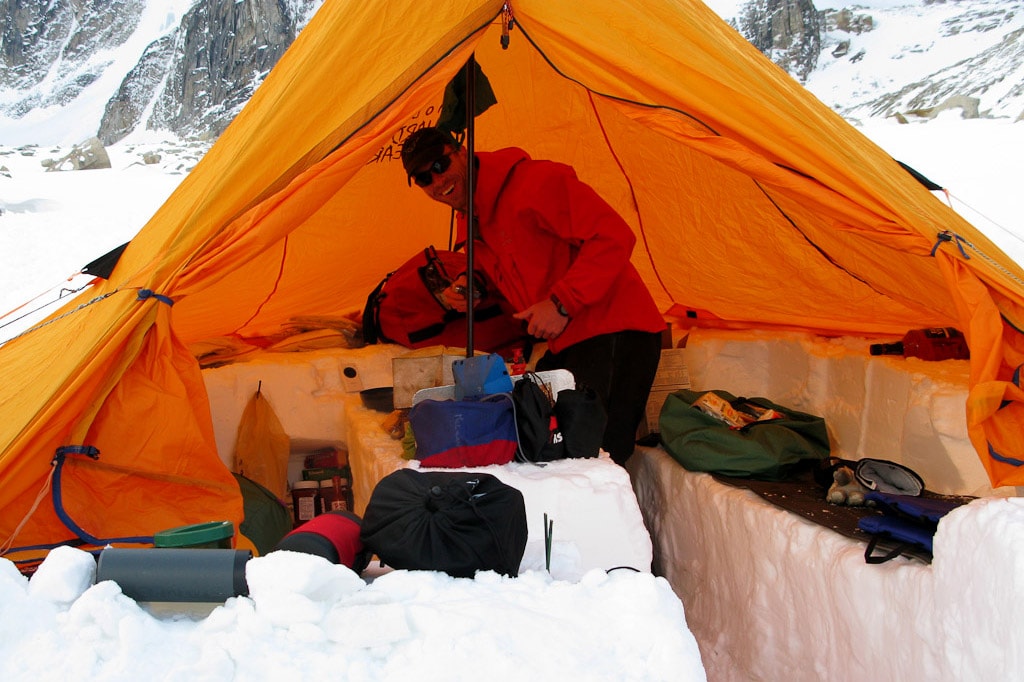 A tarp, a pole, and a ton of gear.
In the modern day outdoor world, the Megamid from Black Diamond Equipment has become a time-honored design classic.  The current version has evolved into the "Mega Light" which is a silnylon version, but the concept is the same.  For comparison, this tent costs and weighs roughly one-fourth of what a "regular" four-person tent does.
As a bit of trivia, the Megamid was developed almost 30 years ago by Peter Metcalf. He's now the CEO of Black Diamond Equipment, but at the time he was working with Chouinard Equipment.  Peter, an avid climber and alpinist, liked doing remote climbs, and between all of the climbing gear, ropes, camping gear, etc., he was looking for a lightweight tent to ease the load and increase his speed.  Nothing was available at the time, but during one trip with a safe-looking weather forecast, he ended up just taking the fly off of a double-wall tent and found out that it worked great. One trip led to another, and it eventually became the first Chouinard Equipment tent.  The original design was called the "Pyramid" for obvious reasons, but when a larger four-person version was created, it became the Mega-mid.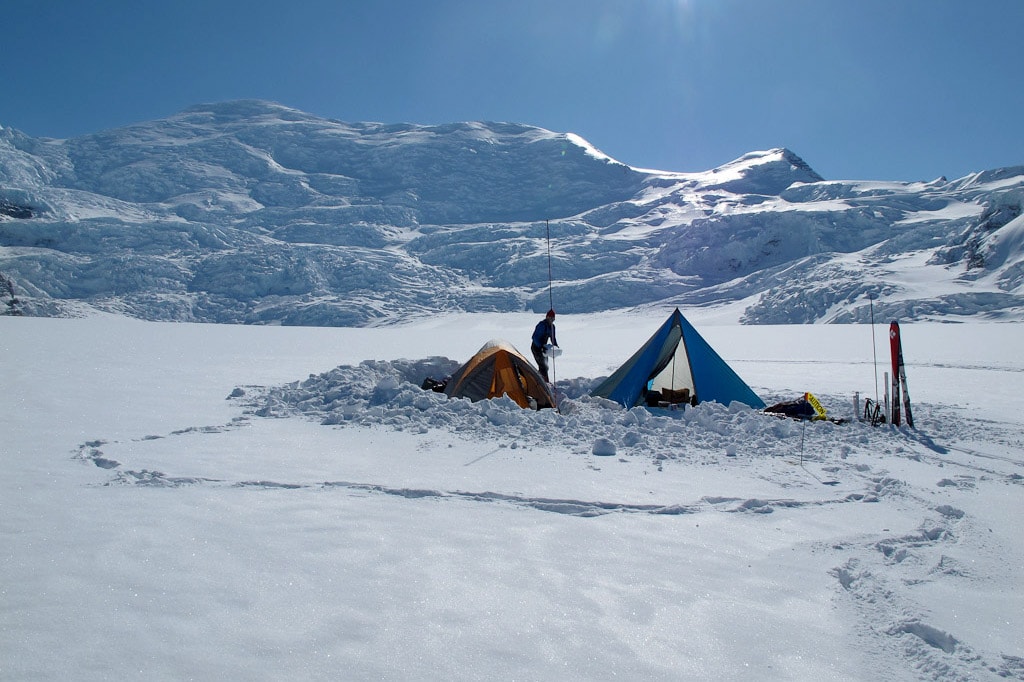 The quintessential Black Diamond Megamid, aka Pyramid, aka Mega Light.
This design has endured for decades.
While pyramid-style tents never gained mass acceptance, they did have a group of rabid early-adapter enthusiasts in outdoor schools like NOLS. In some of these programs, tents were prohibited but tarps were allowed, and while it seems like semantics, a center-pole tent is nothing more than a shaped tarp. Even without a tent pole, it was easy to find a suitable stick or tie the tarp off to a tree branch, and with enough practice (which many of the instructors got with 14+ day outings), a die-hard cult of "tarp" tent users started to develop. Like clipless pedals for a bike or Dynafit bindings for skiing, it often takes two to four outings to get use to the design, but once you do, you'll have a hard time going back.
Tarp-Pitching Tips
The light weight and low cost of a pyramid tent comes at the expense of having to learn some campcraft, which is a good thing in itself. Unlike free-standing tents, you can't just throw them up and expect them to withstand anything but perfect weather.
Site Location
Not having a floor is great for cooking and camping with dogs, but it also means you will get wet if you camp in a flood plain. Ridgetops are generally too windy and flat meadows, while beautiful, don't drain water. Look for high ground, but not too high. The center pole can be moved around to accommodate a sloping site (or give you more useable room), but obviously, the flatter the better.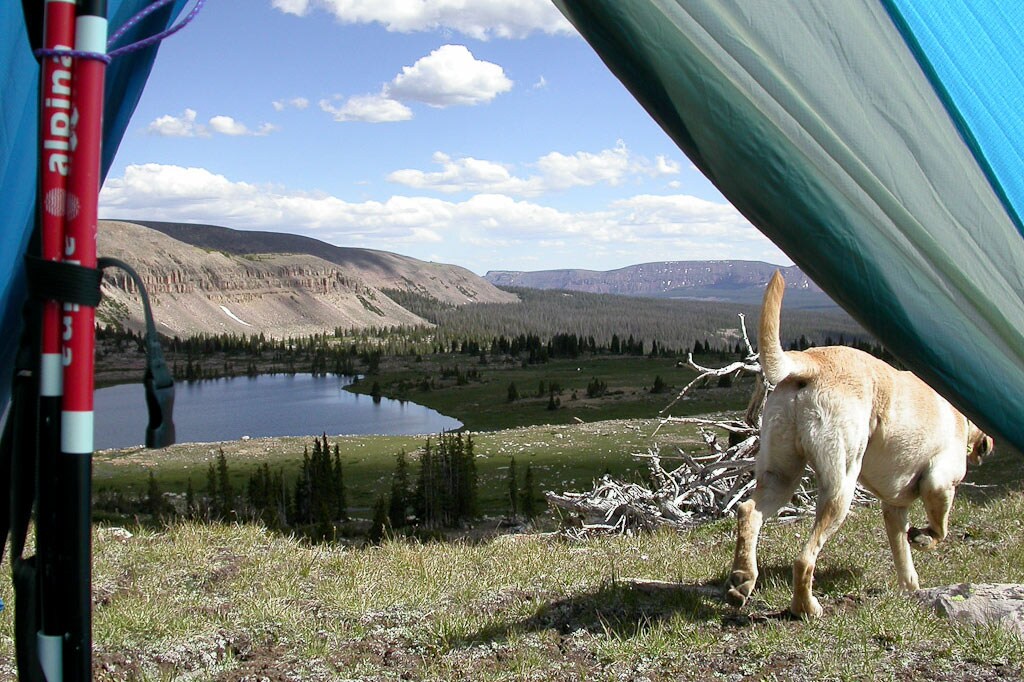 Not too high, not too low. Setting up in just the right spot.
Anchors
Unlike free-standing tents, center pole tents rely almost exclusively on building good anchors around the edges and especially on the corners. Aluminum tent stakes are useful for this and the high-quality 7075 T-6 aluminum versions are worthwhile, as they don't bend and break. Whittling sturdy stakes out of sticks also works well, and in the winter burying a small horizontal "T-stake" anchor, fabric anchor, or snow filled stuff sack will do it.  Our episode of chasing the tent through the sagebrush in our underwear came about when we tried to simply stack small rocks on the corners for anchors and were then hit by a gust of wind. Anchors are key to center-pole tent success.
With the right anchors, tarp tents are capable of withstanding almost any storm.
Center Poles
Even though they are so simple and basic, the aluminum or carbon fiber center poles are often the most expensive component of a tent as they have to be made of high quality material which is strong enough to withstand all of the bending and compression forces. But to save even more weight, trekking poles, paddles, skis, or even a stick can make do as well.  If possible, hanging the tent from a tree or rigging it up between boulders is better yet as it gives you even more useable space inside.
Tie-down points
Many center pole tents come with tie-off loops midway up the tarp. While guying these off to the ground doesn't do much good, if you can tie them off higher to a ski, snow wall or a tree, they will greatly increase the wind resistance and also give you more useable interior room.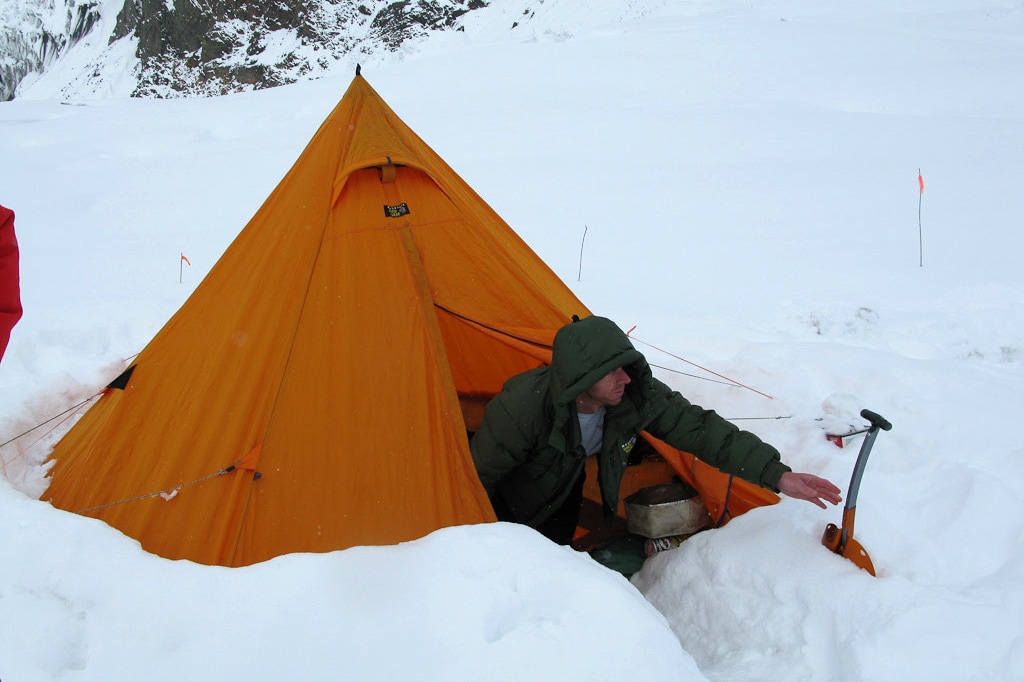 Try to get the midpoint tie-offs as high as possible.
Pad the top in high winds
One of the beauties of center-pole tents is that they will generally fall over and/or collapse in extreme conditions rather than exploding and breaking poles like a free-standing tent will. But, if you've created five-star bomber anchors and it gets really windy, it is possible to drive the center pole right through the top of the tent.  In this case, when it starts to get windy, pull the pole down and pad the top of it with a folded glove or something that will help keep the pole from punching through.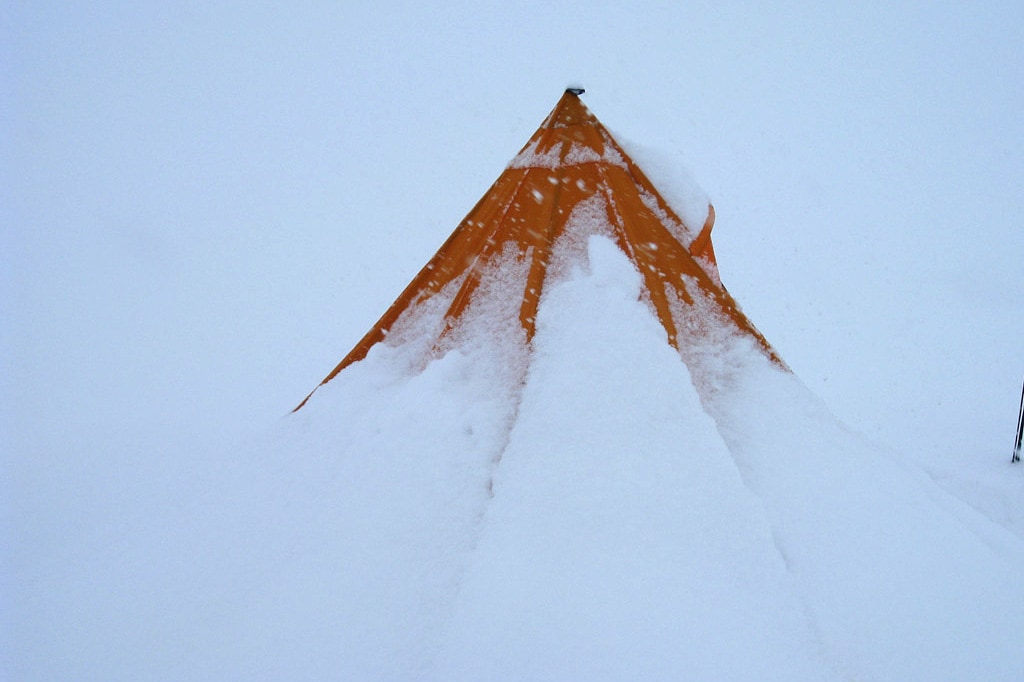 A well-rigged tarp tent can withstand major storms. If it gets too windy or too much snow,
pad the top of the center pole to keep it from being driven through the tarp.
Put the door to the lee of the wind
This is a good practice in general when setting up any tent, but try to place the door in the lee of the prevailing wind. If the door is facing the wind, the whole thing can instantly inflate like a hot air balloon when it is opened.
Don't stake it out too tight before erecting it
The ease of setting up a center pole tent varies by the model, but in general, avoid the temptation to stretch the footprint as tight as a trampoline before inserting the center pole. Not too tight, not too loose …  just right.  If the footprint is too tight it makes it hard to get the wall tight as well. I generally tack my tents down, erect the center pole and then finish off the perimeter anchors. This gets easier with practice.
Don't yard on the zipper
Another generic good tentkeeping tip, but avoid the temptation to grab the lower edge of the door fabric and pull on it to open the door. It will work for a while, but it is very hard on the zipper and when the zipper blows… yer hosed. Use the zipper pulls.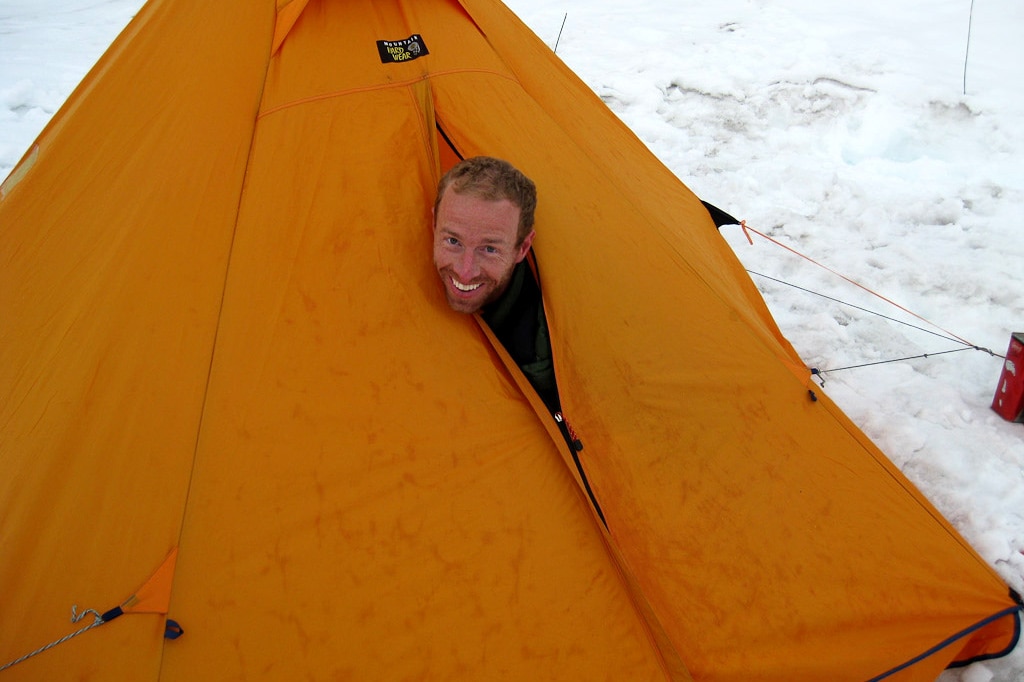 Zippers are often the first failure point on tarp tents.Treat them with care and caution.
Styles & Models
Due to the simplicity of the design, center pole tents are made by a wide variety of manufacturers ranging from mass market to the most core of the hardcore. I have personal experience with several different designs, but there are many others available as well.
Black Diamond Mega Light
The Mega Light is the latest version of the original, stripped-down classic. Four sides, easy to erect, very lightweight, well designed and well built. This is a four person tent, but it also works perfectly for two people and tons of gear, or a dog. The square footprint makes good use of the space as well as making it faster and easier to set up.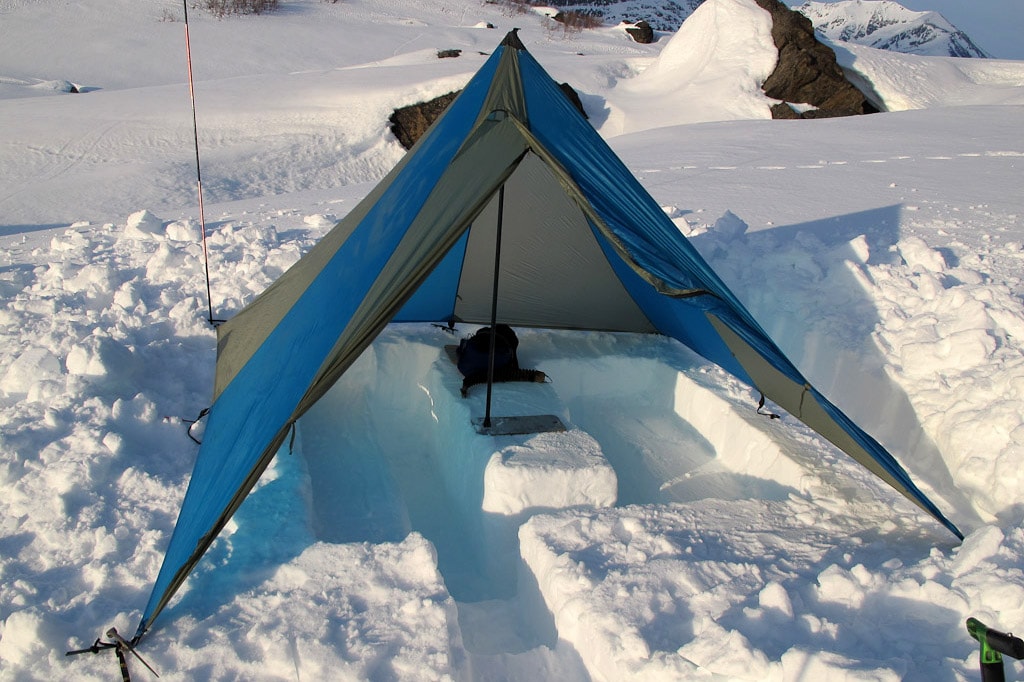 The classic BD Mega Light set up as a winter cooking tent.
Black Diamond Beta Light
The Beta Light This is a two person "tarp" tent which is designed to be used with skiing or trekking poles.  Also small enough to fit in your pocket, yet roomy enough for two and some gear once it is set up. It's more of a trekking and lightweight ski touring tent.
Mountain Hardwear Hoopster
The Mountain Hardwear Hoopster and its little brother, the Hoopla, add a new twist to an old idea by adding a 'Trussring' support to the upper part of the tent, which effectively holds the sidewalls out and gives you more headroom.  This adds a bit of complexity and weight, but if you are setting it up as a basecamp tent, it more than makes up for it.  The circular design also adds quite a bit of storage room around the perimeter.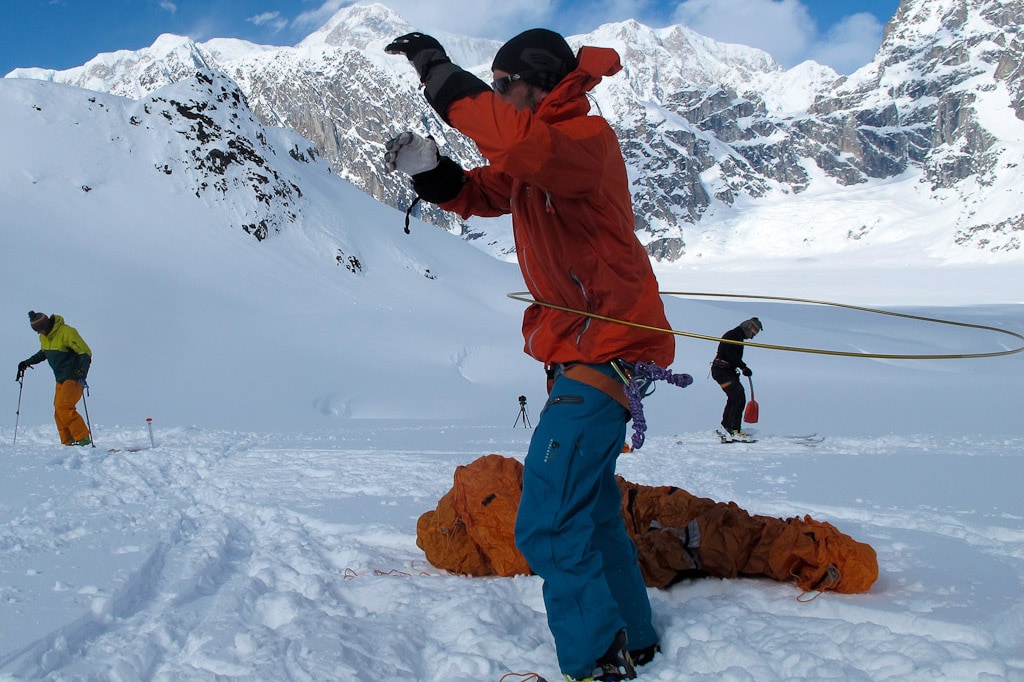 Noah Howell finds an alternative use for the Hoopster Trussring.
In the end, running blindly through the sagebrush in my underwear was a small price to pay on the path to center-pole tent enlightenment. They may not be the easiest tents to set up or the most secure in every condition, but for the majority of outdoor overnight experiences, they are not only lighter and less expensive, but they make you a better camper at the same time.
Related
Shop