How to Choose Waterproof Outerwear
Looking for a ski or snowboard jacket, a technical shell, or a rain jacket? Here's a guide to waterproof jackets and pants, including features to look for and features to avoid.
What's Covered:
Ski/Snowboard Jackets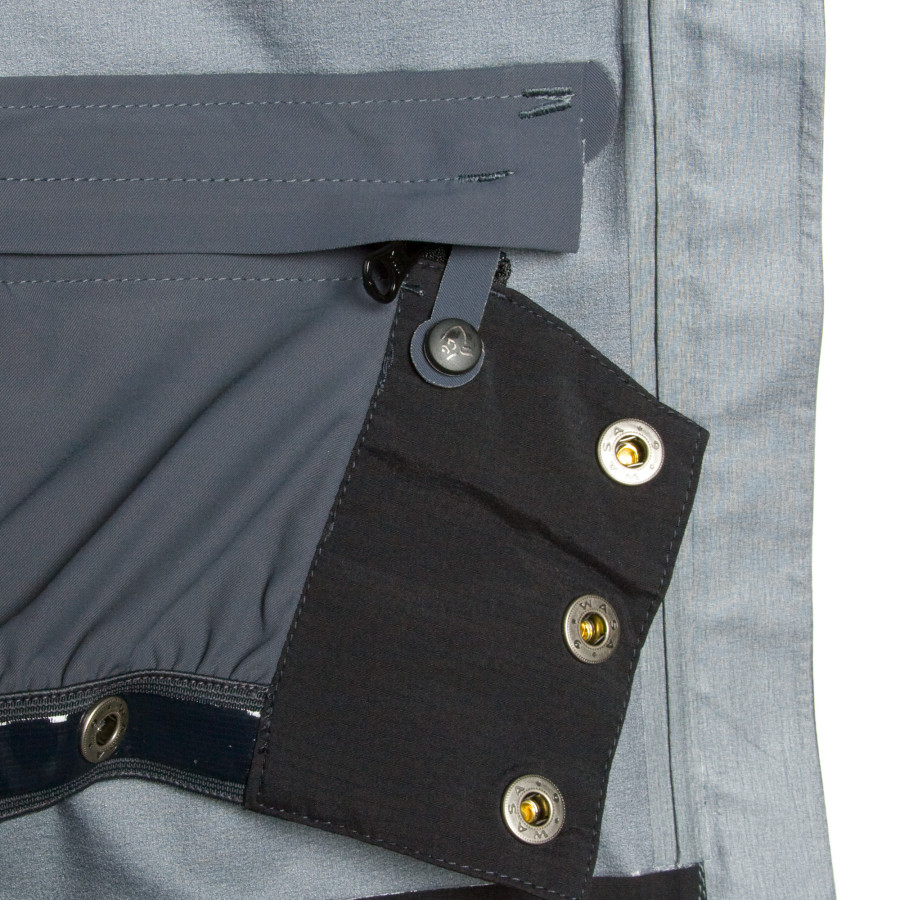 Key Features: In a broad sense, anything with a powder skirt can be considered a ski or snowboard jacket, as that's really the only unifying feature. Powder skirts are pretty key, because whether you're riding deep powder or just experiencing a particularly nasty crash, snow is always trying to find its way up into your jacket.
Optional Features: While hoods are pretty standard, many jackets come with removable hoods, and some have no hood at all, since so many skiers and snowboarders wear helmets. When you're stuck on the chairlift in 0-degree temps with a 20mph cross wind, however, you'll appreciate a big, helmet-compatible hood. Other optional features include Recco reflectors, under-arm zips for ventilation, and a whole slew of pockets for things like iPods, passes, goggles, hand warmers, or anything else you might want to carry in your jacket.
Insulation: Insulation runs the range from none at all to as much as you could possibly want. Non-insulated jackets are a bit more versatile since you can add or remove layers to match the temperature, but well-insulated jackets are easier when you just want to throw on your jacket and go.
Fit: Fit runs from super slim to large enough to fit two of you. It's a matter of personal preference, but most people run at least slightly on the loose side, since total freedom of movement is more important than anything else. If you enjoying putting your pants on with a shoe horn, on the other hand, you may want something a bit slimmer.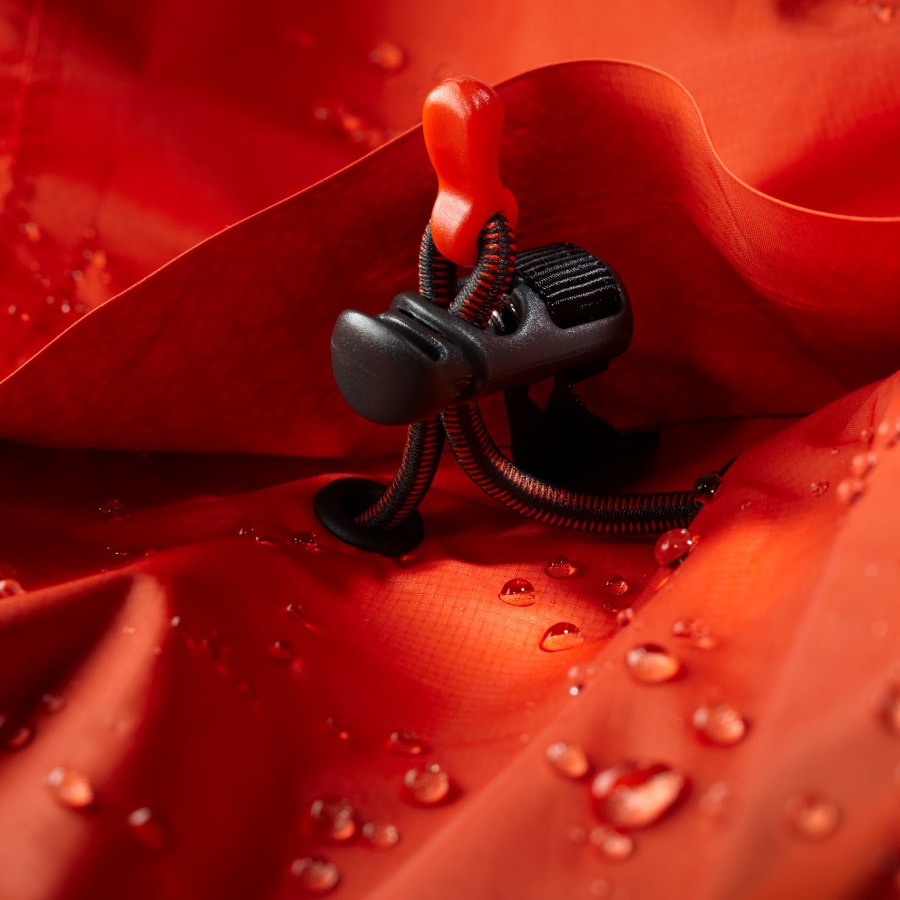 Fabric Ratings: Fabric waterproof and breathability ratings are all over the place in ski/snowboard jackets because of the wide variety of potential users. Someone who goes to the hill a couple times a year probably doesn't need to spend the extra dough on high fabric ratings and seam taping technology. On the other hand, a person who rides 100+ days each season and lives in the Northwest better have a bomber shell made of some serious fabric with fully taped seams. Most people fall somewhere between, so think hard about the type of weather you'll be encountering and buy a jacket with the ratings and seam taping to match your needs. It's generally better to err on the side of overkill than spend your days drenched to the bone.
Shop Ski Jackets
Shop Snowboard Jackets
Technical Shells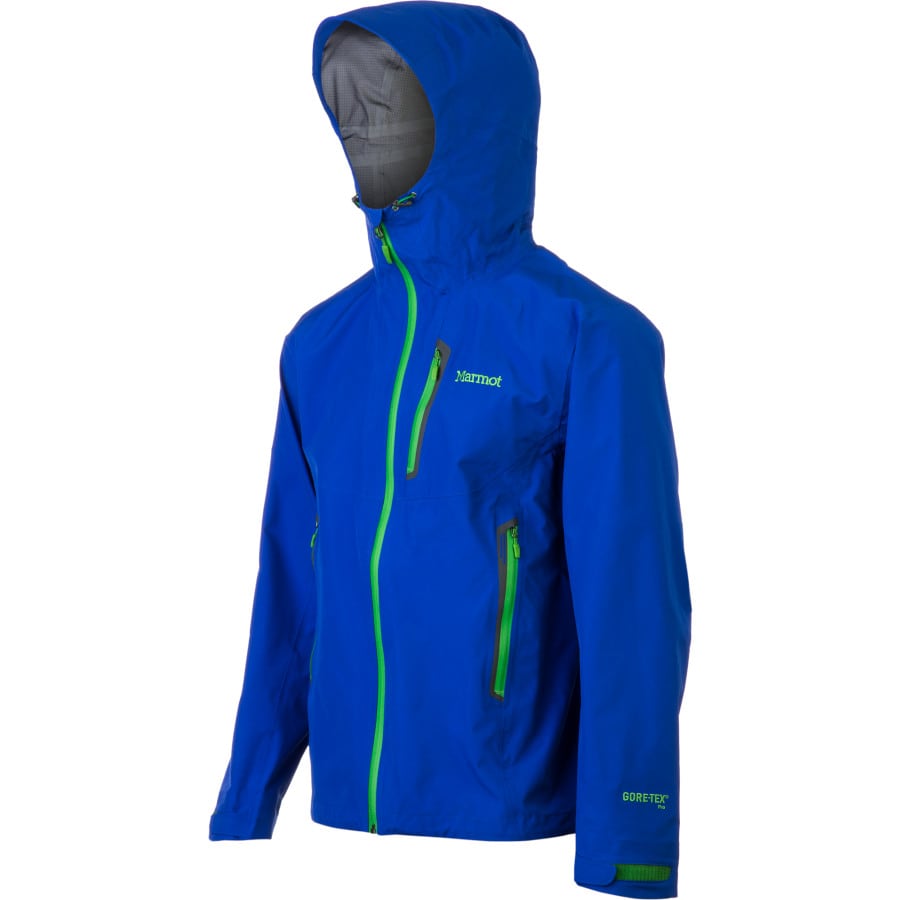 Key Features: If ski/snowboard jackets are for going down, then technical shells are for going up. Basically, these are the jackets you wear when you're also wearing crampons. While they may look similar to ski/snowboard jackets, they won't have powder skirts because they need a clean waistline that fits comfortably under a climbing harness. Hoods are essential, and one that fits over a helmet is also necessary for ice or alpine climbing.
Insulation: These jackets are generally non-insulated, but some models do come with lightweight insulation for use in extremely cold climates. Remember, you'll be climbing, or at the very least, hiking up hill while wearing this jacket, so your body will be warmer than it will be when its sitting on a chairlift. Accordingly, most of these jackets come with some kind of venting system to help you air out when the trail breaking gets really out of hand.
Fit: These jackets tend to have a slimmer more "athletic" fit than ski/snowboard jackets as they're generally worn under backpacks and climbing harnesses where a baggy fit would just get in the way.
Fabric Ratings: Waterproof ratings will generally be pretty stout, since these jackets are designed to be worn high in the mountains and need to withstand the nastiest weather out there. If you wouldn't wear this jacket in the shower while your friend throws snowballs at you, then it's not waterproof enough.
Optional Features: These jackets tend to have a few pockets, but not too many, since you'll usually have a backpack as well. A very high front collar, one that goes all the way to your nose, can be really nice in nasty weather. If your zippers don't already have some pretty big pull-tabs, add them. You need to be able to run all of your zippers with gloves.
Rain Jackets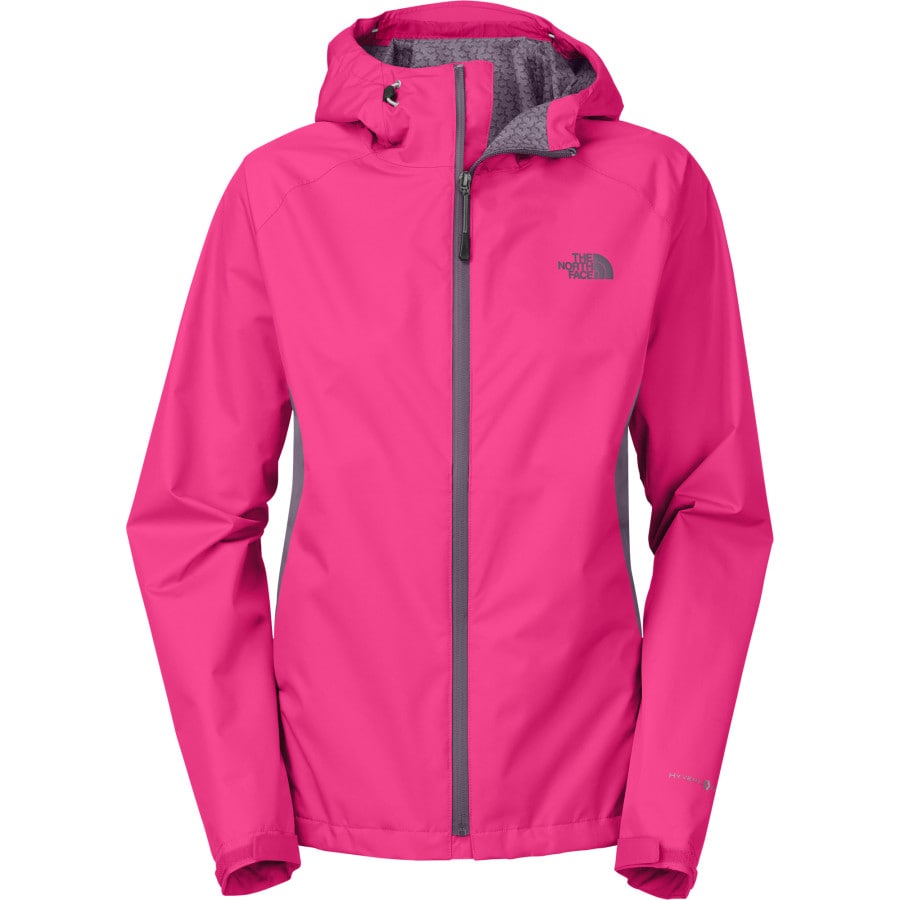 Key Features: Rain jackets are for exactly that, rain. A highly waterproof fabric, fully taped seams, and a hood are essential. Everything else is optional. These jackets tend to a spend a lot of time in packs when it's not raining, so light weight is pretty key, and insulation is almost never an option.
Optional Features: Rain jackets don't generally have much in the way of bells and whistles other than venting options and a couple of pockets.
Insulation: Nope.
Fit: Something in the slim-to-regular range will be ideal. You'll often be wearing this jacket with a backpack, so you don't want a bunch of extra fabric sticking out from your sides like waterproof love handles.
Fabric Ratings: Waterproof ratings need to be pretty stout, and these jackets need fully taped seams to really do you any good at all. Breathability ratings are all over the place, but the better the breathability, the less clammy you'll be when you're hiking through a downpour.
Ski/Snowboard Pants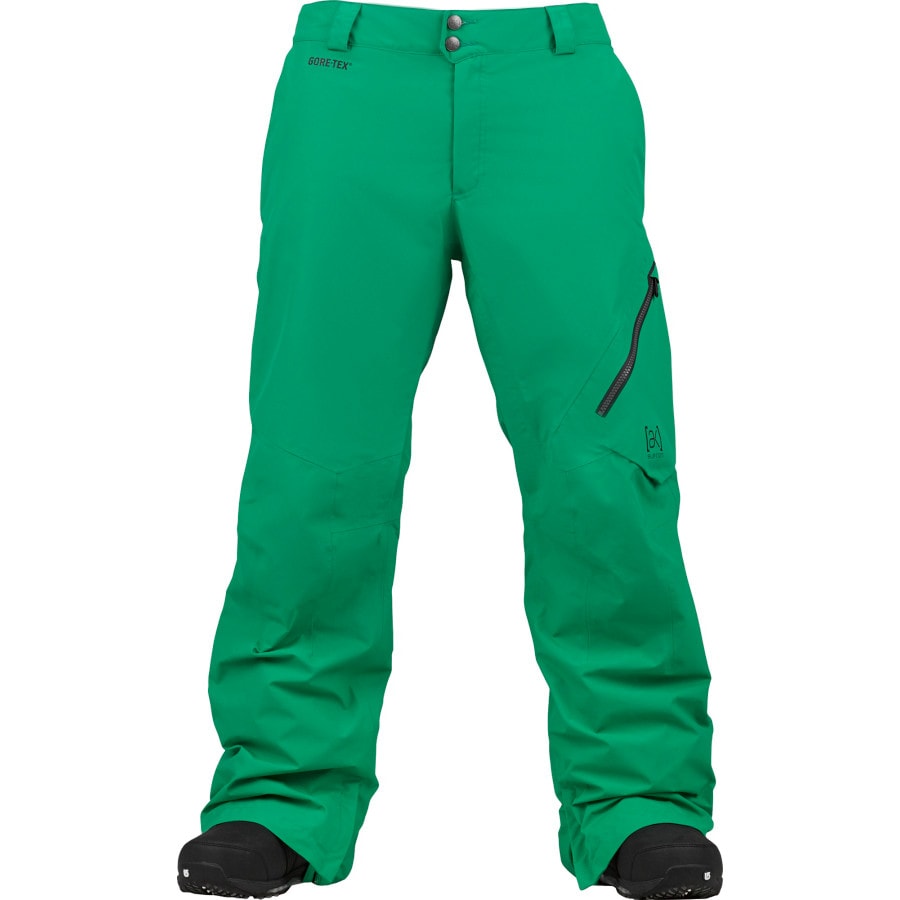 Key Features: Since you're going to be knee deep in snow all day (if it's a good day), ankle gaiters are a necessary component to ski/snowboard pants if you want to keep the snow from filling your boots. And just in case you don't know, pants go outside your boots. For reals. Do not tuck your pants into your boots. Seriously.
Optional Features: Recco reflectors, venting options, and any number of pockets find their way onto ski/snowboard pants. If you plan on riding a lot of seriously deep powder, then an interface (snaps, toggles, zipper, etc.) that connects to the powder skirt of your jacket may be a good idea. There are several versions out there. Take a look at the features list and think about what will be useful to you.
Insulation: Insulation is optional in ski/snowboard pants. Some prefer to wear separate midlayers, while other people just want to pull on some insulated pants and call it good. Snowboard pants often include insulation only in the butt and knee areas to keep you warmer when you're hanging out half way down the hill waiting for your friends.
Fit: While fit runs the range, a looser fit is pretty standard. You want plenty of mobility in the legs. Then again, some people like pants that require pliers to zip up, so the choice is really up to you.
Fabric Ratings: Fabric waterproof ratings run the gambit from barely there to nearly bulletproof. As with ski and snowboard jackets, some casual users don't need anything more than water resistance, while serious addicts require a highly waterproof fabric with fully taped seams to have a chance of keeping out the snow when the weather really turns nasty. Keep in mind that your legs generally spend more time in deep snow than your torso does.
Shop Ski Pants
Shop Snowboard Pants
Technical Pants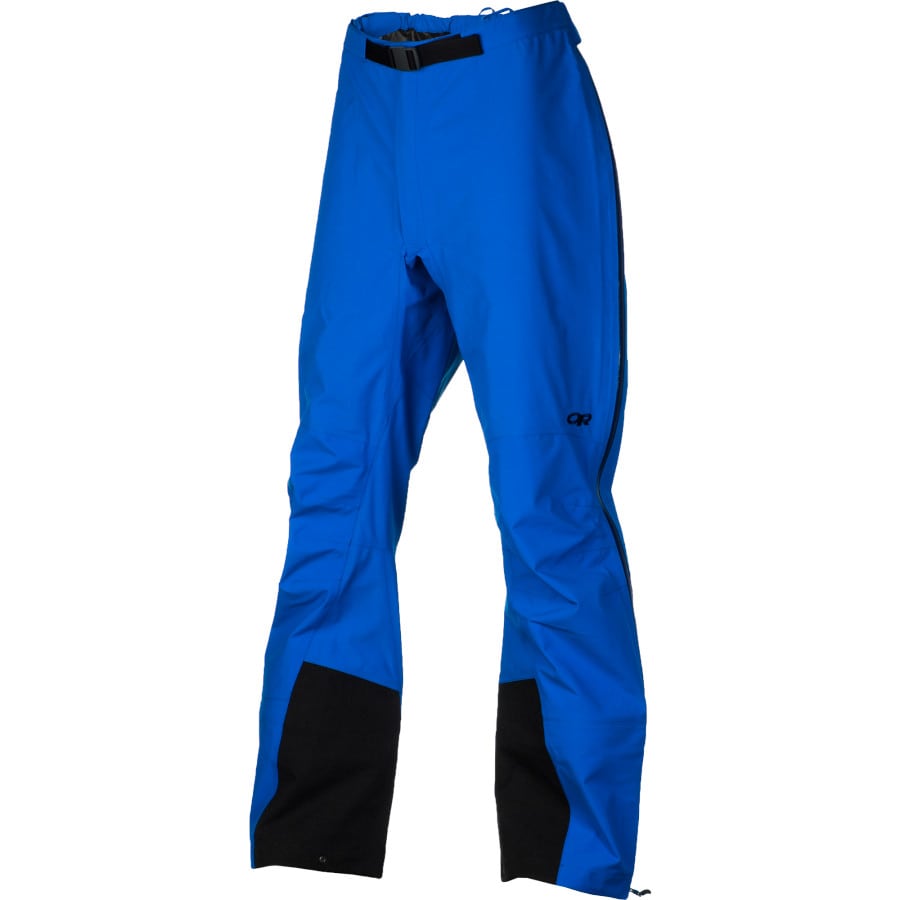 Key Features: Perhaps the most important feature for a technical pant is a clean waistline, since you'll almost always be wearing either a backpack or a harness (or both) for the entire day. Nearly all pants in this category also have some kind of venting option to keep you from sweating out all your water when you're breaking trail. You'll generally see some kind of protective patch on the inside part of the lower leg to keep your crampons from shredding things.
Optional Features: These pants don't usually have many bells and whistles, but they often have a couple pockets, though anything in the waist area will be useless when you're wearing a harness. Some models have ankle gaiters, but they tend to be a bit simpler than those found on ski pants.
For the ladies, a zipper that goes all the way down the front and up the back is pretty necessary, otherwise it will be impossible to go to the bathroom without removing your harness, which isn't always an option.
Insulation: Most technical pants have no insulation, but some do come with a little bit. Climbers will generally layer a bit heavier on the legs than on the top since it's harder to add layers if conditions get colder. If you only have one pair of technical pants, then no insulation is a more versatile choice.
Fit: Semi-slim to regular seems to be the standard here. You don't want to go too slim and inhibit mobility, and you also don't want to go too baggy to be useful with a harness.
Fabric Ratings: Bomber. These pants need to withstand super-nasty weather. Fully taped seams and high-rating fabrics are a necessity. Good breathability is also very important if you don't want to sweat out all your water.
Rain Pants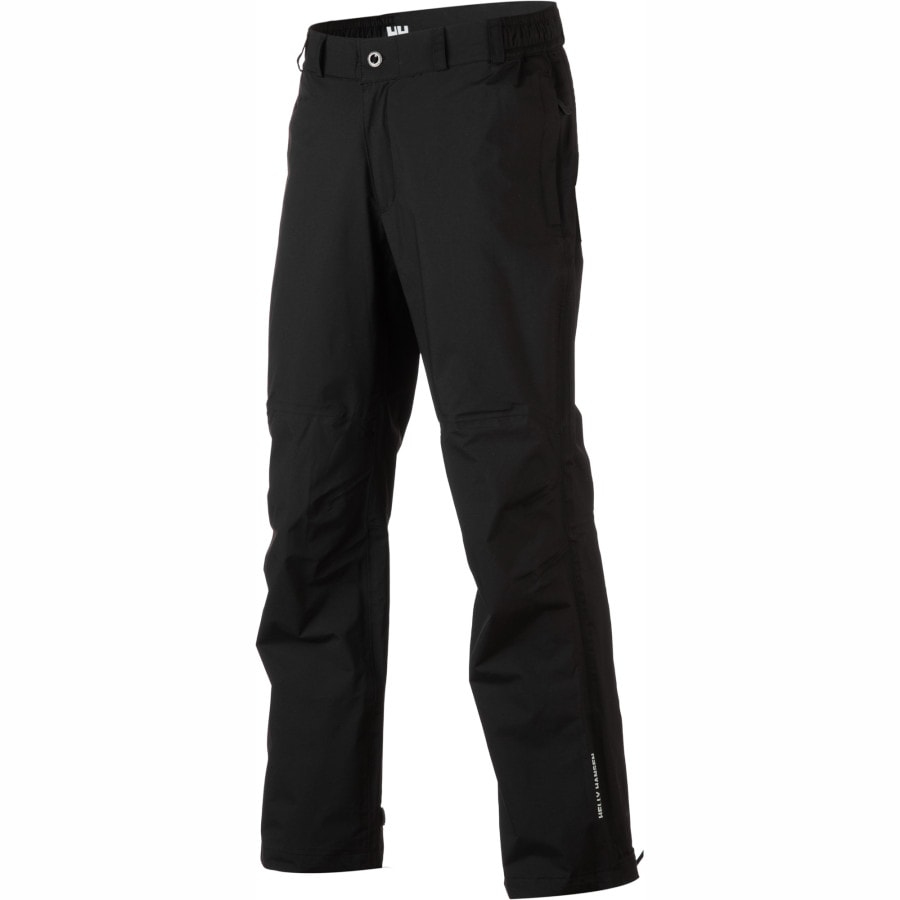 Key Features: Like their jacket counterparts, rain pants tend to be very minimalist. You won't find any gaiters and generally you won't even find any pockets.
Optional Features: Pockets, maybe. Other than that, you may see some venting options but that's about it. Full- or ¾-length side zippers are pretty nice as they let you put on and take off your rain pants without removing your shoes or boots.
Insulation: Nope.
Fit: Slim to regular. You need to be able to walk comfortably, but there's no need to go extra-baggy with these. Last we checked, there are no style points associated with rain pants.
Fabric Ratings: Super stout is completely necessary. Fully taped seams and a very waterproof fabric should be considered standard if you want to stay dry. Highly breathable fabrics are nice if you plan on doing a lot of hiking while wearing these pants, but you can skip it if your rain days will be spent chilling in camp.