Exploring the Canyons of Southern Utah: A Field Diary
We recently took a weekend to backpack through the Harris Wash, an area at the edges of Utah's Grand Staircase-Escalante National Monument. Backcountry Ambassador Zachary Lundgren came along with us, and recorded his impressions of this uniquely beautiful spot, one of our favorites in the state. We've transcribed the pages of his handwritten field journal here.
Day 1
The rude sound of my alarm woke me up at 3:45 in the morning. Typical of most of my adventures that begin with a pre-dawn wake, my groggy mind immediately questioned my sanity and if the trip was worth this crazy wake-up time. It was only four days earlier that I received a phone call from Backcountry inviting me on a backpacking trip to Grand Staircase-Escalante National Monument. It seems an easy decision for me; I had graduated almost exactly a month earlier with a Master's degree of Education. No job yet, but a desire to decompress, so southern Utah seemed like a rational destination.
I supposed I determined I was in fact insane and yes, the adventure ahead was worth the wake-up time. I rolled out of my comfortable bed and brewed a quick cup of coffee in my small studio apartment. Ten minutes later I was leaving my beautiful home of Bellingham, WA to catch an early flight out of Seattle to Salt Lake City.
Hours later I arrived in Utah and was greeted with excitement by my new friends at Backcountry. We did some last-minute gear organizing and logistisizing (this has to be a word) at the warehouse in Salt Lake City before heading south. Our destination was the Harris Wash Trailhead, where we arrived at camp just before midnight, after nearly twelve hours of adventure—desert, rope swings, zebra-donkey hybrid, buffalo, canyons, 1940s bomb shelter (under a bar), good coffee, bad coffee, corn meal-encrusted trout, magpies, stars, and advice from the owner of Utah Canyon Outdoors. No joke, that all happened. It was a long and intriguing first day of events.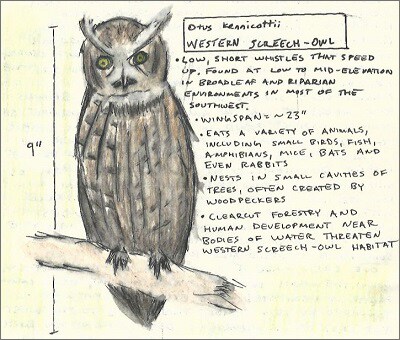 Shortly after midnight, laying on the desert ground with closed eyes, I said, "Goodnight, desert." "Hoo, hoo, hoo-hoo-hoo-hoo," replied a screech owl, almost as quietly. I smiled and fell asleep.
Day 2
The trailhead of Harris Wash is located within the boundaries of the Grand Staircase-Escalante National Monument. The monument encompasses and protects around 1.8 million acres of unique and diverse ecosystems. It was designated in 1996 and features nearly 200 million years of geologic history in the Grand Staircase portion, as well as hundreds of miles of canyons carved out by the Escalante River and its tributaries. Harris Wash is one of those tributaries. Our crew embarked bright and early the first trail day (maybe an exaggeration) in an attempt to reach the confluence at the Escalante River nearly 15 canyon miles away.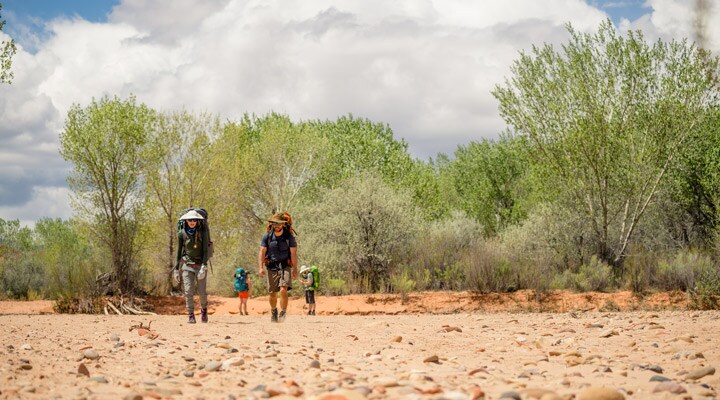 Our first day on the trail began by following the broad wash as it meandered east towards the Escalante River. The first portion featured wide and dry gravel and sand bards lined with cottonwood, tamarisk, and the painfully thorny Russian olive (invasive). Limited areas of standing water revealed swaths of mud flats where we excitedly found tracks of lizards, birds, jackrabbits, and skunk. A few miles down the wash we passed through a cattle gate. There was a noticeable difference in the wash's physical identity.
Most striking to me was the creek. Immediately after the gate it took shape as a flowing and incised piece of the landscape. Just upstream it was hardly moving and flattened out into muddy pools by cattle as evidenced by endless hoof prints squished into the soggy earth. This now undisturbed water was clear and more able to cut deeper into the sandy ground, creating habitat suitable for fish (which we began seeing) that did not seem to exist just upstream.
With each passing mile the vegetation became thicker and migrated closer to the creek. The walls of Harris Wash grew taller until they seamlessly transitioned into a canyon. The towering sides showed proof of the power bestowed unto water as it cycled through this landscape, carving away its path century after century after century. In doing so, the creek revealed walls painted with magnificent shades of reds, oranges, browns, and greys; I was in awe of the landscape as each successive bend in the creek dug deeper caverns into the sandstone. The further we walked, the more impressive it seemed to get. I felt disoriented at times in the wash as side canyons from tributaries periodically flowed in. I am used to and comfortable with route-finding in the North Cascades where I live, an ecosystem worlds away from this. I was impressed with the ease my companions navigated what was sometimes a maze-like route.

Our crew made it a little more than halfway down the wash before setting up camp on a large, partially vegetated sand bar. The spot was bordered by two sizeable tributaries to the west and east of us. Numerous deep caverns on both sides of the canyon walls watched over as we set up camp in between a pair of tall and hearty oak trees. The significance of this particular spot crept into my consciousness. As the last canyon wren sang to us and the sun dipped behind the painted walls, my mind thought of those whose home this was well before any cattle grazed or hikers passed through. Before going to sleep, a trip member and I gave thanks to the canyon for a safe passage thus far. We made an offering to those whose traditional territory we were occupying.
I am a proud member of the Muscogee Creek Nation by the way of my mother's family. Our ancestors were forced from their traditional territories in Alabama, Georgia, and Florida on a reservation in Oklahoma. This occurred throughout the 1830s. Although the route walked is commonly known as the Trail of Tears, our history and contemporary lives are largely misrepresented in society today.
In the days before I left on this trip I searched the Bureau of Land Management's website for information regarding the first peoples of this area. Not surprising to me, the BLM fell short of providing meaningful recognition of the people whose traditional territory this is. Most of what I found was about Euro-Americans colonizing this area. This is important history. But it is equally vital that the story and understanding of these places be recognized and told from more perspectives than just the dominant, most recent narrative.
Commonly referred to as "Anasaz" people in the interpretive materials I found, this is actually a Navajo word for "enemy ancestors." The Pueblo people who exist today are descendants of those who lived in this area historically. They likely do no describe themselves or their relations as "enemy ancestors." They make up many different cultural and tribal identities including but not limited to the Hopi, Zuni, Acoma, and more. I do not presume to speak for them. To the contrary; I find it important that the Federal agencies managing these sacred places ensure the historical and contemporary stories include the voices of the people who have been here since time immemorial.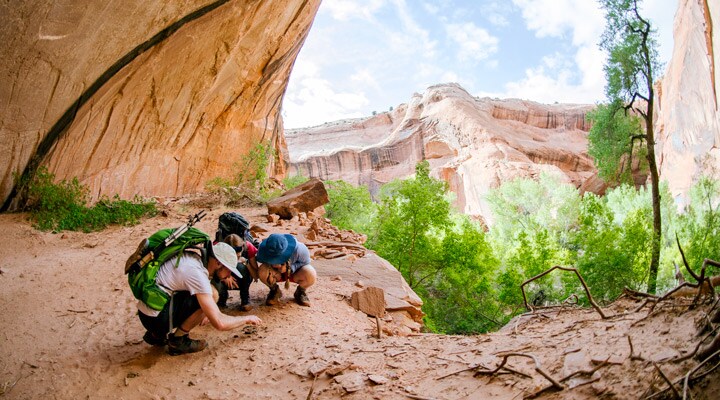 Day 3
We awoke with the sun peeking into the canyon and gently warming our tents. Birds called us to rise and begin another day of exploration. Just as the previous day unfolded, the canyon walls rose taller and the caverns lining the walls grew deeper. Oak trees showed up and the blooming prickly pear and claret cup cacti became more frequent. Hanging gardens grew from cracks in the sandstone where moisture seeped from the walls. Possibly my favorite find of the entire trip, a ten-foot long row of maidenhair ferns delicately drooped down a wall to contrast the brown-orange sandstone with small green leaflets and slender black stalks.
We walked upon a flock of willets who were resting in the shade creekside. They lifted their broad wings as we passed by to reveal distinct white and black stripes. I was amazed at the seemingly endless diversity existing in the canyon bottom; an ecological community completely dependent on such a small source of clean, moving water.
We reached the Escalante River well past midday. It was still hot enough to swim. A confluence holds magic, so two of us plunged into the shallow waters where Harris Wash and the Escalante come together. This is where we met some of the only people on our entire journey. A gentleman from California in a pack raft pulled out for a break. He was floating the Escalante for the second time in two weeks. Yes, this place is that beautiful. We also met a hard-working Utah Conservation Corps crew. They were pulling the invasive Russian olive from the river banks.
We hustled to get back to camp in an attempt to start dinner at a reasonable time. We inevitably became sidetracked as we explored a side canyon that proved way too painfully brushy to continue. On the way out someone found a way up and on top of the canyon. We took our time and eventually all made it to a high point where we could see the dry desert plateau and the lush oasis of the canyon below.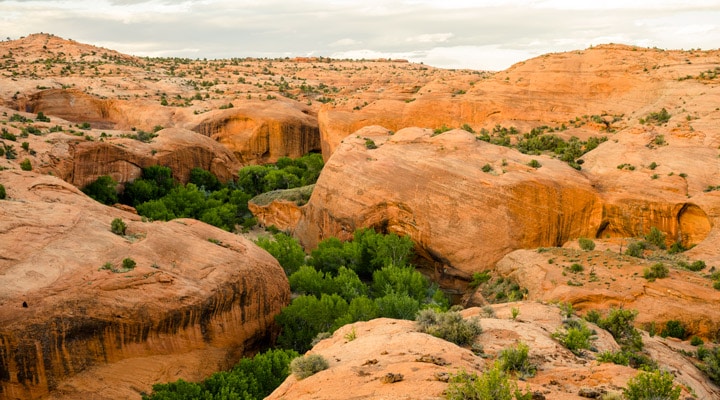 This perspective shift was incredible, and the setting sun made for an unforgettable view. After ample picture taking, we scurried down and back to camp, where we experienced brief but extreme wind and rain. Despite the rain fly and closed tent doors, I crawled into a shelter containing a fine dusting of sand over everything. It was awesome.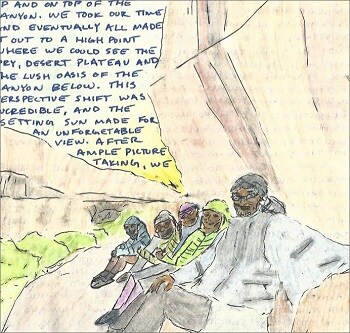 Day 4
I woke with my tent shaking and a kind but firm voice instructing, "Get up, boys. You're going to miss the sunrise." My watch read 5:55. I momentarily regretted my agreement to climb the canyon walls above camp to watch the sunrise. My tent-mate and I joked about this for a few sleepy minutes before we heard our ambitious companions shouting to us from above, "Hey you guys! Can you grab the stove, fuel, water and coffee? Thanks!" That request sealed our fate for getting up, as I know better than to argue with coffee addicts.
We emerged from our sleeping bag cocoons, assembled the drink supplies and headed up the cliffs. Once we settled on the precarious ledge where our companions were nestled, we boiled water and made coffee just in time to watch the desert sun slowly rise and lighten up the canyon below us. From our perched perspective we studied the shape of the canyon walls and picked out caverns and depressions and possible beginning arch formations. We hypothesized whether or not people could have accessed some of these sheltered areas and lived in them. It turns out they had in fact been lived in.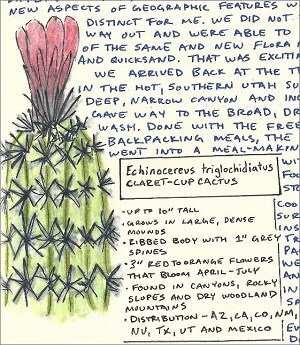 We took our time to pack up camp before heading back up the wash. I found myself saying goodbye and giving thanks to the canyon and its relations for looking out for our group during our stay. I cannot describe in words the power I felt in the place. A thriving ecosystem of diverse life and rich cultural histories all connected by one element: clean water. It is difficult to deny the influence of such a basic part of this place. Water carved these canyon walls and moved massive banks of sand over decades, centuries, and millennia. Water drew resilient humans down to these sheltering landscapes to grow corn, care for cattle, and, like us, to explore in awe. Water brought cacti, trees and ferns. Water provided habitat and food sources for lizards, canyon wren, hare and cougar. Quite simply, water is life.
It felt like walking through an entirely different canyon as we made our way back—new aspects of geographic features were noticeably distinct. We did not rush on the way out and were able to notice many of the same and new flora and fauna. And quicksand. That was exciting …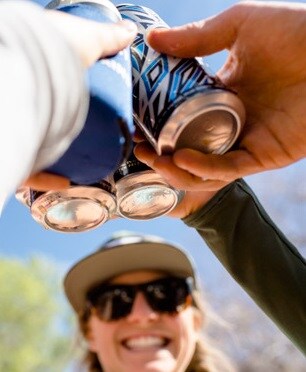 We arrived back at the trailhead in the hot southern Utah sun. The deep, narrow canyon and incised creek gave way to the broad, dry upper wash. Done with the freeze-dried backpacking meals, the five of us went into a meal-making frenzy with the fresh foods we had stored in the coolers. I'm sure we looked insane in the trailhead parking lot.
We cleaned and packed up in an oversaturated state. Our evening departure put us back in Salt Lake City well after midnight, but the long push was worth it as people were ready to crash in their own beds (or my buddy's couch, in my case).
Day 5
Visiting this part of Utah left a powerful impression on me. I had fought fire nearby a decade earlier when I worked for the Forest Service. I don't remember having the time or energy to be awed by anything but fire on that trip. Nothing like I just experienced. The uniqueness of this place's geography, its biotic systems and its cultural significance make it a place worth protecting. I believe most people who visit would agree.
These thoughts occupied my mind on the flight back to Seattle. I was excited to get home and nestle back in between the Salish Sea and the North Cascades. I couldn't help but think I would return for more adventures in southern Utah. It was totally worth getting up at 3:45 am five days earlier. Thank you, friends at Backcountry, for an amazing trip and the companionship along the way.