Five Tips for an Elevated Camp Meal
Whether at home or camp, eating well is an essential component of good living.
It's time to throw the burnt hot dogs and ramen out the window. Use these five tips to take your next camp meal to an entirely new level—your friends will thank you.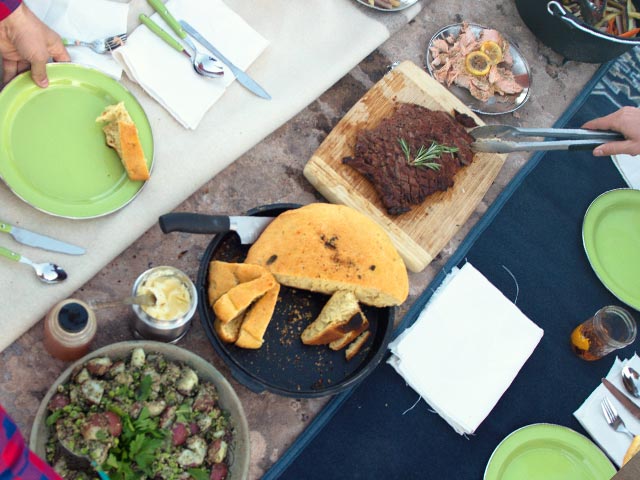 1) Prep it at Home
Cooking food in camp is fun, prepping food in camp—not so much. Anyone who has ever tried to dice vegetables on a tiny cutting board placed on their lap knows what I'm talking about. One of the easiest things you can do to cook an elevated camp meal (and enjoy the experience) is to do your prep work at home. Plan your meals, do your shopping, and then set aside some time at home for your prep work. Seal prepared ingredients in bags and pack them in a cooler until you're in camp and it's time to cook. In the summer months, cold pasta dishes and salads make excellent side dishes, and can be prepared entirely at home. Just pull them from the cooler and you're good to go. By preparing at home you can attempt more complex dishes, and you'll set yourself up for a more relaxed and enjoyable time in camp.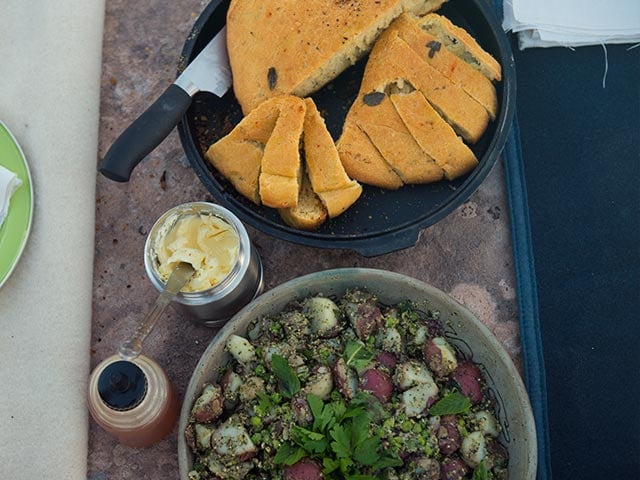 2) Build a Solid Camp Kitchen
Good cooking tools make a world of difference. When you're car camping, there's no need to limit yourself with lightweight backpacking gear—use it when you're backpacking. The trunk of your car or the bed of your truck couldn't care less how much your gear weighs. For any serious camp cook, there are four pieces of essential gear: a high-powered stove, cooler, Dutch oven, and chuck box.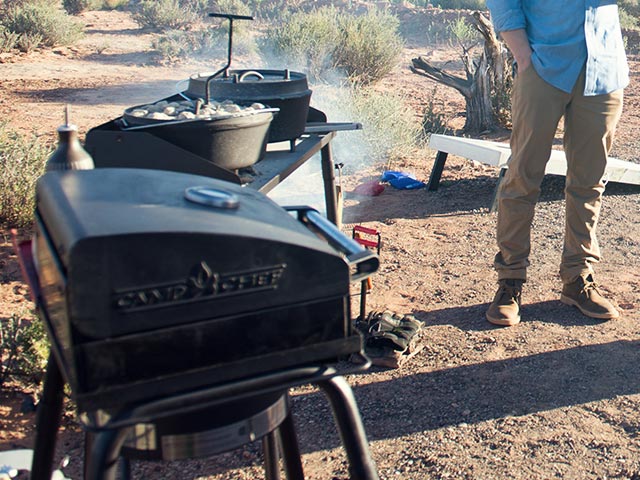 Stoves
When you're cooking outside, you need a high-powered stove that can get the job done in windy, variable weather conditions. If it has the ability to grill, even better. For heavy-duty car camping performance, we like the stoves by Camp Chef. The high-powered burners put out 30,000 BTUs, and the modular design makes it easy to add a grill box or griddle. For context, the burner on your gas range puts out about 10,000 BTUs, which means you'll have ample power for outdoor cooking.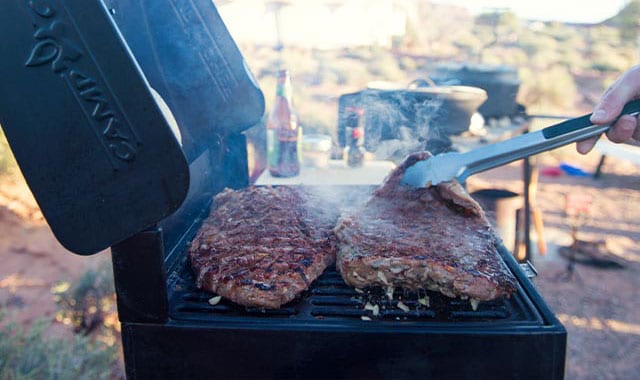 Coolers
In camp, a cooler is your fridge, and you'll rely on it to keep food from spoiling. Extra-thick and extremely durable, premium coolers from Yeti and Orion will hold ice for weeks on end if properly managed. Built to last a lifetime, a good cooler is well worth the investment.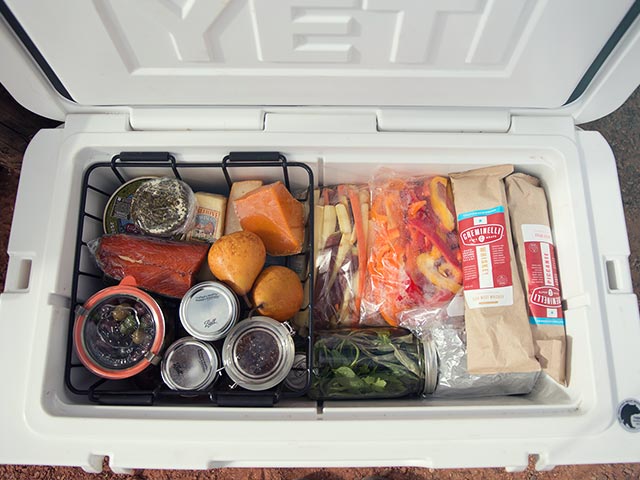 Dutch Ovens
No camp kitchen is complete without a Dutch oven. This versatile cast iron pot with a tight-fitting lid can be placed directly in a fire, covered in charcoal, or used on a stovetop. A Dutch oven gives you the ability to bake in camp—it's a literal camp oven. From birthday cakes to fresh bread to stews, a Dutch oven gives the ability to cook nearly anything you would in your oven at home.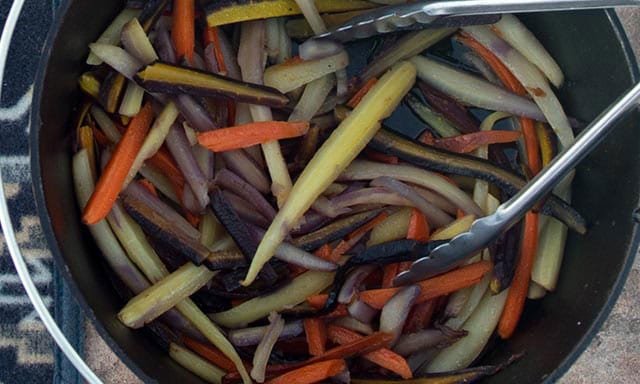 Chuck Box
The chuck box is a catch-all for the other essential implements you'll need for camp cooking, organized and stored in one place. That way, instead of raiding your kitchen every time you go camping, you can just grab the chuck box and you're ready to go. It should include pots, pans, cutlery, napkins, soap, and essential condiments and spices.
3) Prevent Hanger
When an individual becomes irrational, irritable, or downright angry as a result of being hungry, they are experiencing "hanger." And a hangry camper is not a happy camper. After a full day of adventure, you need calories ASAP, and if you're waiting around for a meal to cook, hanger will ensue and you won't enjoy the process of preparing an elevated camp meal. The easiest way to avoid this situation is to have an array of snacks and beverages ready to deploy at a moment's notice. These appetizers allow you and your fellow campers to quickly refuel and relax while the main meal is cooking. Crackers, cheeses, dry sausages, fruit, olives, and avocados are some of our favorite camp apps.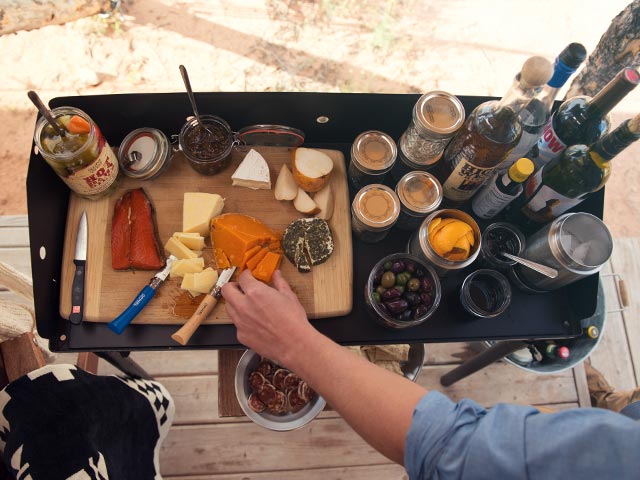 4) Enhance Presentation
It's no secret that presentation makes a significant impact on the experience of a meal. One of the easiest ways to enhance the presentation of your camp meal is to forego the paper plates and plastic cutlery for the real thing. Metal plates and cutlery are attractive, will last for a lifetime of camp meals, and are easy to store in your chuck box. Bringing along some cloth napkins and wool blankets doesn't hurt either. Not only will it elevate the vibe of your camp dinner, it helps to cut down on the amount of trash you'll have to clean up and pack out at the end of your trip.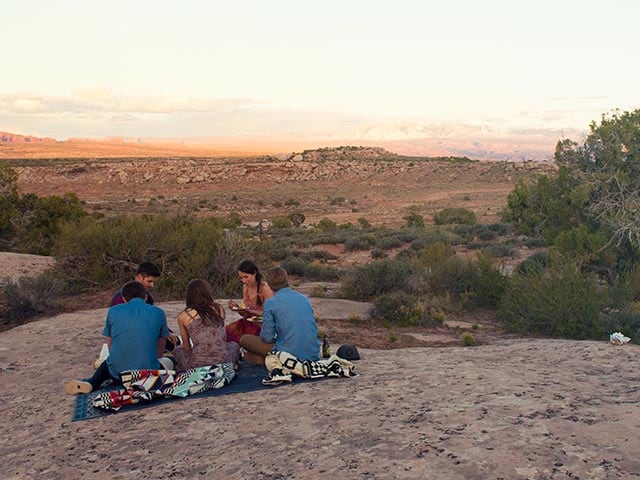 5) Enjoy the Experience
Cooking outdoors is as integral to the camp experience as sleeping in a tent or building a fire—you should enjoy the experience. Experiment with Dutch ovens, open fire cooking, and attempting dishes you'd typically reserve for home. With a little practice and planning nearly anything is possible.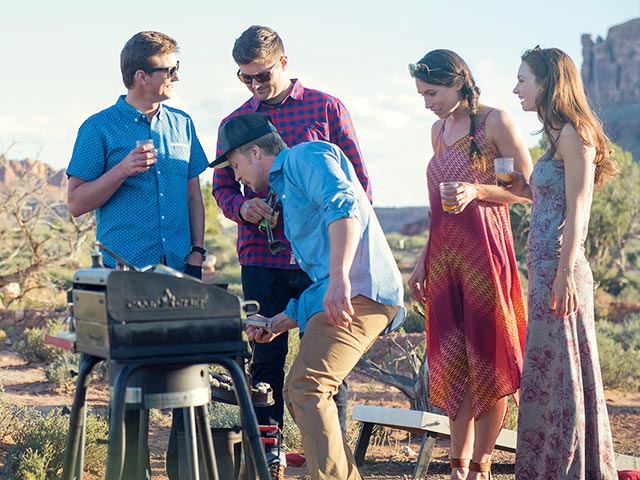 Recipe: Sage Chili Camp Bread
Fresh-baked bread is a treat anytime you make it, but in camp it's especially satisfying. The dough for this Dutch oven bread can be prepared at home and allowed to rest in the cooler until it's time to cook your camp feast. The smell of fresh sage and a little kick from the chili flakes make it the perfect complement to a desert view.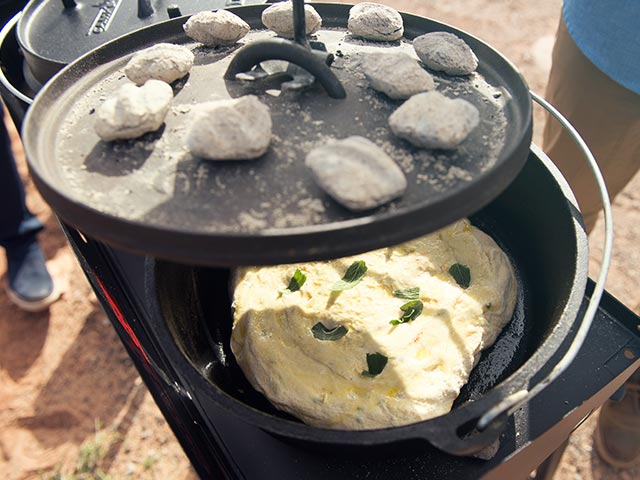 What You'll Need:
3 cups warm water
1 tbsp sugar
1 tbsp yeast
1 tbsp salt
6 cups flour
1 ¾ cups cornmeal
¼ cup olive oil
3 tbsp fresh sage, chopped
1 tbsp chili flakes
What You'll Do at Home:
Combine the water, sugar, and yeast in a large bowl. Allow the mixture to bubble for 10-15 minutes. Add the flour, cornmeal, salt, oil, sage, and chili flakes to the yeast mixture. Knead by hand until dough is easy to handle, sifting in flour as necessary. Coat the dough ball in oil, cover the bowl in plastic wrap, and allow it to rise for 30 minutes. Re-knead for a few minutes, cover with plastic, and place the bowl in your cooler.
What You'll Do in Camp:
Preheat a 12-inch Dutch oven by placing 7-10 coals charcoal briquettes underneath and 10-15 on the lid. Ambient temperature and wind can have an impact on temperature so having a thermometer helps; you want to keep the temperature a close to 350° as possible. You'll also have to add fresh coals during the bake to maintain your heat.
Melt a big pat of butter in the hot Dutch oven, spreading around to coat the bottom and up the walls. Place your dough ball in the oven and flatten until the sides are nearly touching the walls.
Drizzle with olive oil, a sprinkle of salt, and a few sage leaves. Allow the bread to bake for about 1.5 hours—cooking time will vary based on variables in temperature. Simply put, just leave it in there until it looks golden brown and delicious. Serve with soft butter and honey, and enjoy.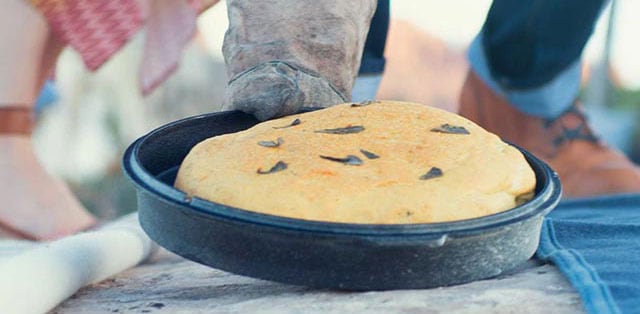 Related
Shop